Posted by Blazing Bill on 16th Jun 2020

Perdomo is known for high-end, full-bodied smokes that tag on true aficionados' heartstrings. And Perdomo, the man, is not shy about fronting blends that are off the beaten path. There is one Perdomo cigar though. The Perdomo 10th Anniversary Champagne. This cigar is as delicious as it is mysterious. And you know what they say about mystery. Well, they don't really say anything, but they should.
The truth is, I have had this delectable cigar countless times. My cigar buddies and I agree that it is truly an outstanding smoke. Yet there is not much information online about it. The few reviews you'll find agree that Perdomo 10th Anniversary Champagne is a rare treat but there isn't much else to read. Maybe this is what they say about mystery, nothing. I am pretty sure you are wondering where I am going with this. Let me put it this way.
A Walk Down Memory Lane
Perdomo's history is an interesting account punctuated by terrifying events including the Cuban Revolution, jail time, escape to America, and a literal building of the American dream. Nick Perdomo, the founder of Perdomo Cigars was an air traffic controller when he started Nick's Cigar Co. in 1992. The little garage where it all began is a far cry from the giant factory in Esteli, Nicaragua that rolls millions of cigars every year.
Only one thing remains the same; Perdomo's commitment to quality, value, and allure. To celebrate 10 years of being in the cigar business, Perdomo Cigars released the Perdomo 10th Anniversary Champagne series.
About Perdomo 10th Anniversary Champagne Series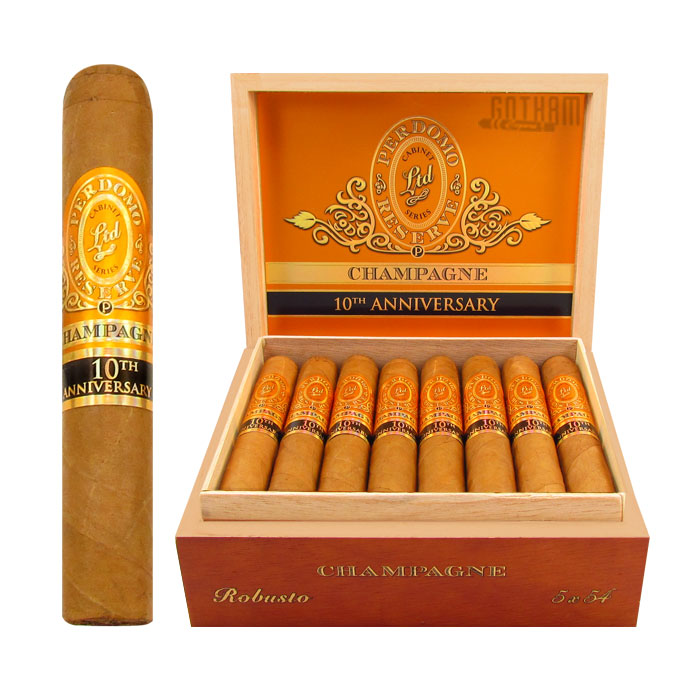 As earlier stated, the Perdomo 10th Anniversary Champagne was launched to celebrate Perdomo Cigars' 10th anniversary. Perdomo wanted to create something special. So, he utilized delicately aged Nicaraguan Cuban-Seed premium long-fillers for the fillers and binder. These leaves are carefully selected and aged for a minimum of 6 years.
Next, he went off the beaten path. He rolled this same cigar with three different wrappers. And these three cigars are what make up the Perdomo 10th Anniversary series.
Perdomo 10th Anniversary Champagne
Perdomo 10th Anniversary Sungrown
Perdomo 10th Anniversary Maduro
This means all lovers of the leaf regardless of their preference can be accommodated. The Perdomo 10th Anniversary Champagne comes swathed in an Ecuadorian Connecticut Triple-fermented wrapper. On the other hand, the Perdomo 10th Anniversary Sungrown carries dark, reddish-brown Nicaraguan Sungrown criollo wrapper while the Perdomo 10th Anniversary Maduro features a dark, oily, Cuban-seed Nicaraguan Maduro wrapper.
Perhaps the best feature is the barrel-aging. You see, aging the tobacco six years is not all Perdomo does to this blend. Perdomo has a delicious family secret. The wrappers are aged in bourbon barrels which impart a decadent je-ne-sais-quoi nuance. It is no wonder this has been dubbed the "champagne of wrappers".
Vitolas
Perdomo 10th Anniversary Series comes in quite an array of Vitolas. You have your:
Gordo (Super Toro) 6 x 60
Torpedo 7 x 54
Magnum Tubo 6 x 50
Corona Extra 5.6 x 46
Perfecto (Figurado) 4.7 x 56
Time to get to my review. As you can probably deduce, my favorite Perdomo 10th Anniversary Champagne is the triple-fermented Ecuadorian Connecticut shade wrapper and here is why.
Tasting Notes
For this review, I decided to go with a Magnum Tubo. My Perdomo 10th Anniversary Champagne Connecticut is impeccable in appearance. It has a flawless uniform look and just enough give. You will be taken aback by the weight of this stogie. I call it a well-packed treat. Off the shaft, I got whiffs of sweet molasses and rich tobacco with mild barnyard nuances. This baby is rolled to perfection. I couldn't find the seams and the double cap was immaculate. Cold draw spoke of marshmallow sweetness, raisins, cocoa, and hints of latte.
First Third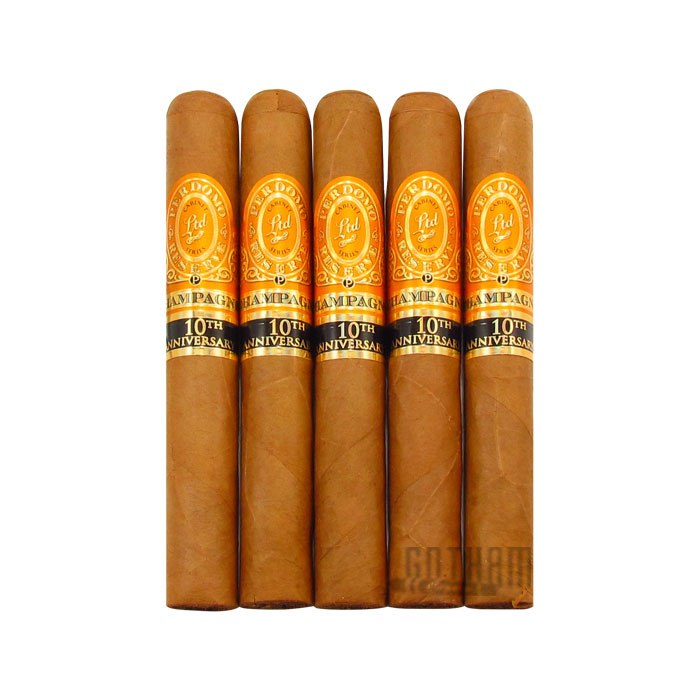 My Perdomo 10th Anniversary Champagne opened with an implicit sweetness reminiscent of molasses, some nutty notes, and shy spice nuances. Behind these flavours were basic rich earthy notes with what tasted like butterscotch (reminded me of when I was 3 or 5 reaching up on my tippy toes to tip the cookie jar only for the jar to fall on my head, empty. All I got for my trouble was a big old bump on my forehead).
As the cigar settles the molasses and butterscotch morph into a richly matured caramel note. To this, add a zesty orange peel zing, a skosh of baking spice, loads of sweet hay, and sun-kissed oak.
As my Perdomo Anniversary approaches the mid third, there's a smooth, almost unnoticeable transition as rich creamy coffee moves in followed closely by rich tobacco flavour. So far, the burn has been excellent. Smoke output is unbeatable, and the strength is a light medium.
Mid Third
In the mid third, the spice recedes. Probably because those creamy notes overwhelmed it. The weird thing is, Connecticut Shade cigars are typically not complex at all. I don't know what Perdomo did to this one, but I am hooked.
Spice is now only apparent in the Retrohale. The creamy notes perfectly co-mingle with nutty notes. Earth, leather, and light oaky notes dominate the back of my palate. At this point, the smoke is so balanced and well blended that I want to keep retro-haling so I can grab as many flavor notes as I can. As the mid third gives way to the final third, I suddenly realize how sad I will be when this cigar experience comes to a close. I may need to light another.
Final Third
In the final third the sweetness comes back. It is a delicious caramel flavor fused with mellowed nuts (probably almonds). The nutty flavor stays on even on the Retrohale something which I have never experienced.
Just as I begin to think that this is it, pepper and spice return to the mix as the strength goes up to a serious medium. The pepper is surrounded by rich cedar notes and lots of cream. You can't even tell that this cigar is about to go out. It is still pretty cool and the cream levels are off the charts. Sadly, I have to put my nub down.
Overall Review
Perdomo 10th Anniversary Champagne was a great smoke, as it always is. It is unexpectedly complex and every time I smoke one of these, I ask myself, "Why don't I smoke more of these?"
Well, now I have a box. I have no idea how long it'll last especially now that I have all this time extra on my hands. If you have not had a Perdomo 10th Anniversary Champagne go, now! It is the perfect cigar to have, well, anytime!