Montecristo Cigars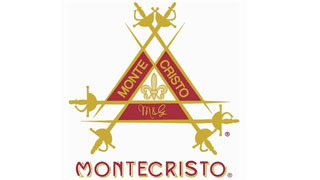 Montecristo's beginnings originate in Cuba circa 1935 and the brand has continued to thrive since then. In the mid 70's after the Cuban revolution, the brand's headquarters moved to the Tabacalera de Garcia factory in La Romana, Dominican Republic where the cigars continue to be made to this day. Keeping with Cuban style techniques, Montecristo employs the best cigar rollers and the quality and craftsmanship of each cigar is like none other in the cigar industry. The brand's dedication to creating luxurious blends with the highest quality tobaccos and techniques has made them the most recognizable premium brand in the world.
Each cigar in the many brands is meticulously handcrafted with the finest vintage tobacco fillers and unique wrappers. Whichever brand of Montecristo cigars you select, you can be assured that each is constructed with care to provide a long and luxurious smoking experience.
The Classic Collection cigars are mild bodied beauties handmade in the Dominican Republic using only the finest Dominican long filler tobaccos and Dominican binder wrapped in a golden-brown Connecticut shade leaf wrapper. This mellow blend is balanced with sweetness and subtle notes of cocoa, cream and spice. Perhaps Montecristo's most familiar and popular blend, these cigars are perfection.
The Monte by Montecristo are a bolder cigar from the infamous brand. These cigars feature aged Dominican tobacco long fillers, a double binder of a Vintage Nicaraguan and Dominican Olor tobaccos, all wrapped in an Ecuadorian Habano leaf. The result is a complex balance of spicy and sweet flavors with notes of leather and chocolate for a distinctive taste and alluring aroma.
The Platinum cigars are luxurious, full-bodied smokes and among the most popular blends they make. These cigars feature a hand selected trio of tobaccos from Peru, Nicaragua and the Dominican Republic, a Dominican binder and a gorgeous Cubano seed wrapper grown in the luscious San Andres valley in Mexico. These smokes are silky smooth with bold flavors and impeccably hand crafted.
THE MONTECRISTO BRAND ALWAYS DELIVERS A LUXURY SMOKE AT PREMIUM EXCELLENCE!