5 Vegas Gold Bullion is an exceptional blend featuring aged tobaccos, crafted by Nestor Plasencia. This smooth and mild blend features hand selected tobaccos from the Plasencia farm in Honduras that have been aged for five years. These remarkable long fillers are dressed in a seamless golden Ecuadorian Connecticut leaf wrapper. Experience nutty and peppery flavors balanced with a smooth, creamy finish and lots of smoke. This mild to medium bodied blend is presented in a gold bar style box with 20 cigars. And while you might expect such an extravagant blend and presentation to cost an arm and a leg, the 5 Vegas Gold Bullion is priced quite reasonably. 5 Vegas Gold Bullion is 6 x 60 and available in boxes of 20 cigars.
| | | | | | | |
| --- | --- | --- | --- | --- | --- | --- |
| | | | | | | |
| 6 x 60 (Bullion) | Box of 20 | Ecuadorian Connecticut | Honduran | Honduran | | Honduras |
Tasting Notes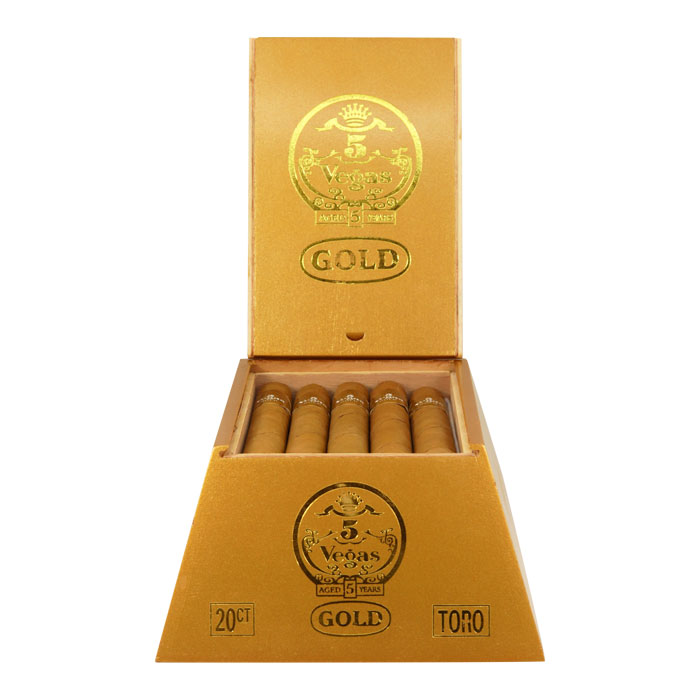 Many of my fellow cigar reviewers have spoken about these cigars at one time or another. And I must admit there's always a warm fuzzy miasma around these cigars. Actually, fans fondly call them Cinco Vegas. 5 Vegas Gold cigars are an exquisite combo of premium 5-year aged Cuban-seed long fillers from Honduras and Nicaragua. The binder is a lush Honduran leaf cloaked in a flawless honey-tan Ecuadorian-grown Connecticut Shade leaf.
As pertains to sizes, 5 Vegas Gold cigars come in quite an array of vitolas. We have Nugget (4.5x44), Robusto (5x50), Double Nickel Box Press (5.5x55), Toro (6x50), Torpedo (6x54), Bullion (6x60), Churchill (7x50), and No.1 (7.5x54). They come in "Gold Brick" style chests embellished in gold writings and gold logos. The sticks also come with a single gold band written in gold and white.
Why all the fuss though?
I already mentioned that Cinco Vegas cigars are quite cheap-around $3. This, for a seasoned cigar lover means compromise either on the construction front or flavor front. But, you'll be glad to know this stick delivers on both fronts without fail.
It is very mild strength-wise which makes it a perfect starter cigar for newbies. At the same time, it is packed with enough depth and complexity to keep a connoisseur hooked for the entire length of the smoke. I attribute this not just to the extended aging but also the careful blending of Honduran, Sumatran, Nicaraguan, and Dominican tobaccos. Isn't it amazing for a $3 smoke? Can we just go ahead and review this sikar? (Oh yes! I said it.)
Tasting Notes
Prelight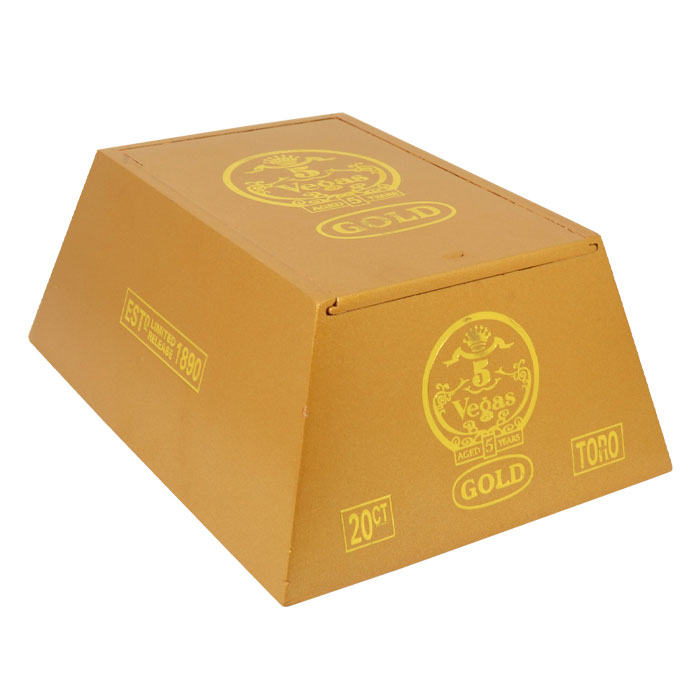 My vitola of choice is the Toro (6x50). It's a substantial size for a review but it's about the midway point size-wise. My Cinco Vegas Gold is almost perfect looking. The sunny golden wrapper is flawless with flat veins, invisible seams, and an impeccably applied cap. It isn't a triple cap though. Off the shaft sweet cedary aromas emanate. The foot gives off notes of sweet spices. Cold draw is a comingling of sweet nutty nuances with a shy woody disposition. This stick is well packed; no soft spots and a bit of a snug draw.
First Third
The first draw opens with a blast of pepper. It's on my lips and all over the front of my palate. Behind the pepper are subtle cedar notes coupled with a toasty sort of bready character.
Admittedly, the first few draws are a little tough especially if you're not a pepper person. I would have wanted to call it white pepper but it leans more on red pepper flakes. Thankfully, about half an inch into the first third, the pepper dissipates considerably giving way to a creamy, buttery, sweet savour.
The pepper shifts to the back of the palate manifesting mainly as just a bit of heat on the finish and Retrohale. Delectable brown sugar notes mixed with wood and bran take over the front of the palate. Layers of cream fused with dashes of vanilla and sweet bread add to the complexity. The finish is short and somewhat bitter but not overly unpleasant. Thus far my Toro has maintained a razor sharp burn, a robust tower of ash, and a snug draw.
Mid Third
The mid third doesn't really bring a shift in the flavor profile. But don't get me wrong, it is an enjoyable smoke. Strength is walking the precarious mild to medium line but the body is a strong medium.
Somehow, in the mid third, this predominantly oily smoke develops a dry finish. It's not at all harsh but it's short and dry. Each draw is wonderfully toasty while fronting dry nutty notes and a sprinkling of sweet spices. The aroma is delightfully cakey capped with an almond-like bitter nut nuance on the finish. Surprisingly, the draw continues to open up gradually which fills me with the hope that by the final third it'll be to my liking. The burn line tows perfectly and so does the ash.
Final Third
In the final third, my wish is granted and the draw opens up ideally. Light pepper returns to the front of the palate while the creamy character that has been a major player in the flavor profile subsides, further promoting a dry constitution.
Sweet spices, dry nuts, and a warm toasty flavor profile is all that plays out in the final third. Some peppery heat also remains in the short finish as well as in the Retrohale. And that is basically all she wrote. It was an almost 2-hour smoke which I cannot complain about.
Overall Review
The truth is, 5 Vegas Gold cigars are cheap Connecticut smokes. But, in a blind smoke review, you wouldn't peg this stick at $3. They live up to every Connecticut smoke trait which is cedar, cream, toast, bran and wood with a little bitterness for balance-or perhaps it's just me.
SKU:

VGB

SKU:

VGB

Category:

Premium Cigars

Product Type:

Cigar

Manufacturer:

5 Vegas

Brand:

5 Vegas Gold

Wrapper Type:

Ecuadorian

Wrapper:

Ecuadorian Connecticut

Binder:

Honduran

Filler:

Honduran

Origin:

Honduras

Ring Gauge:

60

Length:

6

Shape:

Bullion

Strength:

Mild-Medium

Quantity:

20

Package Type:

Box

Rating:

N/A

Package Count:

20

Price Per Cigar:

$4.475

Gift Type:

Not Applicable

Flavored:

no

Filtered:

no

Little:

no

Groupon:

no

Discontinued:

no

Buy 1 Get 1:

no

Free Gift:

no

Free Shipping:

no

Suscribe:

No

90+ Rated:

No

Limited Edition:

no

Rare Cigar:

No

Top 25 Brand:

no

Aficionado Top 25:

no

Staff Pick:

no