King Edward Cigars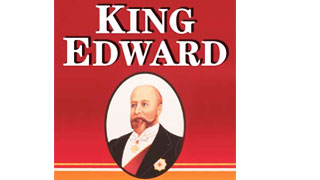 Named in honor of an iconic royalty, King Edward Cigars are easily one of America's best and mildest filtered cigars. A blend of 100% natural high-quality filler tobaccos with a Colorado Claro wrapper results in a smooth and rich smoking experience. These enjoyable machine-made cigars measure 4 ⅜ inches in length and have a ring gauge of 29.
The classic cigars are sold in three unique flavors - Regular, Menthol and Cherry. The Regular cigars rank high on all counts - appearance, consistency, burn, draw and construction. A hint of a fruity cherry flavor in these cigars gives a pleasurable spin to the regular blend. But if you are really in need of an invigorating smoke, grab the Menthol cigar for a refreshing flavor.
Sold in packs of 10 with 20 cigars each, these cigars come in attractive orange, lime green and red cartons that are designed to keep their freshness intact. The mild-bodied cigars exude a subtle aromatic smoke, which will not overpower your senses and hence can be paired with a mild wine or rum. Produced by Swisher International Inc. in Jacksonville, Florida, the King Edward cigars derive their name from King Edward VII who, on ascending the throne, upturned the smoking ban imposed by his predecessor, Queen Victoria He announced with his now famous words, "Gentlemen, you may smoke". With that classic history attached to their name, it is only natural that these cigars have become America's favorite go-to cigars for a quick, affordable and great smoke.
• Wrapper: Colorado Claro
• Origin: Machine-Made in Jacksonville, Florida