Posted by Blazing Bill on 15th Apr 2022

AJ Fernandez Enclave is a great cigar to have. Even just seeing it in your humidor should bring a smile to your face. Why? Because it's an anytime cigar, great value, and an excellent smoking experience. Debuted in 2015, AJ Fernandez Enclave is the second father/son partnership between AJ Fernandez and his father Ismael. It came hot on the heels of New World which had debuted in 2014. And like the majority of AJ Fernandez's cigars, this line comes in both a Natural and Broadleaf wrapper.
Today we'll be doing a deep dive into this cigar in both versions but first…
What's in a name?
AJ Fernandez is a man who knows his market, and not just in blending but also in naming the cigars. The name Enclave may not seem like much to the layman but wait until you understand what it means. According to the AJF website, "The spirit of the Enclave cigar lays within the special brotherhood created by those who enjoy a great cigar."
Enclave is an outstanding name for a cigar. In essence, Enclave means a portion of a nation partly or completely surrounded by another larger nation whose people are culturally or ethnically different. So the enclave community, somewhat secretly, shares special cigar experiences unknown to the rest of society.
After the New World Series which paid homage to the introduction of tobacco to the rest of the world, Enclave intricately continues this story. Enclave pays homage to the Native American culture. The bands showcase Native Americans on horseback riding like the wind with a beautiful antique background.
Moving on to the blends, let us discuss the ins and outs of these two versions.
AJ Fernandez Enclave Natural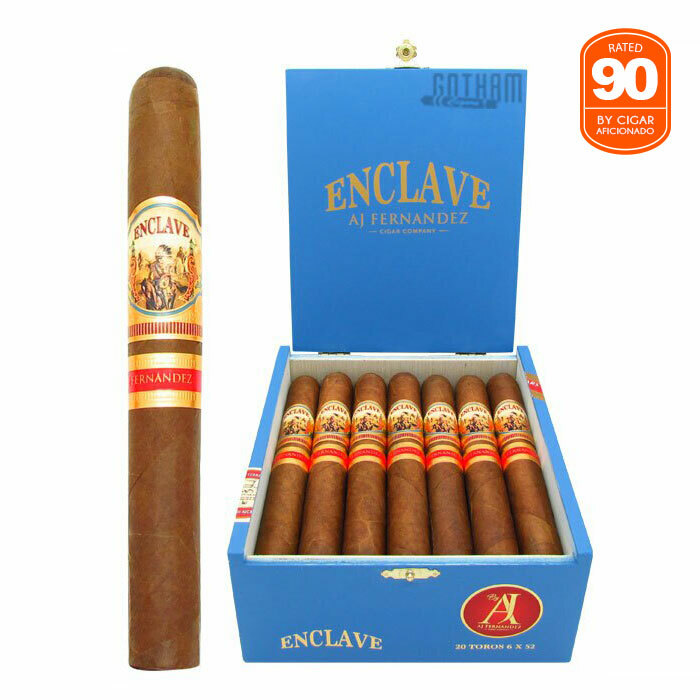 As earlier alluded, this is the original Enclave. Usually, AJ Fernandez releases the natural blend first and then the maduro later. He's done this same thing with Bellas Artes, New World, Last Call, and San Lotano though this line includes more than two versions.
This original Enclave blend was really an Ismael production which upholds finesse over force. Ismael and his son were looking to create more than just another cigar but an outstanding smoking experience.
This Enclave showcases Nicaraguan fillers and in particular AJF Piloto Cubano. Over this is an exotic Cameroon binder. This is the first time AJ Fernandez used a Cameroon leaf. And finally the whole shebang is swaddled in a decadent Ecuadorian Habano Rosado wrapper.
Enclave Natural: Tasting Notes
The Enclave natural is a beautiful cigar to behold. It's a medium to dark brown stick with the signature Rosado hue and a fair amount of oil. The shaft is super smooth with flat veins and tight seams. There are strong cocoa, cedar, coffee, and nuts notes on the shaft and cold draw, after clipping the semi closed foot.
Dominant flavors are milk chocolate, roasted coffee, cedar, cinnamon, spice, earth, and pepper. You may also find a toasty graham cracker disposition, nutmeg, and leather all within a thick chewy miasma. The Ecuadorian Habano Rosado wrapper highlights notes of spice, sweet caramel, pepper, pecan, and a delectable woodsy savor. Sweet creaminess perfectly balances spice, pepper, and cedar.
When all is said and done, this is a medium strength cigar with a full body which confirms the original intend of finesse over force. Enclave Natural has done so well among cigar aficionados garnering a 92 rating from both Cigar Aficionado and Cigar Coop. It comes in Robusto (5 x 52), Toro (6 x 52), Figurado (6.5 x 52), and Churchill (7 x 52).
AJ Fernandez Enclave Broadleaf
When AJ Fernandez Broadleaf came out in July 2017, certain sources reported that the wrapper is a Pennsylvania Broadleaf but now we know the wrapper is indeed a Connecticut-grown Broadleaf. Aside from the wrapper, the binder and fillers are Nicaraguan tobacco from Esteli, Jalapa, Nuevo, and Pueblo. AJ Fernandez Enclave borrowed a lot of its band design from the New World Series and the box design from San Lotano.
The Connecticut Broadleaf is the most commonly used leaf for maduro smokes. It's grown under direct sunlight which causes it to be large, thick, oily and super veiny. Truthfully, this wrapper looks a little rough but it's very flavorful. Blenders prefer it because the rustic appearance translates to mature, bold, and masculine flavor notes-the very flavors we crave in a maduro stogie.
Enclave Broadleaf: Tasting Notes
So, what are you to expect from this cigar? First off, Enclave Broadleaf is a dark chocolate or dark tan stick with lighter coloration on the veins. It's got a rough and oily feel, lots of tooth, and a decent double cap. There's a rich earthy nuance on the shaft coupled with dark chocolate and coffee notes on the foot.
The actual smoking experience is a roller coaster of complexity, depth, and truckloads of nicotine. Strong cedar, pepper, earth, leather, nuts, grilled meat, char, coffee, and dark chocolate are the flavor notes to look out for.
The Connecticut Broadleaf wrapper displays a rustic character hauling leather, minerals, and a basal metallic nuances with implicit bitter sweet chocolate, black currant, chestnut, sweet raisins, earth, and toasted nuts. It is a full bodied, full strength cigar so newbies watch out!
To my utter delight, despite the dark flavor profile, this cigar never goes bitter or bland. In fact, there is a peculiar citrus note I've not noticed in any other Connecticut Broadleaf stick which I attribute to the fillers and expert blending.
Despite the fact that Enclave Broadleaf is nothing like Enclave Natural, it did outstandingly as well garnering a 92 rating and the 19th slot in the Top 25 cigars of the year 2019 by CA. It comes in 5 sizes namely Robusto (5 x 52), Toro (6.5 x 54), Belicoso (6 x 52), Churchill (7 x 52), and Gordo (5.5 x 58).
Final Thoughts
AJ Fernandez Enclave is an anytime cigar. Enclave joined AJ Fernandez's portfolio of value-priced amazing cigars. Which naturally made these bad boys into humidor mainstays.
To me, the Enclave duo is not really about palate, I think it's about the mood. Sometimes you want a mild flavorful smoke so you go with the natural; other times you want a slap upside the head so you reach for the broadleaf. Whichever mood you're in, I bet an Enclave can do something about it.