Posted by Blazing Bill on 30th Mar 2022

Today is a special day. Why you ask? Read the topic again. It's been 8 years since New World Cigars first debuted in 2014! Why am I all giddy? Because of the New World Order, sorry Cigars...lol. Know how you forget cash in a pocket somewhere and then suddenly one day you put your hand in there and voila! That's how I feel whenever we get to discuss any outstanding cigars that have been around a while. To me, it's like a re-unveiling. And today it's not just any cigar, it's the New World Cigars by AJ Fernandez.
AJ Fernandez, the Man
When it comes to a man like Abdel Josef Fernandez, I don't think there are enough reviews to quantify his impact on the cigar market. And I know we like to throw the word legend around; but give honor where it's due. Without any bit of exaggeration, no one blends like AJ Fernandez.
In truth, AJ Fernandez is the true picture of a man at the top of his game. His reputation for blending and production is unrefuted across the entire cigar world.
History of the AJ Fernandez Brand
AJ Fernandez grew up in Pinar del Rio in Cuba. From the age of 13 he began to learn about tobacco planting, harvesting, priming, fermenting, and sorting from Riccardo Ledezma. Later around 2003 he went to work for a farmer who grew tobacco for Nestor Plasencia. In due time, he began to blend for companies which inevitably led to his first cigar, the San Lotano.
After the unprecedented success of the San Lotano blend, AJ Fernandez, working with his father Ismael, produced New World Cigar.
Overview of AJ Fernandez New World Cigars
As earlier divulged, New World Cigars first hit the market in 2014. The essence of this wildly successful father and son coaction is a nod to the discovery of tobacco and its introduction to the world. According to history, in 1492 when Christopher Columbus encountered the Native Americans, they offered him gifts. Among the gifts were dried tobacco leaves. Later the same year, tobacco was introduced to Europe and to the rest of the world thereafter.
To pay homage to this phenomenal event, New World Cigars are adorned with a band depicting the moment when Christopher Columbus first arrived in America.New World Cigars are all medium to full-bodied stogies. They embody a chichi excursion through Nicaraguan tobacco with all its layered subtleties. Since the original New World Cigar, now named Oscuro, there have been 3 more major New World additions and countless vitola releases to date.
Now let's find out what New World Cigars are really like.
New World Cigars: Oscuro
This was the original, box-pressed New World Cigar released in 2014. Oscuro features a delicious deep reddish-brown wrapper from Esteli, Nicaragua. Beneath it is a Jalapa leaf binder and premium long-leaf fillers from Ometepe, Condega, and Esteli.
This dark Nicaraguan wrapper makes for highly aromatic billows of smoke. You can expect superb caramel sweet spicy notes expertly comingled with earth, wood, espresso, and a crisp nutty finish.
New World Oscuro was a hit from the get go receiving 91 rating from Cigar Aficionado, 92 rating from Cigar Snob Magazine, and the coveted Cigar of the Year 2014 accolade from Cigar Journal with a 94 rating.
To date, New World Oscuro comes in 6 vitolas; Robusto (5.5x55), Belicoso (5.5x55), Gordo (6x58), Toro (6.5x55) Toro Redondo (6.5x55), and Double Corona (7.5x55) New World Redondo was first released as a limited-edition treat exclusive to TAA (Tobacco Association of America) members in 2019. Later towards the end of 2020 it became a regular production vitola. Redondo is Spanish for "Round" and is the only vitola in the Oscuro line that is not box-pressed.
Still, in early 2020, AJ Fernandez decided to release New World Oscuro tins. Each tin carries 6 sticks in the Petit Corona size of 4x36.
New World Cigars: Connecticut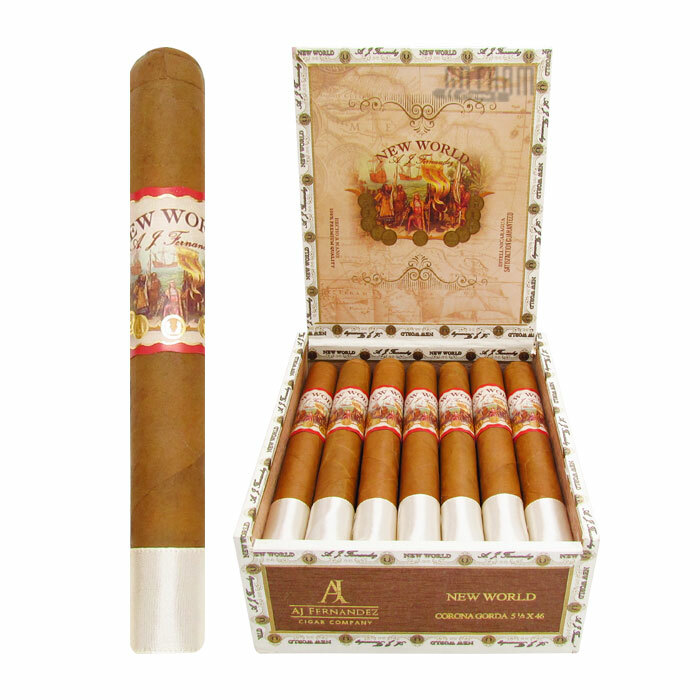 New World Connecticut came soon after Oscuro in 2015. This time round, they did not box-press it.
As you can probably deduce, this stogie features a Connecticut Shade wrapper. This wrapper is grown in the US under mesh netting to mirror cloud cover. Belied under the wrapper is a San Andres Mexican leaf encasing Nicaraguan and Brazilian fillers. Mild nuances of this Connecticut Shade wrapper bring out tons of aromatic smoke and refreshing notes of lemon zest, coffee, sweet cedar, nuts, and a creamy finish.
New World Connecticut garnered incredible ratings. Cigar Snob gave it a 91 rating while Cigar Journal gave it a 92 rating and the Number 5 slot of the top 25 list of 2021.
Vitolas include Robusto (5x50), Corona Gorda (5.5x46), Toro (6x52), Belicoso (6x54), Gordo (6x60), and Churchill (7x50).
New World Cigars: Puro Especial
After the Conny came New World Puro Especial released in 2017. The Puro Especial is outstanding in that it features only Esteli-grown Nicaraguan tobacco. So, the wrapper and binder are Habanos while the filler is simply Nicaraguan. At a glance this cigar may not appear like much but wait until you learn what's in there.
There are some Criollo '98 leaves from the San Jose farm, some flavor-packed priming from La Soledad farm, choice crop from La Providencia for that heart stopping aroma, and pinches of filler from the San Diego farm just because of the mineral quality of the soil. All the leaves are aged between 3-5 years.
The result is a complex tapestry of flavors including leather, mineral earth, cedar, hickory, and charred meat perfectly balanced by coffee, almonds, cocoa, and pepper. Did you know that New World Puro Especial was first released in limited quantities under the name Habano Especial?
As far as ratings go, this baby has done exceptionally well. Cigar Aficionado gave it a 93 rating and the No. 12 slot in the 2017 Cigar of the Year list. Cigar Snob magazine gave it a 92 rating while Cigar Journal gave a 91 rating and the 11th position in the Top 25 Cigars of 2017.
Vitolas include Robusto (5.5x52), Short Churchill (6x48), Toro (6.5x52), and Gordo (6x60). Originally, New World Puro Especials came in red boxes but as of 2021 AJF redesigned the boxes to resemble the rest of the packaging under the New World Cigars brand.
New World Cigars: Cameroon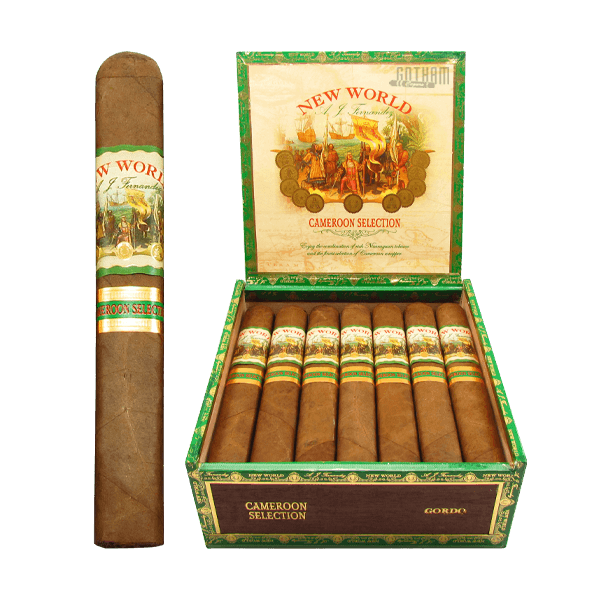 New World Cameroon, released in 2018 is the last release thus far. This box-pressed line is special because it's the first time AJ Fernandez ever used a Cameroon wrapper. Filler and binder are both Nicaraguan.
New World Cameroon is rich in flavor and depth. Expect loads of decadent natural sweet tobacco notes, pepper, earth, oak, and light toasty creaminess. Both Cigar Aficionado and Cigar Snob magazine rated it at 90 while Cigar Journal gave it a 92.
New World Cameroon comes in 7 sizes including Short Robusto (4x48), Double Robusto (5.5x54), Toro (6x50), Gordo (6x60), Torpedo (6.5x52), Churchill (7x48), and Petit Lancero (5x38).
Final Thoughts
Oh, talking about this quartet really got me peaking in my humidor to see which of these isn't there. It really is a tragedy to be without any of these given the affordability as well as quality and consistency.
Which is your favorite among the four or do you just like to smoke all of them at once like a psycho? I've heard some people do that.