Macanudo has been around for decades; in fact, more like a century. And as you can deduce, any cigar brand that is this time-tested has something to say. Macanudo actually means magnificent in Spanish. And magnificent has been the testimony of many aficionados who owe their first cigar experience to Macanudo Cafe.
As we trace the history and highlights of the Macanudo story our focus will ultimately be on the Macanudo Inspirado line which is often referred to as the brand's renaissance.
What's Macanudo?
Before Macanudo was ever a world-renowned brand, it was produced by a small family-run enterprise named Temple Hall Factory in Kingston, Jamaica. At first, Macanudo was a simple front mark cigar meant for the British market. But, in 1968, Temple Hall Factory and Macanudo was acquired by General Cigars under Edgar M. Cullman from the Englishman Rawley Crosswell.
Edgar M. Cullman is the great grandson of Ferdinand Cullman, a cigar-making connoisseur who began his cigar business in America in the late 1840s. After purchasing Macanudo, Edgar Cullman garnered experts in the field to curate Macanudo into a world-famous cigar brand. Among the experts was Ramon Cifuentes, Alfons Mayer, and Daniel Nunez.
Alfons Mayer is the one who chose Dominican, Jamaican, and Mexican tobacco for the original Macanudo blend. In 1971, under Ramon Cifuentes, Macanudo was launched donning a decadent Connecticut Shade grown wrapper aged 2-3 years. This was the beginning of Macanudo's world popularity. Over the years Macanudo's brand grew with various wildly successful lines including Macanudo Vintage Selection, Macanudo Gold Label, Macanudo 1968, and Macanudo Cru Royale among others.
However, only one line has been called the Renaissance; Macanudo Inspirado.
About Macanudo Inspirado
So what is it about the Inspirado line? Debuted in 2014, the Macanudo Inspirado line of cigars was initially meant for the European market. However, after taking the world by storm in just a few months, it was introduced to the USA market in 2016.
The essence of the Macanudo Inspirado line is to revolutionize the Macanudo brand and experiment with never before used tobacco. Through Macanudo Inspirado, General Cigars was determined to show that Macanudo was in no way an ancient brand that is out of touch with the emerging market trends. In fact, General Cigars' president Régis Broersma had this to say,
"In 2016, we released Macanudo Inspirado in the U.S. and the brand immediately won favor among critics and discerning smokers. We're pushing the envelope, and cigar lovers of all levels of experience are being drawn to Macanudo. They are attracted to the brand's heritage, quality and versatility, and see Macanudo as a cigar that enhances their smoking occasions."
And they have proven their ability to revitalise, reimagine, and rebrand Macanudo for the new and younger type of cigar lovers.
Macanudo Inspirado: Evolution of an Icon
Macanudo Inspirado comes in various colour-coded blends. We have the Orange, White, Red, and Green which all mean something to the company and the lover of the leaf. Here is a breakdown of the various blends.
Macanudo Inspirado Orange
Little needs to be said in the way of convincing anyone that Macanudo Inspirado Orange is a great cigar. After all, it has more than proved itself. This particular Macanudo was the original Macanudo until 2016 when the Macanudo brand broke into the American market. Then it was rebranded Macanudo Inspirado Orange and adorned in an orange band to stand out in the Cuban-dominated market of the US.
Macanudo Inspirado Orange flaunts Dominican, Honduran, and Nicaraguan fillers cloaked in a Honduran binder and finished off with a beautiful honey-brown Honduran wrapper.
Truly, it is difficult to capture in words the depth, complexity, approachability and quaintness of Macanudo Orange's flavor profile. Expect a beautiful symphony of cotton candy sweetness, nuts, baking spice, wood, hickory, citrus, cherry-raisin bread, almonds, creamy butter, and mineral earth. This is the perfect beginner cigar because it has barely any pepper or harshness of any kind. The aroma of the smoke is so pleasant, almost like a bakery. Grab yourself one in any of these sizes Robusto (5 x 50), Tubo (5 x 50), Toro (5.75 x 52), Gigante (6 x 60), and Churchill (7 x 50)
Macanudo Inspirado White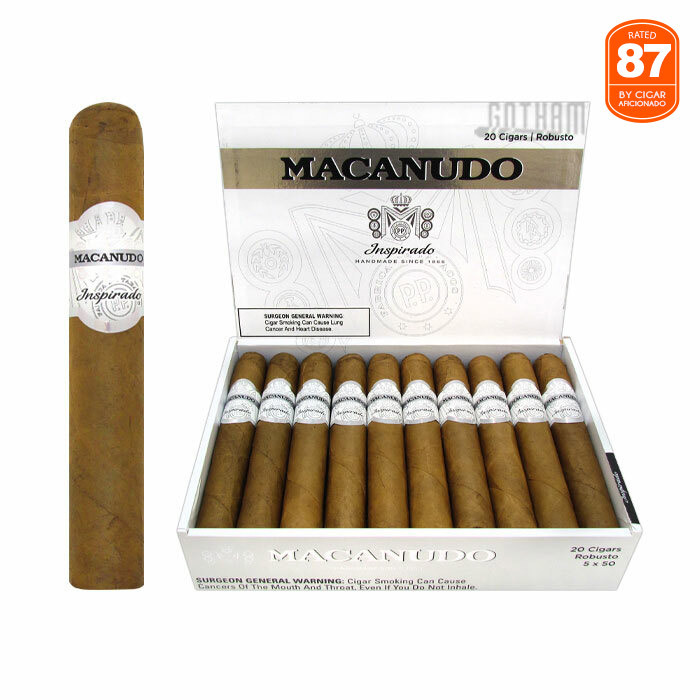 Released in 2017, Macanudo Inspirado White is the mildest of the Macanudo line. It's a beautiful, simple yet complex stogie with subtle sweet and spicy notes all over the length of the smoking experience.
Macanudo Inspirado White showcases an elegant golden Ecuadorian Connecticut wrapper aged for six years. Beneath it is an aromatic Indonesian binder encasing 4-year aged Nicaraguan fillers from Jalapa and Esteli and Mexican fillers from the San Andres Valley.
Macanudo Inspirado White was named "White" to match the Ecuadorian Connecticut wrapper. It comes in Robusto (5 x 50), Tubo (5 x 50), Gigante (6 x 60), Toro (6.5 x 50), and Churchill (74 x 8) packaged in 20-count boxes.
Macanudo Inspirado White is a supremely balanced smoke that takes subtlety to a whole new level. Expect silky smooth creaminess all through the smoke. Secondary notes include sweet grass, earth, cedar, tangy citrus nuances, and soft peppery heat. Overall this dainty smoke caps the strength at mild medium and the body at a full medium.
Macanudo Inspirado Red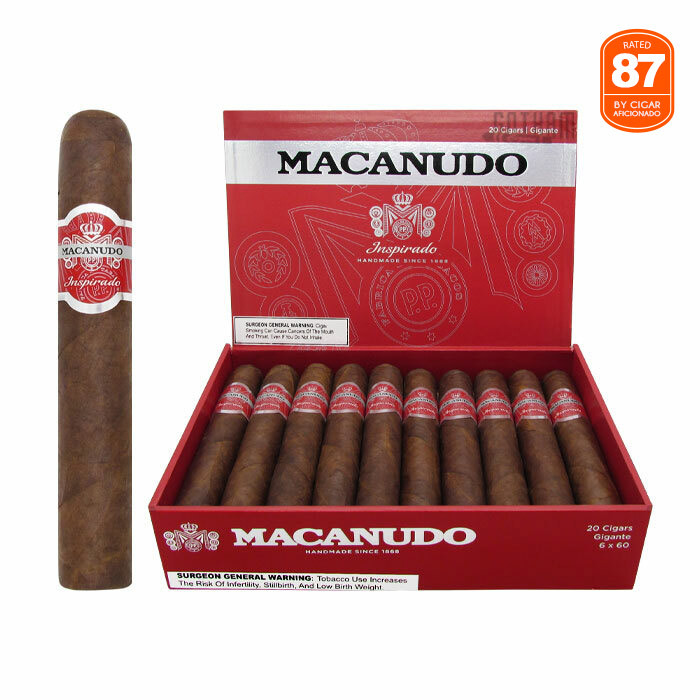 Macanudo Inspirado Red was meant to stand out and not just because of the fiery red band. First off, Macanudo Inspirado Red was created to celebrate the 50th anniversary of Macanudo and is also the first box-pressed Macanudo. It's a beautiful stick to behold with perfectly pressed veins and flawless seams.
Secondly, it features a high priming (ligero) Ecuadorian Habano wrapper swaddling a binder from Jalapa in Nicaragua, and delicately aged Nicaraguan and Honduran fillers. The fillers in this cigar are all vintage blends. We have 10-year aged fillers from Jamastran Valley in Honduras. 12-year aged fillers from Ometepe Nicaragua, and 5-year aged fillers from Esteli Nicaragua.
Thirdly, Macanudo Inspirado Red is slightly bolder than the rest of the offerings in the Macanudo Inspirado line. It is feisty with red pepper flakes and cinnamon right in the first draw. But once it settles there are pleasant creamy notes commingled with musty earth, dried fruit sweetness, baking spice, cedar, and nuts cupped off with an engaging mineral nuance.
And finally, this is the first Macanudo to be rolled at General Cigar's factory (STG) in Esteli Nicaragua. It comes in three sizes Robusto Box Press (5x50), Toro (6x50), and Gigante (6x60)
Macanudo Inspirado Green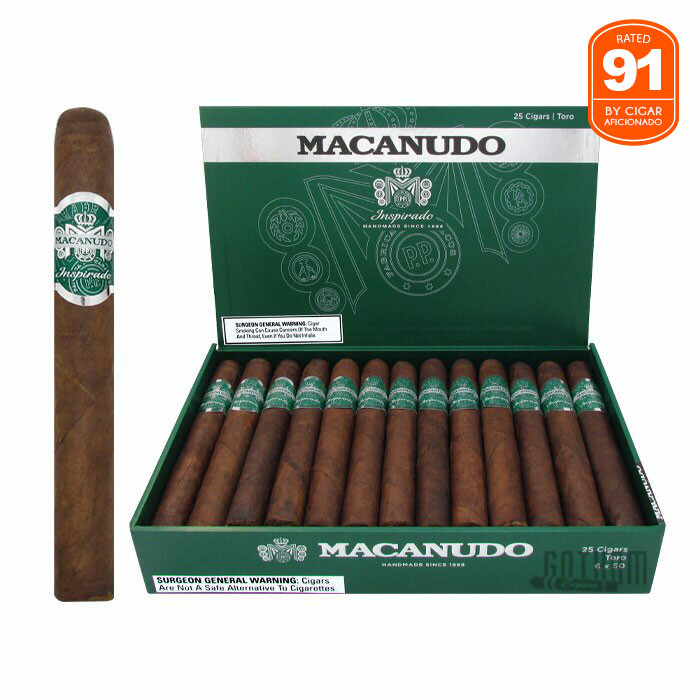 Released in 2020, Macanudo Inspirado Green is a gorgeous multi-national blend featuring a Brazilian Arapiraca wrapper encasing an Indonesian binder and a conglomeration of Colombian and Dominican fillers. In keeping with the Macanudo Inspirado revolutionary trend, this is the first time Macanudo has featured a Brazilian wrapper.
Rolled at the General Cigar Dominicana factory in the Dominican Republic, Macanudo Inspirado Green comes in three sizes: Robusto (5x52), Toro (6x50), and Churchill (7x48) packaged in 25-count boxes. When asked about the name Green, Laurell Tilley who is Macanudo's brand ambassador said,
"The Green has a Brazilian Arapiraca wrapper, and it is the first time Brazilian tobacco has been used in the Inspirado line. Green was chosen because the colour green is prominently used in the Brazilian flag and the country is known for its lush green landscape."
Expect deep coffee bean notes fused with cocoa, earth, licorice, and cedar. Significant heat from red and white pepper may be constant in the back of the throat and retrohale. A rich creamy flavor coats the whole smoking experience so that ultimately you have a medium strength, full bodied smoke that's perfectly balanced.
Final Thoughts
If you've never heard of Macanudo Inspirado it's likely that you're a newbie, but that's okay. Now you have heard and already know where to start exploring this wonderful line of cigars. Let us know your favourite Inspirado and why in the comments.
Recent Posts
Macanudo has been around for decades; in fact, more like a century. And as you can deduce, any cigar …

"In an industry filled with thousands if not millions of different cigars, how can we stand out?"&nb …

I sat for quite a while thinking about the best way to begin this piece. Undoubtedly, Perdomo is one …