Posted by Blazing Bill on 6th Jan 2020

It is a common consensus, in the cigar world, that AJ Fernandez can do no wrong. I am obliged to agree.
Obviously, not everyone loves AJ Fernandez and his creations. But whether you love AJ or love to hate him, the truth remains; the man knows his stuff. Nowadays, it is virtually impossible to shop for top cigars without coming across one or two of AJ Fernandez's blends. This is probably because these days, he is not just blending for his brand. He is collaborating with other brands to produce new and exciting mash-ups.
Speaking of other brands, after hitting nothing but net on Romeo y Julieta and Montecristo, Altadis USA wanted AJ Fernandez to do one more blend. And it's a pretty special one. This stick is already massively famous. Altadis just needed a new spin on a beloved cigar. Ultimately, this is how H. Upmann, by AJ Fernandez, came to be.
About H. Upmann by AJ Fernandez
Everyone who smokes this baby says it is worlds apart from the original H. Upmann blends. This is a true testament to what Nicaraguan tobacco can do to an already established brand.
Also, it doesn't hurt that AJ Fernandez is a stickler for perfection. Consequently, he meticulously oversees each process of making his cigars from seed to stick.
H. Upmann by AJ Fernandez was released in May 2017. It appeals to a new generation of smokers who like a bold stogie that doesn't try too much while at the same time subtle enough to work for a light-weight smoker. In case you have not caught on, what AJ Fernandez has done in this blends is phenomenal. With this blend, he can capture the interest of new smokers who want a smooth, gentle smoke as well as connoisseurs who aren't swayed by new snazzy flavors. And that is a tight rope to walk.
The Blend
The H. Upmann by AJ Fernandez boasts a silky smooth, chocolate brown Ecuadorian Sumatra wrapper. Internals include Nicaraguan and Dominican long-fillers. More specifically, you will encounter a Nicaraguan Criollo '98 fused with Piloto Cubano Dominicano tobacco. The binder is a Nicaraguan Corojo '99 leaf.
Clearly, this is not your everyday blend. You can expect the spicy mannerisms of Nicaraguan blends and even more so from the Ecuadorian Sumatra wrapper. H. Upmann by AJ Fernandez comes in 3 Vitolas; the Churchill (7x54), Toro (6x54), and Robusto (5x52).
These babies are rolled at the Tabacalera AJ Fernandez de Nicaragua factory in Esteli, Nicaragua. Instead of being distributed by Santa Clara Cigars, these babies are directly distributed by Altadis USA. This is the first H. Upmann cigar to come out of Nicaragua.
How Does it Smoke?
Of late, I find myself playing favorites with the Toro Vitola. I don't know what it is, but, yet again, for this review, we're going Toro.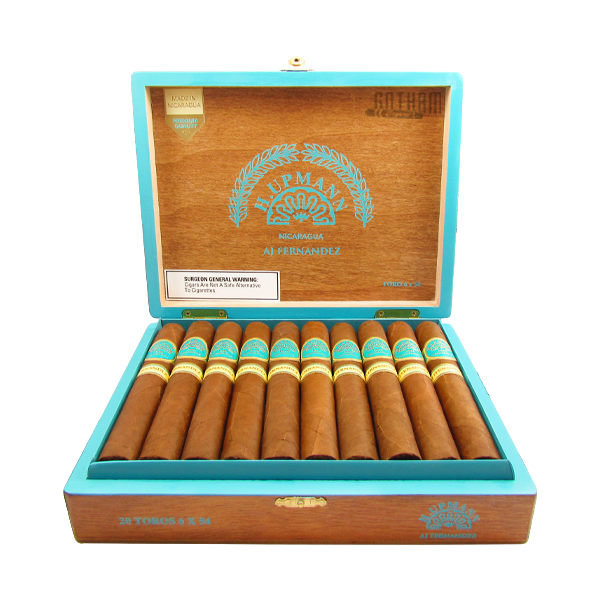 Prelight
My H. Upmann by AJ Fernandez Toro is beautiful. The dark tan, silky smooth shaft, is devoid of veins and seams. I can't quite tell if this is a double or triple cap, but whatever it is, it is flawlessly applied.
My Toro feels uniformly packed through and through. The foot yields delicious notes of sweet hay, earth, and leather. I caught a whiff of citrusy tang with a few flowery nuances. Cold draw is a milkshake draw-not too tight or too loose. I got a slightly sweet damp woody savor with just a pinch of cayenne pepper on my lips and tongue.
First Third
Upon attaining a satisfactory ember, my Toro opened with lots of smoke output. Immediately, there are sweet, spicy, oaky notes on the front of the palate.
At the same time, I can discern silky smooth, sweet earthy tang in the background with a tiny tickle of black pepper on the finish and retrohale. It is only a few draws in, but I can already feel the strength. Now, it's not strong at all; at best, it's a mild-medium. Burn is razor-sharp, and I am not just saying that. This cigar burns perfectly.
The flavors continue to develop as cinnamon, sweet milky cocoa, and roasted coffee make their debut. Retrohale morphs into light earthy and leathery flavors with tiny black pepper kicks on the long finish.
Mid Third
As expected, the ash has not dropped yet. As I settle into the flow of this baby, more subtle flavors emerge. The pepper and spice all but disappear replaced by sun-drenched cedar, leather, a buttery caramel, and nutty flavors.
Smoke output is without fault. It is thick and creamy. The creamy notes at this stage are quite strange. I can sort of feel the silky, creamy characteristic in the smoke, but it's not showing up on my palate. However, its presence or absence appears to accentuate all the other flavors.
Strength goes a tiny notch higher as I begin the final third. The burn line and construction are still perfect, evidenced by the coolness of the nub and slow burn.
Final Third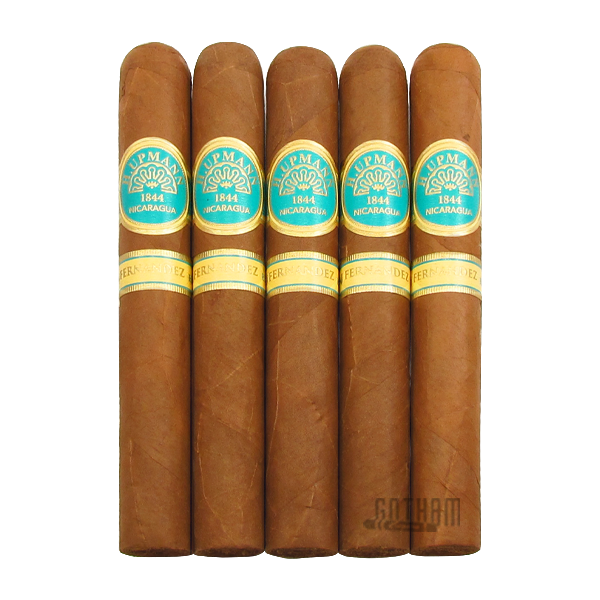 Deep earthy notes dominate the final third. In the background, I can taste fleeting caramel savor with a little baking spice. Retrohale speaks of charred wood with a sharp cedar pepper finish.
In a final surprise twist, my Toro throws in a refreshing orange zest zing in my last few draws. The citrus zing is fresh and bouncy taking over from the leather, cedar, and pepper combo. With my last draw, there are decadent milk chocolate notes combined with coffee, anise, and a glimpse of vanilla.
Strength went up to a strong medium, not overwhelming but definitely worth noticing. Honestly, I did not want to put this stick down.
H. Upmann by AJ Fernandez Pricing
We are absolutely in love with the price point on these exquisite treats. If you thought you would have to break your bank-or someone else's for that matter, there is no need to panic.
A H. Upmann by AJ Fernandez cigars goes for between $7.25 and $7.75 depending on the size. This is a fair price for such a decadent stogie. Considering the "normal" price point for a decent smoke has been gradually inching towards the $10 mark, we are pretty happy that this falls on the lower end of the spectrum. You can pick these up in 20-count boxes or 5 packs.
Wrapping Up
In all fairness, you will be hard-pressed to find something to criticize here. This stogie burns like a champ, flavor, and strength are both there, and you can afford to smoke it every single day.
What else could you ask for?
This is one of my faves to have anytime, anywhere. If you haven't tried them yet, go now!