H. Upmann by AJ Fernandez Toro features a complex blend of premium aged Criollo '91 and Pilato Cubano long fillers from the Dominican Republic and Nicaragua, finshed with an Ecuadorian Sumatra leaf wrapper. The tobacco is naturally sweet and exudes notes of dark roast coffee, black cherries and nuts for a luxurious smoking experience. H. Upmann by AJ Fernandez Toro is 6 x 54 and available in attractive boxes of 20 cigars or 5 packs.
| | | | | | | |
| --- | --- | --- | --- | --- | --- | --- |
| | | | | | | |
| 6 x 54(Toro) | Box of 20 | Ecuadorian Sumatra | Nicaragua | Dominican/Nicaraguan | | Nicaragua |

Tasting Notes
Of late, I find myself playing favorites with the Toro Vitola. I don't know what it is, but, yet again, for this review, we're going Toro.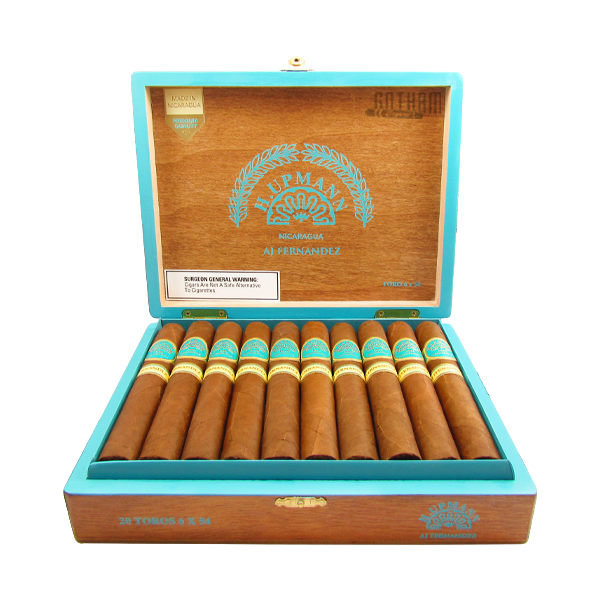 Prelight
My H. Upmann by AJ Fernandez Toro is beautiful. The dark tan, silky smooth shaft, is devoid of veins and seams. I can't quite tell if this is a double or triple cap, but whatever it is, it is flawlessly applied.
My Toro feels uniformly packed through and through. The foot yields delicious notes of sweet hay, earth, and leather. I caught a whiff of citrusy tang with a few flowery nuances. Cold draw is a milkshake draw-not too tight or too loose. I got a slightly sweet damp woody savor with just a pinch of cayenne pepper on my lips and tongue.
First Third
Upon attaining a satisfactory ember, my Toro opened with lots of smoke output. Immediately, there are sweet, spicy, oaky notes on the front of the palate.
At the same time, I can discern silky smooth, sweet earthy tang in the background with a tiny tickle of black pepper on the finish and retrohale. It is only a few draws in, but I can already feel the strength. Now, it's not strong at all; at best, it's a mild-medium. Burn is razor-sharp, and I am not just saying that. This cigar burns perfectly.
The flavors continue to develop as cinnamon, sweet milky cocoa, and roasted coffee make their debut. Retrohale morphs into light earthy and leathery flavors with tiny black pepper kicks on the long finish.
Mid Third
As expected, the ash has not dropped yet. As I settle into the flow of this baby, more subtle flavors emerge. The pepper and spice all but disappear replaced by sun-drenched cedar, leather, a buttery caramel, and nutty flavors.
Smoke output is without fault. It is thick and creamy. The creamy notes at this stage are quite strange. I can sort of feel the silky, creamy characteristic in the smoke, but it's not showing up on my palate. However, its presence or absence appears to accentuate all the other flavors.
Strength goes a tiny notch higher as I begin the final third. The burn line and construction are still perfect, evidenced by the coolness of the nub and slow burn.
Final Third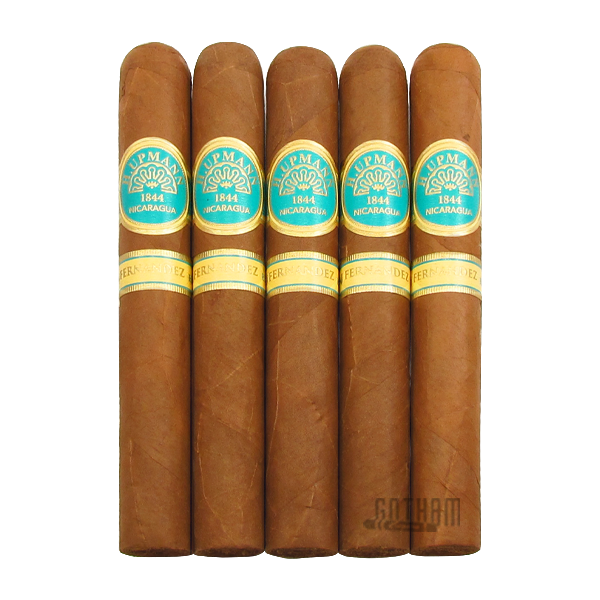 Deep earthy notes dominate the final third. In the background, I can taste fleeting caramel savor with a little baking spice. Retrohale speaks of charred wood with a sharp cedar pepper finish.
In a final surprise twist, my Toro throws in a refreshing orange zest zing in my last few draws. The citrus zing is fresh and bouncy taking over from the leather, cedar, and pepper combo. With my last draw, there are decadent milk chocolate notes combined with coffee, anise, and a glimpse of vanilla.
Strength went up to a strong medium, not overwhelming but definitely worth noticing. Honestly, I did not want to put this stick down.
SKU:

HUPAJT

SKU:

HUPAJT

Category:

Premium Cigars

Product Type:

Cigar

Manufacturer:

AJ Fernandez Cigars

Brand:

AJ Fernandez H. Upmann

Wrapper Type:

Sumatra

Wrapper:

Ecuadorian Sumatra

Binder:

Nicaraguan

Filler:

Dominican/Nicaraguan

Origin:

Nicaragua

Ring Gauge:

54

Length:

6

Shape:

Toro

Strength:

Medium

Quantity:

20

Package Type:

Box

Rating:

88

Package Count:

20

Price Per Cigar:

$8.5565

Gift Type:

Not Applicable

Flavored:

No

Filtered:

No

Little:

No

Groupon:

No

Discontinued:

No

Buy 1 Get 1:

No

Free Gift:

No

Free Shipping:

No

Suscribe:

No

90+ Rated:

No

Limited Edition:

No

Rare Cigar:

No

Top 25 Brand:

No

Aficionado Top 25:

No

Staff Pick:

No