Rocky Patel White Label Toro is an exquisite blend crafted by Rocky at his factory in Esteli, Nicaragua. It is a complex blend of the finest Nicaraguan tobaccos for the filler and a flawless Connecticut shade leaf wrapper that is bold in flavor. You will experience notes of cedar and cream with a naturally sweet and buttery smooth finish. The finished sticks are presented in an ornate white leather box with rose gold trim and closure and rose gold plate on the lid and inside of the box. Rocky Patel White label Toro is a medium bodied smoke measuring 6 1/2 x 52 and available only in boxes of 20 cigars.
| | | | | | | |
| --- | --- | --- | --- | --- | --- | --- |
| | | | | | | |
| 6 1/2 x 52 (Toro) | Box of 20 | USA Connecticut Shade | Nicaragua | Jamastran, Nicaragua | | Nicaragua |

Tasting Notes Prelight
This is a beautiful cigar. I went with a Robusto for the review. The wrapper is a light tan mustard-hue leaf with visible veins and an impeccable triple cap. I don't usually discuss the band, but boy, this rose gold on a white background is breathtaking. In addition to the name, they've included information about the wrapper, factory, and aging on the band.
The aroma off the shaft suggests peanuts, barnyard, chocolate, cedar, and a little dried fruit. I may have picked whiffs of pepper off the foot but they were very faint. Cold draw gave me dried fruit, toasted nuts, fleeting vanilla notes, oaky nuances, and chocolate.
First Third
My White Label Robusto opens with bold earthy notes, toasted nuts, red pepper spice, hay, and an emerging creamy note at the back of the palate. There are so many flavor notes to pick apart in these first few puffs. Which is why I have to allow the cigar to settle. After a few draws, a delicious creamy note dominates the front of the palate. Beneath it are sizzling citrus notes, nuts, hay, and an undeniable meaty nuance. There's an absolutely delightful long finish enveloped in sweet toffee.

When I Retrohale, an exquisite but fleeting mint savor whizzes past me. It's so fluid and subtle that you can't help but chase it. The construction on this baby is rock solid. Even though the ash is a little flaky it doesn't fall. It's a perfect milkshake draw crowned by a razor sharp burn.
Mid Third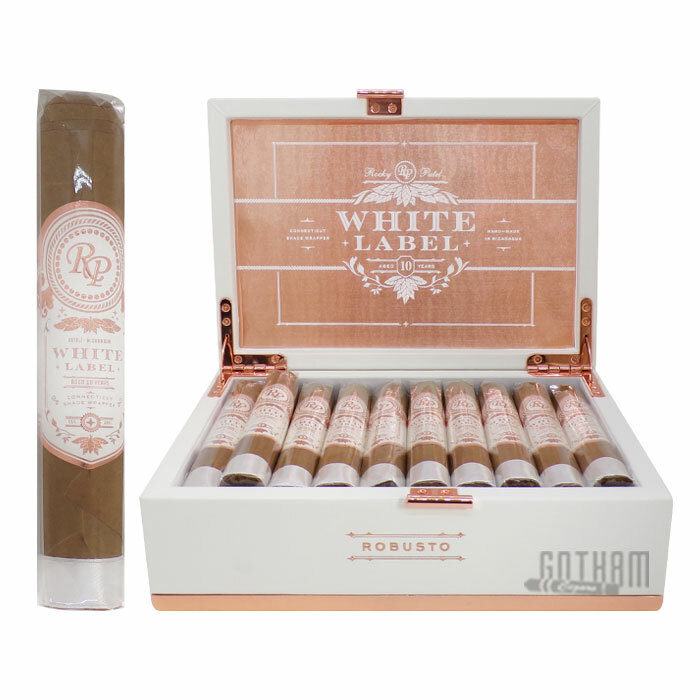 It's in the mid third that I notice the billows of smoke emanating from this stogie. The truth is, smoke output was top-notch all through and I just wasn't paying attention. But now that we're talking about the smoke, it's not the heavy cotton mouth-like feel. It's thin, light, silky, and wispy smoke.
In the mid third a creamy buttery cake flavor sets in. Nuts, citrus, hay, and implicit sweetness take a back seat. The meaty note adapts a pork-like disposition. Red pepper comingles with cedar, dry herbs, and toasted nuts to create an interestingly enjoyable camaraderie. The long sweet toffee finish becomes short with roasted coffee, orange peel essence, and a certain sourdough tartness appearing at the very end.
The overall experience is very smooth and creamy. I have no complaints about the burn line, smoke, draw, or construction whatsoever. Finally I can definitively speak about the body. Flavor is full at this point while the strength is medium to full.
Final Third
I knew I was in the final third when everything began to intensify. The nutty flavors mature to a full-on peanut butter creaminess while the dry fruit notes that had gone obscure come back as full floral piquancy. Orange bitters combine with earthy tones and brand new leather to create an interesting base. Dancing all over my palate are notes of roasted coffee, cedar, hay, white pepper, and cream. That elusive mint note comes in clean and flashy. Flavours are popping all over and strength is a solid medium to full. My White Label Robusto went for a little over an hour. It was worth every minute.