A legend in the stogie world, the DutchMasters
It takes a lot to be dubbed a legend in any field. You must combine awesomeness with consistency and carry them over a reasonable period. Well, we are in the presence of a legend in the stogie world, the Dutch Masters. There is a common misconception in the cigar world that the more expensive the stogie, the better the flavor. Speaking as an aficionado, there is a lot to be missed when you become brand-rigid. Many cigars and cigarillos fly under the price radar but are delicious and that is very true of Dutch Masters.
Brand Review
The Dutch Masters brand consists of quite a number of cigars. But what stands out is the distinctive sweetness brought on by the natural tobacco leaf wrapper on each of these stogies. The brand is also specially crafted to burn slow. This sets it apart from other short filler brands. Even though these are machine-made cigars, fillers are intricately blended Cuban seed tobaccos with a homogenized binder and various natural leaf wrappers including Cameroon and Connecticut. As far as strength is concerned, Dutch Master cigars are famously mild with popping fruity and chocolate flavors. They come as both full-size cigars and cigarillos fondly called Mini-dutchies. Much as I would love to drone on about each of the cigars under the Dutch Masters brand, there are well over thirty. So I will review my best three- the Dutch Masters President, the Dutch Masters Palma, and the Dutch Masters flavored cigarillos.
The Dutch Masters President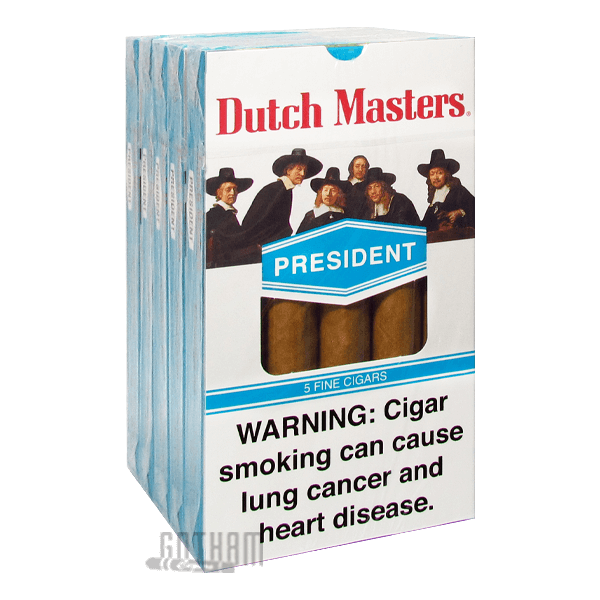 The Dutch Master President is one of the pivotal cigars in the Dutch Masters brand. It is 5.62 inches with a 42 ring gauge of perfect construction. The filler and binder are homogenized tobacco leaf wrapped in a natural leaf wrapper. The advantage of having a homogenized binder is exquisite seamless wrapping. Stogie masters will agree that a consistent burn line is dependent on the binder and wrapper. This is the secret to Dutch Masters president's stoic burn and strong smoke output. In matters of strength, the Dutch Master president is a mild cigar. But what it lacks in strength is more than made up for in body and flavor. This is one aromatic stogie with delicious natural tobacco flavors with their signature sweetness. You will enjoy the honey-caramel notes with basic natural tobacco sweetness and leathery undertones. This stogie embodies all the flavors we love about a natural cigar, and the best part is that they last throughout the smoke.

The Dutch Masters Palma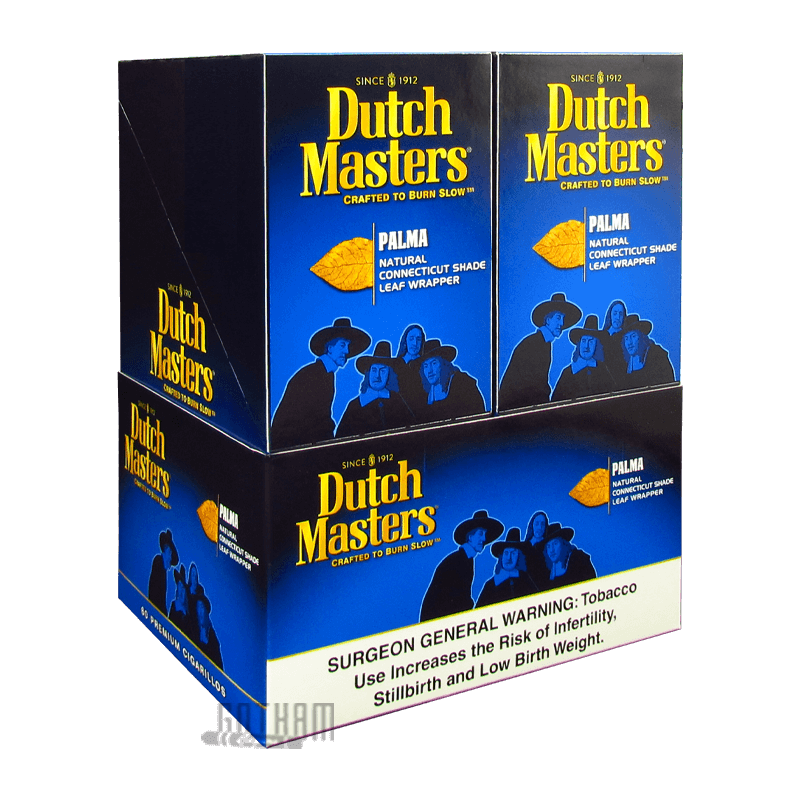 The Palma delivers an exceptional smoking experience. It packs homogenized tobacco fillers and binder in a natural Cameroon tobacco leaf wrapper. The outstanding quality of the Palma is the aroma. Even before you light it up, you will smell mild vanilla and maple syrup on the wrapper and cold draw. This should probably prepare you for the bouquet of sweet scents unleashed from the first draw. Immediately you light this baby up, you will have people gravitating towards you to find out what you are smoking that smells so sweet. The flavors on this stogie are excellent. I loved the vanilla notes combined with the natural sweet tobacco and peppery notes on the retrohale. There are also clear honey and fruity notes with subtle cream and chocolate. All throughout the smoke, the peppery zest goes up a notch with every draw, but it does not overwhelm the sweet, creamy, chocolate or fruity flavors. Towards the end of my smoke, I tasted sweet hay and woody flavors at the back of the palate which summed up a good cigar experience. The burn stayed sharp throughout the smoke, and the ash was stable with no flaking whatsoever. If you are a sweet flavor stogie kind of person, you will not be able to put this cigar down.
The Dutch Masters Flavored Cigarillos
The Dutch Masters flavored cigarillos consist of a variety of flavor-packed mini-dutchies. The most popular cigarillos in the Dutch Masters brand include Vanilla, Cognac, Chocolate, Grape, Sweet Green, Honey Sports, and the fusions, among others. They feature Caribbean Basic Cuba seed fillers, homogenized tobacco leaf binders, and natural tobacco leaf wrappers. These cigarillos measure 4.5 inches with a 28 ring gauge, perfect for a quick smoke when the need arises. You will love the tangy fruit flavors coupled with natural sweet tobacco zest and the legendary mild strength. They come packed in a box with 30 packs of 2 stogies each.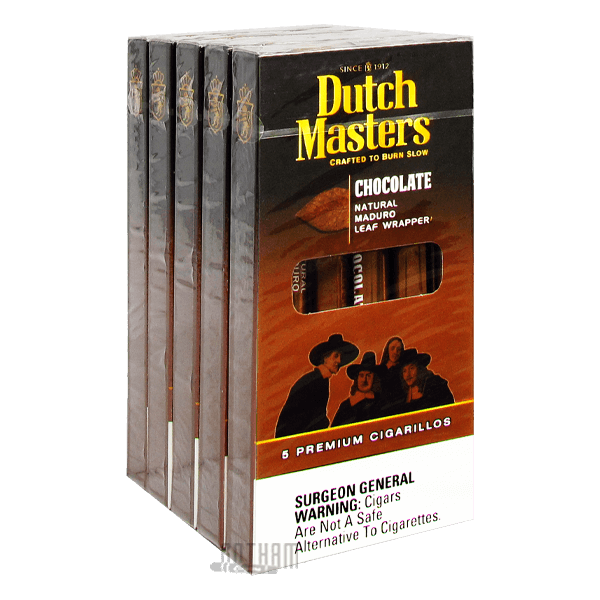 The packages are airtight with zip-lock while the individual stogies are wrapped in foil to maintain freshness. Altadis really invested in ensuring their cigars reach the customer in perfect condition and it has become a significant selling attribute. Each Dutch Master cigarillo I have ever smoked has maintained popping flavors throughout the smoke. You can take them anywhere and even when you take one cigarillo out of the 2-pack you don't have to worry about the other one drying out. You will love the slow burn and the consistent flavors backed by natural tobacco fillers. It is safe to say the Dutch Masters take the mantle when it comes to cigarillos. They offer great character, great value, and none of the humidor needs.
A Little History
Dutch Masters is a formidable brand that has been in existence for ages, specifically since 1911. It is one of the pioneers of mass-produced machine-made brands wrapped in a natural wrapper. The Dutch Masters brand is manufactured by Altadis Inc., an Imperial Tobacco Group subsidiary based in Fort Lauderdale, Florida.
Why Dutch Masters is a Classic Favorite
Anyone who has had a Dutch Masters cigar will get a goofy, nostalgic, far-away look on their face when you ask this question. I reckon it's probably because their mouths are watering just thinking about the deliciousness that makes these stogies such a beloved and constant part of our smoking rotation. First, let's talk about consistency. Rarely will you find pack after pack of perfectly consistent cigars without any bad stick or even a torn wrapper. Dutch Masters cigars have been unwavering in flavor, body, and construction for more than a century. Thanks to the short fillers, homogenized binders, and machine-rolling, Dutch Master cigars have always been cheap.

I particularly love this because I can bring my Dutch Master cigars and mini-dutchies to any party to enjoy with my stogie buddies without feeling a burn in my wallet. And finally, with their revolutionary foil wrapping, Dutch Masters stay fresh throughout which keeps the flavor intact and customers like me happy. For over a century, Dutch Masters cigar makers never missed the mark on making delicious stogies. We look forward to another century of enjoying these masterpieces and if you haven't had one yet, get in on the action. You have no idea what you're missing.

Recent Posts
Chillin' Moose is back on the headlines. Wondering what the moose did this time round? It graduated …

Macanudo has been around for decades; in fact, more like a century. And as you can deduce, any cigar …

"In an industry filled with thousands if not millions of different cigars, how can we stand out?"&nb …