Posted by Blazing Bill on 28th Jan 2021

Every lover of the leaf wants a reliable, everyday cigar that is cheap and can be tossed at any point without buyer's guilt. And the truth is, these are a dime a dozen in the market. But every lover of the leaf also wants a cigar that is enjoyable, balanced, and a flavor bomb.
Factory Smokes by Drew Estate
Drew Estate is known for a dynamic approach to cigar marketing. Often, remaining in a tradition-rigged business such as the cigar business means staying true to history. However, a new "blend" of cigar conglomerates is emerging that stays true to their own story. Drew Estate is one such company.
You may be wondering what factory smokes are and what I'm going on about. Well, Factory Smokes is a brand of bundle cigars by Drew Estate. For decades, Drew Estate stayed off the bundle cigar business. That is, until 2018 when they debuted Factory Smokes.
Like everything else Drew Estate does, Factory Smokes took everyone by storm or should we say by smoke? The flavor profile in these smokes far surpasses any bundle cigar in the market yet the price is incredibly low! This is what Jonathan Drew, the President of Drew Estate had to say,
"Our expansion in the bundle business was a decision we did not take lightly. Bundles aren't glamorous and the efficiency required to produce them effectively is not easily reached, which is why there aren't a ton of entrants innovating in the value priced space. This is long overdue for Drew Estate, and when we reached the production scale required to compete we knew we wanted to do what we do, and disrupt the space with an innovative, deep value line of quality smokes for a broad set of thrifty individuals." Now that you're shaken and stirred let's dive into the makings of these smokes.
The Blend
Factory Smokes come in four different wrappers. The blend is similar across all the cigar lines under the Factory Smokes brand. You have your Indonesian fillers and binder. But do not be fooled. These aren't your everyday low-quality shavings off the cigar factory floor. No siree!
Factory Smokes carry premium leftover mixed fillers. Drew Estate hand rolls these babies at La Gran Fabrica de Drew Estate Factory in Esteli, Nicaragua. Keep in mind that La Gran Fabrica factory also produces some of the ultra-premium Drew Estate cigars. For this reason, Factory Smokes carry both long fillers and short fillers from dynamite brands like Liga Privada.
Each stick is then swaddled in one of five different wrappers; Sweets (Habano), Maduro, Sun-Grown, and Shade. I'm sure you are used to hearing four different wrappers and not five since that's been the truth all along. But in July 2020 Drew Estate expanded the Factory Smokes brand by adding a Candela wrapper to the bunch.
And now you know why each Factory Smokes stogie is premium in every way but the price.
If you have never had a Factory Smoke, well, I've just opened up a whole array of choices for you. You've got to decide which of the five wrappers gets to lead the herd. Remember, this is a cheap smoke that you can toss if you so desire. In fact, Drew Estate quipped as much in a press release.
"A handmade value priced line of cigars perfect for sharing with your friends on a Monday, mowing the lawn, washing the car, you know, smoke it, enjoy it, toss it if you must, then grab another."
Factory Smokes: Tasting Notes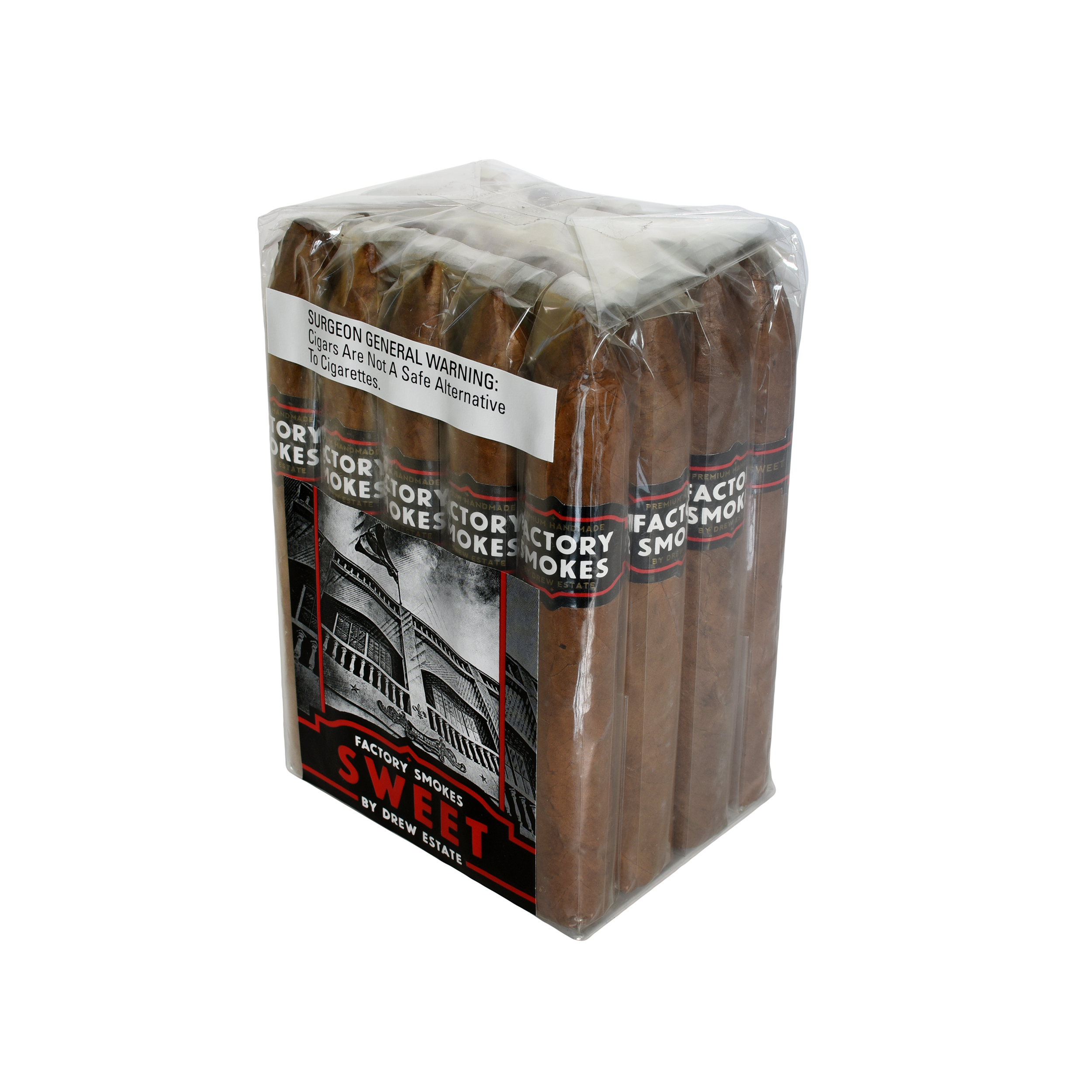 Factory Smokes Sweets feature a Habano wrapper and a sweetened tip. Now, flavored tips tend to be a turn off for lovers of the leaf. But before you write this one off, you should know it's neither artificial-tasting nor sickening.
The sweetness is a natural wafting across the palate compounded by notes of cream, wood, spice and some mustiness on the finish. The sweetness ties the whole profile together making it a superbly balanced and luxurious smoke. Overall, this Sweet Habano stogie remains in the mild to light medium in the strength category.
Maduro
All cards on the table; I love a Maduro wrapper. The dark toasty notes and stronger profile just does it for me. While I may not rank this maduro as one of my favs, I would say it put up a good fight. Factory Smokes Maduro offers a gentle surge in strength compared to the other Factory Smokes cigars. Chocolate, cedar, espresso and sparks of pepper carry the day flavor wise. As expected, the Maduro wrapper renders a tacit sweetness that stays through the finish. Overall, the strength never goes beyond medium.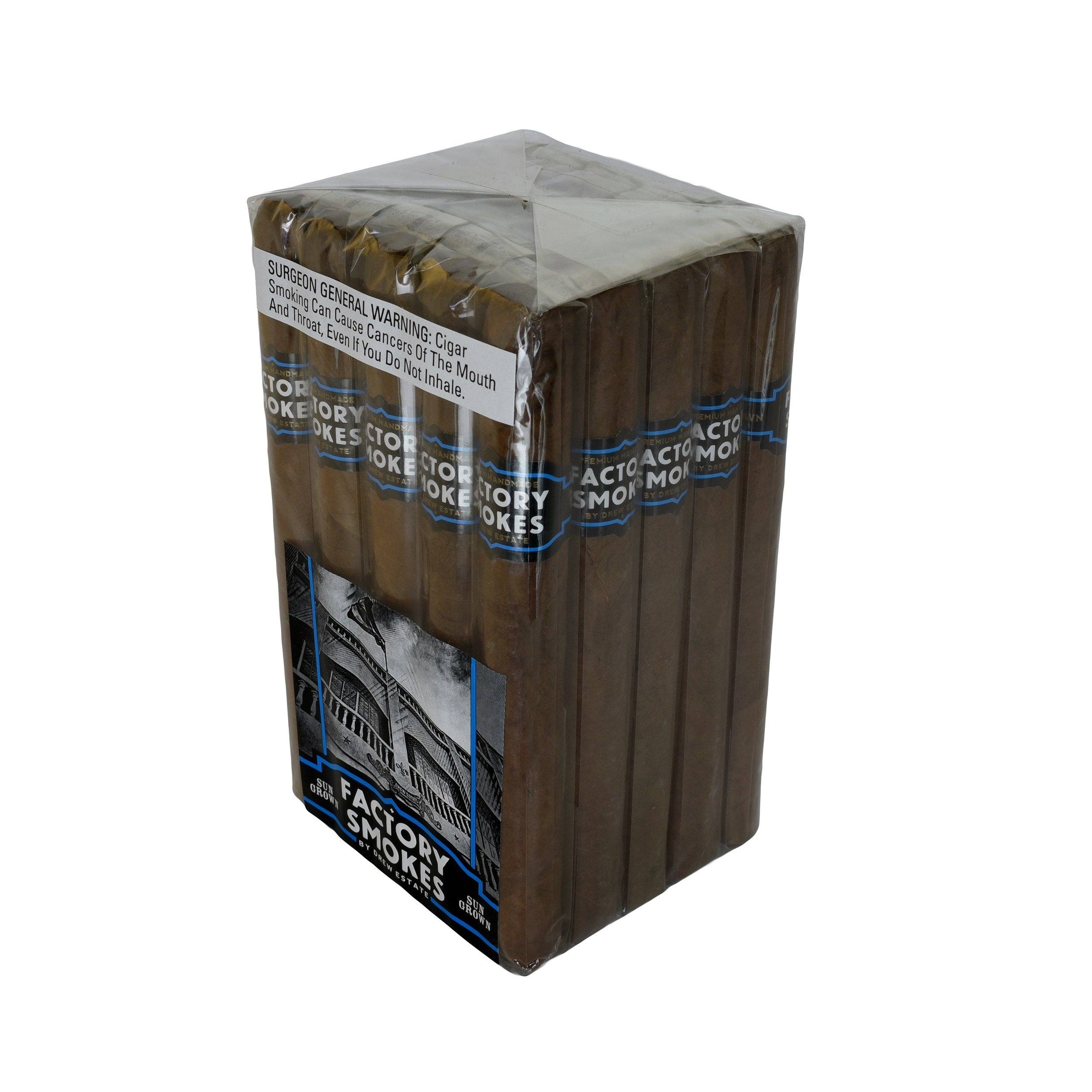 Indonesia grows a delectable Sun-Grown wrapper mostly because the strategic cloud cover allows the leaf to amass a darker flavor profile and mouth-watering sweetness.
Factory Smokes Sun-grown is a certified flavor bomb with notes ranging from cedar, earth, baker's spice, sweet cocoa, and that pleasant cackling aroma of hay during summer. Notes of dark chocolate, leather, wet musty earth, and sweet tobacco develop later in the profile. You may even end up with some saltiness, light vanilla, and spice on the Retrohale. Overall, the Sun-grown is a mild to medium smoke that is super laid back. You will have a hard time putting it down.
Shade
Factory Smokes Shade fronts an oily Connecticut Shade wrapper. Generally, a Shade wrapper is lighter in color than a Sun grown and also thinner and more elastic. But more importantly, a shade wrapper makes a gorgeous cigar.
Flavor wise, this baby presents refreshing notes of cedar, spice, cream, natural tobacco, and a myriad of sweet woodsy nuances. A dash of black pepper and various other spices dominate the back of the palate and Retrohale. Overall, Factory Smokes Shade drags strength to the medium point but barely.
Overall Review
At first glance, these cigars may not meet your criterion for well-constructed cigars. However, you will be pleasantly surprised to realize they burn relatively well. You may need to one cigar up but only once in a while. Also, for a price range of between $1.60 and $2.10 a pop, you can't complain. Factory Smokes come in four sizes; Robusto (5x54), Toro (6x52), Churchill (7x50), and Gordo (6x60). A Bundle contains 20 cigars.
Try a couple of these cigars, you may find your new favorite yard work cigar. For a bundle cigar, I expected larger veins and sloppy seams but this wrapper is flawless.