Posted by Blazing Bill on 1st Oct 2020

It is not easy to make a mark in the cigar market. Lovers of the leaf demand a lot from cigar manufacturers. If we are being honest, cigar aficionados will not touch a flavoured cigar with a ten-foot pole. They insist on a world of tradition and the good ol' ways of making cigars.
At the same time, we, the critics want a cigar with some flare and pizzazz. We want to talk about the new revolutionary blend, avante garde vitolas, and so on. So, when we find a cigar that straddles these demands with impeccable precision, it is an instant winner. Today I have one such cigar for you, My Father Le Bijou 1922.
A Little History
My Father Le Bijou 1922 is a creation of Jose Pepin Garcia of My Father Cigars. A year after Jaime Pepin created My Father to honour his father (Jose Pepin), Jose Pepin decided to do the same for his own father. And that is how My Father Le Bijou 1922 debuted. Le Bijou means "the jewel" in French and Jose Pepin's father was born in 1922. This cigar is truly a gem. It is created by the storied and extremely successful Garcia Family in their factory in Esteli, Nicaragua.
You automatically know that this cigar is a world-class blend because Jose Pepin, the patriarch of the Garcia Family, is a world-renowned cigar maker who once rolled 320 Julietas (7x48) in 4 hours! Jaime Pepin is an accomplished grower of fine tobacco and a master at aging and blending.
The Blend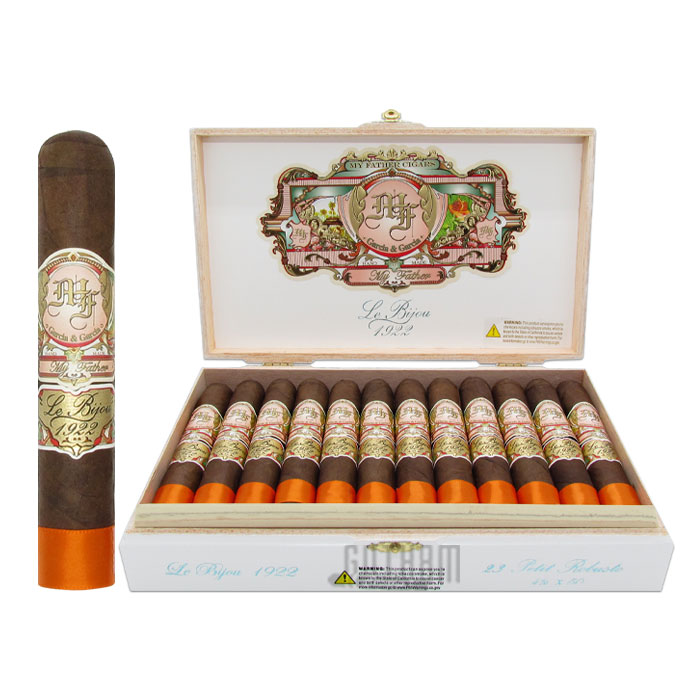 My Father Le Bijou 1922 features a full-bodied blend of perfectly-aged Nicaraguan long-fillers. Just like the original My Father, Le Bijou carries Nicaraguan fillers and binder. However, the seams are made perfect with a jet-black Ecuador Habano Oscuro wrapper produced in the estate farms of the Garcia family. So, what makes My Father Le Bijou 1922 special?
It's all in the wrapper. As a matter of fact, the habano oscuro leaf is also known as pelo de oro, or golden hair. In some circles, this wrapper is believed to be the genesis of the modern corojo wrapper. To go into a bit more detail, this particular leaf was a popular Cuban seed that farmers stopped growing in the mid-20th century because it was susceptible to diseases. It was actually a fusion of pelo de oro and Sumatran tobacco.
The result is a robust, flavour-filled leaf carrying an implicit, undeniable sweetness. The Garcia Family is known for their obsession with quality. This is why most of their blends are always years in the making. My Father Le Bijou is no different. From growing their own wrapper to an extensive fermentation and aging process, Jose Pepin pulled all the stops for this one.
The result is a delectable, very supple dark chocolate cigar with incredible depth and complexity. Now that you know all about the blend and the story behind this storied cigar, let us see how this baby smokes.
My Father Le Bijou Tasting Notes
My father Le Bijou comes in 5 sizes Torpedo (6.12x52), Churchill (7x50), Grand Robusto (5.62x55), Petite Robusto (4.50x50), and Toro (6x52).
For this review, I went with a Petite Robusto-I love smoking Robustos for reviews. They present the perfect size to capture flavor notes in thirds without being overly large.
Pre-light
My Le Bijou Petite Robusto presents with an impeccable dark brown wrapper showing off a slight sheen. It reminds me of leathery coffee beans (if you can imagine that).
The wrapper is tight and flawless. Well, from the minimal portions I can see thanks to the 3 bands covering most of the shaft. Nonetheless, it feels a little heavy in my hand which indicates a well packed stogie. There's a bit of tooth, invisible seams, and a perfect triple cap.
Off the wrapper are delicious notes of dark chocolate, wet earth, and freshly chopped wood. Cold draw is a bit on the firm side, like sucking on heavy yoghurt. But it doesn't really bother me, especially because I have never had a Garcia cigar with draw issues.
First Third
Upon lighting, there is an immediate blast of pepper. I know and expect a Pepin cigar to walk in with a handful of pepper on my lips, tongue and back of the throat. In this case, maybe because I had braced for it, it wasn't as hot or overwhelming as I expected.
In fact, there is a layer of smooth syrupy earth acting as a base with delicious notes of coffee, and an awe-inspiring grilled meat nuance.
As per usual, My Petite Robusto burns with a perfect char line, beautiful ash, and incredible, delicious-smelling ample smoke. So far, I cannot say a single negative thing about this cigar. Maybe I should have picked a Churchill for this review.
Mid Third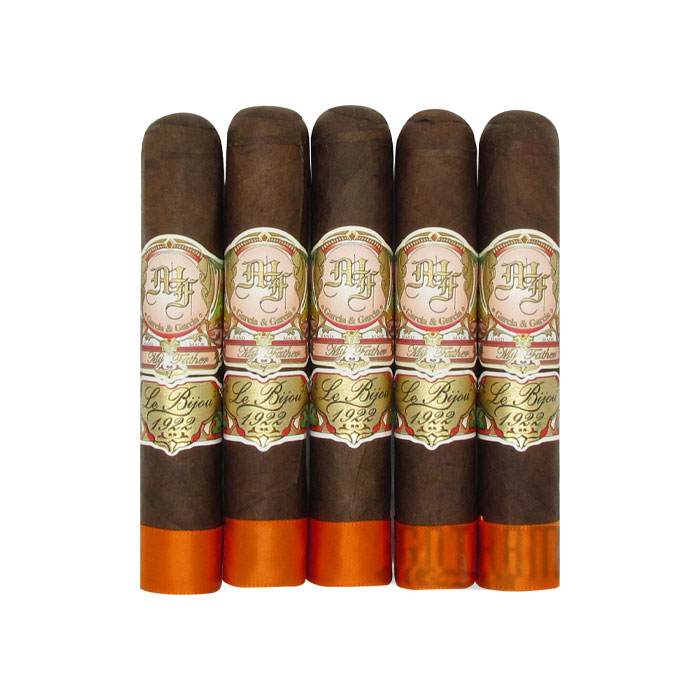 As I ease into the mid section, my tower of ash finally breaks. Instantly, pepper kicks up a notch, a twist that is totally unexpected and incredibly interesting. The pepper wave passed and a smooth balance set in.
There is a culmination of leather, nuts, cocoa, molasses, and a dash of black pepper. These flavours zoom in and out taking turns keeping your palate guessing. Ever present is the delicious chocolatey sweetness and a masculine meaty nuance at the back of the palate and a little on the Retrohale.
This cigar is a true flavour bomb. But not in the "explode in your face" kind of way. It's more like an orchestra of flavours gently and willingly giving way to each other. The burn line is beyond reproach as is the ash and smoke output. I just realized we haven't spoken about strength. The strength is a medium plus. It feels like it's been a medium plus the entire time though I was more focused on the flavour notes.
Final Third
The final third brings earth, sweetness, leather, and black pepper back to the forefront. Still, a delicious coffee note lingers at the back with the smoky meaty note.
As earlier stated, even though Le Bijou has the same flavours over and over, the order of presentation changes more often than I can track. The nub vamps up the flavours a bit with a freshly cut wood nuance joining the coffee on the Retrohale. As I place my nub down, with my burning fingers, I realize I really should have chosen the Churchill.
It was a fantastic slow smoker with flavours and transitions complex enough to make this a permanent resident in my regular rotation list.
Overall Review
Le Bijou's box-pressed torpedo received the coveted Cigar of the Year title 2015 not to mention the exceptional 97 rating in Scar Fishing Aisle. The rest of the time, My Father Le Bijou enjoys 90+ ratings all over. This is definitely a cigar that connoisseurs agree on; it is bold, complex and with just the right degree of pizzazz.
The Garcia Family outdid themselves with this one. But think about it; if you were creating a cigar to honour your father wouldn't you give it everything you have? We agree and appreciate Jose Pepin's father too for being the inspiration behind such an outstanding smoke.