Posted by Blazing Bill on 4th Mar 2021

All through his life and careers, Avo Uvezian was a man after everyone's heart. When he wasn't entertaining on the keyboard, he was orchestrating attention-grabbing blends to seduce the palates of aficionados. His story is one of the most interesting in the cigar grapevine. After quite literally stumbling into the cigar business, Avo went on to be a legend. But before the cigar guru emerged, a jazz connoisseur had a career-altering tête-à-tête with master blender Hendrik Kelner. This collaboration bore the Avo brand and with it the Avo Classic line.
Avo Classic Line
It would be positively criminal to talk about Avo Classic Maduro without dipping a toe into the history of the Avo Classic Line. The truth is, the Avo Classic Line is a bodacious display of the mastery and brilliance of Avo Uvezian and Hendrik Kelner. After beginning their collaboration in the 1980s, Avo Uvezian and Hendrik Kelner came up with the Avo Classic blend which remains wildly popular to date. So, what makes the Avo Classic cigars so special? Well,
Avo Classic cigars utilize extremely rare vintage tobacco aged at least 25 years. In this case, Avo and Kelner went with Dominican fillers and binder and an Ecuadorian Connecticut wrapper for the Avo Classic Line. And yes, exceptional balance, superior complexity and a quiet boldness are attributes associated with the Avo Classic line. Now that we are versed with the Avo Classic blend, let us embark on the subject of the day, the Avo Classic Maduro.
A Little History
Avo Classic Maduro was first released in the year 2000. Blend wise, Avo went with the original Avo Classic recipe. The only difference remained in the wrapper swapping the Ecuadorian Connecticut Shade wrapper for a dark American Connecticut Broadleaf Maduro wrapper. However, during the major rebranding in 2015, Avo decided to discontinue Avo Maduro and Avo Signature.
But that wasn't the end of Avo Maduro. Avo's 30th Anniversary celebrations held in 2018 saw a limited return of this stogie. Enthusiastic bright-eyed and bushy-tailed fans, I believe, ultimately led to the indefinite return of Avo Classic Maduro officially reintroduced in 2020. Now, we can all once again blaze and stock Avo Classic Maduro stogies to our heart's content. Avo Classic Maduro comes in 3 Vitolas; the Robusto (5x50), No.2 Toro (6x50), and No.3 Double Corona (7.5x50). Now, what is it about this blend that has held onto cigar aficionados for close to three decades? Let's find out.
Tasting Notes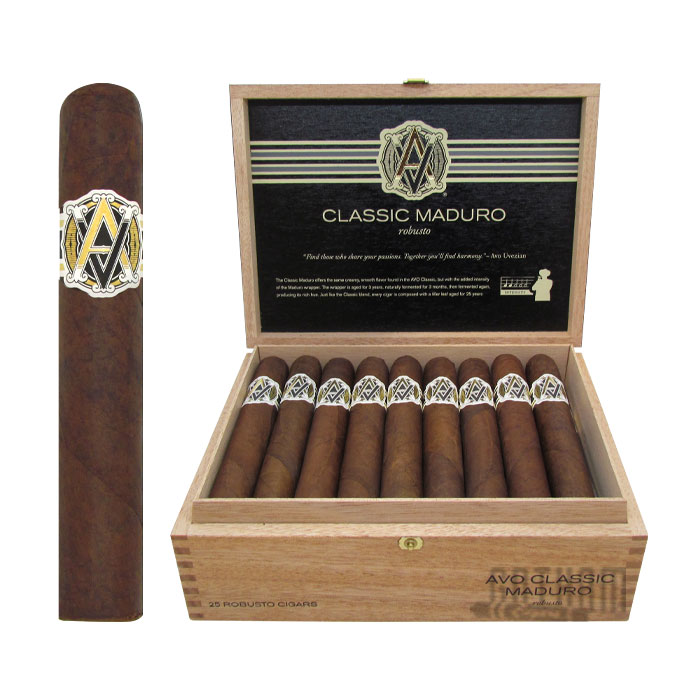 Usually I like Robustos for my reviews. But I have smoked quite a number of these babies. So I will go with a No. 2. First off, the signature Avo band looks gorgeous against the wrapper. Maybe it's the dark background. Weird thing though, the cigar isn't picture perfect. Don't get me wrong, it is a well-constructed cigar but the appearance is a little rugged. Seams are tight and almost invisible. There's a bit of tooth here and there, one or two soft spots, but an overall uniform spring. Soft notes of coffee and resinous wood emanate from the dark tan wrapper.
My mouth is already watering. Cold draw reveals the perfect milkshake snug draw. Fruity notes of cherry mixed with pecan wood came through the cold draw. Okay, let's light this baby up.
First Third
My No. 2 Maduro starts off with a cocktail of rich creamy cherry notes and sweet molasses. But beneath it all smouldering notes of black pepper, oak, cocoa, and dark fruit hold down the fort. The draw is beyond reproach. Each draw fills my mouth with rich creamy cottony smoke. I attribute this to the special bunching of the fillers which makes for perfect air circulation. A few draws down and the different flavour notes morph into a balanced symphony. The only way I could describe it is a flavourful campfire on my palate.
Perhaps the best part is the long finish that brings with it delectable notes of cedar and cinnamon. Retrohale waxes luscious cream tagging delightful baking spice nuances.
Mid Third
In the mid third, my Maduro switches up a bit. Chocolatey sweetness, cream, and dry fruit notes push to the front of the palate. The balance is still impeccable only now certain notes rise and fall at will.
The woody notes retreat to the retrohale and the peppery disposition graduates from black pepper to red pepper. As I settle into the new transition, a decadent musty wood note appears in the background like a whiff of wind in the long finish. It's bonkers! Strength has been a light to medium the entire time. The ash is a white tower of perfectly layered stacks. This is quite a cigar!
Final Third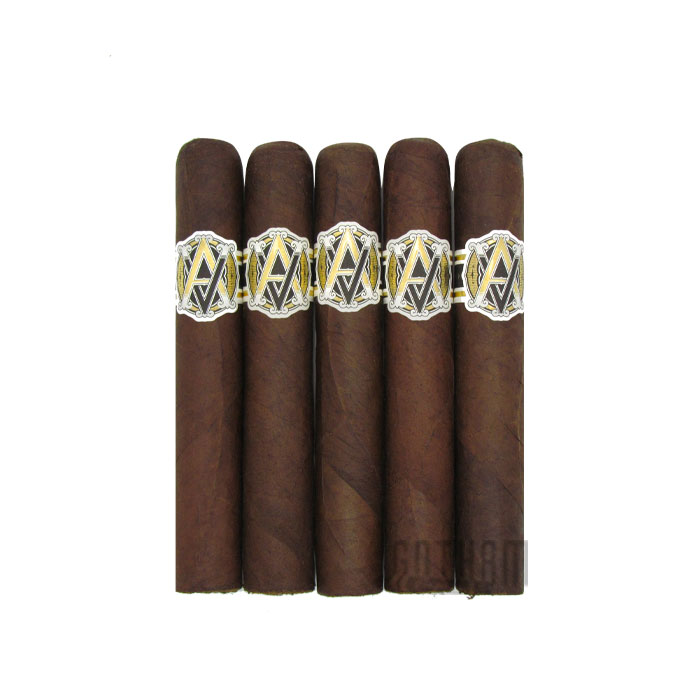 It's the final third already and I am not nearly done with my cigar. What gets me is the fact that this is the one Maduro that doesn't care about strength. It's a medium at best but the flavour profile knocks it out of the park. In the final third the flavours switch up again. Wood comes back to the front of the palate but this time round it's charred. Cocoa, molasses, coffee, and dry fruit perform a synchronized dance all over my palate. The background, though, is reserved for musty wood and a growing earthiness.
Retrohale holds up creamy notes sprinkled with baking spice. As my Avo comes to a close, I can't think of one thing I did not like about this smoking experience. The burn line remained razor sharp throughout with ash that defied gravity. But what else is to be expected from an Avo?
Overall Review
2020 may have been a challenging year for the world in general but this good thing happened. And while Avo Classic Maduro is not a new cigar, the news of regular production did bring joy to many lovers of the leaf myself included. If you are a Maduro maniac like me and have not had one of these then you are truly missing out on an amazing cigar. Grab yourself one and introduce yourself to aristocracy.
If you are a greenhorn, do not let the word Maduro keep you from a great cigar. Trust me, you can handle the strength just fine. Try it and let us know your experience. We love to hear from you.