Posted by Blazing Bill on 28th Feb 2020

We love to rate things; cars, clothes, experiences, even friends. Favorites make enduring the less "refined" things more tolerable. Personally, I have a rule when it comes to cigars. Life is too short to endure a bad cigar. For this reason, I had rather not smoke any cigar than have a crappy "every day" cigar.
Luckily there are plenty of premium, decadent "every day" cigars in the offing. But none as premium as Ashton. Ashton carries some of the most sought-after cigars in its portfolio and today, I get to share my top five. Now, I concede that favorites are more about personal preferences than anything else really. But my favorites also happen to be stellar rated smokes with worldwide acclaim to boot. Without further ado, let's get into it.
Ashton Virgin Sun Grown Sorcerer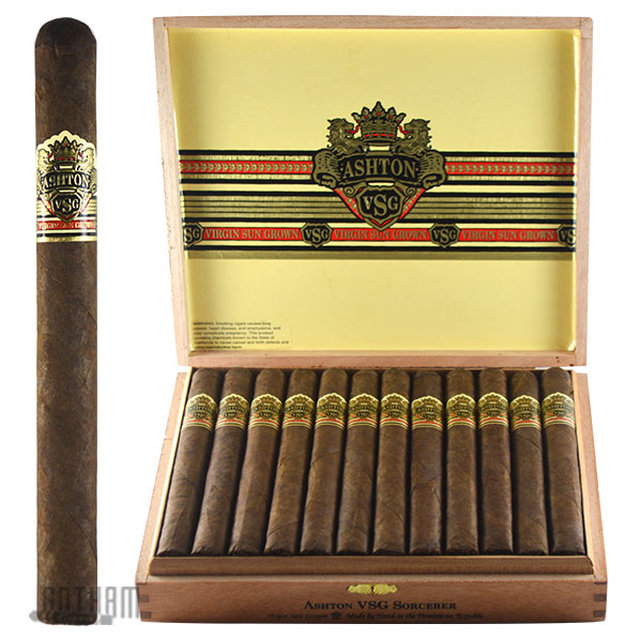 First off, I have to highlight the powerful shift that VSG brought into the Ashton brand. Up until VSG was introduced in 1999, Ashton cigars all featured the mild and flavorful Connecticut Shade wrapper.
The VSG line burst out like a wonderful secret to inaugurate the introduction of stronger, bolder cigars into the Ashton fold. Since its introduction, VSG has been by far the most popular line in the Ashton arsenal and perpetually in the Top 5 most sought-after cigars in the world. So, imagine my delight at reviewing such a show-stopper.
The Ashton VSG Sorcerer features a blend of six meticulously aged Dominican long fillers, a plush aged Dominican binder, and an exquisite Ecuadorian Sun Grown wrapper from the best trimmings.
Ashton and the famed Fuente family did a number on this line. From the painstaking tobacco selection to the complex process of aging and blending; Ashton and Fuente pulled all the stops for this one.
Sorcerer is one of the largest VSG Vitola and boy does it pack a punch! This gently box-pressed stogie captures a savvy audience with voluptuous under currents of cedar, earth, espresso beans, leather, and spice. In a word, this stunner is the true manifestation of full-bodied flavor and richness. I am not the only one who thinks so either. Sorcerer got a 91 rating this year as well as last year from CA.
Ashton Aged Maduro No. 20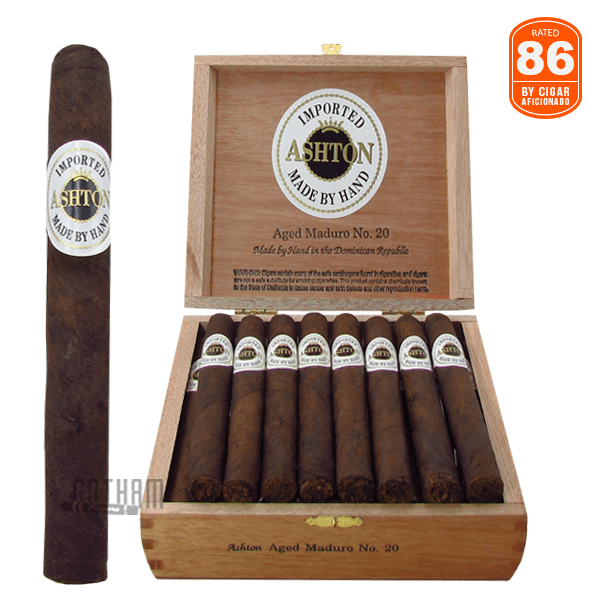 In my experience, a Maduro kind of smoker is in a class of their own. Maduros speak to a darker more discerning audience able to appreciate a bevy of dimensions and the spectacular marrying of opposing flavors.
Ashton Aged Maduro packs only the finest and richest extensively fermented Dominican premium fillers. Over that is the most decadent aged Dominican binder cloaked in a US Connecticut Shade Grown Broadleaf wrapper. This is one of the rarest maduro wrappers in the biz.
In fact, the Ashton Aged Maduro is so rare and exquisite that its been dubbed the "Bentley" of cigars. From the carefully chosen Connecticut Broadleaf wrappers, very few are picked. Ultimately, you will experience a superior, naturally dark, smooth smoke with a surprising sweet finish thanks to the scrupulous fermentation and patient aging process.
If there was ever a cigar that smelled positively mouth-watering, this would be it. The smoke is a savory toasty cedar fire on a cool evening. The flavor profile includes notes of coffee, chocolate, roasted nuts, cacao, cream, leather, spice, and earth. Ashton Aged Maduro features prominently in the top-rated cigars. For instance, just last year, this stogie got an 88 rating from CA and 86 the year before.
Ashton Cabinet Selection No. 8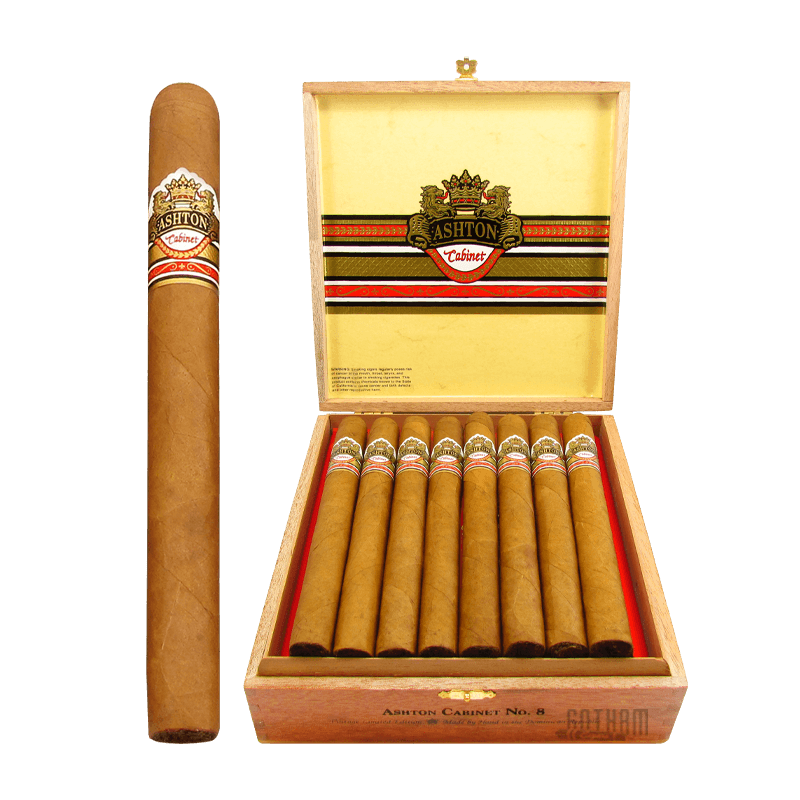 Some cigars take you on a winding journey with infinite dimensions and deliberate yet subtle complexity. And the Ashton Cabinet Selection is one such cigar.
In a word, this charmer breeds an unparalleled refinement thanks to Ashton's unwavering commitment to consistency and excellence. And even though this baby falls in the mild to medium body category, the flavor profile covers the summit for mild but intensely flavored smokes.
The Ashton Cabinet Selection takes a total of 7 years to go from the farm to your local B&M. It encases a blend of six Dominican long fillers aged for 4-5 years. Over those is a delicately aged Dominican binder complimenting a US Connecticut Shade grown wrapper. The wrapper is aged an extra year after rolling. This is precisely why the Cabinet Selection adorns that beautiful Palomino color.
All that craftsmanship pays off because the Ashton Cabinet Selection No. 8 regularly appears on CA's top cigars list. For instance, this baby got a 90 rating in Feb of last year and 89 in 2010.
Ashton 8-9-8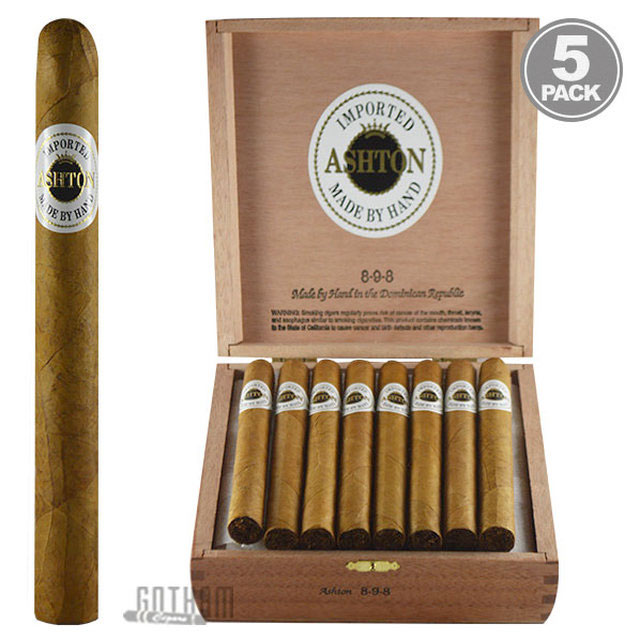 Ashton does everything with flare. Even naming their Vitola is a spectacle. The Ashton 8-9-8 is named after the number of cigars in each row. This would be in the cedar box of 25. So, there are 8 cigars in the top row, 9 cigars in the middle, and 8 cigars in the bottom hence the 8-9-8.
After thoroughly explaining the name (I am not sure anyone needed all that) let's get into the blend.
Ashton 8-9-8 is a mild and decadent Connecticut offing with rigorously aged Dominican fillers and binder. The wrapper is a luxurious chestnut-hued Connecticut leaf.
This baby is the perfect Ashton for a beginner. It is full of subtlety and nuance as opposing flavors of wood and cashew perform an almost imperceptible back and forth. Other flavors include earth, leather, cinnamon, cocoa, roasted coffee, honey, and shy pepper notes.
I would go as far as to say if you don't know what you want to have, then have this Ashton 8-9-8. It's the perfect amount of variation without being overwhelming or boring. Cigar Aficionado agrees with me since he gave this bad boy 90 rating last year and the year before.
Ashton Virgin Sun Grown Illusion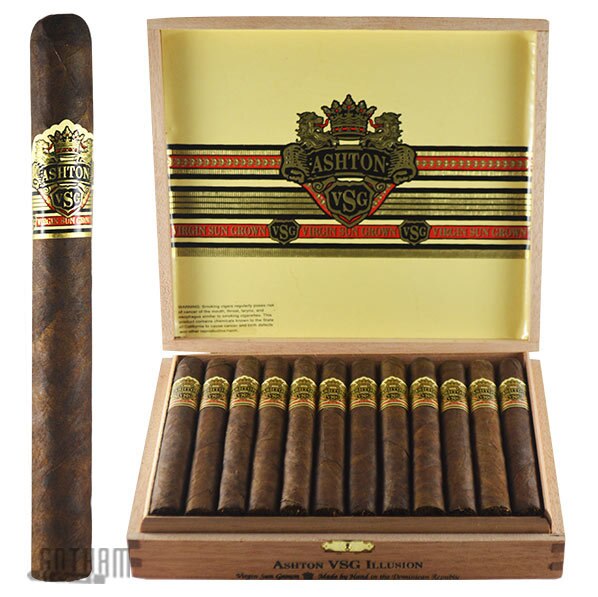 Did you know that VSG would have had a Chateau de la Fuente wrapper? It's true. We're glad that never happened because the Ecuadorian Sun Grown wrapper is a luxurious treat championing a subtle elevation in strength and complexity without taking away from the punctilious Ashton signature flavor profile.
This stogie develops evenly unfolding great characters all the while being underscored by a sneaky sweet black coffee nuance. The Dominican fillers and binder tell a tale of an excruciatingly controlled blending and aging process.
You will absolutely enjoy the titillating sugary notes chasing impressions of freshly cut cedar wood, nuts, subtle clove, butter, and orange tang. The illusion is a solid 1.5-hour smoke of medium to full body. Cigar Aficionado loved it so much they gave it 89 rating three years in a row (2016-2018).
Final Words
While we may never agree on which Ashton cigars rock the most, we have a general consensus that Ashton makes some pretty kick ass smokes. And if you like top-notch quality like me, Ashtons should be mainstays in your humidor.