Posted by Blazing Bill on 1st Oct 2020

You don't need to beckon a heart attack sneaking a good Cuban cigar through customs when you can get a premium Cubanesque cigar with bold flavors and an overwhelming presence right here in the US. I am talking about Camacho cigars. Camacho Cigars have for decades quenched authentic Cuban Cigar cravings for cigar aficionados across the world. I'm a huge fan.
A Little History About Camacho Cigars
Camacho Cigars have roots in Cuba, Nicaragua, and Florida. Founded in 1961 by Simon Camacho in Miami Florida, Camacho Cigars brought the storied Corojo Cuban Seed into the limelight. The Corojo Cuban Seed offers a unique and authentic Cuban flavor.
Now Camacho is part of the Davidoff Family and continues to create decadent smokes that challenge real Cuban cigars every day. In fact, it has been said more than once that Camacho Cigars are the only cigars that are more Cuban than Cuban cigars.
Today, I want to discuss my top 5 Camacho cigars – not an easy feat by the way since I am a bold cigar kind of guy and asking me to pick my best 5 Camacho cigars is like asking me to pick a favorite rainbow (I am sentimental like that too, lol).
Top 5 Camacho Must Haves
Here is my selection of the top 5 Camachos. I know you will probably have your own list and I would love to read about it in the comment section. So, here goes.
Camacho American Barrel Aged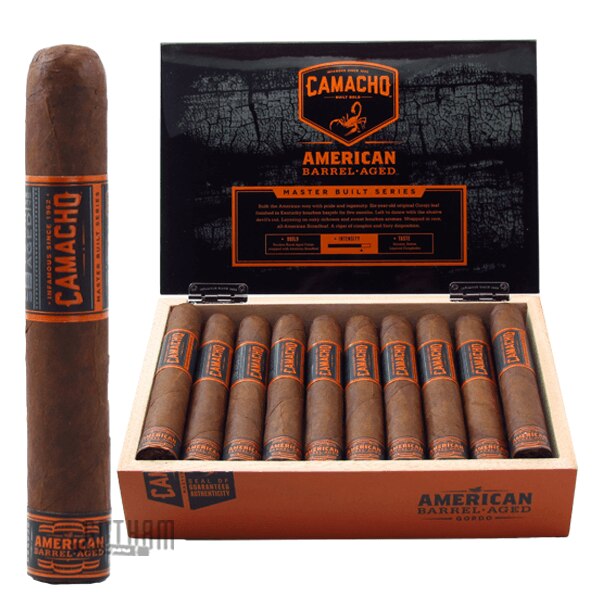 Released in 2015, the Camacho American Barrel Aged cigar is the perfect marrying of premium tobacco and bourbon whiskey. Camacho takes exceptional care and craftsmanship to create this delectable cigar. This baby features an American Broadleaf wrapper and binder. Additionally, the filler is American Broadleaf, Pennsylvania Maduro, and a Barrel-Aged Corojo leaf.
What makes this cigar exceptional is the Barrel-Aged Corojo leaf. For starters, this is the signature Camacho Corojo Cuban seed with all the Cuban deliciousness. Secondly, the Corojo leaf is already 6 years aged at the time of use. It is further aged inside charred oak barrels for 5 months after which it undergoes more aging in American bourbon barrels.
Here is where the expert craftsmanship comes into play. The tobacco Pilones are rotated every few weeks so that each leaf soaks in the bourbon flavors for an authentic yet natural flavor profile. The result is a decadent and complex smoke featuring warm caramel and oak notes sandwiched between a divine bourbon sweetness and a slight peppery disposition. This is an extremely balanced smoke that you can enjoy at any time of day. Camacho American Barrel Aged got an 89 rating on Cigar Aficionado.
Camacho Nicaraguan Barrel Aged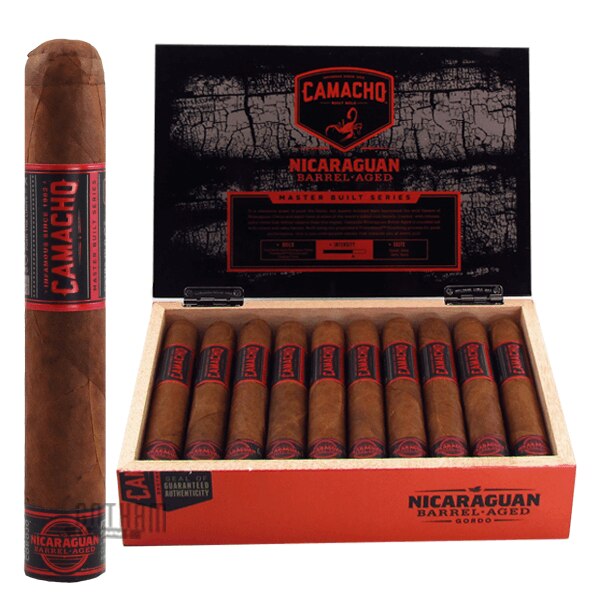 This is another Camacho masterpiece that is barrel aged. The Camacho Nicaraguan Barrel Aged cigar features an Ecuadorian Habana 2000 wrapper, a Negrito San Andres binder from Mexico, and fillers from Nicaragua (Barrel-Aged Corojo '99), Honduras and the Dominican Republic.
Like the American Barrel-Aged, this Camacho also features an aged Corojo leaf. First the Corojo leaves are aged in Flor de Cana rum barrels for 5 months. The awesome thing is that these rum barrels have also been used to age bourbon in the past. So, there is a unique flavor profile these leaves adapt from the present rum disposition with implicit bourbon notes.
This excerpt explains it better.
"For this new project, we pulled no punches and left no room for compromise when it came to the taste experience. We began working with intense Nicaraguan-grown Corojo fillers, painstakingly aging them in extra-old Nicaraguan rum barrels for 5-months. To hit the mark, our master builders worked with the team at Flor de Caña in Nicaragua to hand select these barrels for optimal humidity, some of which had been filled with rum for 25 years. The result is a powerful new blend that invites aficionados around the globe to stare down the barrel of Nicaragua's true spirit."
Dylan Austin, Vice President of Marketing at Davidoff of Geneva USA
In the end, the cigar in your hand will feature an interesting sweet rum, earth, and spice flavor profile peppered with dark chocolate, nuts, fresh ground coffee, and summer hay.
Camacho Triple Maduro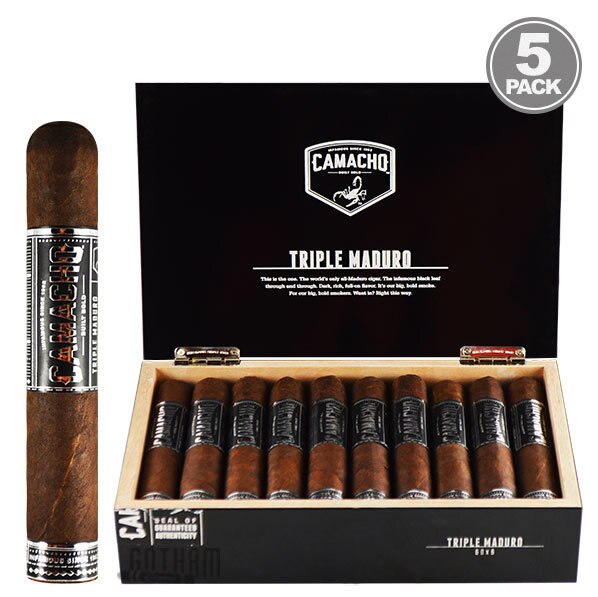 Camacho is absolutely the perfect cigar brand if you want a cigar that takes no prisoners. The Camacho Triple Maduro, specifically, is a world of power. It is the world's only triple Maduro cigar and makes for an exceptional smoking experience. Camacho Triple Maduro is a Maduro Puro ("Triple Maddy" – it's a fun name).
From the eye-catching black and silver over-the-top band to the fact that this is the only triple maduro cigar worldwide means you cannot afford to miss out on this baby. The truth is, you may expect it to have knee-buckling strength that straight up knocks you upside the head.
Surprisingly though, this masterpiece is not at all crude. In fact, it is incredibly balanced and smooth with decadent woody notes surrounded by espresso, dark chocolate, and a beautiful filling creaminess with a dash of pepper. Do not get me wrong though, the strength is definitely there. So, if you are a green horn you may want to sit this one out. Camacho Triple Maduro was awarded an 89 rating by Cigar Aficionado.
Camacho Connecticut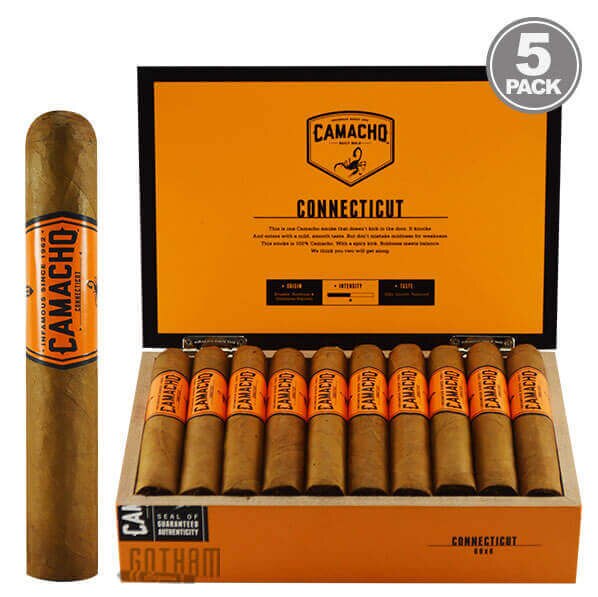 This Camacho is off the beaten path. While all the other Camachos speak louder and louder, this Camacho is subtle and approachable. The website describes it as the only Camacho that doesn't kick down the door. It knocks and enters with a mild smooth taste.
The Camacho Connecticut was a daring attempt by Camacho Cigars to make a smoke that appeals to cigar enthusiasts who prefer a milder cigar. To say the attempt was a successful one is an understatement. Camacho Connecticut was the only cigar that was left untouched during the huge Camacho revamp of 2013.
Camacho Connecticut features an Ecuadorian Connecticut wrapper, a Corojo binder, and fillers from Honduras and the Dominican Republic. Ultimately, you will be enjoying buttery, earthy tones coupled with cedar, notes of citrus, an implicit sweetness, and shy notes of pepper. This cigar is so decadent that Cigar Aficionado gave it a 90 rating.
Camacho Original Corojo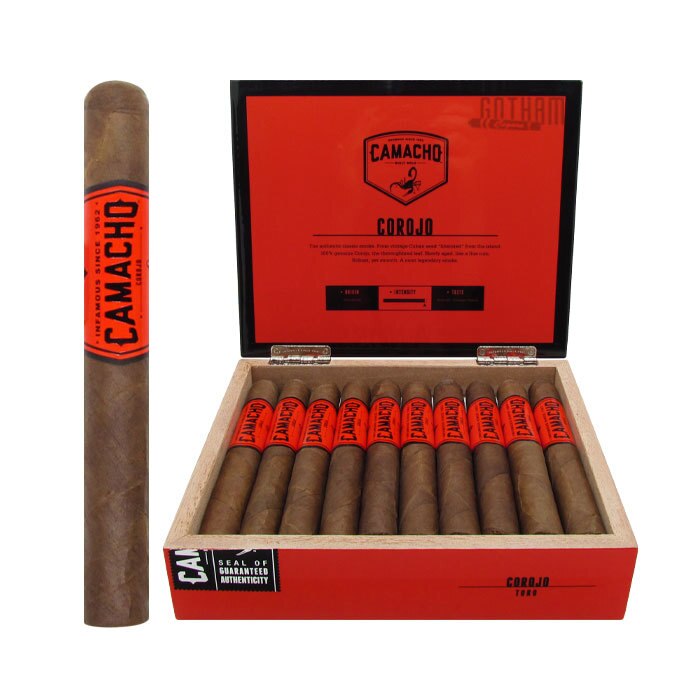 As you can probably deduce, the Camacho Corojo cigar is a Corojo Puro. The Corojo Cuban Seed is the most important and most coveted leaf that Camacho has. And by creating a Corojo Puro, Camacho is essentially giving us an experience that is as Cuban as it can get. This is what the website says about this particular blend.
"In the 1960's, we received a handful of smuggled Authentic Corojo seeds and began growing them in the Jamastran Valley of Honduras. A rugged area of the country with a similar microclimate to that of Cuba's famed, Vuelta Abajo region. Over the course of four decades, we learned and perfected growing the original Corojo strain outside of Cuba. Making us the last in the world preserving and in possession of this critical element that made Cuban cigars and Cuban tobacco famous.
The integrity and nostalgia of Cuba's famed Corojo tobacco lives on. We make it available without the need of a time machine."
Camacho Corojo does not just use typical Corojo leaves, there are Authentic Corojo fillers, an Authentic Corojo binder, and a 5th Priming Authentic Corojo wrapper. In the end, you will be in the presence of an aggressively bold and spicy flavor profile featuring cedar, earth, nuts and a whole lot of pepper on the tongue, back of the throat and woe unto you if you Retrohale.
All in all, Camacho Corojo is an interestingly complex cigar that will reward you with a unique experience and Cigar Authority agrees evidenced by the 91 rating.
Final Thoughts
I told you it would be a doozy. I must say, I am pretty proud of my list. What is your list of the top 5 Camacho cigars? Let me know in the comment section below. Meanwhile, light a Camacho and savor the bold, in-your-face- flavors. You deserve it.