Posted by Linda Kimanthi on 20th Mar 2020

Flavored cigars have a reputation. So much so that cigar aficionados couldn't be caught dead with one. But that was before ACID cigars. Before ACID cigars came into the market, flavored cigars were nothing more than mediocre mass production smokes with nauseating flavors and beyond terrible quality. ACID cigars changed all that with fresh innovative profiles, a whole new twist to flavoring, and revolutionary branding that can't be ignored.
Truth be told, not everyone is a fan of flavored cigars particularly veteran cigar connoisseurs. But younger smokers are much more open to newer hipper flavors and are willing to go on a journey with novice manufacturers taking the less traveled path. But how did ACID cigars come into being? Let's start from the beginning.
A Little History
ACID cigars are a product of Drew Estate. Drew Estate is a different kind of cigar manufacturer in every conceivable way. For starters, Drew Estate is not an age-old family-owned company with centuries of experience under their belt. In actuality, Drew Estate was founded by two fraternity brothers; Jonathan Drew and Marvin Samel in 1995. Their first cigar, La Vieja Habana was doing well until Hurricane Mitch interrupted production.
It was at this point that Jonathan Drew had a "transitional moment" (his words). This was 1998. Jonathan Drew moved to Nicaragua with barely any money to study the production of cigars from the source; Tabacalera Perdomo Factory. Marvin Samel was left behind to man the office.
While in Nicaragua, Jonathan started experimenting with different tobacco blends, essential oils, spices, aromas, herbs, flavor extracts, and other botanical ingredients. And the result is the present-day ACID cigars.
About ACID Cigars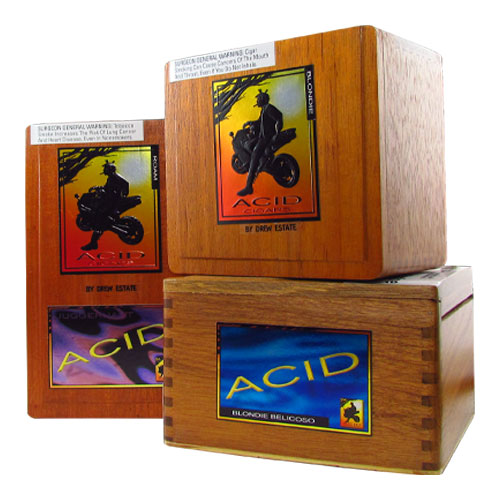 ACID cigars debuted at the 1999 IPCPR trade show. Since the debut, the cigar world has never been the same. Jonathan Drew introduced a new era to flavored cigars. Unlike the other flavored cigars in the market at the time, ACID cigars were all handmade featuring premium long fillers. In fact, as if by some incomprehensible feat, no two ACID cigars taste the same. Think about that for a minute.
Drew Estate sells millions of ACID cigars each year. Essentially, ACID cigars are the most sought-after flavored cigars in the USA and one of the top five best sellers overall. And yet each ACID cigar tells its own story. Even better, no one, even a career cigar reviewer like myself can describe the flavor profile. It is a real-life "you had to be there" kind of situation. That's not all.
While other flavored cigars used crude flavoring methods such as spraying or injecting the flavors right into the tobacco, ACID cigars are infused. Curious as we are, the makings of ACID cigars are a closely guarded secret. In fact, it is believed that only four people in the entire world know how ACID cigars are made. However, since Drew Estate was acquired by Swisher Sweets, the secret maybe known by more than four people. That does not include us, unfortunately.
The Infusion Process
Over the years, we have learned bits of information regarding ACID cigars infusion process. Drew Estate never goes puro when blending ACID cigars. The blend is always a fusion of tobacco from 3-4 countries. And these are not just any leaves; they are premium long filler primings from the best growers. It is no wonder that Drew Estate is one of the largest buyers of tobacco in the cigar biz.
Before the cigars are rolled, the tobacco is sorted by quality. Next, it is cured in specialized rooms called cuarto aromaticos (aroma rooms) for up to 8 months. These rooms are lined with over 150 botanicals, herbs, aromas, essential oils, and spices among other natural aromatic ingredients. In that time, the flavors and aromas gently infuse into the tobacco.
Eventually, after rolling, the cigars are wrapped in cellophane and allowed to cure for another stretch of time (mostly 3-8 months). During this time, the flavors delicately marry and balance out into a complex, inexplicable profile that is intensely aromatic and superbly delicious.
The secret behind ACID cigars flawless construction is strict quality control. According to Jonathan Drew, they test their cigars by weight rather than a draw machine. The results are evident in the way ACID cigars burn with razor-sharp precision, solid ash, and perfect draw.
Clearly, ACID cigars deserve all the hype. As you can see, Jonathan Drew did not just blindly stumble on to a gold mine. He worked tirelessly to produce a premium product that can resonate with a novice as well as a veteran smoker.
ACID Kuba Kuba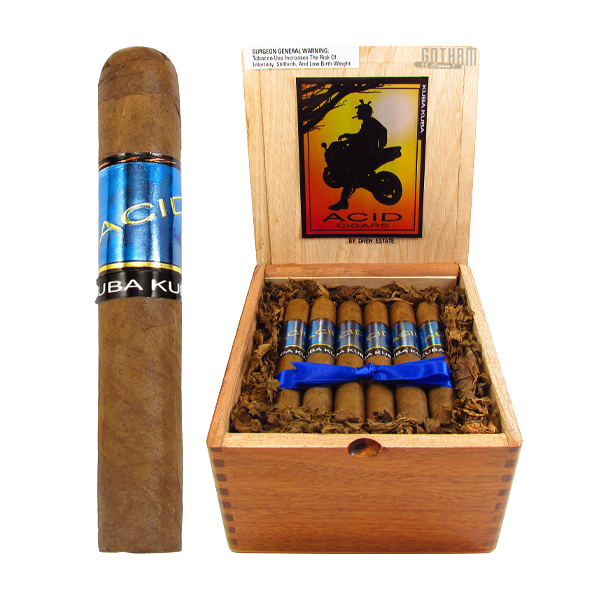 The ACID brand of cigars has been very successful. For this reason, Drew Estate continues to expand the line spawning new cigars every other year. Some of the lines under the ACID brand include ACID Blue, ACID Orange, ACID Silver, ACID Purple, ACID Red, and ACID Gold among others.
The most popular of all the cigars in the ACID brand is the ACID Kuba Kuba under the ACID Blue Line. This would not be a proper review if I didn't discuss the Kuba Kuba stogie even if it's just for a moment.
ACID Kuba Kuba is a delicious mystery stogie carrying some of the sweetest and boldest flavors in the ACID portfolio. The only ingredient we know of is the exquisite Indonesian Sumatra wrapper. Like we said, the fillers and infusion process are a closely guarded secret.
Tasting Notes
ACID Kuba Kuba is one of the most aromatic cigars ever. A beautiful bouquet of flowers wafts right from the cellophane wrap. And it's not the pungent commercial kind either, this is a delicate fusion of aromas. There are detailed nuances of citrus commingled with sweet blossoming notes of honey, warm spice, cedar, and coffee.
The moment you light up your Kuba Kuba, you will understand why it boasts a cult following. This cigar is an unabated flavor bomb with a peppery finish. The strength stays at a delicate but manageable mild to medium. You can smoke this sizable 5 x 54 stogie to the nub without even realizing it. It is that good. A Kuba Kuba sells for approximately $9 to $11 depending on where you buy. And Kuba Kuba enthusiasts don't bat an eyelash buying an infused cigar at the price of a premium traditional smoke.
Why? Because in Jonathan Drew's words. "We don't use the 'F' word," he says. "We've never once met with a professional flavoring company." "We are not flavored cigar blenders. Premium cigars come in two distinct classes Premium Traditional and Premium Infused. Both are Premium."
Final Words
ACID cigars are premium smokes, that is for sure. If you have never tried ACID cigars, you owe it to yourself to see what the fuss is about. How amazing is it to have cigars of the same line that taste nothing alike? Grab your box today and share your experience with us.