Chillin' Moose is back on the headlines. Wondering what the moose did this time round? It graduated to a bull, that's what! Now that we're back to talking about Chillin' Moose, I'm physically fighting the urge to make name puns. I had so much fun with that in our last review.
But this time we'll be discussing what the makers of Chillin' Moose have been up to. Stick around to learn about the new releases, incredible pricing, and more.
About Forged Cigar Co.
Some of you are saying, "I think you mean Foundry, not Forged". Well, not quite. You are right that Chillin' Moose was originally released under Foundry Tobacco Co. renowned for its exotic blends and steam punk artistry. However, after being acquired and reacquired several times, eventually Foundry Tobacco Co. was dissolved by STG (Scandinavian Tobacco Group).
Then, early last year (2021) STG launched Forged Cigars Co., a cigar distribution company focused on brick and mortar retailers. Forged Cigars Co. split the huge cigar portfolio with General cigars acquiring the distribution rights for among others Chillin' Moose, Diesel, Partagas, La Gloria Cubana, and Bolivar Cofradia. Now Chillin' Moose is rolled at the Tabacalera Carlos Sanchez (TACASA) S.A. factory in Nicaragua.
What has Chillin' Moose been up to?
Thus far, there are 3 cigars under the Chillin' Moose line. We'll briefly discuss the first two before settling on Chillin' Moose The Bull.
Chillin' Moose (The Original)
As you probably know, the original Chillin' Moose debuted in 2014. It's an outstanding everyday cigar with an unbeatable below $4 price. The vision of Michal Giannini to create a premium handmade cigar that's both palatable and affordable played out perfectly.
Chillin' Moose features a premium multi-country blend combining Nicaraguan, Dominican, US Broadleaf, and Mexican San Andres long fillers encased in an Ecuadorian Sumatra binder and finished off with a reddish-brown Connecticut Habano wrapper.
If it was like any other, I would quietly let it pass but the band on these cigars commands attention. The band on the original Chillin' Moose is a laid back moose puffing on a cigar spotting red eyes. That eye creepily follows you around-I kid you not. Try it. To say Chillin' Moose was a success is an understatement. It blew all the mediocre cheap cigars right out of the water. It comes in Corona (5.25 x 45), Robusto (5.50 x 50), and Gigante (6 x 60).
Chillin' Moose Too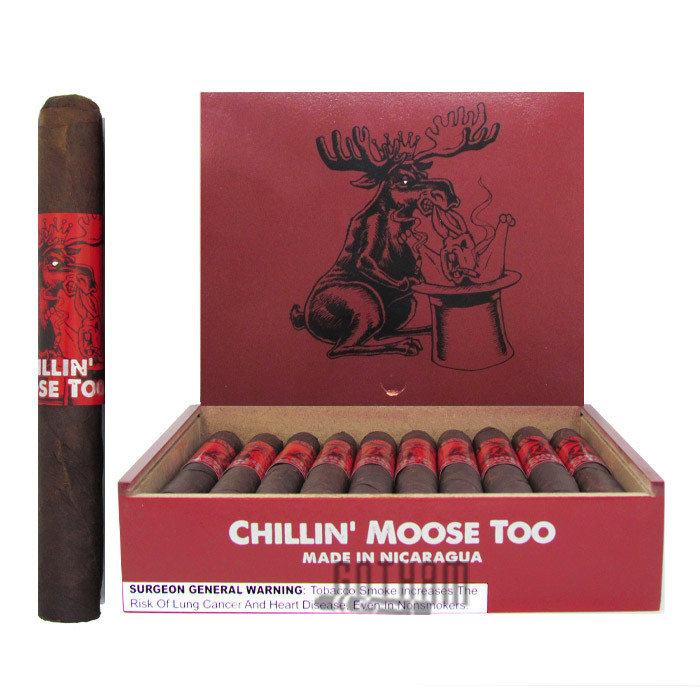 Following the success of the first Chillin' Moose, Foundry developed and released Chillin' Moose Too. Chillin' Moose Too is a stronger and more flavourful offing and the perfect sequel to this wildly popular cigar line. It showcases a conglomeration of decadent Nicaraguan tobaccos swaddled in a dark USA Connecticut Broadleaf wrapper. Just so you know, this is not at all like the original Chillin' Moose. This bad boy is rough and cocky with all sorts of tooth.
To get the idea just check out the band which features a moose yanking a seemingly angry rabbit out of a top hat. Honestly I have no idea what that's about but you get the gist. Chillin' Moose debuted in 2016 and is offered in 6 x 60 Gigante, 5 x 50 Robusto, and a 5.65 x 46 Corona all for less than $4 a pop.
Chillin' Moose The Bull: The Blend
Finally here we are. Debuted in May 2022, Chillin' Moose the Bull, also referred to as Bull Moose, is the latest addition to this exceptional line. You may be asking; now that we know Chillin' Moose managed to successfully up the ante with Chillin' Moose Too, is it safe to raise our expectations for this one too? Oh yes!
Bull Moose is bigger, deeper, stronger, and cheap. The stogies in this line are gigantic measuring from 5" to 7" with a 60 or 70 ring gauge all for below $7. Needless to say, this is in no way a quick smoke. When you light one of these babies up, be ready for an outstanding, intense cigar experience flooded with strength and loads of flavour.
Bull Moose is a Nicaraguan Habano Puro handmade in Nicaragua. It comes in four large-gauged sizes namely Robusto Gordo (5x60), Gigante (6x60), Gigante XL (6x70), and Gigante XXL (7x60). The prices actually range between $4.98 and $6.58 packaged in 20-count boxes.
Tasting Notes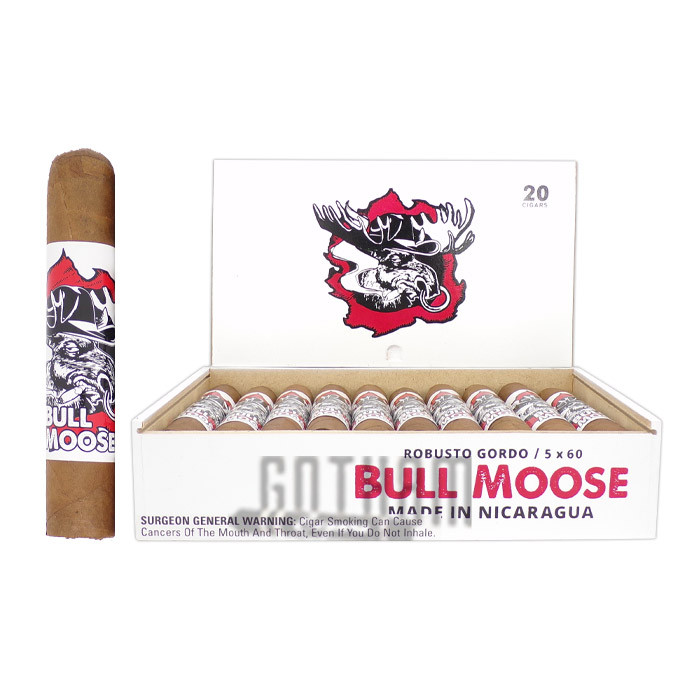 Before we get to the actual review, here is a titbit from John Hakim, the brand manager of Chillin' Moose "Bull Moose kicks Chillin' Moose up a notch with a deeper profile and delivers it in sizes that are, well, gigantic. This is the perfect cigar for the initiated smoker who wants the experience of a Nicaraguan puro without breaking the bank." Now on to the review. I reckon it's best to go with a Robusto Gordo for this review.
Prelight
A Robusto Gordo, in case you don't know, is a Robusto with a Gordo ring gauge. It's going to be an interesting smoke because of the larger ring gauge. It's a veiny weighty stick with smart visible seams and quite a bit of tooth. The cap isn't the prettiest but this is a budget cigar so it's holding up fine.
Cold draw is a perfect milkshake consistency. I'm getting sweet hay, barnyard, and dried fruit nuances with timid chocolate undertones. We'll do the review in two parts instead of the usual three since this is a cheaper cigar which won't carry much in the way of transitions.
So, let's get into it.
First Half
The cigar opens with billows of beautiful blue smoke, milk chocolate notes commingled with sweet hay and a short leathery finish. A few draws in and a new toastie flavor checks in along with mild black pepper at the back of the throat. So now we have mild chocolate notes, dried fruit, toasty sweet hay, leather, and slight black pepper heat; just what you would expect from a Nicaraguan puro.
There isn't much complexity or transition in the flavors but the smoking experience is warm and relaxed- kinda like listening to jazz.
The burn-line is not perfect but it doesn't need correcting. There have been debates if Chillin' Moose is really a long filler or mixed filler cigar but judging from the flaky smoke I vote mixed filler.
Final Half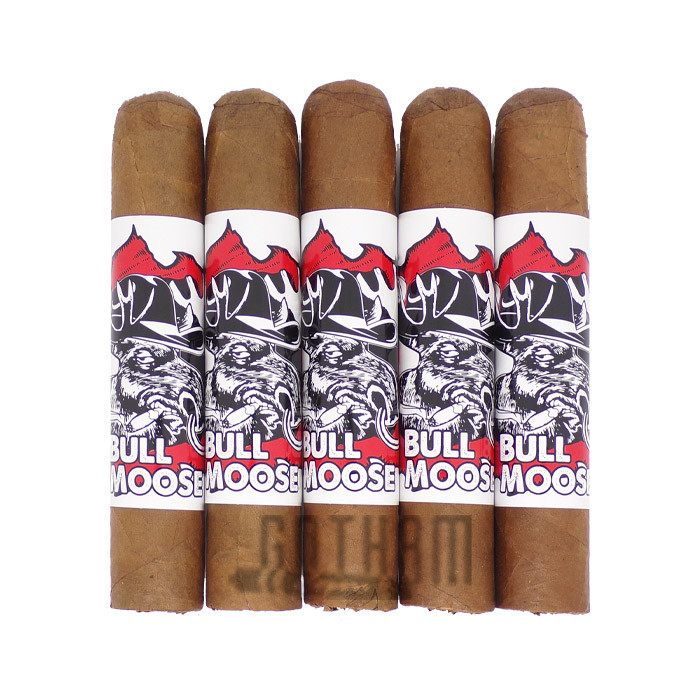 It's amazing how this cigar trudges on without my noticing. The truth is, if I didn't already know the price of this cigar I would have guessed close to $20. Even though the flavors remain the same, they're bold and filling. Dark chocolate notes intensify towards the nub. And so does the sweet hay nuance sitting on my lips.
Barnyard, leather, and shy black pepper savor hold down the fort. A nicotine rush kicks in at the very end-at least this is when I noticed it. Perhaps it had been there all along but I'm a Maduro person so nicotine must knock down the door CIA style for me to take notice. My Robusto Gordo smoked like a champ, never getting warm or soft which is more than I could say for some $10 cigars.
Final Words
I liked this cigar. It's a pleasant experience without any of the pressure of trying to discern complexity. You can smoke it, chug it, give it away, and light another without feeling a thing.
I like the noticeable escalation in body and gust. If you are looking for an easy cigar to be around, you have found Bull Moose; the perfect budget-friendly smoke. Have you smoked any of these yet? Let us know in the comments.
Recent Posts
Chillin' Moose is back on the headlines. Wondering what the moose did this time round? It graduated …

Macanudo has been around for decades; in fact, more like a century. And as you can deduce, any cigar …

"In an industry filled with thousands if not millions of different cigars, how can we stand out?"&nb …