Posted by Blazing Bill on 8th May 2020

The cigar market is pretty saturated. Worse still if you are trying to come up with a new and interesting flavor profile. Ultimately, it depends if you have the cajones to put something new out into the market. Speaking of something new and exciting, have you tried Deadwood Cigars?
Deadwood Cigars by Drew Estate are the very definition of new and exciting. More specifically, The Three Yummy Bitches collection is eccentric and weird, which in turn breeds a cult-like following. The weirdest part is, love them as we do, no one can adequately describe what Yummy Bitches taste like. But I am sure you would love to see me try, so, here goes. Who are the Yummy Bitches anyway?
If you are utterly new to Deadwood Cigars, you are definitely wondering about this raunchy name. Well, The Three Yummy Bitches is a line of cigars under the Deadwood Cigars brand. The Three Yummy Bitches primarily consists of:
Sweet Jane (5 x 46)
Fat Bottom Betty (5 x 54)
Crazy Alice (4.5 x 46)
Sweet Jane, Fat Bottom Betty, and Crazy Alice have been around for a while. There is, however, a new cigar line that just came out under the Yummy Bitches brand. Baby Janes (4 x 32) are very new in the market. Perhaps, we shall stop calling them the Three Yummy Bitches and just go with Yummy Bitches from here on. Now that we are clear on the names let's move on to the history of the brand.
History of Deadwood Cigars
Deadwood Tobacco Company is owned by Vaughn Boyd from Deadwood, South Dakota. Deadwood is a small town that comes alive every August thanks to the Sturgis Motorcycle rallies. The Deadwood Tobacco Company began making cigars to appeal to the masses of motorcycle riders that visit the town every August. And this, we presume, is how Yummy Bitches came to be. Yummy Bitches are rolled at Drew Estate. Initially, they were sold locally, but since 2016, Drew Estate took Yummy Bitches national.
We already know Drew Estate is big on art and Avant-Garde cigar-making techniques. But when it comes to the Yummy Bitches, this is over the top even for Drew Estate. Don't get me wrong; these are incredibly yummy bitches (forgive my French), but they are also the most unusual cigar Vitolas and flavor profiles I have ever come across. Let's bring this into perspective and discuss the flavor profiles of each of the Three Yummy Bitches. The Three Yummy Bitches Flavor Profiles
First off, let's talk about the blends. In truth, there is very little information regarding the fillers, binders, and wrapper for each of the Yummy Bitches. This is because no one knows for sure which tobacco blends are used in these stogies, and especially the fillers. Plus, the information out there is largely contradictory. What we do know though, is that they adorn a beautiful, dark Maduro wrapper encasing aromatic and exotic tobaccos. That's it. Well, we also know that the Baby Janes have a dark Connecticut Broadleaf wrapper.
Ardent tobacco enthusiasts, myself included, concur that Yummy Bitches may contain pipe tobacco. Word from the grapevine claims that the tobacco used is cured the same as pipe tobacco. And this is why the tobacco has such a pleasant taste and aroma. Alright, back to the flavor profiles.
Sweet Jane Flavor Profile
Sweet Jane presents with a shaggy closed foot. Off the shaft, I got earthy notes alongside a shy mocha influence. The cold draw confirms a sweet tip. Now, hold on to your chair; Deadwood cigars claims Yummy Bitches are not infused cigars. Also, they are not, not infused. (I shall leave you to translate that). Moving on, Sweet Jane features dark, rich, full flavors punctuated by chocolate, earth, black pepper, and baking spice. However, if you are not one for a sweet tip, this is not the cigar for you.
The sweet tip lasts throughout the smoke. But do not knock it yet. This isn't the sickening artificial sweet tip associated with flavored cigars. It is a bit more refined. Plus, combined with the pleasant, delicious, dark, interesting premium tobacco flavors, it works! If asked, I would say this is the perfect dessert cigar.
Fat Bottom Betty Flavor Profile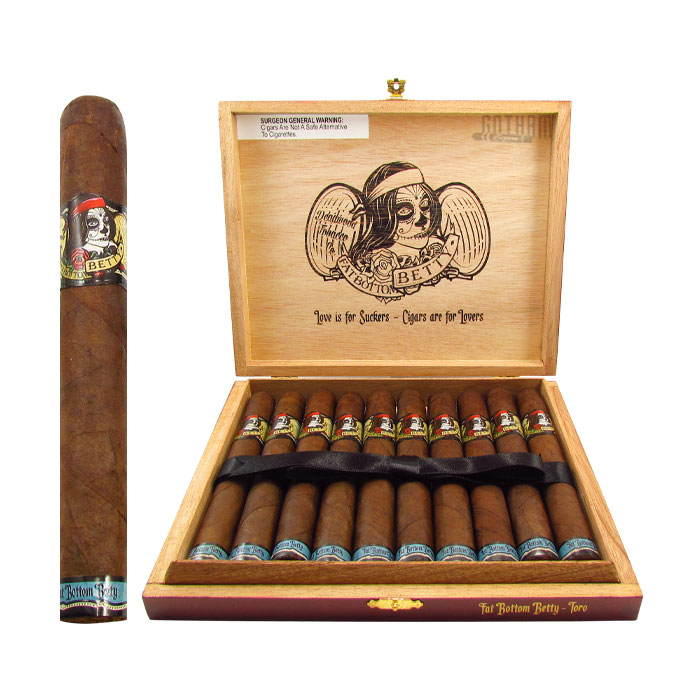 You would think Fat Bottom Betty would have a fat bottom, right? Well, as it turns out, the fat bottom belongs to Crazy Alice. Fat Bottom Betty is a densely packed beautiful stogie with an oily Maduro wrapper, double cap, and a sweet tip. The cold draw presents sweet chocolate notes like delicious hot cocoa. Again, the flavor is all centered around the pipe tobacco. It is extremely flavorful and aromatic, but I couldn't quite discern individual flavors.
I may have tasted a bit of cocoa, black pepper, and lots of caramelized sugar. Fat Bottom Betty has a long oily peppery finish evident on the lips and the tip of the tongue. If you are not a sweet-tip kind of smoker, you will have a challenge. But any newbie or sweet-tooth cigar enthusiast will enjoy this a great deal.
Crazy Alice Flavor Profile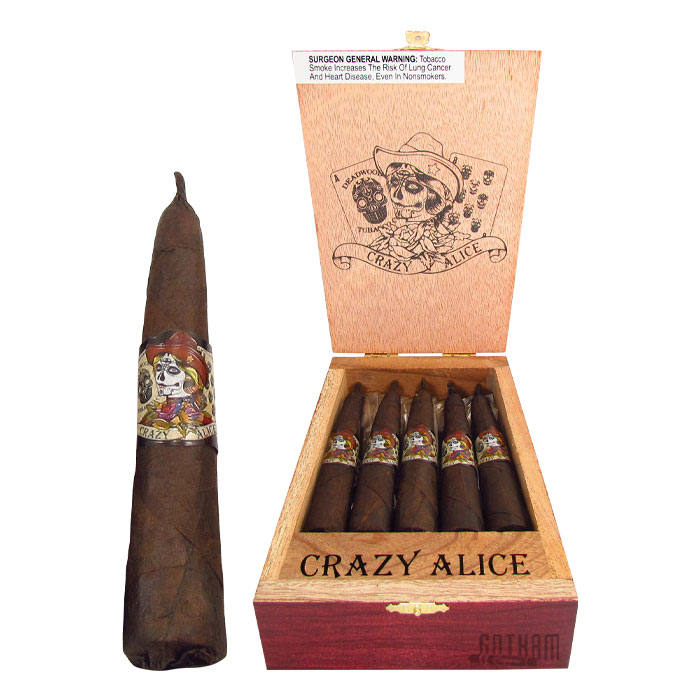 Crazy Alice is one of the weirdest Vitola I have ever seen. She is a pyramid with a pigtail. It looks like a certain something that people roll at home (if you catch my drift). Crazy Alice gives off chocolate mocha notes from the cold draw and wrapper. There is also a spicy influence overwhelmed by the sugary tip. Once it starts burning, like all the Yummy Bitches, Crazy Alice has lots of smoke output and mild to medium body plus the very same flavor notes of premium pipe tobacco. Also, there are underlying Cuban coffee nuances fused with an incense-like spice aroma.
Perhaps my favorite attribute of Crazy Alice is the intense flavor. Maybe it is the huge stogie smoked through a tiny tip. But it's clear this is the ideal beginner stogie. It is sweet and mild and can easily become a go-to cigar for any occasion. In closing, we have to talk about the story of the sisters. It wouldn't be a proper Yummy Bitches review without it.
The Story of the Three Sisters
Vaughn Boyd, the owner of Deadwood Cigars has quite a story about the origins of the Three Yummy Bitches. You see, they are all sisters. Sweet Jane is the first Yummy Bitch. She was born in the brothels of the historic city, Deadwood, South Dakota. Sweet Jane has a reputation for breaking hearts and bringing the strongest men to their knees.
Fat Bottom Betty, the second Yummy Bitch, came out of rehab in 2013. Her mission; to spread some large ass lovin' with her sister Sweet Jane. (Are you blushing?) And the third Yummy Bitch, Crazy Alice, came out in 2014. She is a firecracker. They call her "one pistol crackin' little hussy!" Obviously, we can't wait to hear Baby Jane's story.
Final Thoughts
The Yummy Bitches collection is clearly some out-of-the-box thinking. From the names to the blend and packaging, this is definitely something worth trying. Have you tried any of the Yummy Bitches? Let us know about your experience.