Posted by Blazing Bill on 4th Jan 2022

I love end of year releases especially if there's still sometime before the official December madness. This way I get to decide if the new cigar is worth giving as a gift. Being a friend to a cigar reviewer has its perks!
Now, this year's brimming with new releases including transcendent blends from Aging Room, AVO Syncro and so on. We have discussed some of these blends and may do some more reviews on them later but today I'm delighted to gab about a particular blend, the Ferio Tego Timeless Panamericana. It's quite a mouthful, I know.
It blows my mind that Ferio Tego, as a company, was launched earlier this year and already has several lines of cigars out! And before you decide to flick my story to the next century and rightly so; concluding that no company can create cigars that fast; hold on, there's a story.
About Ferio Tego
Ferio Tego is a premium cigars and accessories company launched this year. Spearheaded by Michael Herklots and Brendon Scott who are both former employees at Nat Sherman, Ferio Tego hit the ground running promptly releasing Ferio Tego Elegancia and Ferio Tego Generoso in October 2021.
How you ask? They've got history!
You see, Ferio Tego acquired Nat Sherman International from tobacco giant Altria after Altria resolved to close down their cigars and pipe tobacco arm of the company sometime last year. For Altria, this meant letting go of Nat Sherman premium cigars while keeping the Nat Sherman cigarettes division.
Ferio Tego acquired the Nat Sherman logos, fonts, designs, tobacco blends, and the Timeless name. Being former employees of Nat Sherman, Mr. Herklots and Mr. Scott knew exactly how to bring back the old Nat Sherman lines using the same ol' blends and packaging by partnering with the same factories.
Thus far, Ferio Tego has not only released the Generoso and Elegancia lines but also Timeless Sterling and Prestige lines released in September 2021. Having filled in the blanks, now it's time to get on with the topic of the day.
Ferio Tego Latest Timeless Releases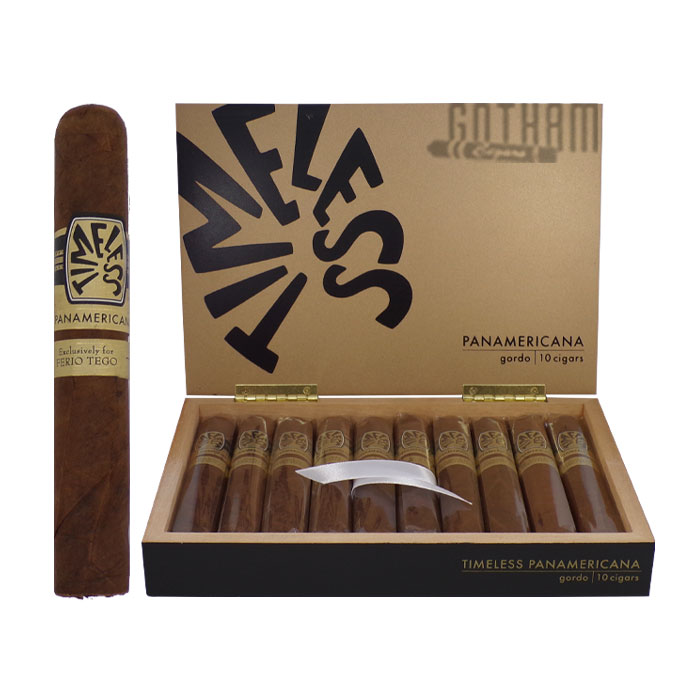 Last month, Ferio Tego released two Timeless lines namely Timeless Panamericana and Timeless Supreme. Before we go into candid details about the Panamericana blend I will just mention in passing the highlights of the Timeless Supreme blend.
Originally introduced as Timeless Nicaragua, Timeless Supreme is as old a blend as 2012. It's a gorgeous box-pressed Nicaraguan Puro crafted by the Plasensias in Esteli Nicaragua. Timeless Supreme shows up in 4 interesting sizes. 660, 652T, 749, and 554. In a press release, Michael Herklots had this to say.
"We're grateful to the Plasencia family and the entire Plasencia team in Esteli for working so hard to get these blends back into production, exactly as they were. Ferio Tego has made a tremendous amount of progress these last eleven months, due in large part to the commitment of our manufacturing partners, Quesada Cigars in Dominican Republic, Plasencia Cigars in Nicaragua and AgroIndustrias in Honduras, our distribution partner in the United States, Davidoff of Geneva USA, and of course the incredible support of premium tobacconists throughout the country. We're truly grateful." So, what is Ferio Tego Timeless Panamericana all about? Let's find out.
Ferio Tego Timeless Panamericana
Timeless Panamericana was first released in 2014. Originally, it was only available at the Nat Sherman International Townhouse, a former Nat Sherman retail store located in Manhattan. In fact, through 2015, Timeless Panamericana was exclusively for the members of TAA (Tobacconists' Association of America). Thankfully, by 2018, Timeless Panamericana became available to all premium tobacconists.
The Blend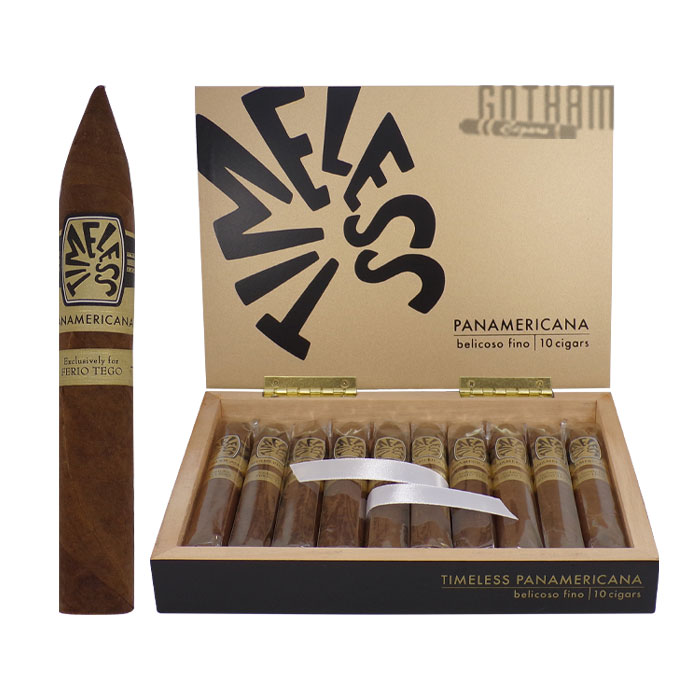 As we'd earlier discussed, Ferio Tego is all about bringing back the old Nat Sherman blends. To this end, Timeless Panamericana comes in a palatable Colorado-hue Ecuadorian Sumatra wrapper encasing Costa Rica and Nicaraguan premium long fillers swathed in a Nicaraguan binder. Speaking specifically about the Timeless line, Michael Herklots said,
"The Timeless Collection blends are the same, and what matters more, the experience of the blends are exactly as they were, and the manufacturers who have been carefully crafting these blends since their inception remain unchanged," Herklots says, referring to Quesada Cigars, the Dominican cigar factory that's been making these smokes since they debuted in 2014." Timeless Panamericana comes in 4 vitolas namely Julieta (7x48), Gordo (6x60), Epicure (5x50), and Belicoso (5.5x52). It's packaged in 10-count boxes ranging from $130 a box for the Belicoso to $145 for the Julieta.
Tasting Notes
Prelight
It's finally time to find out how this baby smokes. For this brief review I will be taking on the Belicoso Fino which is a 5.5x52 Torpedo. I must say, it is a nice-looking smoke. However, I will hold my enthusiasm until I gather my notes since it's my first time ever to smoke this particular blend.
The wrapper carries a uniform-hued medium brown leathery mien garnished with flat veins and a flawless tapered head. It's well packed, firm, and bouncy. The texture is a little rough with visible but tight seams. Notes off the wrapper converge around dry barnyard with whiffs of peppery spice. The foot speaks of cedar, white pepper, and a fleeting nuttiness.
First Third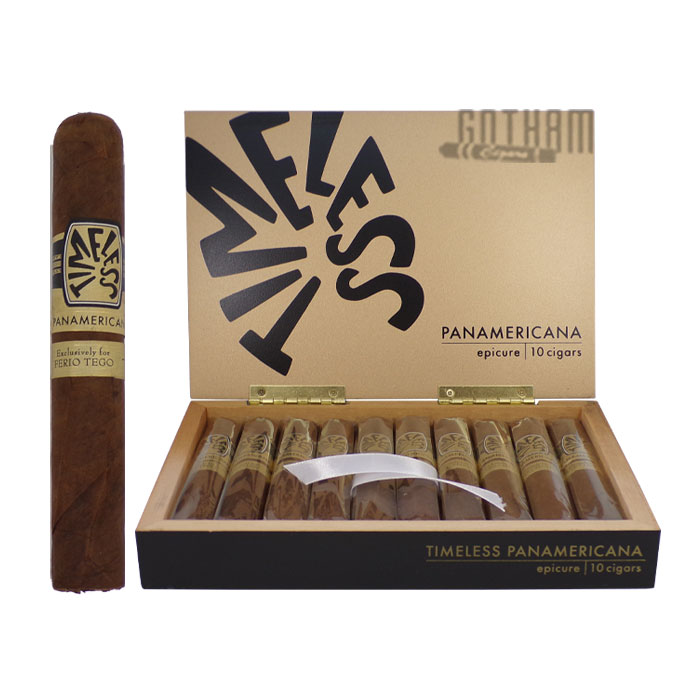 Upon lighting I am eased into subtle notes of cedar, nuts, and a blend of cooking spices. To be honest, I couldn't quite separate the spice blend into individual flavors though I may have discerned cinnamon and faint nutmeg. Toward the finish, hinted peppery notes emerge but they're so elusive it's basically a warm sensation. But it works to bring out a fine-drawn creamy disposition finely blended with wood.
After a few draws the creamy notes intensify enveloping the cedary wood flavors and the nuts. The result is a musty wood note accompanied by slight heat. Thus far the strength and body are inching toward medium.
Mid Third
In the mid third, the flavor profile doesn't change per se. However, the cedar notes gain a chip on the shoulder knocking all the other flavors to the back. The creamy nuances remain in the background dragging soft peppery notes and that peculiar mustiness along. Strength and body are now at a steady medium. The draw, ash, and burn line couldn't be more perfect.
Final Third
As it turns out, this is a simple blend without much pizzazz. The final third gains a bit of char to the wood. Cinnamon, bits of black pepper, and a little cream begins to show up in the Retrohale. As my Belicoso Fino comes to a close only charred wood, slight heat, and that unfamiliar mustiness remain. Strength and body close at a solid medium.
Review Overview
This is a mild cigar in flavor and strength. If you are looking for a mindless lazy-afternoon cigar, it's a great choice. It smoked so well never wavering or needing any touch ups. However, if you want a TKO to propel you right into 2022 you may need a stronger cigar. If you have not had any Ferio Tego cigar yet, this is a good beginner as we continue to explore the other blends.
Feel free to share your smoking experience with us. Happy holidays from Gotham Cigars!