For Flatbushers, this name must conjure warm feelings of a quaint neighborhood beautifully lined with homes and parks. Whether used as a cigar company name or to represent the people of this unique portion of the world, Flatbush is synonymous with art, diversity, flavor, commingling, uniqueness, and symphony.
Just to enlighten you, there's a new kid on the block or should I say on the stoop. Flatbush Tobacco Company conceived of Gotham Cigars is the new talk of the town and for many reasons. Let's find out what that's about.
About Flatbush Cigar Company
Flatbush is a rather interesting name for a Cigar Company, wouldn't you say? But such is the uniqueness of the brand, the story, the founder, and the flavor profile! Flatbush Tobacco Company is owned by Gotham Cigars, the largest online purveyor of cigars in the United States. Over 20 years ago, Gotham Cigars' founder and president, Manny Balani was having a meeting in the Flatbush area of Brooklyn. The result of the tête-à-tête complimented by rum and cigars was the birth of Gotham Cigars.
"The story behind the story of Flatbush Cigar Company is that a conversation that I was having about the cigar business many years ago while in Flatbush generated the idea that has become Gotham Cigars. I have always known that I wanted to honor that meeting, and one of my favorite areas in Brooklyn, with a cigar…and now here it is. These are really fantastic cigars that are affordable. We look forward to introducing them to the market, and following that up with a few other creative ideas we have planned for the Flatbush Cigar Company", says Manny Balani, owner and President of Gotham Cigars.
The cigars under Flatbush Tobacco Company embody the stalwart and assiduous character of the people of Flatbush area in Central Brooklyn. With premium, aged, stand-alone profiles, these cigars aim to offer a deeply satisfying experience at pocket-considerate prices. All Flatbush Tobacco Company cigars are rolled at Best Cigars S.A. in Esteli, Nicaragua.
Flatbush Tobacco Company Blends
The launch of Flatbush Tobacco Company comes with the release of three cigars: Yellow Cab, The Doorman, and Stoop 526. These are the premier smokes under the Flatbush Tobacco Company. As a sneak peek, here is what to expect from these three stogies.
Yellow Cab: Blend and Flavor Notes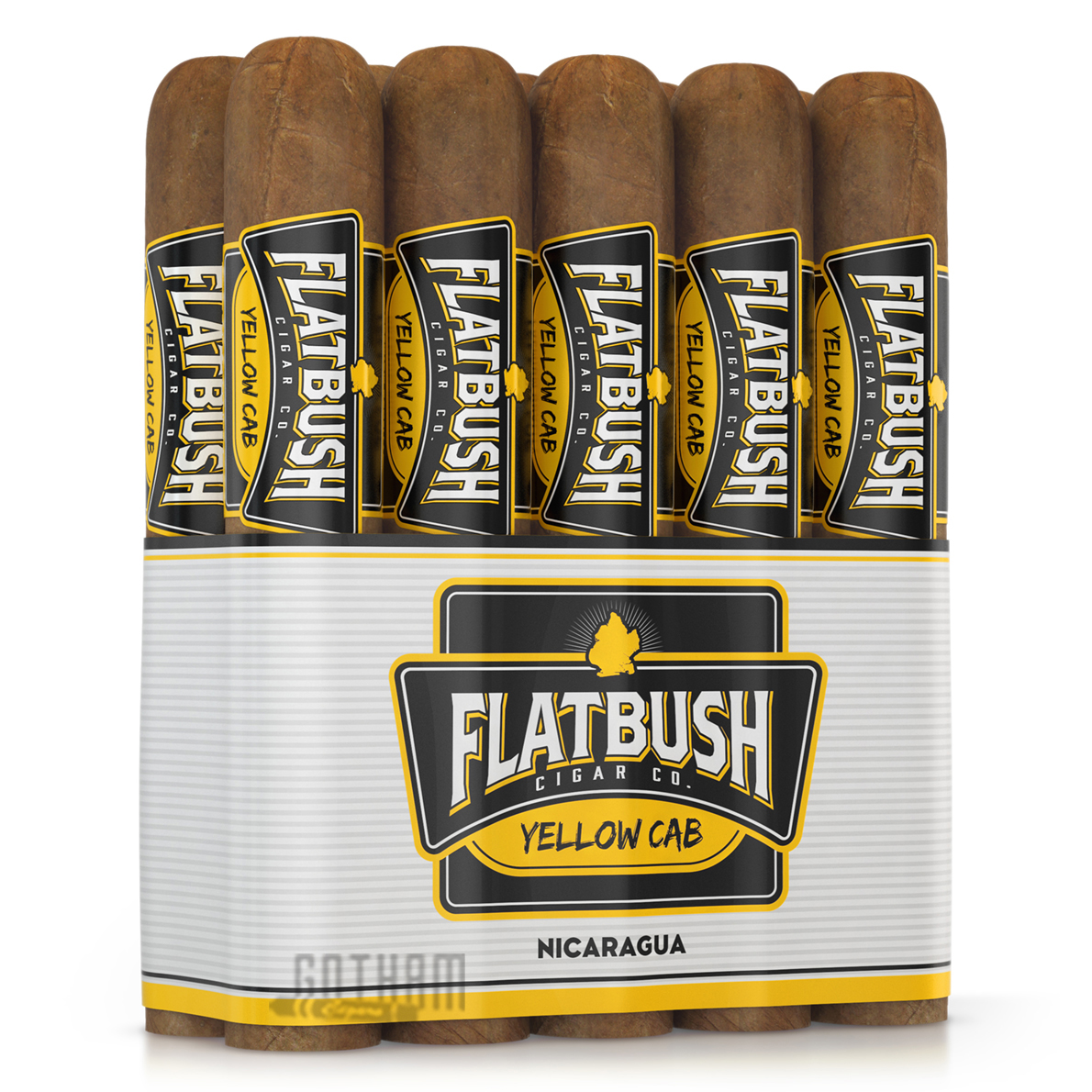 This is the mild to medium offing. Yellow Cab is a beautiful toasty blonde cigar flaunting an Ecuadorian Connecticut wrapper. It utilizes a Nicaraguan Habano binder and choice pickings from Condega and Jalapa regions of Nicaragua as filler. The result is a pleasant light-tan stick full of flavor. The sweetness is so potent on this cigar that you can taste it right from the cold draw. Coffee, cedar, and toasty hay waft off the shaft. It's a solid cigar, well constructed with a flawless double cap.
The billows of aromatic smoke are difficult to miss. The smoke smells like hay on a hot afternoon, sweet with a little nutty chip on the shoulder. True to the cold draw, this smoke offers a sweet, toasty, and creamy profile with coffee, baking spice, white pepper, cedar, and leather being especially dominant. A long buttery finish drags on to the next draw.
More mature notes of light spices, cedar, coffee, almonds, leather, and toasted bread take over in the mid section. The coffee is roasted, almonds are more like cashews, and the spices are more like white pepper towards the beginning of the final third.
Overall, the cigar is still supremely sweet, rich, and creamy with a surprising hint of citrus tang. The finish is still extremely long and pleasant, filling your mouth with an aromatic cottony feel.
Towards the nub, the medium body is a little strong. Maybe stronger than some mild-loving botl and sotl would like. All the flavors amp up to close on a high. Sweet roasted coffee, warm creamy nuts, cedar, leather, toasted bread, light citrus zing, and a warm, sweet, spicy, toasty, earthy long finish.
Yellow Cab is ideal for those who love a mild to medium smoke. It's easy, toasty, and spicy without being overwhelming, But it's also a little strong, which may be one of the unique qualities about it. It comes in three vitolas: Toro (6 x 52), Gordo (6 x 60), and Churchill (7 x 50).
The Doorman: Blend and Flavor Notes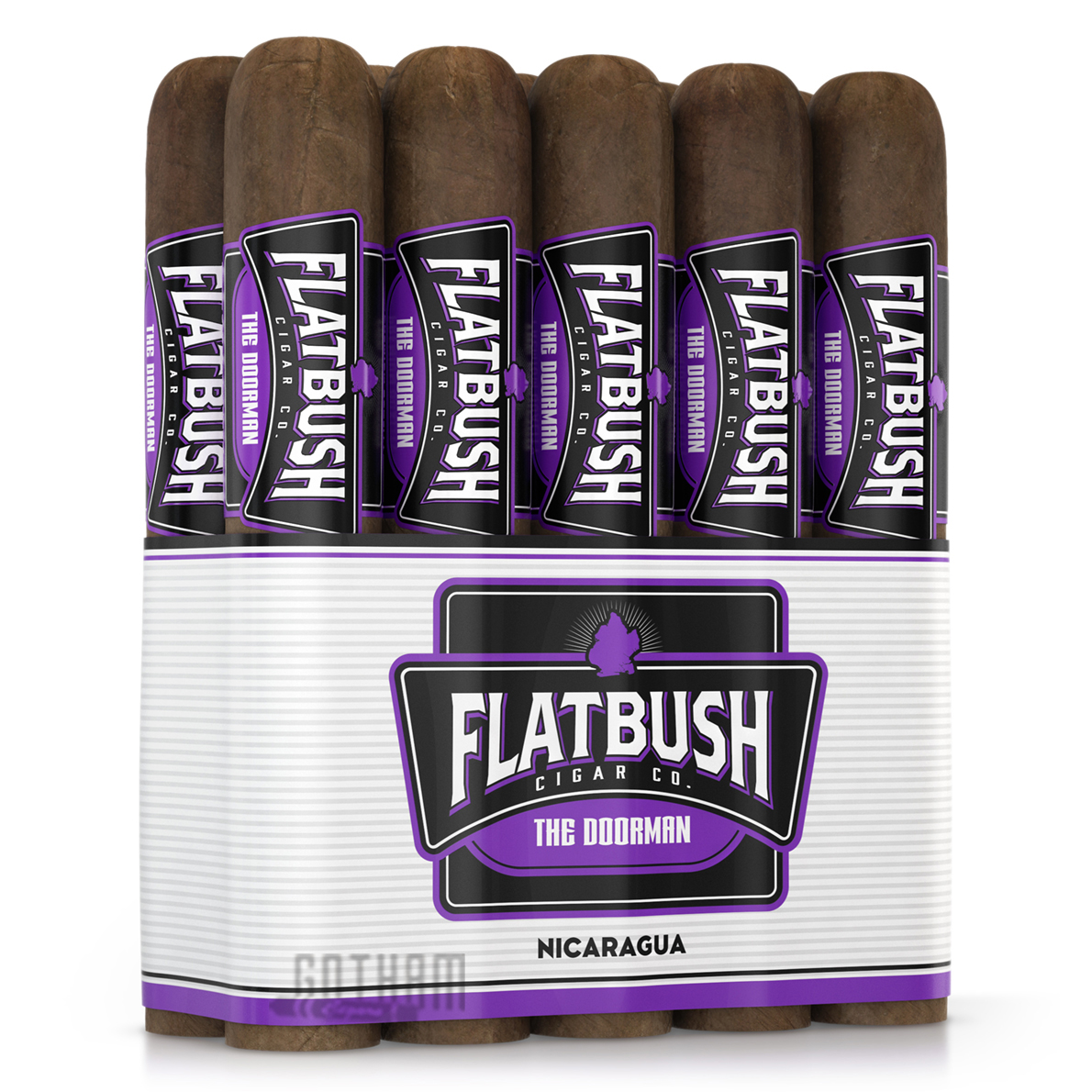 The Doorman adorns an exquisite dark brown Ecuadorian Habano wrapper. Underneath is another Habano, this time a Nicaraguan offing marshalling a unique blend of Nicaraguan pickings and primmings from Condega and Jalapa regions.
Thanks to the premium Ecuadorian Habano wrapper, the Doorman is a rich golden-brown medium to full bodied stick. It spots a silky texture, fine veins, and a beautiful sheen. A whiff of the shaft will likely generate spicy tobacco notes, cocoa, and dry fruit aromas. Cold draw is a confirmation of the cocoa, raisin, warm spices, and premium tobacco notes.
Doorman opens with exuberant notes of spice, earth, pepper, and a zesty citrus zing. Right off the bat you can tell it's going to be a heavy bodied stogy. It's got that sweet spice and warm aroma that has become the Ecuadorian Habano stamp of approval. Tons of chocolatey cream soon swarm the palate commingled with wood, cocoa, raisin sweetness, espresso, and unbelievable caramel undertones.
Heavier, darker flavors make a debut in the second half of The Doorman brandishing leather, sweet spicy tobacco, nuts, espresso, figs, earth, and wood. The creamy, honey-sweet disposition remains to balance the complex conglomeration of flavors. At the nub, this is a heavy medium to full complex cigar, excellently constructed with no burn issues. If you're a newbie, this may not be the place to begin, consider Yellow Cab. The
Nic-character in this one takes no prisoners. But if you're looking to transition from mild to medium smokes, this is your stick. The Doorman comes in three vitolas: Toro (6x52), Gordo (6x60), and Churchill (7x50).
Stoop 526: Blend and Flavor Notes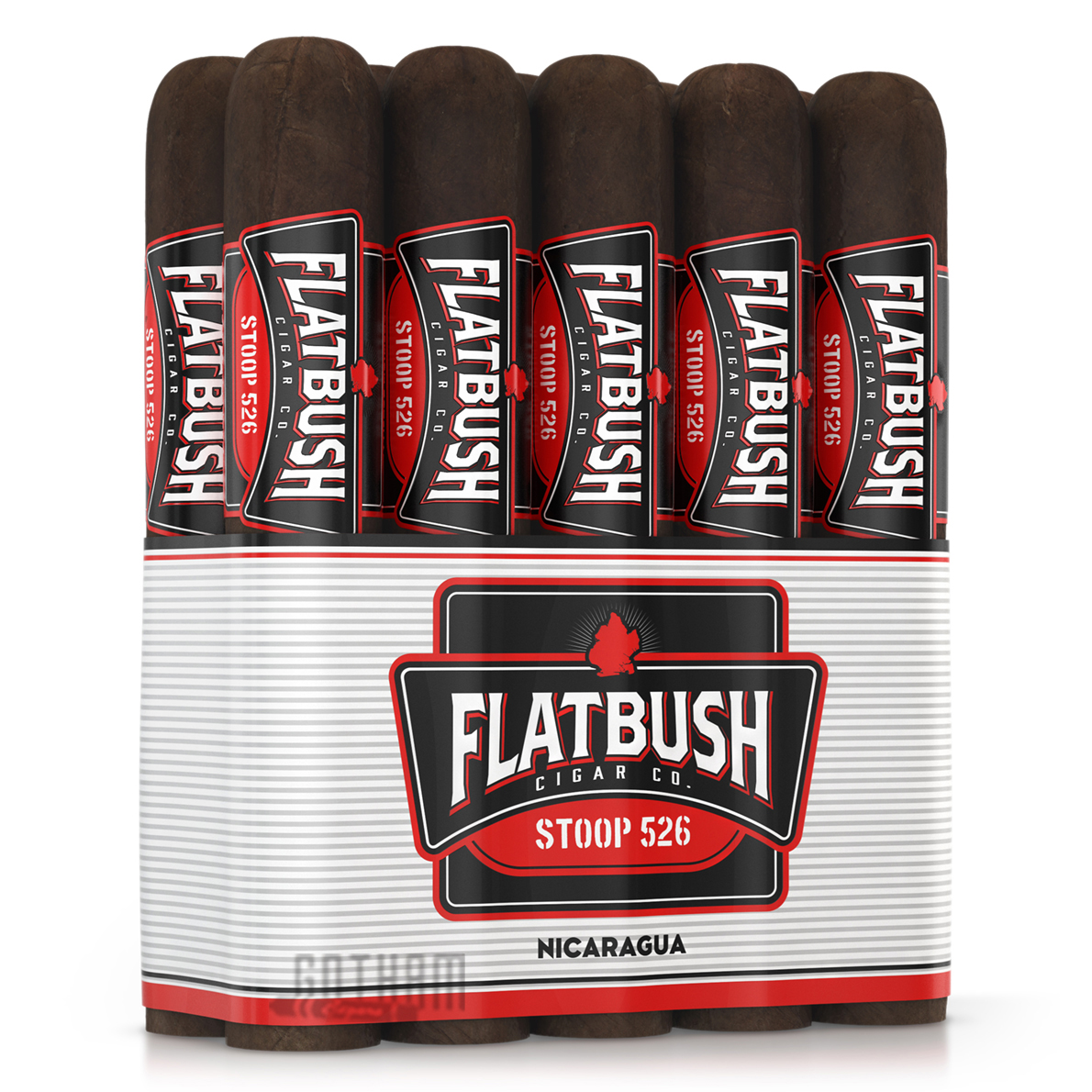 This is for the Maduro-chomping botl and sotl in our midst. Stoop 256 comes draped in an exquisite dark-tan Mexican San Andres Maduro leaf encasing a Nicaraguan Habano binder and aged premium long fillers from Condega and Jalapa regions in Nicaragua.
This is the Maduro to rule over all others. It's a certified Nic-bomb swarming with all the dark delicious notes of a true Maduro. The shaft is an oily, gleaming masterpiece divulging sweet notes of espresso, spice, earth, and nuts on the dry run.
Notes of brewed coffee, black cherry, almonds, spices, and black pepper accost you on the first few draws. Stoop 256 wastes no time letting you know what this is about. Delectably sweet and spicy notes remain on the palate until a fresh supply of wet earth, chocolate, cherry, and black pepper are introduced by the next draw. Leather , earth, and spicy sweetness are on the retrohale.
A hearty roasted nuts flavour comes in the mid section. Stoop 256 is extremely smooth, well-balanced, and full-bodied. With the toasty nuttiness comes a velvety earthy-sweet spice that yields woodsy, leathery, coffee and chocolatey delights. Caramel, graham cracker, citrus, cocoa, and oak zoom in and out at will. Overall the smoke is creamy, complex, balanced, and uber-smooth.
Stoop 256 is only for the ones who can hold the fort when the Nic bombs begin to fly. It's ultra rich, complex, and faithfully consistent. Stoop 256 comes in three sizes; Toro (6 x 52), Gordo (6 x 60), and Churchill (7 x 50).
Winding Up
Flatbush Tobacco Company went all out to offer three different cigars for the three main categories of cigar lovers. These cigars will be offered in 10 count bundles at very affordable prices. Keep your eyes peeled for the debut of these stogies and grab yourself a bundle to enjoy with your family and loved ones.
Then, come back here and share your experience. We would love to hear how they smoked for you.
Recent Posts
For Flatbushers, this name must conjure warm feelings of a quaint neighborhood beautifully lined wit …

This little known brand is almost two centuries old. Sancho Panza began in Cuba in 1848 and has …

At the whisper of a new AJ Fernandez release, I know some people who would betray brother and count …