Posted by Blazing Bill on 19th Nov 2020

Practically every cigar manufacturing company has a Connecticut Shade cigar but none commands your attention quite the Gurkha Cellar Reserve 21 years. And even though a lot has been said about Gurkha lately, when all is said and the dust settles, we will still agree that Gurkha does make a mean cigar. If you can't tell from the massive topic up there, today we will be talking about one of the oldest cigars I have ever had the pleasure of smoking. But, as usual, we have to talk a little about Gurkha history.
A Little Gurkha History
The brand name Gurkha is associated with premium, extremely high-end smokes that defy the norm and astound seasoned palates of cigar aficionados worldwide. Kaizad Hansotia, the name behind the brand is a force to reckon with having grown the brand seemingly out of nowhere.
In his own words, K. Hansotia was a little less than sober when he stumbled upon a cigar vendor on a beach in India. Long story short, Hansotia ended up buying the entire inventory for a whopping $149. His intention was to give away the cigars as gifts to his customers. After repeated requests for the cigars, Gurkha Cigars Co. was inadvertently born.
As of June 2020, Gurkha Cigars decided to go on without K. Hansotia as the president. However, we have confidence that despite the changes, Gurkha Cigars will continue to produce award-winning, succulent smokes that we can rave about for the rest of forever. Now that we are caught up-ish on the history of Gurkha Cigars, let us embark on today's subject, Gurkha Cellar Reserve 21 years.
About Gurkha Cellar Reserve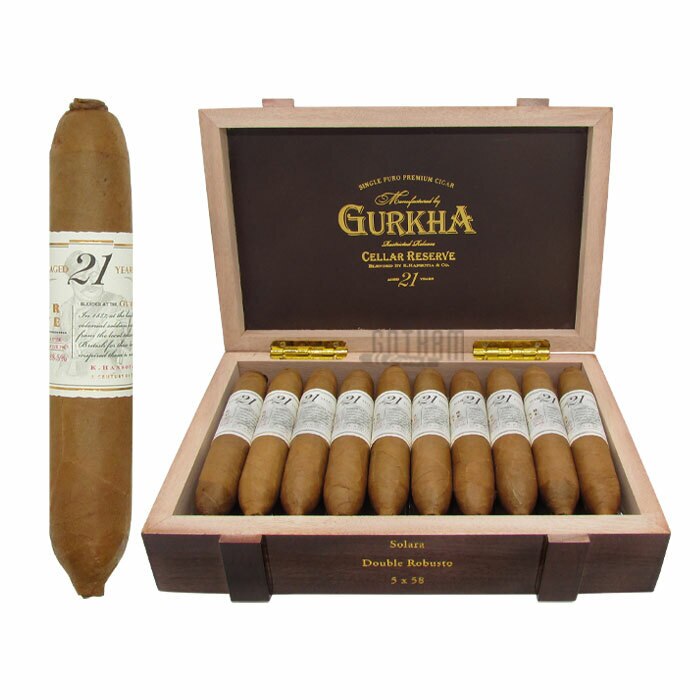 We can never speak about any one of the Gurkha Cellar Reserve cigars without talking about the entire line. Why? It wouldn't be fair to you, our reader to miss out on this exceptionally exclusive line that churns premium smokes fit for a king but affordable enough to enjoy on a regular basis.
What makes the Gurkha Cellar Reserve line extra special is the fact that all the cigars in this line feature extensively aged tobacco. When you hear of 18-year-old tobacco you either think no flavours at all or unbelievable balance and complexity. Lucky for us, the Gurkha Cellar Reserve line is the latter not the former. So, which cigars make the Gurkha Cellar Reserve line?
The Gurkha Cellar Reserve line is more of an annual affair. It all began in 2011 with the first Gurkha Cellar Reserve donning a Criollo 98 wrapper and 15-year-old filler tobacco. Two years later, Gurkha Cellar Reserve Limitada hit the shelves. This baby is a decadent Maduro offing with a Brazilian Arapiraca wrapper and 15-year-old longleaf fillers.
In 2014, the Gurkha Cellar Reserve Edition Especial joined the Cellar Reserve line. This exquisite creation features a Corojo wrapper and 18-year-old tobacco in the blend. A year later, in 2015, Hansotia released the Gurkha Cellar Reserve Platinum Edition which fronts an Ecuadorian Oscuro wrapper swaddling 12-year-old Nicaraguan filler. The folks at Gurkha Cigars insist that this is the most value-priced stogie of the Cellar Reserve line. And finally, we have the Gurkha Cellar Reserve 21 years which is why we're here.
Gurkha Cellar Reserve 21 Years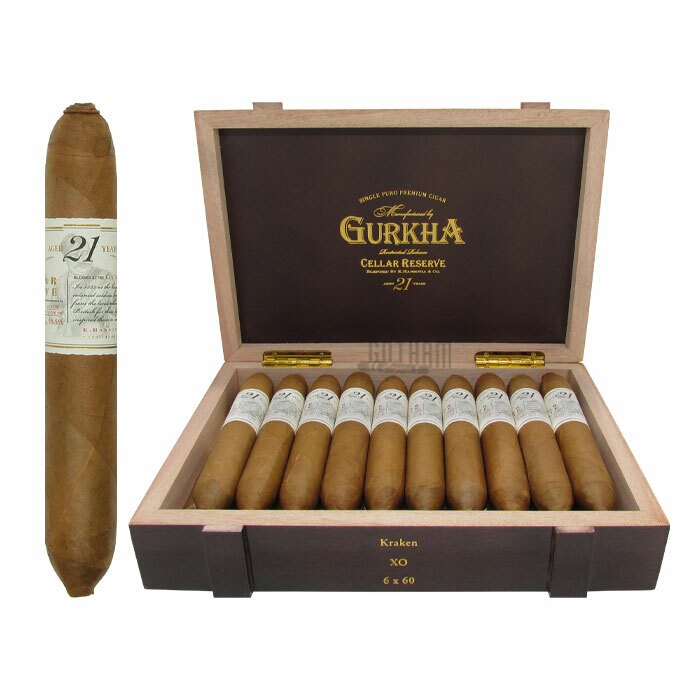 The Gurkha Cellar Reserve 21 Years is the 5th instalment in the limited-edition Cellar Reserve line. The reason this line is a limited edition is because the tobacco therein is so rare that the company can never maintain regular production. So, for instance, in the case of this 21-year old masterpiece, only 1000 boxes were made.
Making an exceptional cigar cannot be rushed. Hansotia mastered this art and ran with it. And if you are wondering, yes, the Gurkha Cellar Reserve 21 years does have 21-year-old Dominican tobacco. Think about it, this cigar can walk into any bar and you'd have to serve it. I know, I know, I just had to, couldn't let the chance pass me by. In addition to the aged Dominican tobacco, Gurkha Cellar Reserve 21 years has premium Nicaraguan longleaf in the filler and binder. Then the entire thing is cloaked in a flawless Connecticut Shade wrapper.
Aside from the fact that we have 21-year old tobacco in this blend, this is also the first Connecticut Shade offing in the Gurkha Cellar Reserve line. This means even if you have had all the other cigars in the Cellar Reserve line, there is something special in this blend because nothing brings out an aged blend quite like a Connecticut Shade leaf. Gurkha Cellar Reserve 21 years comes in 3 sizes; Solara or Double Robusto (5x58), Hedonism or Grand Rothschild (6x58), and Kraken (6x60). These cigars are packaged in crate-style boxes of 20 cigars each and cost between $15 and $20 depending on the size.
Tasting Notes
The Gurkha Cellar Reserve 21 years is by all rights a complex smoke. It opens with a fusion of sweet chocolate notes, wet wood, and a bitter nuance drowning in rich creaminess. The complexity does not tarry in showing up because a few draws in the sweet notes disappear and a salty meaty flavour takes over. There is a lingering toasty wafer-like note coupled with creaminess cutting through the salt and herb-like dominant flavor.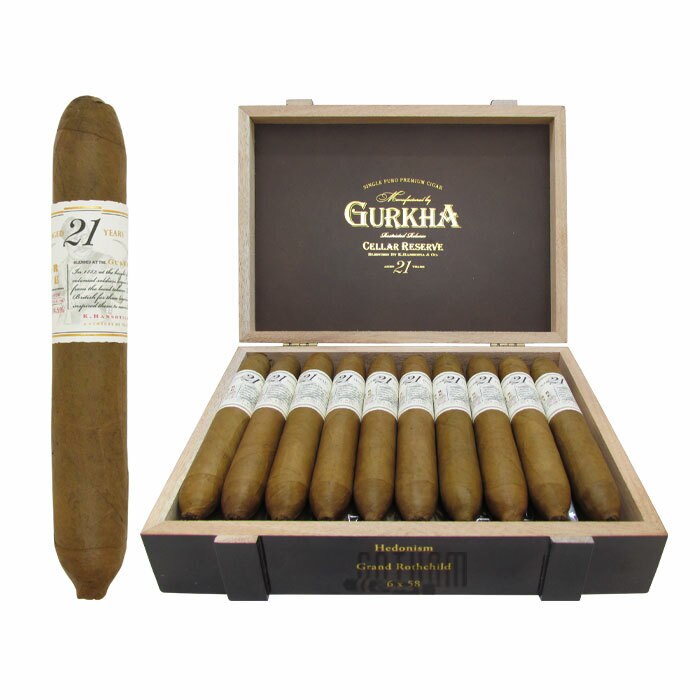 As the cigar progresses into the mid-section, a citrus zing along with a dried fruit nuance show up isolated from the dominant flavours and prominent in the Retrohale. Somewhere in the deliciousness is fresh pine and a carpet of creaminess coating my tongue and the back of my throat.
As the cigar draws closer to the nub, the meaty flavour loses dominance to a nutty, burnt coffee note with a skosh of roasted corn on the side. What a strange flavour to have in a cigar. By closing time, all the salty flavours are gone replaced by the creamy sweet flavours I experienced in the beginning.
Truth be told, I have never experienced such a stubbornly salty cigar. It was kinda amazing but also unusual. But overall, I would definitely smoke this again and again. It's a change of pace from the usual and definitely the best Connecticut Shade cigar I have ever had the pleasure of enjoying.
Final Words
Having had all the other Gurkha Cellar Reserve cigars, I would say the Gurkha Cellar Reserve 21 years is a solid second place behind the Gurkha Cellar Reserve Platinum Edition. It is supremely balanced and flavourful despite the extended aging. And even though I wouldn't call it an everyday cigar, I keep some with me for occasional indulgence. If you have not had it yet, grab one and prepare for a transcendent experience.