"In an industry filled with thousands if not millions of different cigars, how can we stand out?" This must have been the question on Jim Robinson's mind as he was conceptualizing Leaf by Oscar. Full disclosure, I have no idea what he was thinking but I can guess.
If you have no idea what I'm talking about or even what in the heavens Leaf by Oscar is, it's your lucky day. Today we'll be discussing a feat of genius and one of the most popular cigars in the industry.
Leaf by Oscar is a canny blend that broke out into a line following the instantaneous success of the original Leaf by Oscar. So, what is Leaf by Oscar and why should you care?
Insight into Leaf by Oscar
Leaf by Oscar is the creation of Jim Robinson of Leaf & Bean. Mr. Robinson, commonly referred to as "Island Jim", teamed up with Oscar Valladares to create this decadent blend which is rolled at The Oscar Valladares Tobacco Company in Danli. Before we discuss the beginnings of Leaf by Oscar, I want to save you some frustrating Google searches.
First off, Leaf & Bean is not a cigar company as you would imagine. It's a world-famous cigar retail and coffee shop in McMurray, PA with a second location at the Strip District, downtown Pittsburg, PA. The owner is Jim Robinson or Island Jim. After leaving the corporate world, Jim Robinson opened Leaf & Bean and then collaborated with Oscar Valladares to create Leaf by Oscar.
Jim Robinson intended Leaf by Oscar to be an in-house cigar sold to Leaf & Bean customers. However, Leaf by Oscar was an overnight success. The initial order of 5,000 cigars that Jim Robinson thought would take him a year to sell were gone in less than 2 months. This unprecedented success birthed the 4 line brand that we're exploring today.
What's Special about Leaf By Oscar?
When you first come across Leaf by Oscar you'll be a little offended that someone decided to put out such a cigar in the market. Why? Because the "leaf" in Leaf by Oscar refers to a raw cigar leaf covering the cigar. Jim Robinson had the ingenious idea to cover his cigars with a tobacco leaf instead of the typical cellophane.
I call it ingenious because the tobacco leaf protects the cigar from the elements while allowing it to remain fresh, to breath, and ripen all at the same time. The result is a perfectly balanced smoke with a healthy oily coat for which you will be hard pressed to find a peer.
As far as appearance is concerned it looks quite rough on the outside. But Oscar banded the dress leaf as well with some variations of the cigars having a long pigtail. Avoid being among the greenhorns who don't know the leaf is a cover and end up clipping the cigar with the cover still on. Gently remove the leaf on top and behold the exquisite beauty that lies within.
Before we move on to the different blends, here is a little excerpt from Jim Robinson's Facebook page about the label used on Leaf by Oscar.
"Our label (cigar band) is made from the same plant that makes the Tequila that some of us like to drink, NOT ME! I like Rum. The label is a handmade paper product. Get it wet and pretty much it's gone, so for you wet smokers. I don't see us using any other kind of label for the Leaf and Bean line of cigars. Paper is locally made in Honduras. The colors you see in label are the actual flowers in the plant (Agave). Paper is made in little shop, this little shop is the livelihood for many families in Danli. Without it they would not be able to support their families. No, it's not shiny, it's not embossed, it's made of love. This label represents a family being able to put food on table for their kids. I like it."
Just to clarify, since the band is made of tobacco and specifically the tobacco leaf stems, you can smoke right through the band.
Leaf by Oscar: Blends and Tasting Notes
As earlier alluded to, Leaf by Oscar now has four variations. You have Connecticut, Maduro, Sumatra, and Corojo. They all come in these popular sizes namely Robusto (4×50), Toro (6×52), Sixty (6×60), Torpedo (6.5×52), and Lancero (7×48) vitolas.
The Lancero came in after about 3 years of distribution. So, what are they like?
Connecticut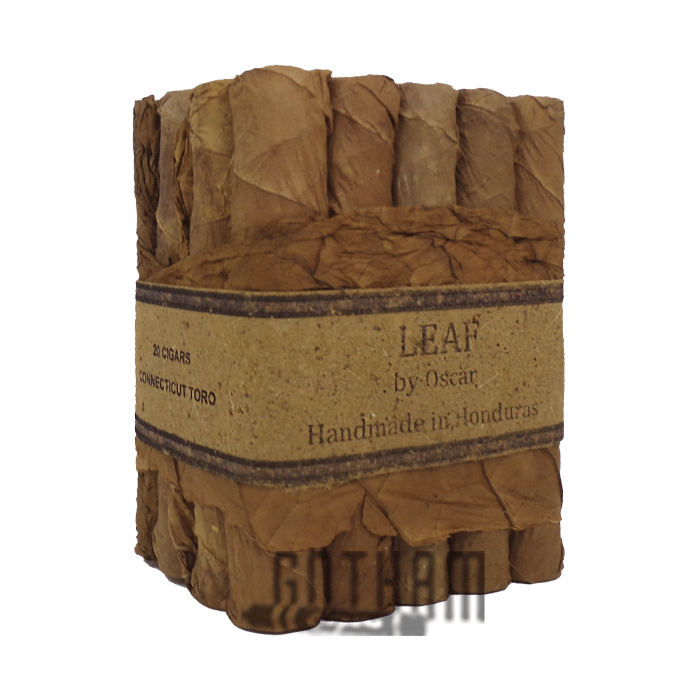 Leaf by Oscar Connecticut is a mild to medium smoke featuring Honduran fillers and binder swathed in an Ecuadorian Connecticut Shade wrapper. It's a mid-brown beauty with minimal veins, visible seams, a few frog eyes, and an absolutely perfect triple cap.
It presents delightful citrus notes, tons of cream, and a touch of mocha without even a trace of the typical Connecticut Shade bitterness. A slight peppery kick checks in midway through. This stick burns like a champ with the perfect draw, a razor sharp burnline, and billows of aromatic blue smoke. The aroma is more like sweet molasses and toasted nuts. A sturdy tower of salt and pepper ash completes the picture.
Corojo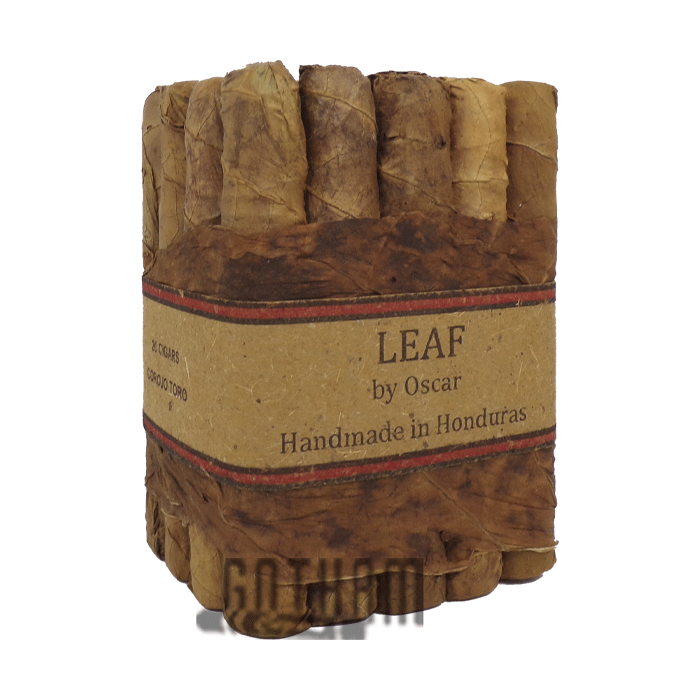 Leaf by Oscar Corojo is a dark-tan medium bodied smoke. It showcases an Ecuadorian Corojo wrapper over Honduran fillers and binder; the same blend for all four of the Leaf by Oscar variations. It's a noticeably oily stick with visible veins, smart seams, and excellently applied caps.
Expect to be greeted by strong earthy cedar notes, implicit layers of cashew nuts, a dash of cayenne pepper, and dark roasted coffee. Down the line you may encounter leather and barnyard notes wrapped in wood, coffee, and slight peppery heat that intensifies in the final third.
Leaf by Oscar Corojo did pretty well for itself scoring a 92 rating on Cigar Authority in 2017 and a 90 rating on Cigar Journal in 2019.
Maduro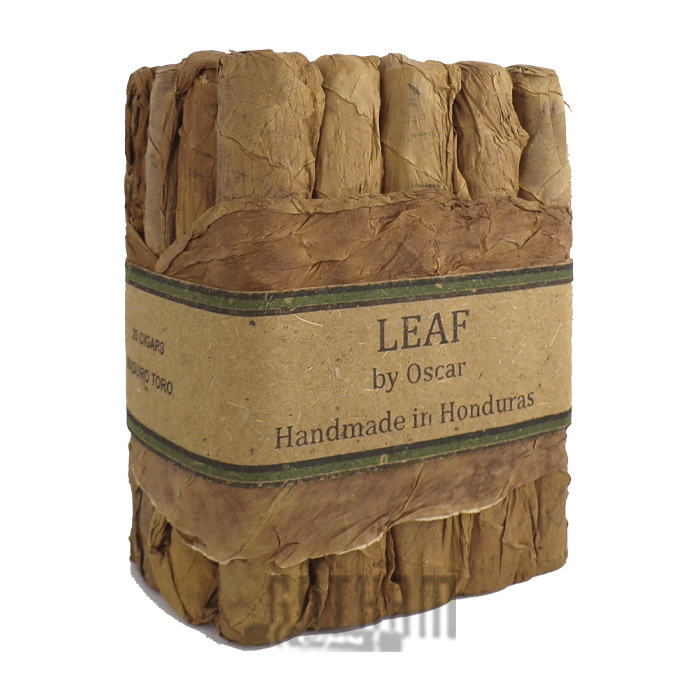 Maduro lovers will literally keel over in glee when they get their hands on this one. Leaf by Oscar Maduro is a dark, beautiful shiny aromatic medium to full smoke. Encasing the same Honduran fillers and binder, this baby is cloaked in a Nicaraguan Jalapa Maduro wrapper. Is it an exaggeration to say you can almost scoop the oils off the shaft? Shoot me - I'm a sucker for a good maduro.
Rich notes of espresso, earth, pepper, honey-like sweetness, anise, and raisins are all over this stick. Complexity, intensity, and strength grow steadily throughout the smoke. Honey sweetness and pepper are pretty strong but perfectly balanced by creamy coffee. You're in for a treat and I'm not the only one who thought so.
Leaf by Oscar Maduro clinched the 19 position in Top 25 Cigars of 2016 by Cigar Snob with a 92 rating. It also got a 91 rating from Cigar Authority in 2016.
Sumatra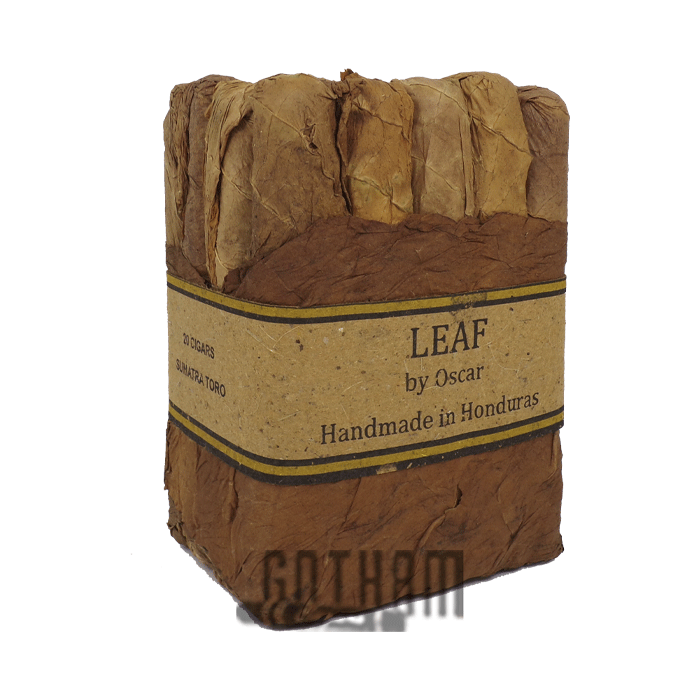 Leaf by Oscar Sumatra is the perfect any time cigar if you've wondering about what to smoke any time of the day. It's a delicately balanced medium smoke flaunting a superlative Ecuadorian Sumatra wrapper atop Honduran fillers and binder.
Sweet notes of a barnyard in summer hit you the moment you remove the leaf dress. Upon lighting, delightful citrus notes, grass, and earth take over. Down the lane coffee, milk chocolate, and white pepper make their presence known.
Leaf by Oscar Sumatra is very well "controlled" for lack of a better word-can you imagine. Many call it balanced but I think it's beyond balance, it's more of holding the reins. The evidence is in how it performed. It grabbed the 17th slot in the Best 25 of 2017 by Cigar Snob and a 93 rating from Cigar Authority the same year.
Final Words
If you're a "Leaf By Oscar" novice, we've introduced you not just to one but four great smokes that you can try and share with friends and family. These are top notch smokes at a fairly reasonable price of about $10 a pop. Trust us, they're worth every penny.
Have you had any of the Leaf by Oscar cigars? Which is your favorite? Let us know in the comment section.
Recent Posts
For Flatbushers, this name must conjure warm feelings of a quaint neighborhood beautifully lined wit …

This little known brand is almost two centuries old. Sancho Panza began in Cuba in 1848 and has …

At the whisper of a new AJ Fernandez release, I know some people who would betray brother and count …