Posted by Blazing Bill on 27th Dec 2020

When you need a cigar that takes no prisoners, then My Father cigars is the best place to start. For years, this boutique brand has raked in loads of 90 percentile ratings for full-bodied cigars flaunting lashings of pepper spice and flavour. Jose "Pepin" Garcia, the man behind the brand is a master at the top of his game. Just ask industry leaders like Tatuaje, Ortega, Crowned Heads and the slew of other cigar companies that Jose Pepin collaborated with to make market-dominating smokes. And while I love a full-bodied stogie as much as the next guy, I do appreciate an any-time-of-day cigar that will satisfy my palate without offloading a ton of strength. For this reason, the My Father Connecticut is one stogie that is permanently in my rotation. Never heard of My Father Connecticut? Let's dive a little deeper.
A Little Insight
During the "Conny wave" of 2011-2012, it appeared that everyone was making a Connecticut cigar. It felt like that would have been the perfect time for My Father to produce a Connecticut cigar. But Jose "Pepin" Garcia needed to make sure it's the right time. So, the "Conny wave" came and went and finally, in 2014, Jose Pepin debuted the My Father Connecticut stogie. Perhaps, Jose Pepin knew he was sitting on something truly exceptional and didn't want it to get lost in the melee-this is just my opinion.
The Blend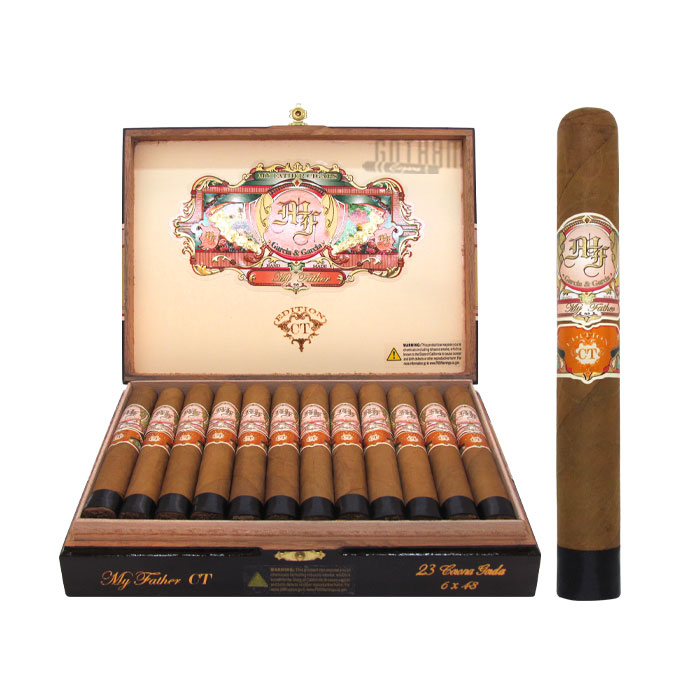 My Father Connecticut is an outstanding change of pace from the typical My Father line of cigars. For one, this is the first My Father cigar to have an Ecuadorian Connecticut-seed wrapper. Secondly, it is the first My Father cigar to be branded a mild to medium-bodied stick. In essence, this is not the first time that My Father cigars created a mild to medium bodied cigar. Jose Pepin and company made Cababiguan for Tatuaje before embarking on this bad boy. It's just the first time that a mild to medium-bodied cigar bore the My Father name.
As far as the blend goes, My Father Connecticut features Habano and Criollo leaves from Nicaragua as fillers, and a Nicaraguan Corojo '99 binder. The star of the show is the exquisite silky, blonde Connecticut seed wrapper grown in Ecuador. All the tobacco used in the filler and binder is grown in Garcia's own farms. The blend is carefully aged to afford this cigar a sumptuous, complex, and full-flavoured profile.
To give this cigar an edge, Jose Pepin and Jaime Garcia added a very rare, very aromatic, and specially fermented leaf to shape the outstanding profile we so much enjoy. So, even though this cigar is rated a mild to medium body, it is in no way a wuss. Janny Garcia had this to say, "It truly is the one cigar that was missing in our line-up," said My Father Cigars vice president Janny Garcia to Cigar Aficionado. "It is absolutely a mild cigar but definitely full-flavored.
Packaging
My Father Connecticut comes in 4 Vitolas, Corona Gorda (6x48), Robusto (5.25x52), Toro (6.5x54), and Toro Gordo (6x60). Further, this treat comes in counts of 23 with the company crest displayed across the top of the matte black wooden box. Like the Le Bijou and Lounge Edition, My Father Connecticut has 2 bands. The secondary band features a gold background that says Edition CT across the centre and Connecticut in tiny letters on either side.
To complete the look, there is a black ribbon on the foot; it is one beautiful cigar. I guess the only question that remains is, does is taste as good as it looks? Let's find out.
Tasting Notes: Prelight
For this review, I am going with a Corona Gorda. Usually, I go with the Robusto but since I have had this cigar countless times, I chose the smaller Vitola to save my bigger ring gauges for a lazy Sunday afternoon. Many Connecticut cigars, in my opinion, end up with some kind of flaw on the wrapper. But this baby is near perfect. The wrapper is the smoothest even shade of brown sugar. There are some visible veins but the seams are tight and the triple cap is impeccable.
The shaft gives off notes of premium aged tobacco, wood, earth, and a bit of spice. Cold draw produces notes of caramel, nutmeg, peanuts, cedar, and a tiny skosh of cinnamon. I can't detect any spice on the cold draw which is a first from My Father cigars.
First Third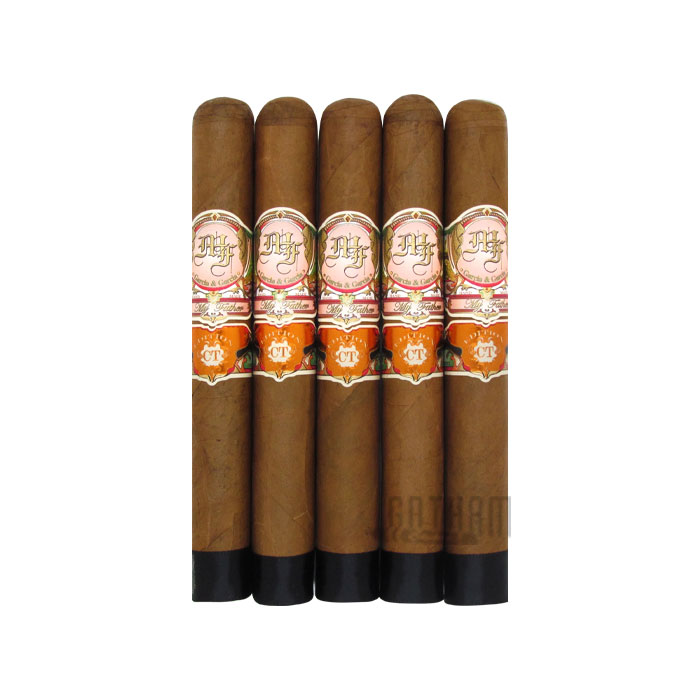 The pepper hits my nose like a ton of bricks right from the first draw. I am not surprised though. Afterall this is a My Father cigar. Amidst tons of aromatic smoke, I begin to discern notes of cedar, earth, sweet hay, some nuttiness, and a dash of pepper on the Retrohale. Surprisingly, while the pepper is very present on the Retrohale, there is absolutely none on my lips or palate- how did they do that?
A few draws in and the pepper settles down giving way to more refined flavours of buttery cream, toasted nuts, graham cracker, and a peculiar fusion of leather and hay. The back of the palate is awash with delicious freshly clipped grass notes punctuated by a white pepper zing. As far as performance goes, the draw is clean and the burn line is unwavering.
Mid Third
Into the mid third, my Corona Gorda introduces a complex tapestry of flavours. First, a fennel note creeps up followed by cocoa and a subtle peppermint nuance. Buttery goodness continues to overwhelmingly wash over my palate bringing with it underlying peanut butter and whipped cream flavours.
At this point, nicotine knocks on the door inching the strength from mild to medium. As the mid third eases into the final third, complexity intensifies, the flavours mellow, and an unmitigated balance kicks in.
Final Third
I've had some of my previous My Father Connecticut cigars develop some flaky ash situation around the mid third but this baby is beyond perfect. The ash is a stoic tower; no burn issues or cinders flying off at will. My Corona Gorda continues to amaze with extraordinary balance. The main flavours are earth, coffee, peanuts, white chocolate, graham cracker, cedar, molasses, hints of peppermint, white pepper, and leather nuances.
The airy clean draw makes it easy to discern the different flavours. Towards the nub, nicotine rears its head again. I'm pretty sure this cigar is not a mild to medium. At best it's a medium to medium plus. That notwithstanding, as I put my nub to rest, I realize it's been a flawless, extremely enjoyable smoking experience with absolutely no downers.
Final Thought
My Father Connecticut should be the benchmark upon which other Connys are measured. And even though I am tempted to recommend this as a good beginner cigar, newbies may need to refine their palates a little before taking on this beast. But if, like me, you are looking to fill a lazy Sunday afternoon slot in your rotation, then this is the perfect cigar to go with.