Posted by Blazing Bill on 25th Nov 2019

Rocky Patel sure knows how to create a buzz. The release of Rocky Patel ALR 1st Edition was phenomenal. These delicately-aged scrumptious smokes were in and then gone before we could blink.
If you missed out on the Rocky Patel ALR 1st Edition, don't fret. You still have a chance to grab the 2nd Edition.
If you did get the 1st Edition, then you know this is a cigar you cannot miss out on. So, be sure to grab the Rocky Patel ALR 2nd Edition too before it runs out. If you missed the whole thing entirely, perhaps it is time to start from the beginning.
Rocky Patel ALR 1st Edition
We all know Rocky Patel as this cigar guru, who seemingly has 36 hours in a single day. On top of running his company and creating mouth-watering blends, Rocky Patel still has time to travel extensively and maintain a consistent presence in the public eye. Back in 2015, Rocky Patel created the now legendary Rocky Patel ALR 1st Edition line. Aged…Limited...Rare
These are the words that embody the blend of Rocky Patel ALR. The Rocky Patel ALR line is a limited production line. For this reason, only 100,000 of Rocky Patel ALR 1st Edition were produced. They utilized a decadent Ecuadorian Habano seed wrapper encasing proprietary Nicaraguan long-fillers from Rocky's own farms. Rocky Patel 1st Edition ALR came in 3 sizes; Robusto (5x50), Toro (6x52), and Grande (6x60). Rocky Patel then decided that the blend would benefit from additional aging.
In his own words,"I remember in early 2015; there was this blend I kept coming back to. I was down in the factory working on new brands, and this one fulfilled an idea we had - maturing fully rolled cigars for greater complexity."
The hand-rolled batch then underwent aging in a cedar room for an additional three years. Ultimately, Rocky Patel ALR 1st Edition hit the shelves in 2018.
Cigar aficionados are still raving about the end result. The Rocky Patel ALR 1st Edition was so delectable and exquisitely aristocratic that Rocky Patel himself kept a percentage of them for his private collection. In the end, there were only 30,000 Rocky Patel ALR 1st Edition cigars left to sell. This meant only 1,500 boxes of 20 stogies each. Since the first release in 2018, cigar enthusiasts have been waiting with bated breath for the release of the 2nd Edition.
Rocky Patel ALR 2nd Edition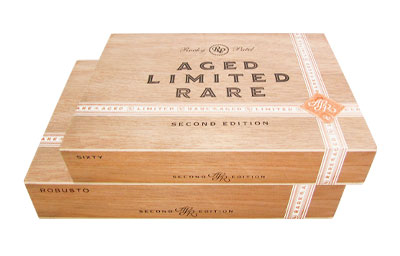 Unbeknownst to us, Rocky already created the 2nd Edition. At the 2019 IPCPR Convention in Las Vegas, Rocky Patel announced the release of the Rocky Patel ALR 2nd Edition. The concept of the 2nd Edition is the same as the first, only that this is an entirely different blend. Rocky Patel ALR 2nd Edition features flavorsome and expertly-aged Honduran and Nicaraguan premium fillers from Rocky's Esteli and Condega farms.
The binder is Honduran, while the wrapper is a proprietary oily Mexican San Andres leaf. These were a short production line as well since Rocky Patel made only 120,000 of these bad boys. Rocky Patel ALR 2nd Edition comes in 3 Vitolas; Robusto (5.5x50), Toro (6.5x52), and Sixty (6x60). Credible sources cite the prices as $13, $14, and $15 a stogie depending on the sizes.
The Differences
The blend is not the only difference between these two enormously famous ALR lines. Wait for it…
Just when you thought the 2nd Edition couldn't get any more appealing, Rocky Patel went and Box-Pressed it! We all know what a good trunk-press will do to a stogie. The flavors are that much more intense, and these beauties burn forever. Did you know that box-pressed cigars are one of Rocky Patel's personal preferences? Now you do.
Aside from the blend and box-press, the 2nd Edition comes in different packaging. It showcases two bands; one small band and another larger band that covers half the cigar. The smaller one is an ornate gold band with the words ALR calligraphed on it while the larger band narrates the story of the blend in beautiful italics. Ultimately, with a 120,000 production, it means only 40,000 cigars per size will be available for sale. It's going to be a gold-rush! You can buy them in boxes of 20.
Tasting Notes
From the dizzying success of the 1st Edition, it is clear that Rocky Patel is not joking around with complexity. Modern lore says these babies are rolled by only 10 of the most skilled torcedors at Rocky's Tavicusa factory in Esteli, Nicaragua. Since we already know Rocky Patel as a top boutique cigar manufacturer, it is no surprise that the Rocky Patel ALR 2nd Edition is yet another home run.

You can expect copious amounts of complex flavors, including earth, dark fruit, toasted wood, and sweet espresso.This eclectic mix of flavors goes big, bold, and chewy right from the get-go. But underneath it all is a smooth elegance with shy notes of sweet graham cracker, cocoa, and a skosh of spicy goodness. Obviously, we shall be back with a detailed review of these bad boys. But meanwhile, all there is to do is grab them before they run out.
What Makes Rocky Patel ALR 2nd Edition So Special?
The Rocky Patel ALR 2nd Edition was highly anticipated. Admittedly, the hype from the 1st Edition had a lot to do with it. But what really makes this blend unique is the 2-year cedar nap. Rocky Patel has his finger on the pulse of cigar aficionados. He knew that by additionally aging such a complex blend, it would appeal to an equally sophisticated palate.
Also, in most cases, the cigar market goes flavor over power. So, even though the Rocky Patel ALR 2nd Edition is a medium-bodied smoke, this is a plus. Simply because the flavors are loud, intense, and complex; the trifecta! Since the Rocky Patel ALR 2nd Edition just went on the market, we are anxiously waiting for the reviews to start pouring in.
Wrapping Up
We are just as excited as you are about Rocky Patel ALR 2nd Edition. Grab your box and share in the experience of a chosen few. We welcome your opinions and smoking experience.
Please share with us.