Posted by Blazing Bill on 10th Jun 2020

In a largely flooded cigar market, it is difficult to come up with something truly unique. And this, in my opinion, is what separates ordinary blenders from the masters. Perdomo Lot 23 was a daring experiment that went really well. Bet I have piqued your interest. Here is the story.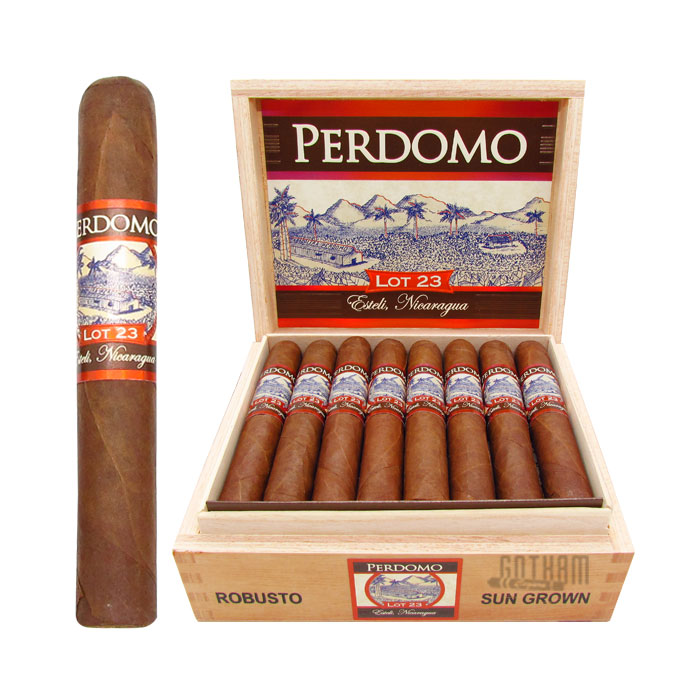 Perdomo Lot 23 History
Nick Perdomo and his large portfolio of stogies are synonymous with quality and value. This man manages to effortlessly walk the line between value and allure. Back in the year 2000, Nick Perdomo Sr. and his son Nick Perdomo Jr. decided to try something new. They set out to grow tobacco on a fresh virgin lot close to their factory in Esteli, Nicaragua. The idea was to create cigars from tobacco grown on a single lot-kinda like winemakers and their single vineyard reserve. And that is how Perdomo Lot 23 came to be and how it got its name.
The Perdomo Lot 23 Series
In truth, making cigars from the same batch of tobacco is no easy feat. What about complexity, transitions, and depth? Thankfully, Perdomo knows his stuff. The tobacco is well aged (for at least 5 years). Consequently, these stogies exhibit unique originality. In fact, because the tobacco is grown on the same lot, there's a certain unexpected depth and consistency to this blend.
The Perdomo Lot 23 series comes in three different wrappers. You have your Ecuadorian Connecticut-shade wrapper, Nicaraguan Sun-grown wrapper, and Nicaraguan Maduro wrapper. Needless to say, all the Perdomo Lot 23 cigars feature Nicaraguan Cuban-Seed fillers and binders. You will find Perdomo Lot 23 series in 5 vitolas:
As far as flavor profiles go, the Perdomo Lot 23 Connecticut fronts notes of cedar with a sweet honey finish. Perdomo Lot 23 Maduro exhibits complex and outstanding aromas with hints of mocha and spice on the finish.
I have left out the Perdomo Lot 23 Sun-grown because it is my favorite of the three and our subject of review today. All the Perdomo Lot 23 wrappers are higher-priming pickings that have been aged for 5 years.
Perdomo Lot 23 Sun-grown Review
My Perdomo Lot 23 Sun-Grown is an excellently constructed stick. I went with a Belicoso for this review because why not? Plus, I wanted a big enough stick so I can truly enjoy. Truth be told, this cigar has been in the market a while. However, the initial reviews weren't too kind to this stogie. I did smoke one back then, but I totally forgot what it was like. So, we're kind of smoking this together for the first time (again).

Prelight
As I had began to say, this is an excellently constructed stogie. I see no veins or seams. The double cap is immaculate and so is the bunching. The wrapper on this thing is a dark chocolate hue. It's a little oily but not overly so because I can see a slight sheen. The wrapper smells like freshly cut cedar with a chocolate background. Maybe there's a hazy fruity, floral aroma in there-I'm not certain. Cold draw reminds me of roasted almonds with hints of dry toast.
First Third
My Perdomo Lot 23 Sun-grown opens with fresh zesty notes of cedar, roasted coffee beans, and a shy note of spice. The spice is very restrained. Basically, it is just on the tip of my tongue and the back of my throat but no heat. There are incredibly delicious notes of roasted nuts smack in the middle of my palate. After a long draw, and all the cedar and coffee notes come and go, the nuttiness lingers backed by subtle leather notes on the finish.
I do not like that the finish is short but the balance and consistency in this cigar is undeniable. Towards the mid third, the pepper spice disappears completely. This is unexpected especially for a Nicaraguan Puro. Usually, fuller-bodied Nicaraguan Puros come with a certain pepper kick that never seems to recede.
Mid Third
As I go into the mid third, it becomes increasingly evident that this cigar should be in my regular rotation for the rest of forever. There is a consistent complexity creeping in. I can't quite pick it apart since it is more of an overall deliciousness.
There's a new sweet tobacco flavor in the profile. That's not all. A rich creamy note makes its debut. Now we have lush notes of cedar, some espresso in the background, a few roasted nuts, and a dash of creamy chocolate. The espresso has an agenda of its own because it drags cinnamon with it.
Let's recap. Cedar and espresso with cinnamon form an alliance on one side while nuts, chocolate and sweet tobacco form another. These two groups take turns dominating the front of the palate. Meanwhile, the rich creamy savor rests in the middle of the palate. The finish is still short but carries a delicious espresso zing tagging a skosh of baking spice.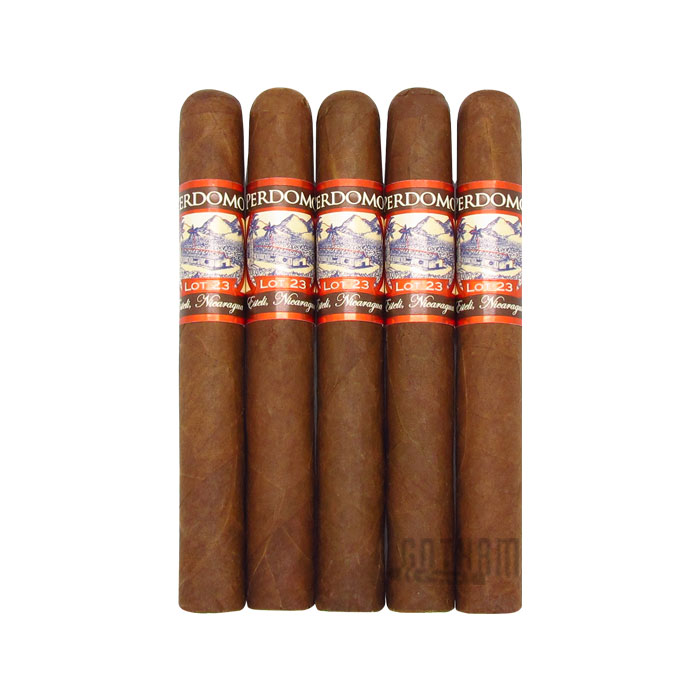 Final Third
Before we get into the flavor profile in the final third, I'm sure you're wondering about the burn and strength. Well, the burn line is not exactly razor-sharp. However, it isn't bad enough to require a touch up. The ash is a solid light grey that held up all though the first third.
The strength was mild-medium at first but it is slowly building to a regular medium. In truth, I have not really been paying attention to the strength. I have a feeling you won't either as you chase this implicit complexity.
The final third fronts rich creamy notes while nuts take a back seat. Light espresso notes are ever present but barely noticeable in the background. Even though the spice comes back a little bit and the flavor notes are basically the same, this is still a thoroughly enjoyable cigar to the nub. And a slow burner too! I've been at it for close to 2 hours!


Overall Review
As always, Perdomo knocked this one out of the park. The Perdomo Lot 23 Sun-grown delivered value and then some. And for around $7 a stick, it is worth every penny. If you haven't tried this yet, grab a few today. You will be pleasantly surprised.