Posted by Blazing Bill on 7th Jul 2020

"I have always loved beautiful music. Then I found the cigar. A good cigar is like music. Now I have two loves."
-Avo Uvezian
Avo Uvezian was a larger than life man who excelled in the two loves of his life; cigars and music. Whether he was composing a symphony or consulting with Hendrik Kelner on the next palatable Avo release, this man was the true embodiment of success.
And now, we continue his legacy by celebrating Avo's best cigars. We shall review the best Avo cigars, talk about his inspiration for each blend, and finally sit back and toast this great man and his efforts to bring us some of the most luxurious smoking experiences ever!
I am aware of the debate that may spark from my listing of the best Avo cigars. It's expected; After all we all have different preferences. However, I am quite confident that a majority of Avo Cigars lovers will agree with at least 3-4 of my top 5 list. But before we go there, here is a little Avo history.
History of the AVO Brand
Avo's story flows smoothly, just like one of the many symphonies he created. After casually selling cigars to adoring jazz fans, Avo Uvezian increasingly got letters from his music fans requesting for more cigars. And that is when he decided to take the cigar side-business seriously. This realization led to a meeting with Hendrik Kelner and together they created the Bolero brand in 1987.
Shortly after, they changed the brand to Avo, debuted in New York City and gave the distribution rights to Davidoff. In 1995, Davidoff purchased the distribution rights for the Avo brand and as they say, the rest is history. To this day, Avo cigars are manufactured at the Oettinger Kelner Cigars Factory in the Dominican Republic
Avo has been wildly successful making and selling millions of cigars every year. His cigars have been consistently featured in top cigar lists with 90+ ratings. I am sure you have some exquisite Avo cigars in mind right now. Let's see if we don't have the same ones in mind.
Top 5 Avo Cigars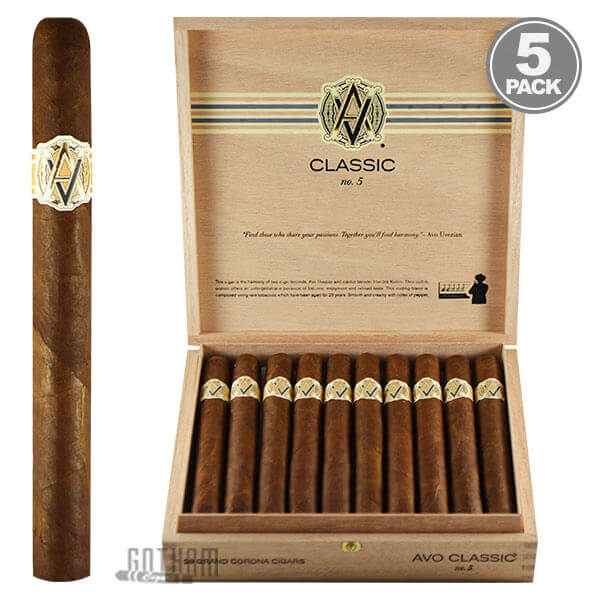 1) Avo Classic No.5
Avo Classic No. 5 is a delectable little number measuring 6.88 x 46 in the shape of double corona. Well, not that little if you think about it. It is long and thin which serves to optimize the flavors nestled in the wrapper. Avo Classic No.5 features a distinct blend of five premium Dominican filler tobacco, an exquisitely aged Dominican binder and a Colorado Claro Ecuadorian Connecticut Cuba-Seed wrapper. They say, this masterpiece is the harmony of two blenders, Avo Uvezian and Hendrik Kelner.
Originally, the Avo Classic line carried two cigars, the Avo Classic and Avo Maduro. However, the Avo Maduro was discontinued leaving Avo Classic. Expect flawless creamy notes of pepper, earth, a little leather, nuts, and subtle barnyard notes. You may be thinking, there's nothing outstanding about these notes. What makes the Avo Classic a must-have smoke is the incomparable balance, medium strength and easy, approachable nature.
These attributes are as a result of the extended aging. You see, Avo Classic uses only long Havana seed choice tobacco that have been aged for at least 25 years. Avo Classic No.5 garnered a well-deserved 90 rating from Cigar Aficionado in June 2016.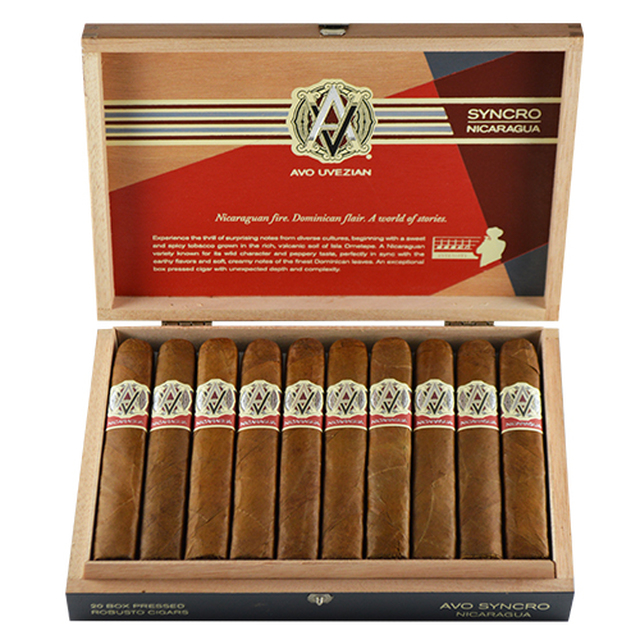 2) Avo Syncro Nicaragua
Avo Syncro Nicaragua was released in 2015. This was a first for Avo. One, this was the first regular production box-pressed cigar and the first regular production Avo cigar to feature Nicaraguan tobacco. A lot was riding on the release of this cigar. I am happy to say it did not disappoint.
In actuality, the word Syncro depicts the musical characteristic of timing - synchronization. To that end, Avo Uvezian wanted to apply the same concept in marrying this multi-national blend and hopefully highlight the edginess of Nicaraguan tobacco in the background of exquisite balance.
Avo Syncro Nicaragua carries Ometepe tobacco from Nicaragua, Piloto Cubano, San Vicente Mejorado, and Hybrid Olor tobacco from the Dominican Republic, and Olancho tobacco from Peru. And these are just the fillers! The binder is an aged Dominican leaf while the wrapper is a medium-brown Connecticut Cuban-Seed grown in Ecuador.
Avo Syncro Nicaragua has a Cubanesque disposition fronted by a luxurious appearance and a near-flat cap as is found in many Cuban cigars. You can expect lavish creamy notes of salted butter, toasted nuts, coffee, black licorice, peppermint (the famous Nicaraguan zest), root beer candy, and a caramel-like sweetness.
When you pick up one of these, remember Avo Syncro Nicaragua rewards the slow patient smoker. You will end up with a flavor bomb, an impressive tower of snow-white ash, and that brag-worthy blue ash. Avo Syncro Nicaragua consistently gets awesome ratings the latest being a 90 CA rating in April 2020.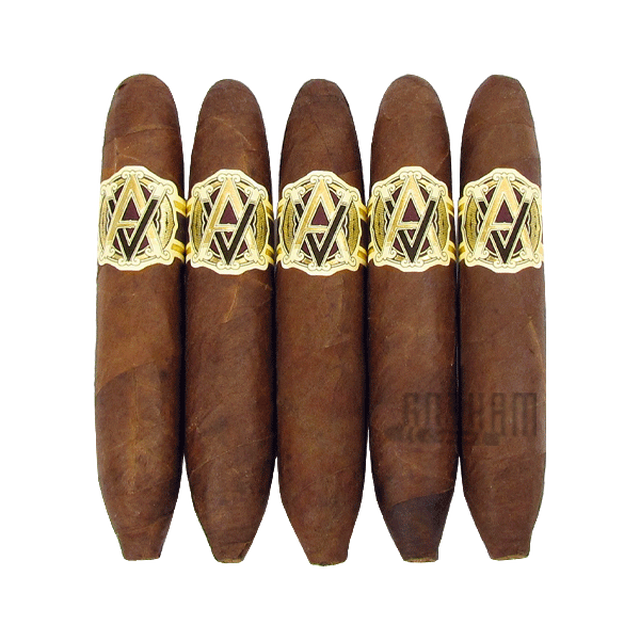 3) Avo Domaine No. 20
This baby has been named one of the top 50 cigars in the world more than once. Avo Domaine was introduced in 1998. Avo Uvezian wanted to create a stronger counterpart to the Avo Classic line with remarkable success.
Avo Domaine No. 20 is an adorable and unique short perfecto measuring 4.62 x 50. Do not let the size fool you, this tot carries conviction in its flavor and strength. In fact, it is associated with true aficionados who appreciate a little more kick upside the head.
Avo Uvezian loved this blend. It was his personal blend because it was composed of tobacco from his private estate. Avo Domaine uses highly aromatic Dominican tobacco for the fillers and binder. The wrapper is a dark, oily double-fermented Ecuadorian hybrid Connecticut Cuban-Seed leaf.
Needless to say, this is a medium to full-bodied smoke. You will be obsessed with the creamy, complex flavor profile featuring spice, subtle nuttiness, earth, hints of vanilla, zest, and sweet cocoa notes. Implicit floral notes tie the whole thing together while the delectable finish that seems to last forever is peppered with sweet notes of vanilla. This is an unforgettably enjoyable smoke. It appears CA agrees given they awarded it a 91 rating in April 2006.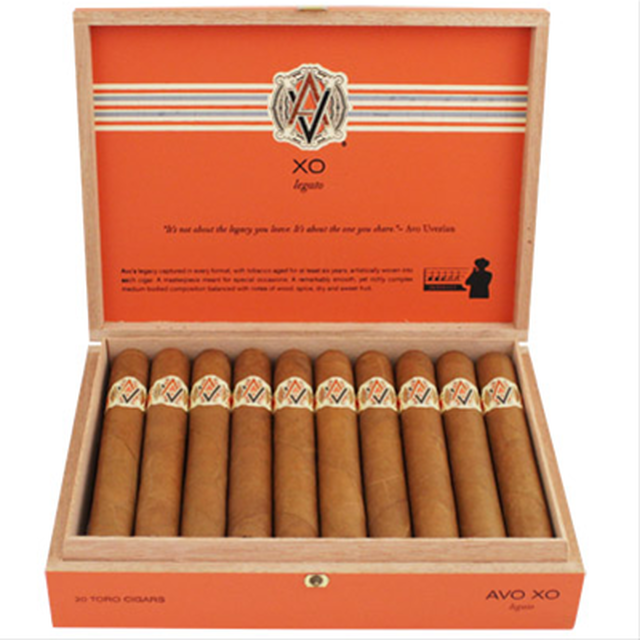 4) Avo XO Maestoso
Avo XO is another Avo line that has had unprecedented success. If there ever was a velvety cigar, this would be it. I had to mention this so early in the review because it will catch your attention.
The Avo XO Maestoso is a generous 7 x 58 Churchill-sized gem featuring a 5-country blend of fillers including Piloto Cubano. This tobacco is patiently and expertly aged for at least 6 years. The binder is an intense vintage Dominican Olor leaf while the wrapper is a silky-smooth Ecuadorian Connecticut Shade-grown wrapper.
What makes Avo XO Maestoso a special stogie is that Avo used the choicest Dominican fillers. A large group of Avo enthusiasts christened this bad boy the "best Avo ever created!"
We do not disagree; this blend was created with the most sophisticated palate in mind. It features incredibly complex creamy notes complimented by cedar, coffee, nutmeg, toasted nuts, butter, chocolate, and faint leather. You'll also enjoy cream-mixed nuts, ginger ale, sweetened bread, red pepper, barnyard, and hazelnut.
You may be wondering, do all these flavor notes work together? Trust me, they go inconceivably well. Avo XO Maestoso got an impressive 87 CA rating in October 2017.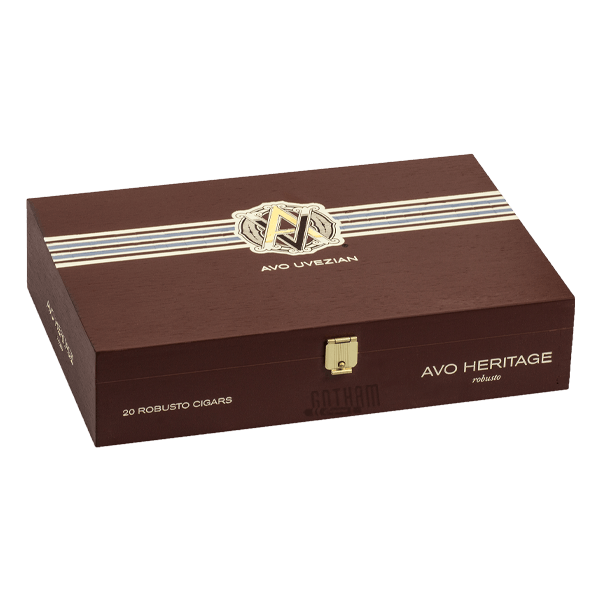 5) Avo Heritage
Avo Heritage is a more recent release having debuted in 2010. This blend seeks to create a harmonious smoking experience filled with tobacco tradition and expertise.
Avo created this cigar as homage to the farmers, blenders and rollers in the cigar business. It features a multi-national filler blend itemizing Dominican Cuban-Seed Ligero, Seco, and Peruvian premium tobacco. The binder is Dominican while the wrapper is an Ecuadorian Sun Grown Hybrid leaf.
Avo Heritage is not an overwhelming cigar flavor-wise. The truth is, this is truly a workman's cigar; super enjoyable but not challenging to your palate. Well, at least not the first two thirds.
My experience was hearty notes of oak, coffee, roasted cocoa spice, toast, leather, and earth. They interchanged all through the smoke until just after the last third mark. At this point, my Avo Heritage vamped up all the flavors to full and that included the nicotine. Suddenly, I was in the presence of a bona fide flavor bomb at full strength. It was a great surprise to close at such a high note. Avo Heritage garnered a 90 CA rating in February 2011.
Conclusion
The extensive Avo line of cigars have for decades provided luxurious, and authentic joyful smoking experiences. We continue to debate and enjoy these delectable gems as we look forward to what comes next. Light an Avo today and toast Avo Uvezian, the man, the legend.