Posted by Blazing Bill on 20th Jan 2022

There are beautiful moments in life that should just be consecrated for posterity. I am a sucker for winding, stirring stories-if you already can't tell from my schmaltzy intro. The Undercrown story is a good example; so bear with me as I chew the rag. It's a good story, I promise.
How it all started
This is a Drew Estate story that begins with the factory floor ambience. You see, Drew Estate allows its torcedores to smoke as many cigars as they want. Isn't it a beautiful thing? As it turned out, the torcedores loved smoking Liga Privada cigars which are a highly coveted line. Soon, it became evident that the torcedores were smoking too many Liga Privada cigars from an already dwindling stock pile. The company had no choice but to ask them to stop.
But out of the passion for a great cigar, the torcedores went ahead and created a new blend born from most of the same exotic tobaccos in the Liga Privada line and specifically N0.9 and T52. The new blend featured alternate vintages and primings. So incredible was this new cigar that Drew Estate put it into production. This was back in 2011.
It was the birthing of the Undercrown line of cigars by Drew Estate with master blender Willy Herrera at the helm. The original Undercrown cigar, now called Undercrown Maduro, carried Brazilian and Nicaraguan fillers, a Connecticut River Valley Sun Grown Habano binder, and a San Andres leaf from Mexico as wrapper. Over the years, Drew Estate has built on Undercrown Maduro's epic tale with variations such as Undercrown Shade and Undercrown Sun Grown.
About Undercrown 10
Fast forward 10 years and here we are in the presence of the Undercrown 10. You may not understand what all the fuss is about; I mean, it's just another anniversary cigar. Not so my friend.
Undercrown has had an unprecedented success in the past decade. In fact, Cigar Coop crowned Undercrown Maduro the Decade Impact Brand 2010-2019. Having that in mind, add to the fact that Undercrown 10 is the most premium offering to the Undercrown line to date!
The Debut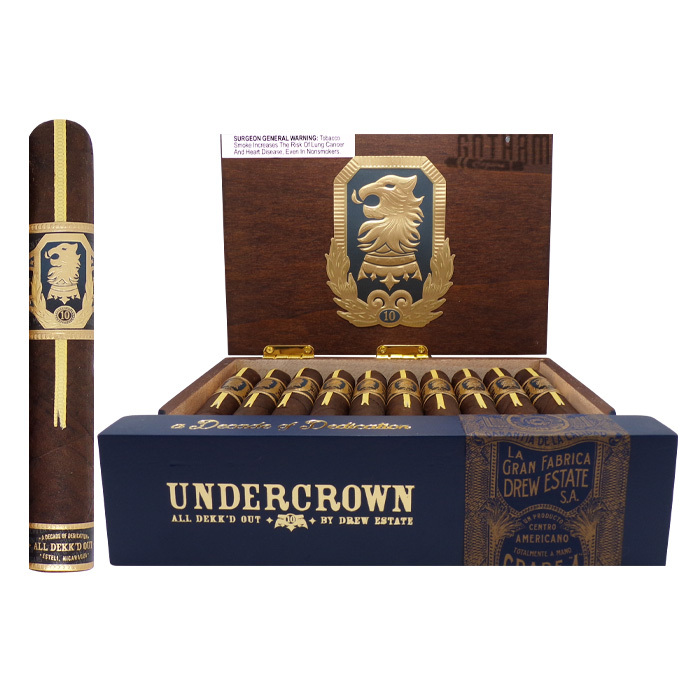 I never take out time to talk about the debut of most cigars since there's really nothing outstanding about them. But this one is.Drew Estate was celebrating their 25th anniversary in 2021. In a Facebook Live show event in May, Undercrown 10 was debuted but as an unbanded mystery cigar. It was all a part of Drew Estate's dynamic Freestyle Live Event. Later they announced it as Undercrown 10, a decadent addition to an already beloved brand. Fans went nuts! Rarely do stories that begin as the Undercrown story end up this way.
Undercrown 10 features all of the same tobaccos in the original Undercrown brand with a few variations. Fillers are all Nicaraguan so none of the Brazilian primings are incorporated. Also, the binder is a Connecticut River Valley Broadleaf not Habano. But the wrapper remains a toothsome dark tan Mexican San Andres leaf.
Undercrown 10 comes in 4 core vitolas and 1 unusual factory floor edition. You can enjoy Undercrown 10 in Robusto (5x50), Toro (6x52), Corona Doble (7x50), and Corona Viva (5x43). The Factory Floor Edition is a Lonsdale (6x46) released in July 2021. Peculiarly, every box of Lonsdale Factory Floor came with 12 puritos showcasing each individual tobacco in the Undercrown blend. Lovers of the leaf get to sample each tobacco separately. What a great idea. It's time for the review! Gird your taste buds, we're about to have a delectation!
Tasting Notes
Prelight
The truth is, I couldn't wait to smoke this stogie. It came out and I just couldn't resist. So, this review is largely to affirm previous amazing experiences. I'll be going for the Corona Doble. My confidence is multi-storied.
The appearance of my Corona Doble is quite rugged and extremely oily. A slight sheen covers the shaft coupled with thin visible veins and barely visible seams. This is a solid cigar, dense, gritty, and hard to the touch with an impeccable double cap. Cold draw presents a bold brown sugar sweetness, cocoa notes, damp earth subtleties, hay, and spicy peppery notes. The draw is perfection.
First Third
The first draw whacks me with intense black pepper. Behind the peppery blast are delicious dark chocolate nuances enveloped in floral decadence. My tongue though is on fire but not in a bad way. Beneath layers of creamy sweetness are subtle leather notes marrying sun kissed hay and cedar at the very back of my palate. This delicious symphony drags into the Retrohale with a slight espresso bitterness coming in at the tail end.
And this is just in the first few draws. Beware. This is a strong cigar. It appears the strength begins at medium while the body is full on from the very beginning. Billows of sweet smelling smoke are all around me. It's creeping up the shaft every time the cigar is resting. The draw remains excellent and so is the burn line.
Mid Third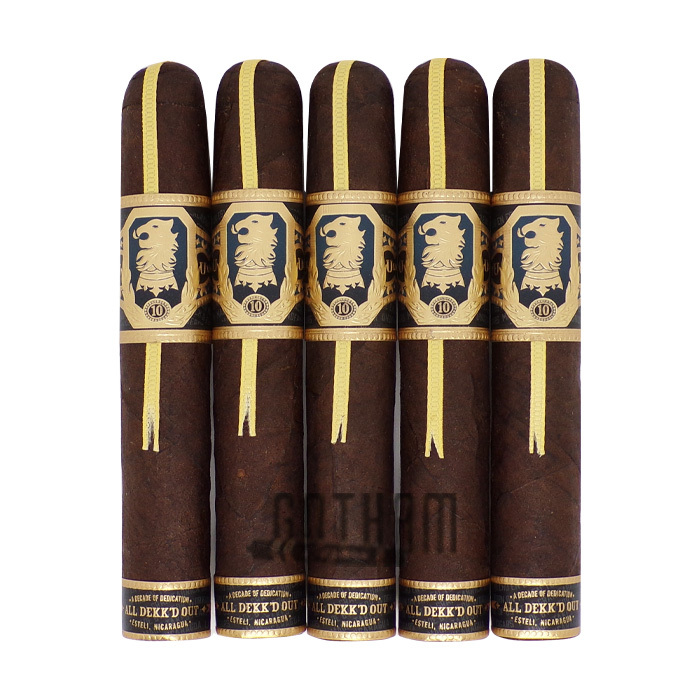 As I approach the mid third, the intensity of the black pepper dissipates. Dark chocolate notes jump to the front of the palate. Resolute baking spice piquancy dominates. Underneath, oak, vanilla, gritty earth, raw almonds, and butter cream notes frolic about. On the Retrohale, exquisite bready savor seasoned with cinnamon rules. Subtle notes of milk chocolate and baking spice with tangy leather and black coffee join the cantata that lasts all through to the next draw.
Strength inches confidently to full range. The body is undoubtedly full. Ash, smoke, and the burn line are beyond reproach. Closer to the final third, spice returns to the tip of my tongue. Raw, rugged zing takes precedence in the form of leather, damp earth, sourdough bread, cedar, and licorice. The creamy character takes a back seat as the cigar gears up for the final lap.
Final Third
As if on cue, all the flavors intensify in the final third. Dark chocolate sprinkled with implicit floral notes begin the camaraderie of pungency. Plum sweetness fused with subtle baking spices complement bitter espresso nuances laid on a bed of creamy cedar.
Leather, black pepper, sweet cocoa, oak, and hickory add to the complexity. Strange notes of sandal wood zoom in and out. I say strange because these notes seem to carry that final nicotine kick. I love this cigar. There's absolutely no reason to put this cigar down except that I am down to the nub. And even so, bold oaky notes and shy vanilla nuances continue to hold my attention. My last draw is a delicious comingling of cinnamon, cherry, creamy raw almonds, cedar bark, and dark chocolate. It's been almost 2 hours.
Overall Review
Undercrown 10 is one of the cigars you must try. Truly, few cigars hold the balance between strength and complexity the way this one does. It's not a wonder that CA gave this stick a 91 rating! What has been your experience? Share with us.
Drew Estate put into production and dedicated it to "our worker's ingenuity, resourcefulness and passion for a great cigar."