Undercrown 10 Robusto by Drew Estate is one of the five vitolas available in the new Undercrown 10 blend that celebrates the Undercrown blend turning 10. These Nicaraguan beauties feature long fillers from Nicaragua draped in a Connecticut Broadleaf binder, finished with a dark and oily Mexican San Andres leaf wrapper. The result is a full bodied smoke full of richness that has the perfect balance of sweetness and spice. Undercrown 10 Robusto is 5 x 50 and available in boxes of 20 cigars.
| | | | | | | |
| --- | --- | --- | --- | --- | --- | --- |
| | | | | | | |
| 5 x 50 (Robusto) | Box of 20 | Mexican San Andres | Connecticut Broadleaf | Nicaraguan | | Nicaragua |

Tasting Notes
Prelight
The truth is, I couldn't wait to smoke this stogie. It came out and I just couldn't resist. So, this review is largely to affirm previous amazing experiences. I'll be going for the Corona Doble. My confidence is multi-storied.
The appearance of my Corona Doble is quite rugged and extremely oily. A slight sheen covers the shaft coupled with thin visible veins and barely visible seams. This is a solid cigar, dense, gritty, and hard to the touch with an impeccable double cap. Cold draw presents a bold brown sugar sweetness, cocoa notes, damp earth subtleties, hay, and spicy peppery notes. The draw is perfection.
First Third
The first draw whacks me with intense black pepper. Behind the peppery blast are delicious dark chocolate nuances enveloped in floral decadence. My tongue though is on fire but not in a bad way. Beneath layers of creamy sweetness are subtle leather notes marrying sun kissed hay and cedar at the very back of my palate. This delicious symphony drags into the Retrohale with a slight espresso bitterness coming in at the tail end.
And this is just in the first few draws. Beware. This is a strong cigar. It appears the strength begins at medium while the body is full on from the very beginning. Billows of sweet smelling smoke are all around me. It's creeping up the shaft every time the cigar is resting. The draw remains excellent and so is the burn line.
Mid Third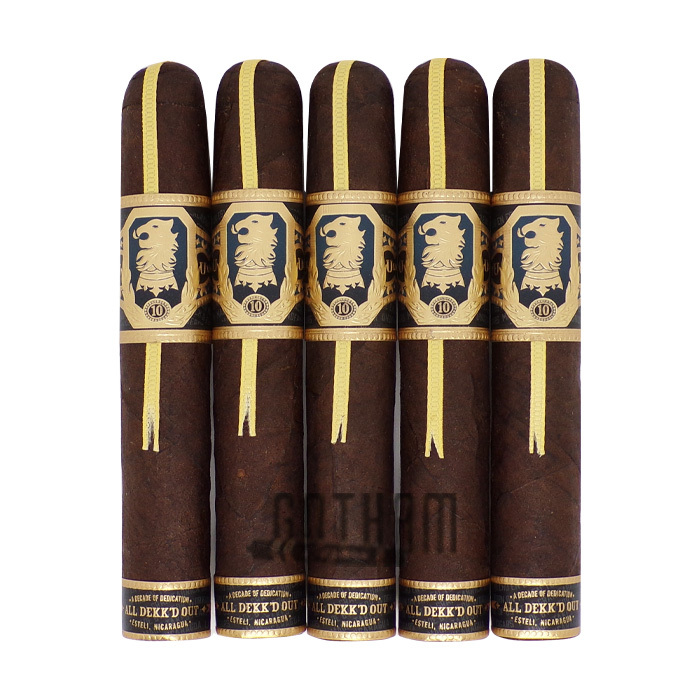 As I approach the mid third, the intensity of the black pepper dissipates. Dark chocolate notes jump to the front of the palate. Resolute baking spice piquancy dominates. Underneath, oak, vanilla, gritty earth, raw almonds, and butter cream notes frolic about. On the Retrohale, exquisite bready savor seasoned with cinnamon rules. Subtle notes of milk chocolate and baking spice with tangy leather and black coffee join the cantata that lasts all through to the next draw.
Strength inches confidently to full range. The body is undoubtedly full. Ash, smoke, and the burn line are beyond reproach. Closer to the final third, spice returns to the tip of my tongue. Raw, rugged zing takes precedence in the form of leather, damp earth, sourdough bread, cedar, and licorice. The creamy character takes a back seat as the cigar gears up for the final lap.
Final Third
As if on cue, all the flavors intensify in the final third. Dark chocolate sprinkled with implicit floral notes begin the camaraderie of pungency. Plum sweetness fused with subtle baking spices complement bitter espresso nuances laid on a bed of creamy cedar.
Leather, black pepper, sweet cocoa, oak, and hickory add to the complexity. Strange notes of sandal wood zoom in and out. I say strange because these notes seem to carry that final nicotine kick. I love this cigar. There's absolutely no reason to put this cigar down except that I am down to the nub. And even so, bold oaky notes and shy vanilla nuances continue to hold my attention. My last draw is a delicious comingling of cinnamon, cherry, creamy raw almonds, cedar bark, and dark chocolate. It's been almost 2 hours.
Overall Review
Undercrown 10 is one of the cigars you must try. Truly, few cigars hold the balance between strength and complexity the way this one does. It's not a wonder that CA gave this stick a 91 rating! What has been your experience? Share with us.
Drew Estate put into production and dedicated it to "our worker's ingenuity, resourcefulness and passion for a great cigar."