Camacho Acquisitions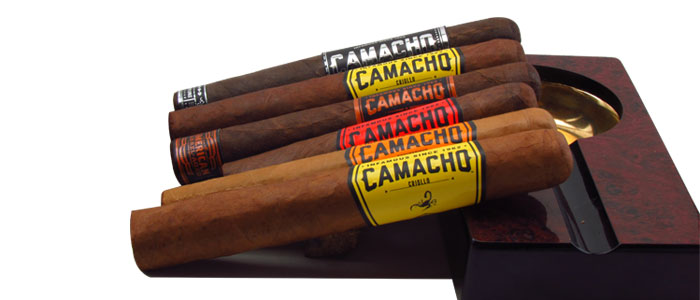 Tasting Notes
Under Davidoff, Camacho has really come into its own. Now, Camacho produces over 20 million cigars a year. Plus, it grows its own Corojo seeds and has evolved into an edgy brand welcoming off-the-beaten-path rugged fans without excluding the rest. That's not all.
Camacho began to adhere to strict environmental guidelines for good agriculture and manufacturing practices. This is after Camacho partnered with Bayer CropScience. To date, Camacho is the only tobacco company that complies with the Bayer guidelines.
Powerband Bunching
I told you Camacho is a powerhouse brand. On top of all the aspects we have discussed, Camacho has one more Ace up its sleeve. It's the Powerhouse Bunching.
Powerhouse bunching is a proprietary tobacco bunching and rolling method. Even though Camacho remains tight-lipped about the exact science, we can speculate about the process. Rather than bunching and rolling the cigars in a snail-shell-like manner, Camacho torcedors also fold the tobacco like a concertina. The resulting stick is a uniformly packed stogie with no soft spots or knots. Each Camacho cigar uses powerband bunching, which enhances airflow as well as the perfect milkshake draw.
Camacho's Oldest Blends
In truth, it is a tad difficult to determine the first-ever Camacho blend. That being said, I compiled a list of the oldest and most popular Camacho blends. In a word, I want to offer some insight into the bold, complex flavor profiles that Camacho so effortlessly presented.
1. Camacho Corojo
In my opinion, this is the best Camacho cigar to smoke when you want the full Corojo experience. The Camacho Corojo is a Corojo Puro (is that a thing?). It utilizes three primings of Authentic Corojo as fillers, an Authentic Corojo binder, and the 5th priming of Authentic Corojo as a wrapper.
As for the tasting notes, this stogie is bad ass! If you are a lightweight smoker, stay away. The Camacho Corojo comes out swinging from the first draw. Expect bold, spicy notes with underlying cedar, sweetness, earth, and dry barnyard notes. The pepper is very commanding both on the palate and retrohale. Overall, the Camacho Corojo cigar is perfectly balanced with an impeccable burn line and flawless draw.
2. Camacho Connecticut
Camacho wanted to be more approachable to the newbies. In truth, before Camacho Connecticut, all the other Camacho cigars took no prisoners. But this baby is different. Camacho Connecticut has a milder approach. The site description put it this way.
"This is one Camacho smoke that doesn't kick in the door. It knocks. And enters with a mild, smooth taste. But don't mistake mildness for weakness. This smoke is 100% Camacho. With a spicy kick. Boldness meets balance. We think you two will get along."
I found this cigar to be extremely pleasant and quite tolerable, even if you aren't a spice kind of person. Of course, the peppery kick is there, but everything is toned down and oh so creamy. Camacho Connecticut is a combo of Honduran Generoso and Aleman Ligero fillers, a Honduran Corojo binder, and an Ecuadorian Connecticut Shade wrapper. Flavor notes include sweet hay, cedar, earth, citrus, molasses, and the signature peppery kick.
Wrapping Up
Camacho was and still remains the undisputed master of complex and subtle blends. They have upheld the traditional Cuban-style cigars while at the same time embracing new technologies. The bottom line is, you can never go wrong with a Camacho cigar.