The CAO Pilon Churchill features a binder and long fillers from Nicaragua that have been through the Pilon method of fermentation, giving them a rich and deep flavor. Wrapped in a gorgeous Ecuadorian Habano wrapper, you can expect a medium bodied smoke with notes of wood and cocoa in this cigar. This blend received a well-deserved 90 rating by Cigar Aficionado. The CAO Pilon Churchill is 7 x 48 and is available in boxes of 20.
| | | | | | | |
| --- | --- | --- | --- | --- | --- | --- |
| | | | | | | |
| 7 x 48 | Box of 20 | Ecuador Habano | Nicaraguan | Nicaraguan | | Nicaragua |

CAO Pilon Tasting Notes
Prelight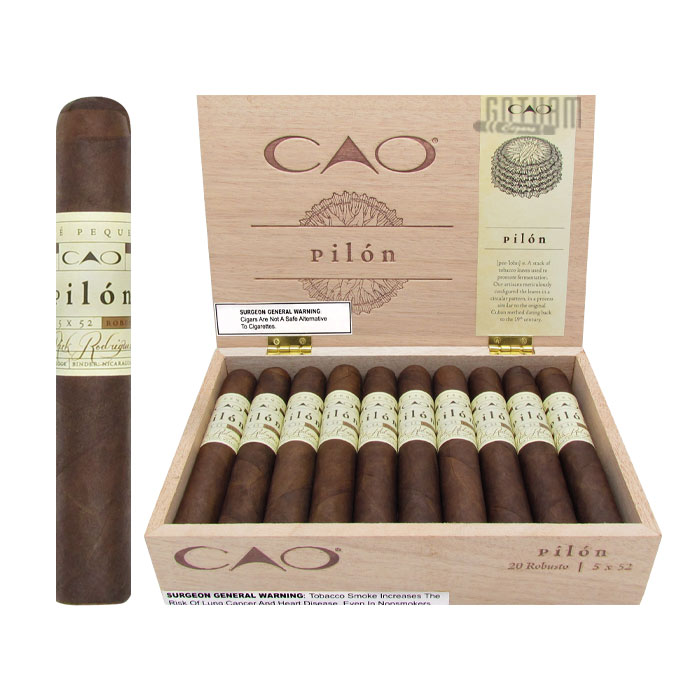 After learning what long a process it is to create one of these decadent CAO Pilon smokes, you must be dying to know what the flavor profile is like. I can tell you for free that the result is an excellent medium-bodied cigar featuring a genuine cubanesque distinction. For this review, I decided to go with a Robusto The wrapper is a rustic, veiny, matte leaf with a little tooth. Upon pressing, the shaft is on the firmer side with uniform give all through. The veins are completely flat and have no bearing on the general feel on the stick.
On the shaft is an off-white minimalist band with Rick Rodrigues' signature and various other writings. Off the wrapper, I detected strong dark chocolate notes as well as some cedar, spice, and an implicit sweetness. There are also notes of cocoa, barnyard, herbs, and a shy fruity nuance from the cap and foot. I can already tell this is going to be one heck of a smoke. Let's light this baby up!
First Third
Right from the first puff, complexity oozes from every draw. This stick is bold and profound with immense billows of smoke output. I was met with earthy notes, red pepper, chocolate, cedar creaminess, and roasted nuts flavors. A few draws in, and I still have not fully grasped the beautiful blend of flavors backed by a ferocious boldness. There is a subtle pepper and spice on the Retrohale.
This cigar burns likes a champ. The burn line is beyond reproach and the strength is at a palatable medium. Even though I am in boldness central, there is no harshness whatsoever. The nicotine kick is like a gentle nudge which is very interesting.
Mid Third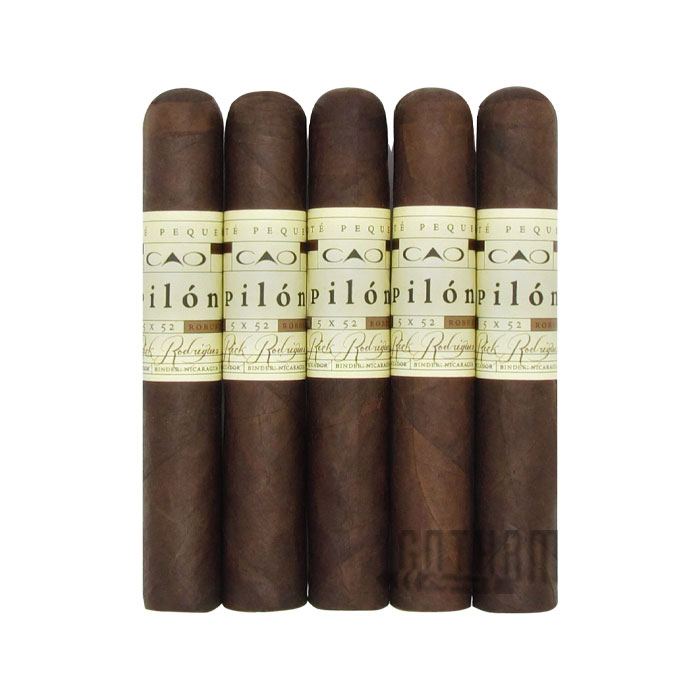 Twenty minutes into my thoroughly enjoyable Robusto, I came upon a deliciously overwhelming earthy note. Interestingly, this earthy note carried a rare tobacco plant nuance. I have tasted tobacco flavor in many cigars but for some reason, this one felt different. I still don't know why and I am obsessed with it. At the risk of jumbling my words, this cigar seems to drop and pick up different flavors at will. Through the mid third, the earthy flavor with the tobacco plant carry-on is surrounded by a bold sweetness (kinda like a chunky candy bar).
Towards the end of the mid third, my complex Robusto hit me with coffee, and a complex myriad of malts. I may have tasted B malt, Vienna malt, as well as Chocolate malt. This is definitely a jumble of flavors right here but do not think it is at all confused. No. The balance is beyond comprehension. I keep wondering to myself why more cigars are not fermented the pilon way because clearly, we need more of these babies.
Final Third
The beginning of the final third is introduced by raisins and nuts enveloped in the complex concoction of malts. All these flavors dance in the bold sweetness that made its mark in the mid third. Whoa!
This is truly an exceptional smoke. The nub carries malt notes, creaminess, cedar, spice, earthy tobacco, raisins, chocolate coffee, and roasted nuts. I really cannot bring myself to put this cigar down. It is perfectly balanced to the last draw. I am definitely going to be having lots and lots more CAO Pilons. Heck, I might light up another one right after this.
All through this smoke, my CAO Pilon Robusto maintained an impeccable burn line, excellent draw, perfect ash, and immense clouds of smoke. I really couldn't find anything wrong with this smoke.
CAO Pilon Pricing
CAO Pilon comes in three Vitolas, Corona (5.5x44), Robusto (5x52), and Churchill (7x48). They are packaged in boxes of 20 and go for between $7 and $10 depending on the size and where you buy.
If you ask me, this price is a steal considering the pilon method of fermentation is one of the most expensive. So, by extension, this cigar should be more expensive. Plus, that flavour profile is way better than lots of cigars in the higher price range.
Final Thought
A CAO Pilon is the ultimate gift you can offer yourself, whether you are looking for an everyday smoke or a special occasion stogie. You should never be without this cigar in your humidor. If your humidor is full, then you'll just have to get a new one. Trust me, it is worth it.
SKU:

CAOPCH

UPC:

689674077848

Category:

Premium Cigars

Brand:

CAO

Wrapper:

Ecuador Habano

Binder:

Nicaraguan

Filler:

Nicaraguan

Origin:

Nicaragua

Ring Gauge:

48

Length:

7

Shape:

Churchill

Strength:

Medium

Quantity:

20

Rating:

90