Factory Smokes by DE Sun Grown Churchill is an affordable bundle made by the famed cigar gurus at Drew Estate. All Factory Smokes by DE start with an Indonesian filler and binder, this blend finishes with a naturally sweet Sun Grown leaf wrapper. These medium bodied smokes exude notes of earth and spice. Factory Smokes by DE Sun Grown Churchill is 7 x 50 and available in bundles of 20 cigars.
| | | | | | | |
| --- | --- | --- | --- | --- | --- | --- |
| | | | | | | |
| 7 x 50 | Bundle of 20 | Sun Grown | Indonesian | Indonesian | | Nicaragua |

Factory Smokes: Tasting Notes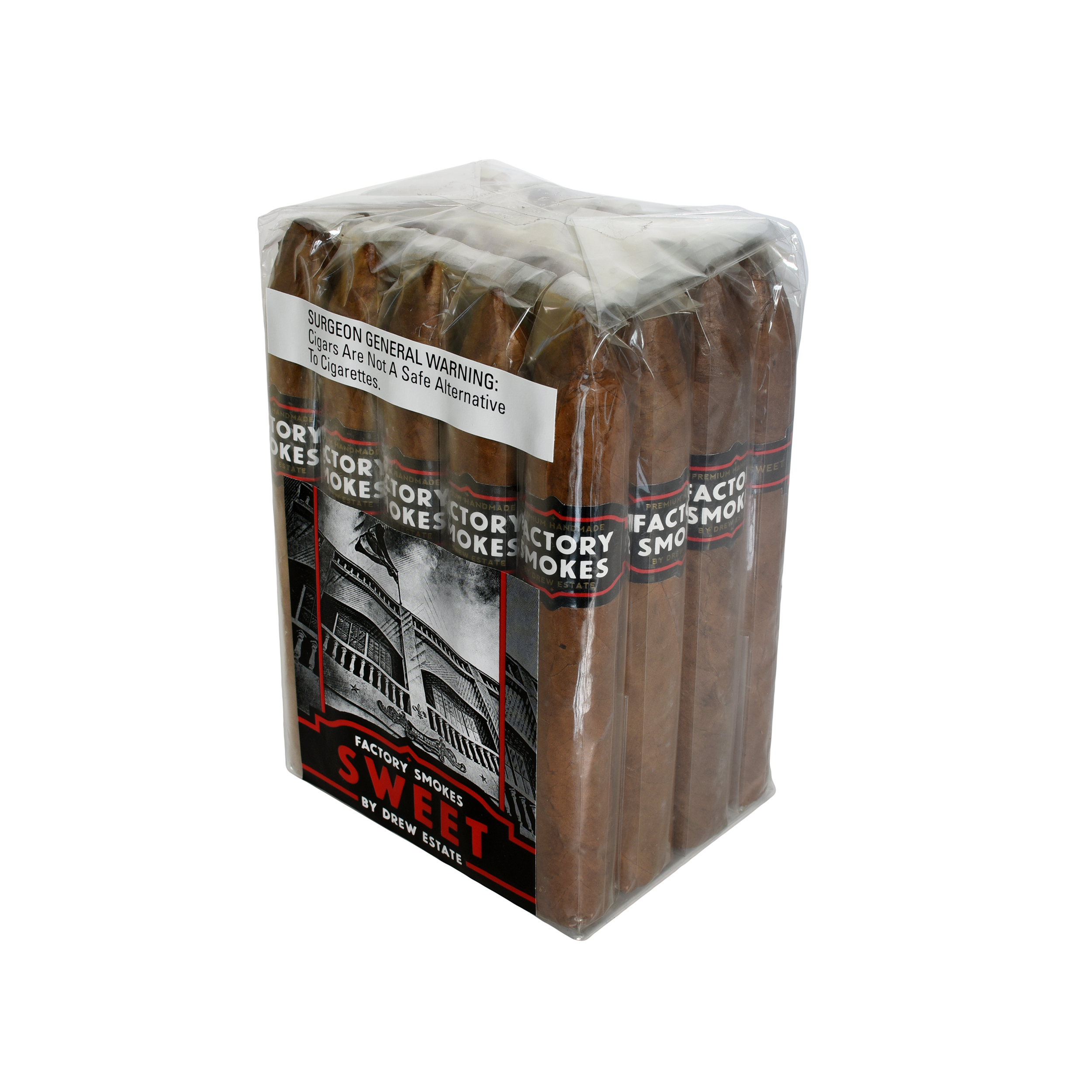 Factory Smokes Sweets feature a Habano wrapper and a sweetened tip. Now, flavored tips tend to be a turn off for lovers of the leaf. But before you write this one off, you should know it's neither artificial-tasting nor sickening.
The sweetness is a natural wafting across the palate compounded by notes of cream, wood, spice and some mustiness on the finish. The sweetness ties the whole profile together making it a superbly balanced and luxurious smoke. Overall, this Sweet Habano stogie remains in the mild to light medium in the strength category.
Maduro
All cards on the table; I love a Maduro wrapper. The dark toasty notes and stronger profile just does it for me. While I may not rank this maduro as one of my favs, I would say it put up a good fight. Factory Smokes Maduro offers a gentle surge in strength compared to the other Factory Smokes cigars. Chocolate, cedar, espresso and sparks of pepper carry the day flavor wise. As expected, the Maduro wrapper renders a tacit sweetness that stays through the finish. Overall, the strength never goes beyond medium.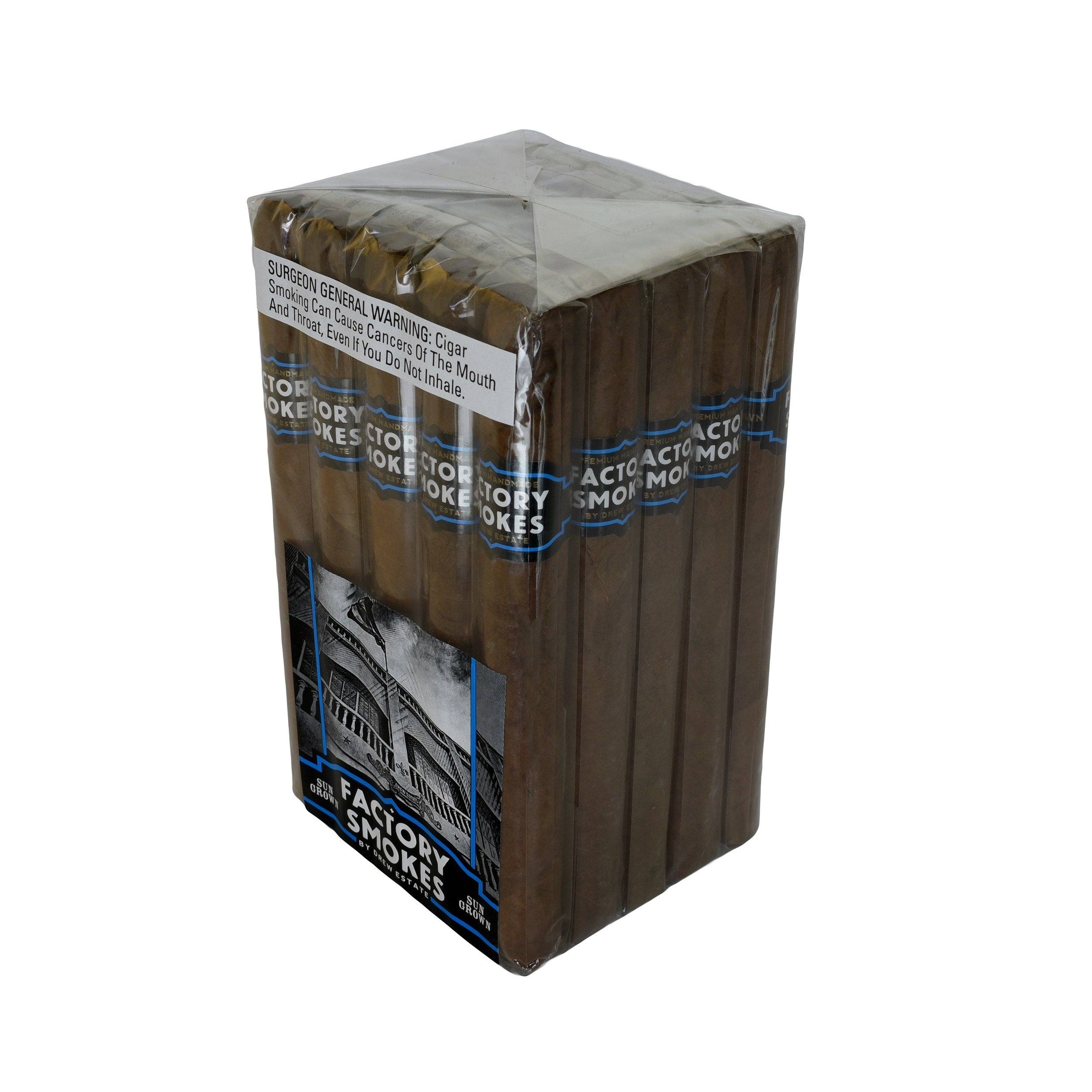 Indonesia grows a delectable Sun-Grown wrapper mostly because the strategic cloud cover allows the leaf to amass a darker flavor profile and mouth-watering sweetness.
Factory Smokes Sun-grown is a certified flavor bomb with notes ranging from cedar, earth, baker's spice, sweet cocoa, and that pleasant cackling aroma of hay during summer. Notes of dark chocolate, leather, wet musty earth, and sweet tobacco develop later in the profile. You may even end up with some saltiness, light vanilla, and spice on the Retrohale. Overall, the Sun-grown is a mild to medium smoke that is super laid back. You will have a hard time putting it down.
Shade
Factory Smokes Shade fronts an oily Connecticut Shade wrapper. Generally, a Shade wrapper is lighter in color than a Sun grown and also thinner and more elastic. But more importantly, a shade wrapper makes a gorgeous cigar.
Flavor wise, this baby presents refreshing notes of cedar, spice, cream, natural tobacco, and a myriad of sweet woodsy nuances. A dash of black pepper and various other spices dominate the back of the palate and Retrohale. Overall, Factory Smokes Shade drags strength to the medium point but barely.
Overall Review
At first glance, these cigars may not meet your criterion for well-constructed cigars. However, you will be pleasantly surprised to realize they burn relatively well. You may need to one cigar up but only once in a while. Also, for a price range of between $1.60 and $2.10 a pop, you can't complain. Factory Smokes come in four sizes; Robusto (5x54), Toro (6x52), Churchill (7x50), and Gordo (6x60). A Bundle contains 20 cigars.
Try a couple of these cigars, you may find your new favorite yard work cigar. For a bundle cigar, I expected larger veins and sloppy seams but this wrapper is flawless.
SKU:

FSSGCH

UPC:

8.18578E+11

SKU:

FSSGCH

Category:

Premium Cigars

Product Type:

Cigar

Manufacturer:

Drew Estate

Brand:

Factory Smokes by Drew Estate

Wrapper Type:

Sun Grown

Wrapper:

Sun Grown

Binder:

Indonesian

Filler:

Indonesian

Origin:

Nicaragua

Ring Gauge:

50

Length:

7

Shape:

Churchill

Strength:

Medium

Quantity:

20

Package Type:

Bundle

Rating:

N/A

Package Count:

20

Price Per Cigar:

$2.415

Gift Type:

Not Applicable

Flavored:

No

Filtered:

No

Little:

No

Groupon:

No

Discontinued:

No

Buy 1 Get 1:

No

Free Gift:

No

Free Shipping:

No

Suscribe:

No

90+ Rated:

No

Limited Edition:

No

Rare Cigar:

No

Top 25 Brand:

No

Aficionado Top 25:

No

Staff Pick:

No