Rocky Patel It's a Girl Cigars are the prefect way to celebrate the birth of a special baby girl. Each of the 20 cigars is adorned with pink double bands exclaiming It's a Girl! and packaged in a classic black wooden box with It's a Girl inside the lid, the perfect display for family and friends to want to partake in. Rocky Patel is synonymous with 90 rated blends that appeal to any level of smoker, novice or seasoned. Rest assured, if you are handing out a Rocky Patel It's a Girl cigar, it is sure to impress the crowd.
Each Rocky Patel It's a Girl cigar features premium Nicaraguan fillers and binder and a beautiful Connecticut leaf wrapper. These medium bodied smokes offer a delicate balance of smooth flavors with hints of nuts and pepper and a wonderful creamy finish. Each cigar measures 6 inches in length with a 52 ring gauge. Commemorate this moment of joy and happiness with your loved ones with a Rocky Patel It's a Girl cigars.
| | | | | | | |
| --- | --- | --- | --- | --- | --- | --- |
| | | | | | | |
| 6 x 52 (Toro) | Box of 20 | Connecticut | Nicaragua | Nicaragua | | Nicaragua |

Why Cigars?

The tradition of gifting cigars to commemorate the birth of a baby dates back to the 17th and 18th centuries with people living in North America and slowly worked its way south during the 18th and 19th centuries.
The presumption is that since fathers were not included in the birthing process, all they could do was wait around and smoke. Before hospitals, the wait would be in a separate room or out with friends. Upon confirmation that the babies were born, the father would pass special cigars to his friends to celebrate the momentous occasion. Even after hospitals, fathers still upheld the tradition of giving cigars to their friends to mark the event.
The tradition is still common today and handing out cigars to friends, family members and colleagues is still the classiest way to memorialize the arrival of a new baby.
Tasting Notes

Quite a number of premium brands carry the Baby Cigar lines. However, only a few caught our eye as the best picks for Baby Cigars in the market. Top on our list are the Rocky Patel, Arturo Fuente, Cuesta Rey, and the Alec Bradley brands.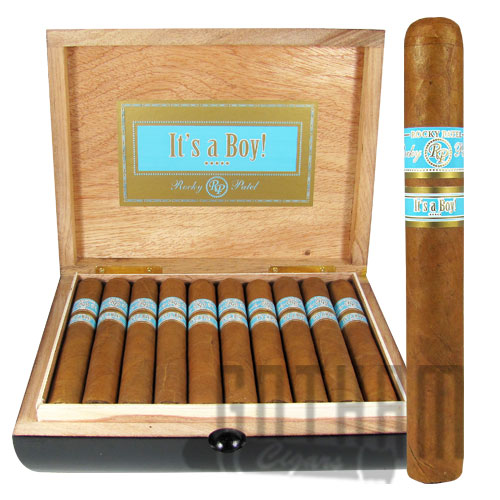 Rocky Patel, It's a Boy/Girl Cigars
Rocky Patel is a relatively new and phenomenal brand brimming with 90+ rated premium smokes. The Rocky Patel It's a Boy/Girl cigar line is a tasty medium-bodied smoke that is ideal for both the seasoned cigar smoker as well as the rookie.
Rocky Patel Baby Cigar line features Nicaraguan fillers and binder with a Connecticut wrapper. These smokes are Toro (6 x 52) vitolas fashioned with two bands, one to denote the Rocky Patel brand and the other for the 'It's a Boy/Girl' wording. The bands come in colors coinciding with the baby's gender, baby pink for the girls and baby blue for the boys.
In matters of flavor, you will enjoy the subtle cedar, citrus, and pepper notes with fleeting mint and nuts on the finish. There are also hints of rich espresso, some buttery notes, and lingering orange-like floral zest.
These bad boys pack a bunch of flavor transitions and surprise twists while remaining smooth and creamy all the way through. Despite being one of the more affordable Rocky Patel lines in the market, they are often described as extremely satisfying.
SKU:

RPGRL

Category:

Premium Baby Birth Cigars

Brand:

Rocky Patel

Wrapper:

Connecticut

Binder:

Nicaraguan

Filler:

Nicaraguan

Origin:

Nicaragua

Ring Gauge:

52

Length:

6

Shape:

Toro

Strength:

Medium

Quantity:

20