Firmly constructed with a hot, peppery flavor, Rocky Patel Sun Grown Torpedo cigars are well-aged and hit your palate bold flavors right from the first draw. These cigars, which are medium to full-bodied, burn evenly and give out a smooth smoke. They are the perfect choice for you if you like strong cigars. The standout feature of these cigars is the blend of Dominican and Nicaraguan tobaccos that are aged for 7 years.
The composition also employs an Ecuadorian sun-grown Rosado wrapper that has been aged for 5 years, giving you a sublime richness. Measuring 6 1/4 inches in length, these cigars have a ring gauge of 52 and are sold in a box containing 20 units. The packaging is sleek, making these cigars a classy treat to take to a garden party. Rocky Patel cigars come from the exotic Honduras and host an Ecuadorian leaf binder that conducts the burning at a steady pace.
| | | | | | | |
| --- | --- | --- | --- | --- | --- | --- |
| | | | | | | |
| 6 1/4 x 52 (Torpedo) | Box of 20 | Ecuadorian Sun Grown | Nicaraguan | Nicaraguan, Brazilian, Dominican | | Honduras |

Tasting Notes
For my review, I decided to go with a Toro. Truthfully, I can't tell you how many of these I have smoked over the years. And the consistency has always been spot-on.
Prelight
My RP Sun Grown Toro presents with a densely packed, dark brown, slightly oily, silky sheen. It's a little toothy. Overall, the construction is rock solid with no soft spots and the perfect level of give. Prelight notes are redolent of sweet earthy notes, a bit of hay, and subtle peanut butter nuances. The cold draw is perfect introducing sweet grassy notes (kinda like a barnyard in summer) and fleeting dashes of dried prunes; or was it raisins?
First Half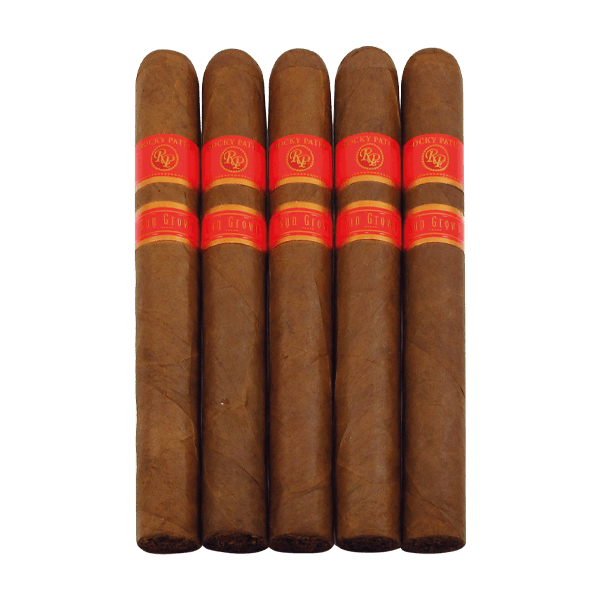 Upon lighting, my palate is greeted with delicious creamy mocha and roasted assorted nuts. All the while, oily peppery notes dance at the back of my throat. There is an underlying smooth sweet tobacco base with a little spicy heat. Retrohale is a bit of black pepper, infused with deep earthy notes and an implicit ginger-ale disposition.
Right off the bat, the strength hovers around the medium mark. The draw is incredible, as is the burn and smoke output. Close to the half-way mark, the flavors transition. Leather comes into the picture.
But it is not the new car kind of leather; rather, the old beaten kind of aroma. The leather, fused with strong nutty notes, come in on the finish. Roasted nuts morph into a smooth, decadent dry wood essence while peppery notes inch towards the front of the palate. At this point, strength is as close to full as ever. Smoke output is phenomenal, and the burn line is razor-sharp.
Final Half
Past the half-way mark, my palate is accosted by semi-sweet roasted coffee backed by a pinch of baking spice. Leather and evocative oak notes come in strong. Retrohale presents red pepper notes (maybe paprika) and fleeting nutty nuances. The creamy chocolatey notes get thicker and sweeter as I approach the nub. Smoke output is phenomenal, and the burn is outstanding.
As I put my RP Sun Grown down, I delight in the fact that it was yet another flawless smoking experience. Clean on the palate and absolutely sapid.
Rocky Patel Sun Grown Maduro Review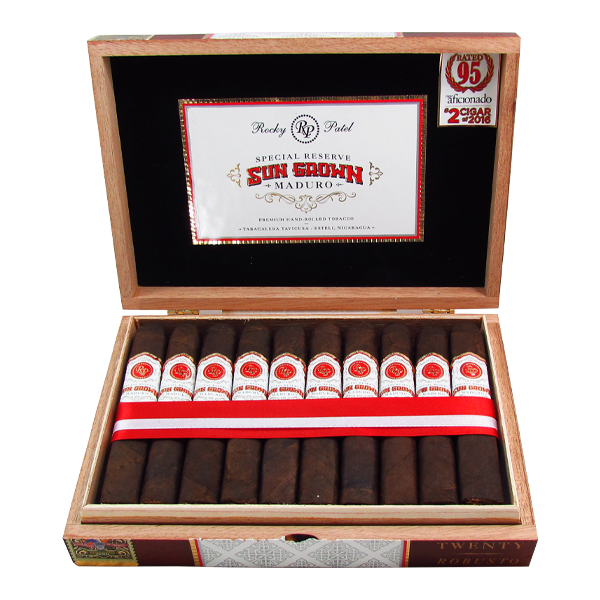 The RP Sun Grown Maduro was the perfect follow up to the original RP Sun Grown. It is defiantly full-bodied, and may just knock you out. Cigar connoisseurs could not say enough about this hearty concoction of flavor and complexity. Cigar Aficionado gave this bad boy a coveted 95 Rating and the #2 slot in the Top 25 Cigars of the Year 2016. In 2015, this RP SG Maduro got a 93 Rating from Cigar Snob and the #8 slot in their Top 25 Cigars of the Year. That same year it was #9 on Cigar Dojo's Top 10 Cigars of the Year while Cigar Journal gave it a 94 Rating.That is quite a rep.
There's always something about a box-pressed Maduro, wouldn't you say? The RP Sun Grown Maduro carries Nicaraguan fillers, a Nicaraguan Duel Binder from Esteli and a flavorous USA Connecticut Broadleaf wrapper. It is rolled at Patel's TaviCusa factory in Nicaragua. The RP Sun Grown Maduro comes in five sizes; Robusto (5x50), Toro (6x52), Panatela (7.5x38), Petite Belicoso (5.5x52), and Gordo (6x60).
Tasting Notes
For this review, I went with the Toro. Toro is a large Vitola. I figured I might as well go for a longer smoking experience. Perhaps by the end of it all, I will agree with Cigar Aficionado's 95 Rating.
Prelight
My Maduro Toro presents with a toothy oily sheen and that devilishly dark tan. From the wrapper, I get a whiff of dark cocoa, good ol' barnyard, and a little savory spice. The construction, as expected, is densely packed; no soft spots and perfect give. Even though the cigar is densely bunched, the draw is impeccable. Shy notes of cocoa and a little spice was all I got from the cold draw.
The first draw was like a sucker punch of pepper to the back of my throat-though, not in a bad way. This baby packs a punch; I can tell you that for sure. The strength started at a strong medium. Behind the pepper bomb are clean notes of creamy chocolate and cedar with a long deliciously rich finish. Retrohale is a symphony of sweet caramel, dashes of pepper, and a deep cider nuance.
Towards the middle, the flavors transitioned. The creamy finish morphs into a briny beefy overtone pitching camp at the back of the palate. Dark cocoa takes the place of the creamy chocolate. But the finish remains long and piquant brimming with sweet and spicy hot chocolate zing. The burn is excellently sharp, and smoke output is phenomenal. By now, the strength is a brazen full with a full-body to boot.
I am pretty sure I may not survive this one. Do Not, I repeat, Do Not take on this smoke on an empty stomach. It will smack the temples off your head.
Final Half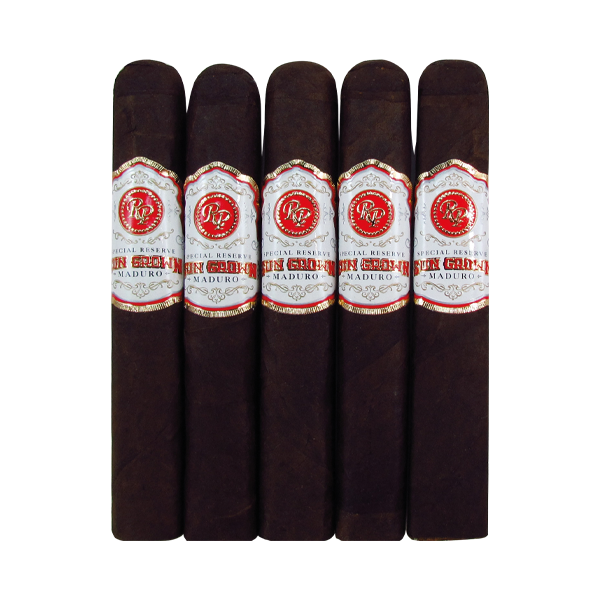 As I draw closer to the final half, subtle creamy notes make their return. Sweet caramel and gentle cream take over the front of the palate while deep earthy notes and roasted nuts hold down the fort. My RP Sun Grown Toro is undeniably full of spellbinding flavors. At this point, the strength is gobsmackingly archaic.
That notwithstanding, all the flavors converge in a perfect balance of larger than life decadence. Down to the nub, the spice takes a back seat as the creamy, chocolatey and nutty flavors comingle with hearty woody nuances on a luxurious tobacco setting. The retro is all implicit sweetness and spice with hot chocolate with a creamy finish.
My RP Sun Grown Maduro smoked for almost two hours. Still, I was sad to put it down. Overall, the burn was outstanding, as was the smoke output. This baby will definitely become a permanent resident in my humidor.
Why is Rocky Patel Sun Grown the Best Sun Grown Cigar in the Market?
Rocky Patel, as a brand, produces outstanding cigars, and this is how the brand grew from nowhere to one of the top premium brands. Aside from quality and flavour, Rocky Patel cigars are always reasonably priced. The RP Sun Grown goes for between $6 and $9 depending on the Vitola while the RP SG Maduro comes in at between $8 to $11.
You can never go wrong with a Rocky Patel Sun Grown cigar. Even after being on the market for years, cigar aficionados still swear by this stogie. Its consistency and striking construction are a testimony to Rocky Patel's unwavering commitment to quality.
Wrapping Up
A Rocky Patel smoking experience is unlike any other. And with such an extensive portfolio you will be spoilt for choice. Perhaps its time to get a bigger humidor.
Share your thoughts with us. We love to hear from you.
SKU:

RPSGTRP

UPC:

846261001307

SKU:

RPSGTRP

Category:

Premium Cigars

Brand:

Rocky Patel

Wrapper:

Ecuadorian Sun Grown

Binder:

Nicaraguan

Filler:

Brazilian, Dominican, Nicaraguan

Origin:

Honduras

Ring Gauge:

52

Length:

6 1/4

Shape:

Torpedo

Strength:

Medium-Full

Quantity:

20

Package:

Box

Rating:

91