Posted by Blazing Bill on 25th Mar 2022

I should just begin by saying if you don't know the name spelled above in bold, start being excited now. You're in the presence of treasure and I'm the bearer of a shovel! Why am I so full of beans? Let me answer with another question. Is it conceited to expect stronger cigars to have more complexity? I mean it is no secret that stronger cigars appeal more to seasoned palates that crave a complex flavor profile. So, after what seemed like forever I found a good smoke that walks this visionary line. I'm so perky because I simply can't wait to share with you the Laranja Reserva Escuro.
Laranja Reserva Escuro, What's the Fuss About?
Laranja Reserva Escuro is yet another decadent Espinosa production. If you have no idea what I'm going on about, hang in there. In 2014, Espinosa Premium Cigars produced a mouth-watering stick and a personal humidor mainstay called Laranja Reserva. This cigar was such a hit that it got above 90 ratings and the 13th slot in the Top Cigars of 2015. Laranja Reserva featured Nicaraguan fillers and binder and a beautiful Brazilian wrapper. Eric Espinosa, the owner of Espinosa Premium Cigars divulged that they named the cigar Laranja because of the unique orange tint on the Brazilian wrapper. Laranja actually means orange in Portuguese.
Now, in April 2019 Espinosa released a 2nd cigar under the same blend named Laranja Reserva Escuro. This one features the same Nicaraguan blend in the fillers and binder as the Laranja Reserva. The wrapper though is an exquisite Brazilian Mata Fina leaf. This is the first time Espinosa Premium Cigars has gone with a Brazilian Mata Fina wrapper which is a dark maduro delicacy. So, it makes sense that Espinosa went with the Escuro name which means dark in Portuguese.
Laranja Reserva Escuro is a full-bodied, full-flavored smoke that is rolled by the legend himself AJ Fernandez at his San Lotano Factory in Ocotal, Nicaragua. It's a gently box- pressed beauty sold in boxes of 10. Laranja Reserva Escuro comes in 3 vitolas: Corona Larga (Gorda) 6x46, Robusto (Grande) 5.5x56, Toro 6x52.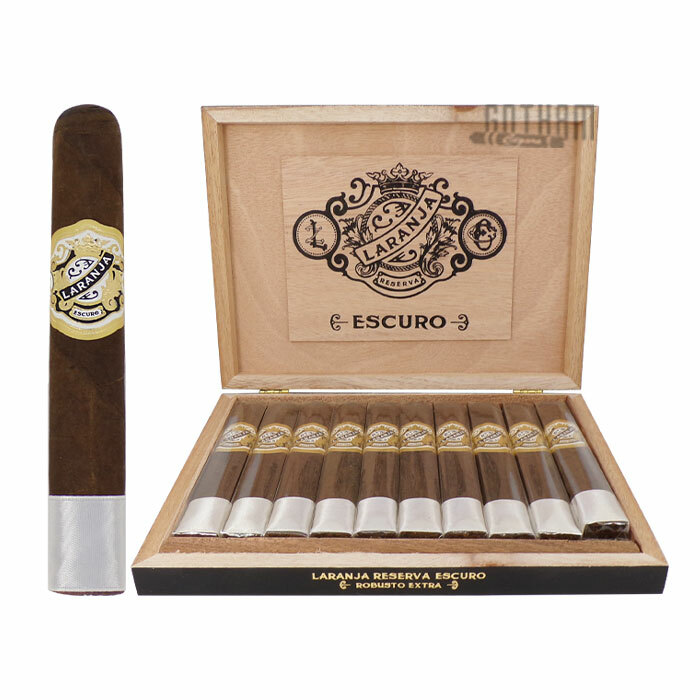 This is an interesting twist to the Laranja Escuro tale. Espinosa Premium Cigars usually does an annual event called La Zona Palooza held in their headquarters in Miami, Florida. La Zona Palooza is always an incredible fan-centered event garnering Espinosa fans and supporters for a fun-filled weekend of food, drinks, and cigars. It's also a great time for the company to tease the fans with upcoming blends and to do soft launches. It's unfortunate that La Zona Palooza has had to be virtual for the past couple of years because of the pandemic but greater days are ahead.
Now, in the La Zona Palooza event held in November 2018, Espinosa did a teaser of the Laranja Reserva Escuro cigar. They were planning on debuting it in the IPCPR show which was scheduled for June 2019. But the fans so raved about this cigar that Espinosa simply couldn't wait. So they released it in April of 2019.
So, now that that's clear, we just got to the best part of this whole thing, the review! I've been through a couple of these. But, as a professional, I approach every review without any familiarity or pre-conceived notions. Let's get into it. I'll be reviewing a Toro.
Tasting Notes
Prelight
The Laranja Reserva Escuro Toro shows up with a dark silky smooth wrapper. The color is precisely a dark roasted espresso or a deep dark tan with a slight sheen of oil. AJ Fernandez's craftiness is obvious in the rolling; invisible veins, impeccable seams, and a perfect triple cap.
The box-press is subtle, obvious, but not sharp. Off the shaft are tantalizing notes of chocolate, caramel, dried fruit, nuts, coffee, malt, dry burnt wood, and fleeting raisin. Cold draw is a buffet of flavors; malt, coffee, barnyard, well-fermented tobacco, chocolate, raisin sweetness, cedar, caramel, and dried fruits. Slight red pepper heat is on my lips from the cold draw.
First Third
Even though I've smoked this before I'm always delighted how boldly and quickly the flavors introduce themselves. Instantly coffee, chocolate, black cherry, almonds, hay, and strong malt make their presence felt in the front of my palate. There is an interesting popcorn nuance with a little black pepper at the back. It's amazing especially because I like my popcorn with pepper-I don't know how they did it but I'm sold.
Somewhere in the middle of the palate there's a driblet of sweet maple syrup perfectly equalized by a fresh lemon citrus tang. Basal sapidity includes beef barbeque, a smoky brioche, peat, cedar, buttery almonds, and a peculiar cream disposition. Retrohale carries a good handful of pepper soothed by a fusion of mocha and cedar.
This cigar is jam-packed with lip-smacking flavors and tons of transitions. I'm into the mid- third without my noticing. Strength is a good strong medium and the body is full even this early. Construction is impeccable; the draw, burn line and the ash are all unimpeachable.
Mid Third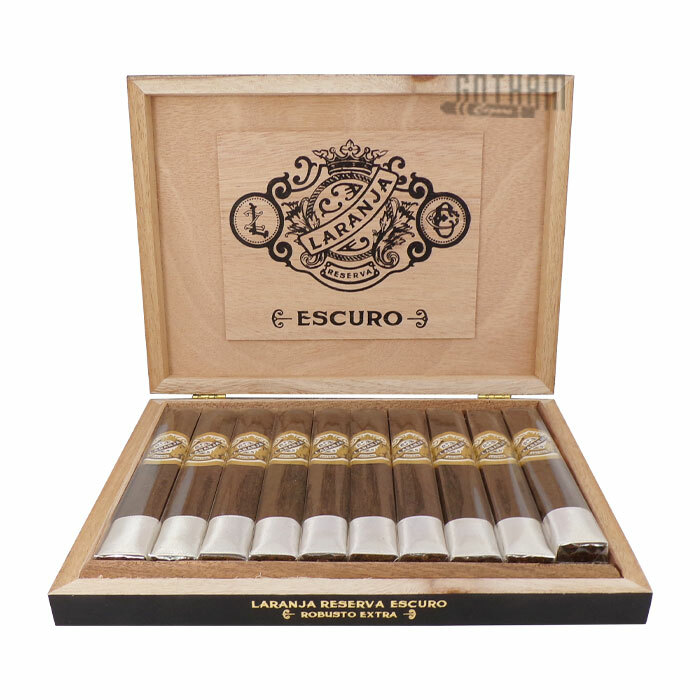 I'm practically jittery going into the mid third, building up my expectation for more flavor transitions and a nicotine smack-down. There's a sudden spike in maple syrup sweetness which morphs into something that reminds me of piquant honey-glazed beef barbeque. The actual sweetness dissipates while fronting a heavy malt note with loads of dark creamy chocolate, licorice, caramel, and almond butter.
Strength goes all the way up. Most full strength cigars wait until the final third to release the Nicotine full force. But this Escuro isn't taking any prisoners. Retrohale displays an array of coffee, hints of smoky meat, black cherry, cedar, and a little black pepper heat. At the back of the palate are gentle barnyard and bready notes adding to the complexity. The burn is excellent and so is the ash and all things construction. I can't find a single thing to knock in this smoke.
Final Third
The final third begins with a strong black coffee note on the podium. Beneath the coffee is a beautiful leather zing that surprises me. I'd not tasted it before. There's no longer any sweetness or pepper on the palate but everything seems to intensify.
Even the peat is toasted now. Charred wood, barbeque steak, almonds, barnyard, chocolate, and a refreshing minty nuance hold down the fort. On the Retrohale a little baking spice, burnt firewood, and black cherry sing a sweet symphony. My Toro is done. I am sad to put down the nub. It's been an incredible hour and fifteen minutes of a smoking experience. My insides are reeling from the nicotine but I am satiated.
Final Words
I don't think there's much left to be said. Just go out and get this one. But if you are a newbie you may need a heavy meal and also maybe to just wait a few years.