Posted by Blazing Bill on 1st Oct 2020
There is a lot to be said about My Father Cigars. From humble beginnings to robust flavours, this Nicaraguan cigar giant has for decades claimed a sizeable portion of our humidors.
If you are unfamiliar with My Father cigars, let me just say you are in for a treat. Today we shall be discussing the My Father brand as a whole as well as the My Father cigar that put this company on the map. So, let's get started with some history.
My Father Cigars History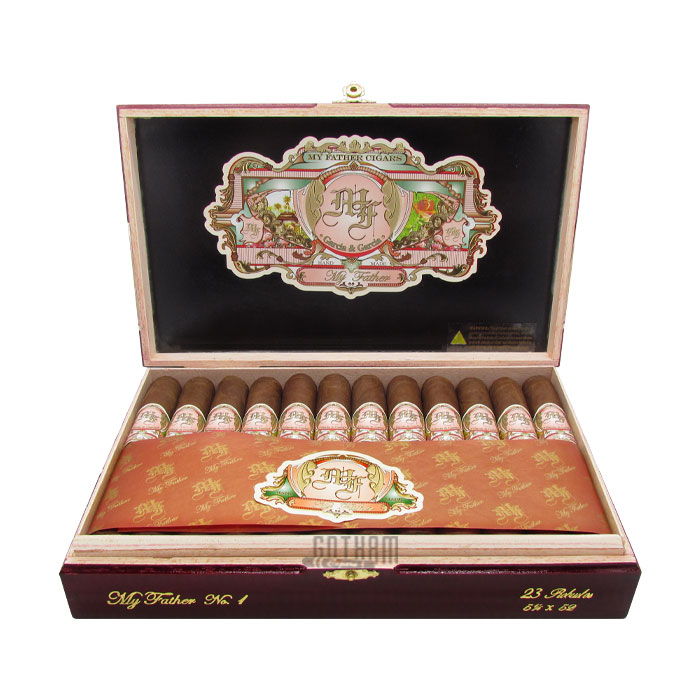 My Father cigars began in a small factory in Little Havana named El Rey de los Habanos. The year was 2003. Jose Pepin Garcia, the founder of My Father Cigars was already an acclaimed cigar torcedor having rolled his first cigar at 11. After more than 30 years of rolling cigars for reputable brands like Partagas, Cohiba, and Montecristo, Jose Pepin attained the highest possible torcedor ranking (Class 8). In fact, he was accounted as Cuba's most productive master roller in the 1990s. With all this expert knowledge, Jose Pepin decided to open his own cigar factory.
You may be wondering how El Rey de los Habanos ended up being named My Father Cigars. Actually, it is a pretty cute story. Jaime Garcia, Jose Pepin's son went on a secret mission to Nicaragua. Now, Jaime Garcia is an expert blender by his own right having grown up in the tobacco business. His mission was to create a special blend to honour his father Jose Pepin.
Ultimately, the My Father cigar debuted in 2008 and was immensely successful thanks to uncompromising robust flavour and superior craftsmanship. Jose Pepin was so touched by the gesture that he, together with his family decided to change the name of the company to My Father Cigars. A year later, Jose Pepin decided to honour his own father with another special blend, My Father Le Bijou 1922.
My Father Cigars Portfolio and Accolades
Now, My Father Cigars makes a sizeable portfolio of company owned cigars. In fact, in all, My Father makes a total of 12 company owned brands. They include My Father, Tabacos Baez-Serie SF, Jaime Garcia Reserva Especial, Vegas Cubanas, Flor de las Antillas, Don Pepin Garcia Original, La Duena, Flor de las Antillas Maduro, Don Pepin Garcia Series JJ, El Centurion, Don Pepin Garcia Cuban Classic, and El Centurion H-2K-CT.
My Father Cigars also creates special blends for popular cigar brands including Tatuaje, L'Atelier, San Cristobal, Crowned Hearts, and La Aroma de Cuba among others.
As far as accolades go, My Father Cigars have experienced a pretty steep upward trajectory since inception with countless 90+ ratings across almost all the cigars in the portfolio. To bring this into perspective, after being in business for only 5 years (2008), My Father Cigars Company was recognized as "America's Hottest Cigar Maker" by Cigar Aficionado.
Also, in addition to all the My Father cigar accolades we'll discuss shortly, Flor de las Antillas was awarded the prestigious Cigar of the Year award in 2012 an award that was replicated by My Father Le Bijou 1922 in 2015. As you can see, My Father carries an array of rich, delectable smokes that are acclaimed the world over. But, where to start?
In my somewhat expert opinion, I would recommend the My Father cigar as a good starter to introduce the brand. Why you ask? Let's break it down below.
My Father Cigar; The Blend
If the history of My Father Cigars doesn't tag on your heart strings you need to be checked. Perhaps we could play the "Cats and Cradle" song in the background. That one always seems to get the water works going. Jokes aside, let us explore the My Father blend and find out why this cigar is the highest scoring and most prestigious cigar in the My Father Cigars portfolio as well as a mainstay in every true aficionado's humidor.
For starters, this was the first cigar to feature tobacco grown by Garcia himself. It features prime, hand selected tobacco grown at My Father's own farms in Esteli, Nicaragua. So, we are talking Nicaraguan fillers and binder.
The wrapper, however, is a premium and decadent Cuban Habano Rosado/Criollo seed grown in Ecuador by the Oliva Tobacco Company. Lovers of the leaf know the Oliva Tobacco Company grows some of the most premium and coveted tobacco leaves in the industry.
As far as construction, My Father Cigars push the envelope when it comes to craftsmanship. Jose Pepin personally trains his torcedors so that each cigar is expertly rolled with flawless seams and a magnificent triple cap.
Tasting Notes
I am sure you are eager to know what flavour notes My Father carries. Well, I can tell you for sure that this cigar is no wuss, so you better brace yourself.
Did that statement sound as tough as intended? Tougher? Well, the truth is, this cigar is a winner flavour wise. It isn't brutal or harsh to greenhorns so do not be intimidated. I think the best way to describe it is; it's the full Nicaraguan experience!
In other words, you will experience a full-bodied, complex tapestry of flavours including exotic spices, cedar, coffee, brown sugar, wood, and a bit of spice. If you are a fan of sweet and spicy then this is quite literally your ideal candy shop. This cigar presents a toffee like sweetness with hints of nutmeg and a concoction of delicious middle-eastern spices. Truth be told, I have no idea how Jaime Garcia managed to get such unusual flavour notes to work together so swimmingly.
The Retrohale is also immensely enjoyable laying down a bit of pepper and spice on a bed of silky-smooth smoke. Actually, the reason I found this Retrohale outstanding is because usually, cigars that feature pepper on the Retrohale tend to have a degree of harshness. My Father is spicy and peppery on the Retrohale but with a rich creamy base that eliminates any harshness or burning.
This is why I recommend this cigar as the best option to start with as you begin working your way down the My Father portfolio.
Ratings
As earlier stated, My Father is the most successful cigar in the company with tons of 90+ ratings and stellar reviews. In essence, the My Father cigar averages a 93+ rating. Plus, it has been on the Top 25 Best Cigar list 2 consecutive years (2009 and 2010) and then in 2014.
My Father comes in 5 Vitolas No. 1 (Robusto) 52x5.2, No. 2 (Belicoso) 54x5.2, No. 3 (Crème Toro) 6x49, No. 4 (Lancero) 7.5x38, and No. 5 (Toro) 6x56. You can buy these bad boys in a box of 23 cigars.
Final Word
My Father is one of those rare age-defying cigars that seem to get better with time. Jaime Garcia really struck the right code with this one. If you have not had one yet, start now. This is one cigar you should never be without. And if you have smoked one of these bad boys share your experience, we'd love to hear from you.