Posted by Blazing Bill on 5th Mar 2020

Choosing the top 5 AJ Fernandez cigars is no easy feat.Why, you ask?
Because AJ Fernandez is a blending savant, the man has been churning premium 90+ rated cigars for years. Some pretty tasty blends for his portfolio, as well as top-notch contract blends. In fact, it is safe to say blenders like AJ Fernandez are the stuff of movies and legends. And yet, here I am trying to choose the top 5 AJ Fernandez cigars.
Now, I know there will be disagreements, probably a few smh and a sardonic "really?" here and there. But when all the dust settles, we can agree while these may not be the top 5 AJ Fernandez cigars (according to everyone's opinion), they are pretty kick ass. They are definitely up there with the rest of AJ's phenomenal creations. Without further ado, let's get into it.
1.Bellas Artes Maduro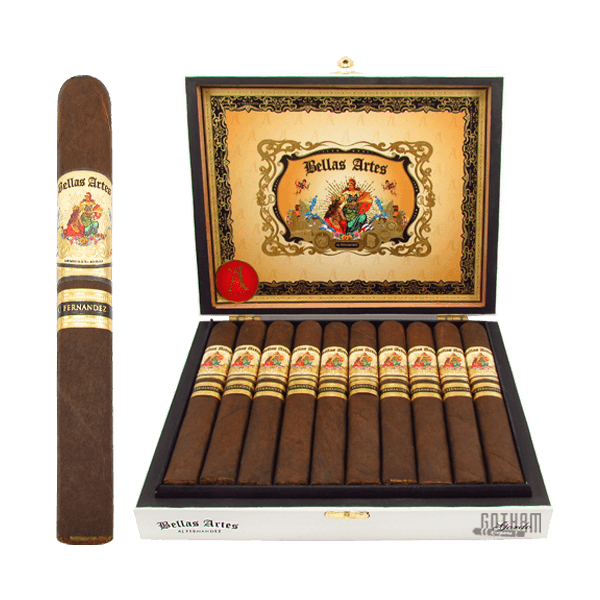 Before the release of Bellas Artes MaduroBellas Artes Maduro, AJ Fernandez had already released the original Bellas Artes in the 2016 IPCPR show. The original Bellas Artes was inspired by Abdel Fernandez's visit to the Cuban National Art Museum (hence the name Bellas Artes meaning Fine Art). Bellas Artes Maduro was released two years later (2018 IPCPR show) to an already primed audience. Contrary to the norm of slapping a Maduro wrapper on the same original blend, AJ Fernandez decided to create a whole new blend; how savant!
He went with fillers from Esteli, Nicaragua, a Mexican San Andres binder, and an oily, exquisite Brazilian Mata Fina wrapper. Essentially, this was the first time AJ Fernandez used a Brazilian Mata Fina wrapper. And we are ecstatic that he did because the unique fusion of the wrapper and binder created an unusual, delightful flavor profile. The results were a 90 rating on Cigar Aficionado in February 2019.
Go on and expect the signature AJ Fernandez peppery heat coupled with sassy notes of creamy chocolate, earth, cedar, anise, leather, and dark fruit sweetness. Bellas Artes Maduro is elegantly box-pressed, displaying sharp edges and that oh so perfect stance between my fingers. It comes in 4 Vitola Short Churchill (6 x 48), Robusto (5.5 x 52) Toro (6 x 54), and Gordo (6.5 x 58).
2.Enclave Broadleaf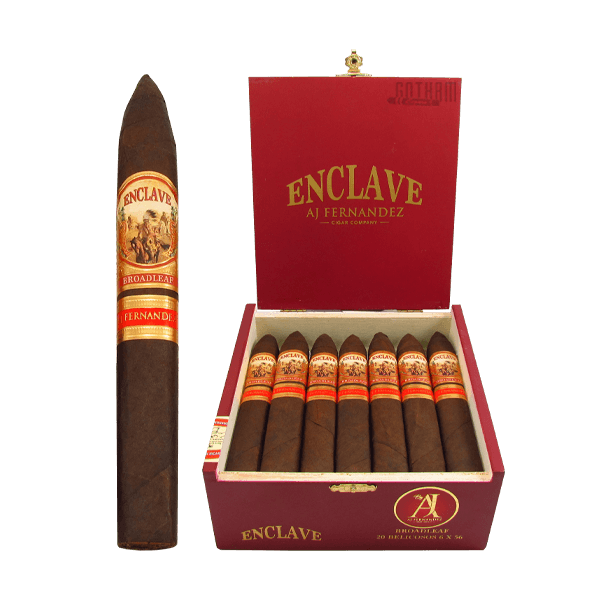 When AJ Fernandez created Enclave, he wanted to capture the spirit of brotherhood and community. Also, the Enclave (released in 2017) was the first time AJ Fernandez used Connecticut Broadleaf in his own portfolio. Like the Bellas Artes Maduro, Enclave Broadleaf is a follow up to the core Enclave line released in 2015. This baby rocks fillers from AJ Fernandez's farms in Esteli, Jalapa, and Pueblo Nuevo. The binder is Nicaraguan, while the wrapper is a Connecticut Broadleaf seed.
Wondering what to expect? Well, the Enclave Broadleaf is no wuss. In fact, it scored a 93 rating in August 2019. The body and strength are closer to full than medium. Expect delicious notes of earth, mocha, sweet floral spice, and earth with a little murky disposition. The flavor profile is a tad dark, which is precisely what we, self-proclaimed Maduro fans like. I must mention the razor-sharp burn, and the magnificent way the resting smoke creeps up the shaft; makes me positively giddy! The Enclave Broadleaf comes in four Vitola Robusto (5 x 52), Toro (6.5 x 54), Churchill (7 x 52), and Gordo (5.5 x 58).
3.San Lotano Dominicana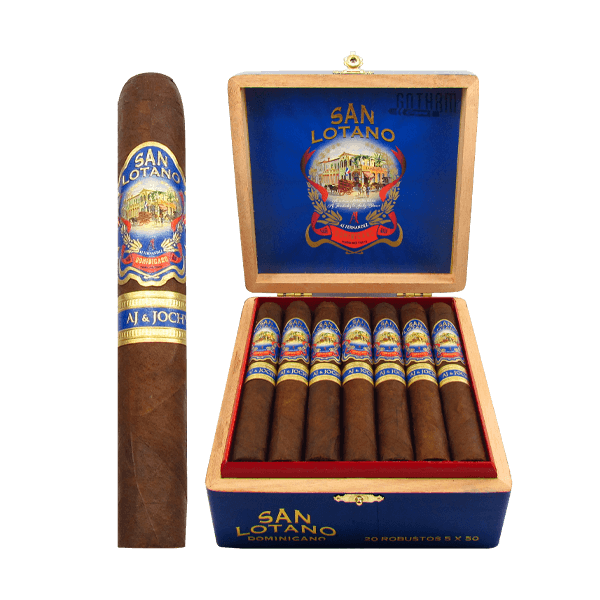 The San Lotano Dominicana is a collaboration. AJ Fernandez enlisted Jose ("Jochy") Blanco of Aging Room and the Galera Fame to make this bad boy. This is the first time AJ Fernandez worked with Jochy. The San Lotano Dominicana was released in the 2019 IPCPR show and quickly gained an adoring following. So much so, that it scored a coveted 93 rating from Cigar Aficionado in August last year.
As far as composition, the San Lotano Dominicana boasts premium fillers from Nicaragua and the Dominican Republic cloaked in a Dominican binder and swathed in a snazzy, zesty Cuban-seed Brazilian leaf.

Ultimately, the San Lotano Dominican cigar is rolled off AJ Fernandez's factories. However, all the Nicaraguan tobacco in the fillers comes from AJ's farms. The rest of the fillers and binder come from Blanco's farms in the Dominican Republic. San Lotano Dominicana comes in four Vitola Robusto (5 x 50), Toro (6 x 50), Gordo (6.25 x 60), and Torpedo (6.5 x 52).
4.Last Call by AJ Fernandez Chiquitas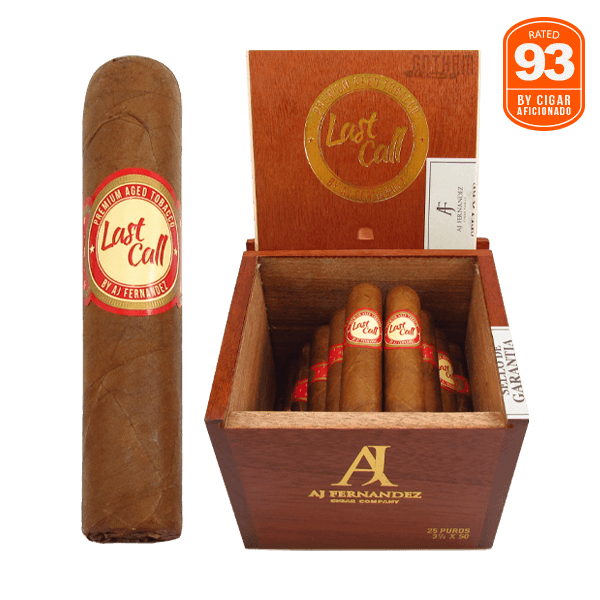 Last Call is a special blend, mainly because it was the first line to be produced under AJ Fernandez's own portfolio. Aside from the tantalizing sizes,Last Call comes with a closed foot that offers the rare opportunity to taste the wrapper on its own before it fuses with the filler.
This baby was released in 2016. Cigar Aficionado loved it so much that he gave it a 93 rating in April 2018. The composition includes Nicaraguan fillers and binder and an Ecuadorian Habano Rosado wrapper. If you are a Maduro kind of guy, then get Last Call Maduro with a Pennsylvania Broadleaf wrapper.
Upon lighting, you will love the preliminary wrapper only notes. Mine were salty toasted nuts. As the filler stepped in cedar, caramel, pepper, mocha, and leather made a debut. Ultimately, Last Call is an extremely balanced smoke. It comes in five Vitola Chiquitas (3.5 x 50), Geniales (4.5 x 48), Corticas (4 x 52), Pequenas (5 x 46), and Flaquitas (6 x 46).
5.New World Puro Especial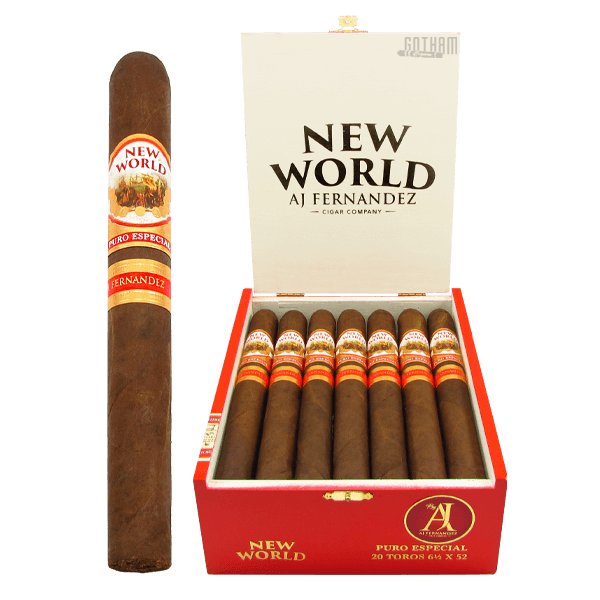 New World is a wildly popular Nicaraguan Puro by AJ Fernandez. And like most of the cigars in our top 5 AJ Fernandez cigars list, it is a follow-up stogie.
The original New World was released in 2014. Our New World Puro Especial hit the shelves in 2017. The fillers in this baby are all premium tobaccos from AJ's farms in La Soledad, La Providencia, and San Jose. And since it's a Nicaraguan Puro, the binder is obviously Nicaraguan (Habano) while the wrapper is a decadent Criollo '98 leaf grown in the San Jose farm.
The AJF website cites the wrapper as a Habano, but more sources indicate it's a Criollo '98. New World Puro Especial has the same blends as the original New World cigar. The only difference is the wrapper and aging process. New World Puro Especial uses tobacco that is aged 3 to 5 years.
Flavor-wise, the New World Puro Especial dishes a cornucopia of flavors including cinnamon, cedar, earth, espresso bean, cocoa, chestnut, and a little char. Also, you can't miss AJ's signature peppery spice enveloped in vanilla cream.
New World Puro Especial got a rating of 93 from Cigar Aficionado in January 2018. It comes in four Vitola Robusto (5.5 x 52), Toro (6.5 x 52), Churchill (6 x 48), and Gordo (6 x 58).
Final Thoughts
AJ Fernandez's place in the cigar hall of fame cannot be refuted. In a word, AJ makes blending seem like child's play while we, his adoring fans, wait with bated breath for his next masterpiece.
So, whether you agree with my top 5 AJ Fernandez cigars list or not, sit back, grab your favorite AJF stogie, and have a session. After all, isn't that what life is all about?