Mild and coffee flavored, Java Latte 'The 58' offers a perfect burn and an effortless draw that lets you have a relaxed time. Top-rated tobacco from the Nicaraguan regions of Central America are used as filler on this Double Toro cigar. They are wrapped in shade-grown Connecticut wrappers that impart the delicious flavors held in such high regard by cigar enthusiasts.
The 58's are brought to life through a partnering of two major forces in the cigar industry Drew Estate and Rocky Patel. They are box-pressed cigars that have a length of 5 inches and a ring gauge of 58. These cigars have garnered a vast list of admirers, ranging from beginners to aficionados who find the taste and the aroma to be creamy and well-balanced. Packed in sets of 24 and stored in neatly finished, wooden boxes, there's absolutely no reason not to pick up one of these Java Lattes right now.
| | | | | | | |
| --- | --- | --- | --- | --- | --- | --- |
| | | | | | | |
| 5 x 58 (Robusto Grande) | Box of 24 | Connecticut | Nicaraguan | Nicaraguan | | Nicaraguan |

Tasting Notes
For this review, I'll be going with a Robusto. Also, I'll punch rather than clip my head. This is a sharply box-pressed beauty and it just felt right to punch. It may not be everyone's preference and that's okay.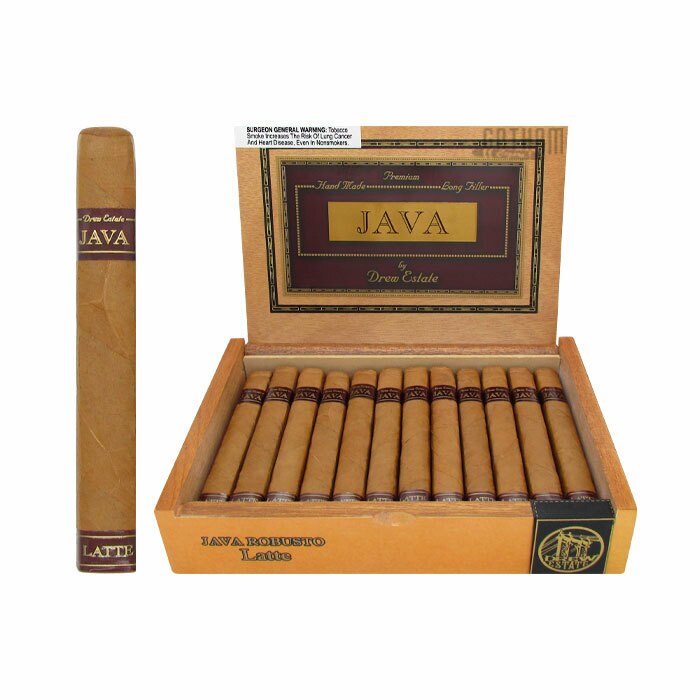 Prelight
Right off the cellophane, this cigar smells like a delicious chocolate candy bar. The wrapper is silky smooth with fine veins and an even light tan hue. Seams are visible but barely. It's a beautiful stogie! After punching, the cold draw is faultless. There is a definite sugared tip which leaves mouth-watering sweetness on my lips. Off the cold draw are hints of cocoa puffs and coffee. Let's light this bad boy up!
First Third
My first puff comes with an interesting flavor pop - bitter tobacco. The weird thing though is that this is not the awful bitter you get from a bad smoke. It's different because there's more depth to it and a slowly approaching tornado of cream.
A few draws in, a humungous wave of creamy goodness washes over the bitterness and it's a new dawn for flavors to showcase their flare. Sweet tobacco notes fused with rich cream and subtle mocha make their way to the front of the palate. A dash of spice and fleeting notes of sweet caramel govern the back of the palate. I can't detect any strength thus far. It's a mild cigar but this takes nothing away from the experience. This is a delicious smoke with razor-sharp burn, tons of smoke, and an ash tower that won't quit.
Mid Third
My introduction to the mid third begins with an amp in coffee notes and the collapse of my ash tower. In addition, creamy notes fuse with chocolate to create the most decadent latte. At the back of the palate, subtle nutty notes and tinges of caramel hold down the fort. It's a photo finish with sweet charred tobacco notes coming through on the Retrohale. Maybe it's me, but this cigar is burning faster than I would have hoped. And while it could just be me sucking the life out of it, I will admit that it burns faster than the Maduro.
Thus far, the burn line remains razor sharp. I found this impressive especially because box-pressed cigars love to burn wonky. The ash is a tower of delicately stacked pancakes.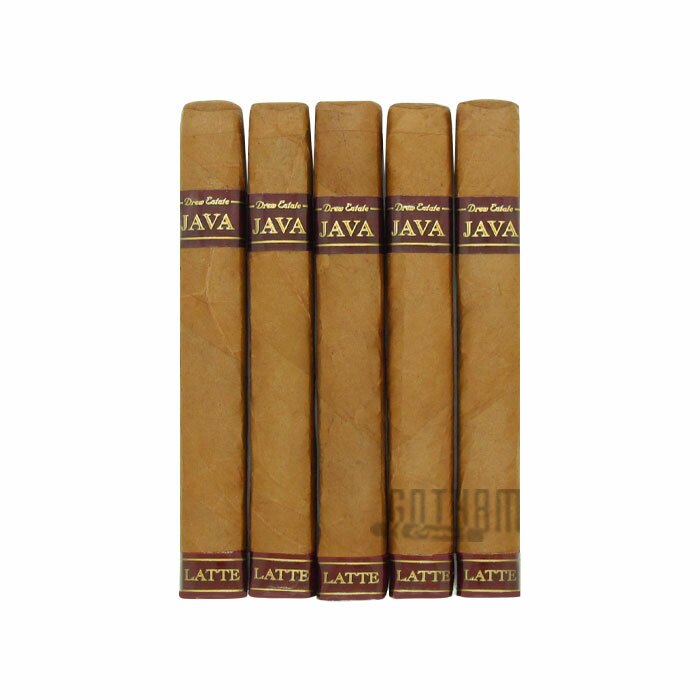 Final Third
As my Robusto slowly inches towards the nub, flavors remain largely the same. Gallons of sweet creamy tobacco notes accompany every draw. Every flavor note is intricately balanced such that none of the flavors stick out or overwhelm the rest. The strength never really went up and so it is safe to conclude that this is consistently a mild smoke.
Beginners, here is the perfect cigar to enjoy if you're considering an infused stogie. Even if you've never Retrohaled before, this baby is a superb option to begin your practice. It's not harsh at all and there is no spice. It pairs incredibly well with coffee and you can also have it as a desert cigar after dinner. Throughout the smoke, my Java Latte Robusto remained creamy and perfectly balanced. It did get a tad warm towards the nub and that's okay. How else would I have known to put it down?
Final Thoughts
Every lover of the leaf, novice or connoisseur can enjoy Java Latte. In my opinion, it is because the flavors lean more towards a traditional cigar than a flavored one. Java Latte is a smoke worthy of a slot in your regular rotation. Try one and let us know what your experience is. And if you already had one, let us know about that too.
SKU:

JAVL58

Category:

Premium Cigars

Brand:

Java

Wrapper:

Connecticut Broadleaf

Binder:

Nicaraguan

Filler:

Nicaraguan

Origin:

Nicaragua

Ring Gauge:

58

Length:

5

Shape:

Robusto Grande

Strength:

Medium

Quantity:

24

Package Type:

Box