Posted by Blazing Bill on 5th Nov 2020

CAO is a household name in the cigar business and a mainstay in our humidors. The range of CAO cigars in the market is impressive. And this is because CAO always believes in their blends and works constantly to improve them rather than scrape them from the market.
We have enjoyed countless CAO masterpieces from the World Line featuring cigars like Colombia, Brazilia, and CAO Zocalo among others, to the Classic Line, the Flavours Line and now the New Age Line.
Each line carries a collection of mouth-watering cigars rolled with exotic tobacco and unparalleled expertise. Today, I want us to explore a cigar line under the New Age category. I'm talking about the CAO Flathead. But before we go there, I just have to talk a little about the CAO history.
CAO History
Founded by Cano (pronounced Johnno) Aret Ozgener, CAO is a result of sheer hard work, resilience, and family values. Cano started CAO in 1977 focusing mainly on meerschaum pipes and humidors.
Later Cano ventured into cigars with a few hiccups at first. Eventually, as the tobacco market was nosediving and the cigar boom was emerging, CAO cigars eventually found their place in the market. Cano's children, Ayline and Murat joined the family business and as they say the rest is history. Even though CAO was eventually sold to General Cigar Company in 2006, it has remained a formidable brand producing Avant Garde smokes like the CAO Flathead. Cano sadly passed on in 2018 at the age of 81. Now that we know a little about CAO history, let us talk about CAO Flathead and what makes it special.
About CAO Flathead
First off, CAO Flathead is not a new blend. In fact, it was released at the 2013 IPCPR show and made quite an impression. So much so that we are still talking about it 7 years down the line. So, what makes the CAO Flathead special? It's all about how it started.
According to Ed McKenna brand manager at CAO, "Rick Rodriguez and I were talking about the great people we've met at CAO events across the country, and about the conversations we've had with them. It didn't take us long to realize that the conversations were always about the same things: Cigars, Cars and Girls. Not necessarily in that order. So that's what led us to come up with Flathead."
The Flathead is the perfect fusion of Cigars, Cars, and Girls. In fact, the name was inspired by the flat head engine and hot rod. If you love cars, then you know that hot rod means high speed and fast acceleration. Not to scare you but the CAO Flathead series will do just that.
That's not all. The Cigars, Cars, and Girls theme goes all the way the to the Vitolas and packaging. To achieve the flathead engine design, the CAO Flathead cigar top is completely flat. The box is also custom made with an old CNC machine to get the flat head engine look. Plus, as a keepsake, the cover of the box has a removable flat head engine to mount on your wall. How's that for commitment to an idea!
Did you think they forgot about the Girls? Well, they didn't. So, in every box of these decadent stogies there is a collectible pin-up girl flysheet for your guilty pleasure.
The Blend
CAO Flathead's foundation is Nicaraguan Ligero and Piloto Cubano Ligero fillers. To this, CAO added a lustrous and spicy Habano Connecticut binder swaddled in an exquisite Connecticut Broadleaf wrapper. If you are a Nicaraguan tobacco buff, you will love this blend because CAO went hard on Nicaraguan tobacco. You may already think this is an awesome cigar to have, just from the description and the history. But the best part is yet to come.
Vitolas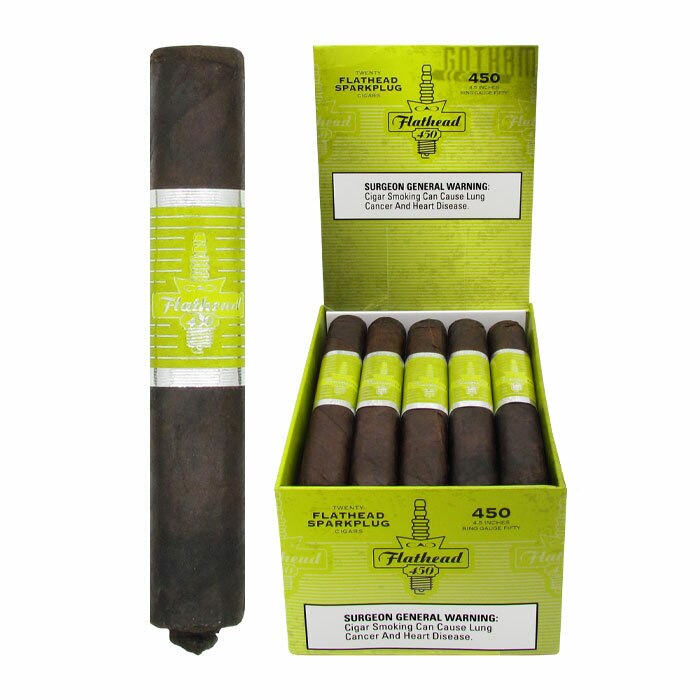 Usually, I don't accord too much attention to the cigar sizes in my cigar reviews. But this one is special. CAO Flathead comes in 5 sizes all perfectly box-pressed and named after super-cool pimped-up hot rods. You have the V642 Piston, the V554 Camshaft, the V660 Carb, the V770 Big Block, and the V450 Spark Plug.
These are all improvements to the hot rod that were made at that time. The criterion used in naming the vitolas is pretty interesting. First, the V is obviously for the shape of the engine block. Next is the length and ring gauge of the stogie. And finally, the name of the car part. At this point, only one question remains; do these awesomely named stogies live up to the hype? Let's talk about some tasting notes.
Tasting Notes
V642 Piston
This little number opens with sweet spicy notes compounded by an overall dry hay nuance. Later the sweet disposition disappears giving way to leather and mild tobacco flavours. Towards the nub, the sweetness resurfaces bringing with it all the spice and dry hay notes it can master. In the end, the V642 Piston is not overly complex but it is interesting enough to try again after a few months in the humidor.
V554 Camshaft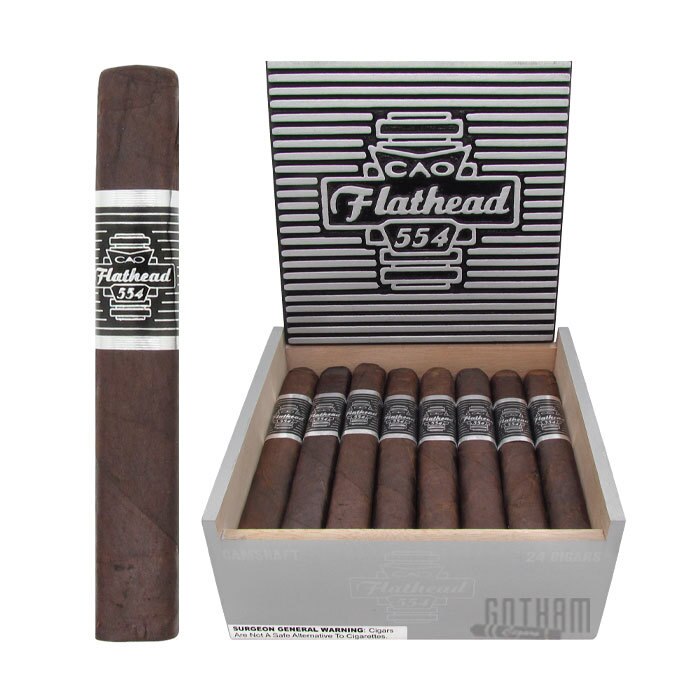 The V554 Camshaft is definitely my favourite of the CAO Flatheads flavour-wise. For starters, the sweet notes that introduce themselves in the first draw stay on until the last. Coupled with a dash of pepper and spice, beer and raisins this baby seems to get sweeter, more complex, and more luxurious with every draw. Towards the nub coffee and leather notes join the melee of flavours to give this stogie a strong finish.
V660 Carb
First off, this is a beautiful-looking cigar. I am anxiously waiting to discern the various flavours hoping it will deliver. It opens with some cedar, cream, musty wood, and a little sweetness. At first, the flavours are a bit difficult to separate but then a few draws in pepper makes its debut and seems to bring some clarity with it. Ultimately, the dominant flavours remain to be creamy sweetness, a bit of pepper, cedar, and earth on the finish. Although this cigar is not starkly complex, it is still a great smoke and the Maduro strength is definitely all there so be warned.
V770 Big Block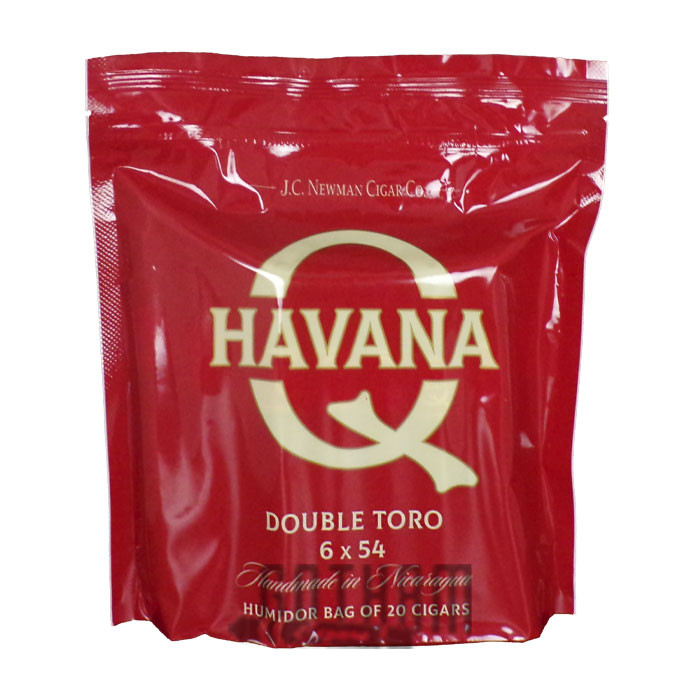 The V770 Big Block is a massive cigar. I am crossing my toes that it will be a good smoke because there is a lot of cigar to be had. Well, I was pleasantly surprised to realize that this is the perfect cigar for a long relaxing smoke. It is mild and sweet with delicious notes of dark chocolate and a sweet spicy Retrohale. At some point, perhaps the mid third (this cigar is huge) I noticed unbelievably decadent notes of spicy, smoked barbeque. And even though they were not nearly as strong as I would have wanted, it sealed the deal for me. This is definitely going into my regular rotation-I am a sucker for a good meaty flavour. It was a long but enjoyable smoke perfect for slumping infront of the TV and watching one mindless murder mystery after another.
V450 Spark Plug
This small machine is one of Nicaraguan's finest. Its Rothschild shape and Maduro color had me in before I ever took the first draw. Plus, it is the perfect size for a review. So, how did it do? The main flavors are a blend of strong, spicy, and sweet. There are strong mocha notes, with a skosh of black pepper resting on subtle earth and nutty nuances. Later, the flavours switched with earth and nutty notes in the forefront and the sweet spicy mocha notes in the background. Ultimately, the V450 Spark Plug closes with a hail of pepper, earth, and sweet nutty notes in the background.
Final Words
As you can see, the CAO Flathead family has a lot to offer. Which is your favourite CAO Flathead? Please share your views in the comment section below.