It's that time of the year again! We get to unveil our top 5 best cigar picks for the year 2021. The truth is, a lot goes into these choices especially because so many new amazing cigars were released this year alone. To narrow down to 5 choices is very subjective. At the same time, it leans on an experienced palate seasoned over decades. That being said, there will be lots of great cigars not on this list. If your favorite isn't, do not be offended. Perhaps next year we can do top 50 best cigars of the year 2022; we'll see. Here is our very short list of the top 5 cigars of 2021.
1. AVO Syncro Caribe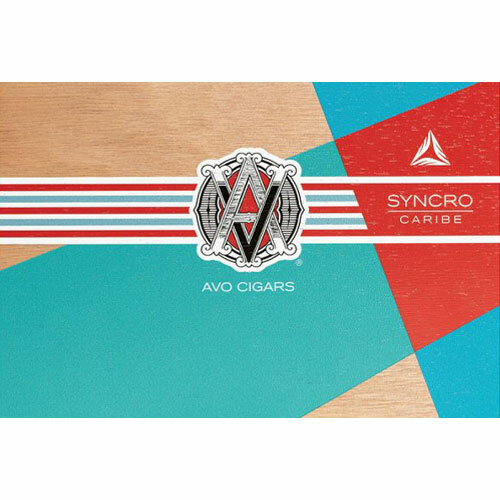 AVO enthusiasts know that we've been on a 4-year wait for a new release. Since Davidoff began the AVO rebrand in 2015, there's been several new releases with AVO Syncro South America Ritmo being the last in 2017. Finally, in August of this year, Davidoff released AVO Syncro Caribe. According to Davidoff, AVO Syncro Caribe is supposed to "present a naturally harmonious experience that takes you to the land where the palms sway back and forth to the breeze of the sea".
How you ask?
Well, Davidoff is delivering new frontiers in cigar experiences. The latest of which is referred to as "natural distribution". Natural distribution, in this case means Dominican tobaccos were blended with other vibrant Caribbean tobaccos to create a concept known as tobacco synchronization showcased in AVO Syncro Caribe.
This unusual medium to full bodied stogie features Caribbean, Central, and South American premium long fillers with an Ecuadorian binder and a luxurious Dominican wrapper. Dominant flavours include barnyard notes, cedar, nuts, leather, lemon grass, coffee, white pepper, tangerine zest, raisins, and a whole lot of sweetness. Look out for subtle earthy notes as well as anise and dark chocolate. AVO Syncro Caribe comes in 3 vitolas; Robusto (5x50), Toro (6x52), and Special Toro (6x60). It was rated 91.
2. Perdomo Reserve Champagne 10th Anniversary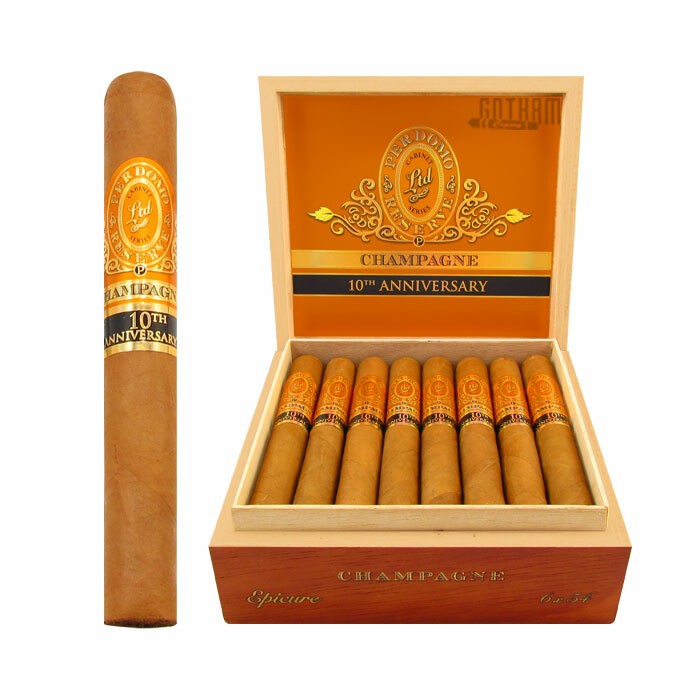 When it comes to this pick, I'll just reiterate-a good cigar is a good cigar and this particular Perdomo is an outstanding cigar. I'm not the only one who thinks so.
Perdomo Reserve Champagne 10th Anniversary is one of the bestselling Perdomos of all time. So much so that it received a 91 rating for two consecutive years on Cigar Aficionado and a Cigar of the Year title by the Robb Report and European Cigar Cult Journal. We did a full review on this decadent stogie in which we even talk about how the word "champagne" came about.
So, what's in it? Nicaraguan Cuban-seed double-aged fillers and binder encased in a golden Ecuadorian Connecticut-seed triple-fermented leaf aged for over 6 years. You can expect grassy notes comingled with cream, cocoa, cedar, leather, nuts, wheat, molasses, and sweet zesty notes on a bed of rich meaty seasoning.
Perdomo Reserve Champagne 10th Anniversary comes in an array of vitolas namely, Epicure (6 x 54), Robusto (5 x 54), Churchill (7x 54), Gordo (6 x 60), Torpedo (7 x 54), Magnum Tubo (6 x 50), Corona Extra (5.6 x 46), Perfecto (4.7 x 56), and Purito (4 x 38).
3. Alec Bradley Project 40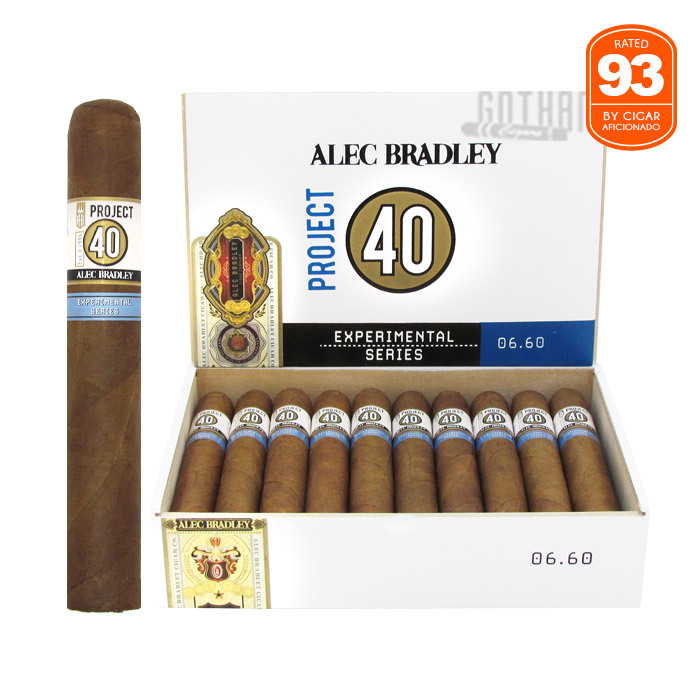 When Alec Bradley began Project 40 I wasn't sure what to think. I mean, it's a scary thing to attempt to tell people what's going on in their own minds, right?
Are you floating? Let me touch a little on Project 40. Alec Bradley sought to understand why cigars have a positive cognitive impact on the mind and body. The conclusion ended up being that cigars produce a calming effect that makes us feel in control and well rewarded.
Now, whether or not the findings made any difference is objective. But one thing is clear; the resulting cigar, Alec Bradley Project 40 is undeniably topnotch! Garnering a 93 rating and a slot on the Top 25 Cigars of 2019 meant Alan Rubin was definitely on to something.
We love that this is such a premium smoke with stunning reviews and yet falls under the $6 mark. It is crafted with finely aged Nicaraguan fillers, a Habano-seed Brazilian binder, and a gorgeous Nicaraguan Colorado wrapper. Anticipate earthy notes fused with almonds, coffee, cedar, leather, chocolate, roasted nuts, black pepper spice, and an implicit sweetness. Alec Bradley Project 40 comes in Gordo (6x60), Toro (6x52), Churchill (7x52), and Robusto (5x50) sizes.
4. Alec & Bradley Gatekeeper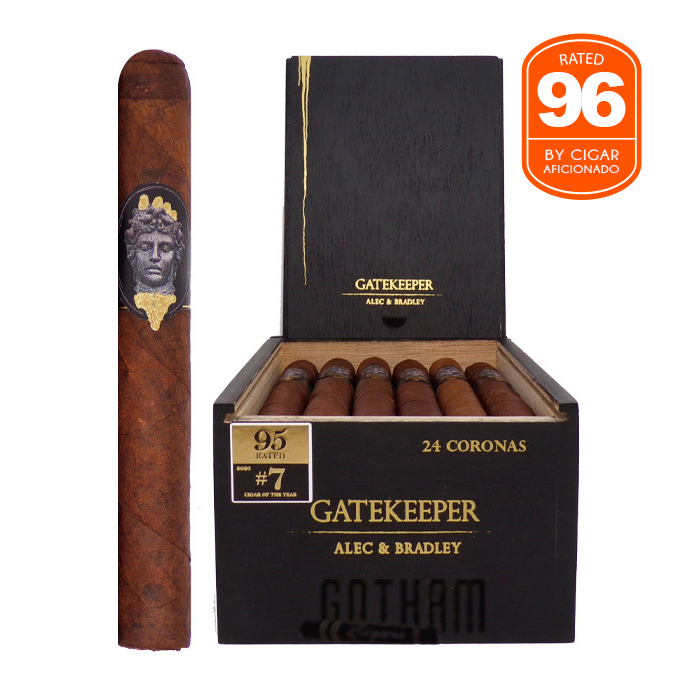 Here is another Alec Bradley but not really.
Alec & Bradley Gatekeeper is not an Alan Rubin creation as are the other Alec Bradleys. This is a Rubin's brother's conception. Alec Rubin and Bradley Rubin, Alan Rubin's sons after whom the company was named came together with Ernesto Perez Carillo to produce this cigar.
Gatekeeper is the second cigar crafted by the Rubin's brothers. The first was Blind Faith debuted in 2018 and rolled at Raices Cubana Facility in Honduras. Gatekeeper is produced at Tabacalera La Alianza S.A. in the Dominican Republic, the same facility Ernesto Carillo rolls his EP Carillo line. Alec Rubin said this, "Ernesto is a gatekeeper to new opportunities and experiences for us – thus the name Gatekeeper."
The Gatekeeper is an outstanding smoke having garnered a 95 rating and the No.7 slot in CA's Top 25 cigars of 2020. It features exquisitely aged Nicaraguan and Dominican premium long fillers clothed in a Nicaraguan binder and finally adorned in an elegant reddish-hue Ecuadorian Habano wrapper. Dominant flavours include cinnamon, leather, earth, steak sauce, graham cracker, citrus zest, cedar, pepper, and sweetened spice. You can have Gatekeeper in Corona (5.25x42), Robusto (5x50), Toro (6x52), and Gordo (6x60).
5. Undercrown 10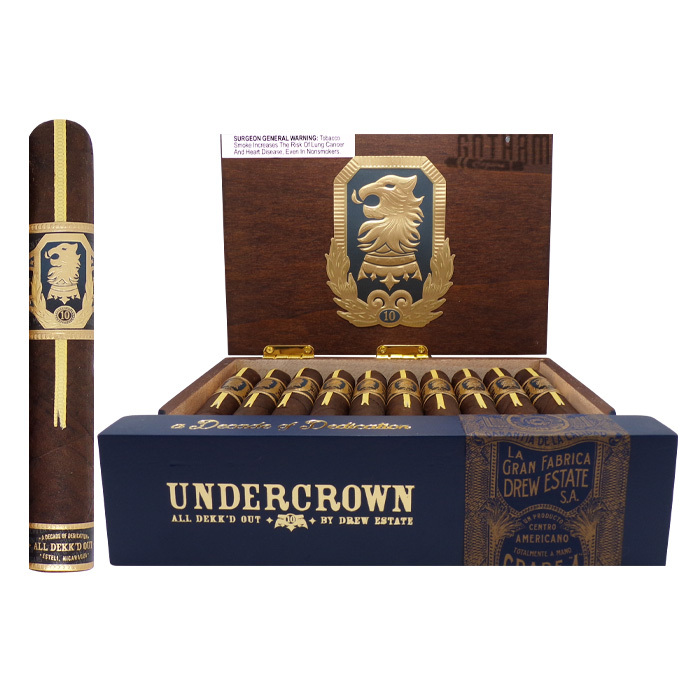 The stirring story of the Undercrown line of cigars is one of mutual visionary aspiration come true. We'll be going into a proper Undercrown 10 review soon. Meanwhile, Drew Estate's torcedores came up with the Undercrown blend by combining the same rare tobaccos used in the Liga Privada No. 9 and T52 line of cigars. This was in 2011.
Now, a decade later, the Undercrown line includes variations such as the Connecticut- wrapped Sun-grown, a collaboration with Cigar Dojo and another line made in collaboration with Shady Records (Eminems music label).
For the 10th anniversary of the Undercrown brand, Drew Estate debuted Undercrown 10; a decadent dark-tan stogie featuring Nicaraguan fillers, a Connecticut River Valley Broadleaf binder swaddled in a Mexican San Andres leaf. It was announced on a Facebook Live event in May this year.
Undercrown 10 wasted no time in impressing. Thus far, ratings span the 90+ percentile. Vitolas include Robusto (5x50), Toro (6x52), Corona Doble (7x50), Corona Viva (5x43), Lonsdale Factory Floor Edition (6x46), and Tuani, a Belicoso (6x52). The Lonsdale was released in July while the Tuani was for the event only.
Wrapping Up
It's a short list but one that is worth shopping around for. These are my personal must-haves alongside a slew of many more. What were your favorite smokes for the year? Share with us.
Recent Posts
Macanudo has been around for decades; in fact, more like a century. And as you can deduce, any cigar …

"In an industry filled with thousands if not millions of different cigars, how can we stand out?"&nb …

I sat for quite a while thinking about the best way to begin this piece. Undoubtedly, Perdomo is one …