Posted by Blazing Bill on 31st Jan 2020

What comes to mind when you hear of Fuente Fuente Opus X? I'll tell you, a primal pride that crescendos into a titillating aristocracy at being one of the few people to experience such a cigar. A bit much? I think not. Consider this, Fuente Fuente Opus X cigars debuted 25 years ago. To this day, they are still the most sought-after cigars in the market.
Needless to say, in cigar auctions and black-market trades, these bad boys can sell for 200% or 300% more than the recommended retail price. In truth, no other cigar has ever experienced the cult-like unwavering following of cigar connoisseurs willing to travel hundreds of miles and spend a pretty penny for these babies. It feels like I am getting long-winded. Forgive my passion for this stick. However, I concede to reel it in and start at the beginning.
About the Fuente Fuente Opus X Brand
Fuente Fuente Opus X debuted in 1995. Carlito Fuente, the genius of this blend, went where no man had ever gone before. His is a tale of sheer drive, ambition, passion, and good ol' cojones. Carlos Fuente was told endlessly that a quality wrapper could never grow in the Dominican Republic. Others had tried and failed, but he was unaverred.
After lots of trial and error, Carlito grew his first Corojo seed in the Chateau de la Fuente farm of the El Caribe Valley, Dominican Republic. This was back in 1991. The result was an exquisite Rosado leaf with a beautiful reddish hue, a little sweetness, and a whole lot of nicotine. And this marked the beginning of the opulent Fuente Fuente Opus X brand.
The Blend
Now that Carlos Fuente had proven that a wrapper, and an excellent one at that, could grow in the Dominican Republic, he embarked on a mission to create the first-ever Dominican Puro cigar. With the wrapper already available, Carlito combined four or five different tobacco varietals from different areas of the Dominican Republic to create a filler. These were all dense tobacco leaves from the upper part of the plant.
He then applied a Dominican binder and finally wrapped his creation in the magnificent Rosado wrapper. Afterward, the cigars were aged in rum barrels for at least a year before being released. Ultimately, the result took the cigar market by storm. Early reviews gave the OpusX a 93 rating from Cigar Aficionado. Every cigar enthusiast wanted to get their hands on this exclusive Dominican Puro. It was the most massive cigar frenzy ever seen.
Twenty Five Years Later
As earlier stated, Opus X debuted in 1995. Twenty-Five years later, and the hype, the rush, and the anticipation have not changed one bit. What a feat! Thus far, Opus X has been rated more than 150 times. In a majority of the reviews, Opus X scored 92-95 ratings. Some of the Accolades include:
Double Corona – Cigar of the Year 2005
PerfecXion #2 – Number 2 in 2007
PerfecXion X – Number 6 in 2014
Super Belicoso – Number 13 in 2013
Reserva d'Chateau – Number 14 in 2009
Reserva d'Chateau – Number 15 in 2006
Why?
This is a valid question considering Opus X has had more than two decades of unprecedented success.
1) Tobacco
Opus X is only rolled with the highest-grade Fuente tobacco. Carlos Fuente admits to doting on this cigar. The entire process from the leaf to box is carefully monitored and tested to maintain Opus X integrity.
2) Construction
Only a few torcedors roll Opus X cigars. Carlos Fuente says Opus X rollers train from the start of their career to only roll Opus X cigars. And not any size either; each torcedor has his/her size. This way, their hands are accustomed to rolling that one Opus X size to perfection.
Plus, Opus X cigars are rolled using the Entubado method. This way, each leaf has ample airflow, which makes for the perfect draw and burn.
3) Aging
After the cigars are rolled, they are then aged inside closed cabinets in a dimly lit cellar made of brick and wood. Carlos Fuente says the closed cabinets aging method retains the flavor of the cigars-kinda like a slow cooker.
4) Packaging
Opus X cigars come adorned with intricately embroidered red and gold bands. The boxes are cedar-lined mahogany keepsake-worthy creations stained a deep reddish hue similar to the wrapper. Everything about Opus X screams opulence, extravagance, and carefree nobility.
Now, Opus X comes in 9 Vitola:
Fuente Fuente (5.625x46)
PerfecXion X (6.25x48)
Reserve d'Chateau (7x48)
PerfecXion 77 Shark (5.5x52)
Super Belicoso (5.5x52)
PerfecXion #2 (6.375x52)
Robusto (5.25x50)
PerfecXion #4 Series X (5.1875x43)
Double Corona (7.625x49)
PerfecXion #5 (4.875x40)
Belicoso XXX (4.625x49)
Petite Lancero (6.25x39)
A Review of the OpusX PerfecXion #5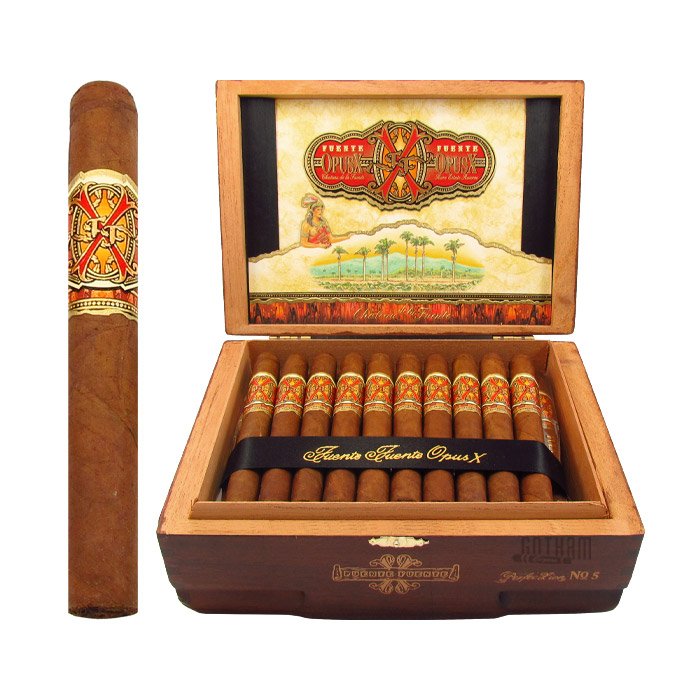 If you have not had an Opus X before, you must be dying to know how it smokes. And I say this of a cigar released 25 years ago without even a hint of irony. Opus X PerfecXion #5 is the smallest Vitola in the Opus X brand. But don't let the little guy fool you. In fact, some people say this little stick is even stronger than the other Opus X stogies owing to the wrapper to filler ratio. Well, let's find out.
Prelight
My #5 is a beautiful, tightly packed 4.8 by 40 stick. It is quite small. So, I will do the review in two sections. The wrapper is smooth, quite oily (almost sticky) with minimal veins. There are pungent notes of cedar, citrus, and spice on the shaft and foot. The triple cap is flawlessly applied. Actually, I couldn't even see the seams without gawking.
The cold draw gave off notes of earthy tobacco with a hint of sweet fruit.
First Half
My #5 opens with a peppery kick, lots of smoke output, and a rich, creamy base. The pepper is not the hot kind, but rather a warm spicy miasma with underlying cedar, leather, and rich tobacco flavors. And the finish! The finish is long, way longer than I have had in a long time. It is sweet and cedary with creamy coffee notes, fleeting baking spice notes (or was it cinnamon), and a robust tobacco and leather base.
This cigar is complex! The flavors don't just stick out or starkly transition from one to the other. Instead, they wash over your palate with wave after wave of different notes blended into one beautiful profile. The smoke is thick, chewy, and aromatic. It smells like cedar and flowers. The ash is a tightly packed white and light-grey combo that held up to 2 inches.
Final Half
On the halfway mark, the creamy profile thickened. Also, the strength went up from a medium in the first half to full. I can feel the nicotine in my head though it's not the kind that knocks you upside the head. The pepper recedes to the back while earth, leather, spice, and sweet tobacco dominate the palate. Still, the finish is quite long with very thick creamy coffee notes and spice lingering until the next draw.
Towards the nub, the strength kicks up a notch. The flavor profile remains the same. And by the same, I mean thoroughly complex and enjoyable. Mine was a one-hour smoke. I know, right? It is a real slow burner and very satisfying. You may want to eat first before taking on this little stogie, or your knees will buckle halfway down the smoke.
Overall Review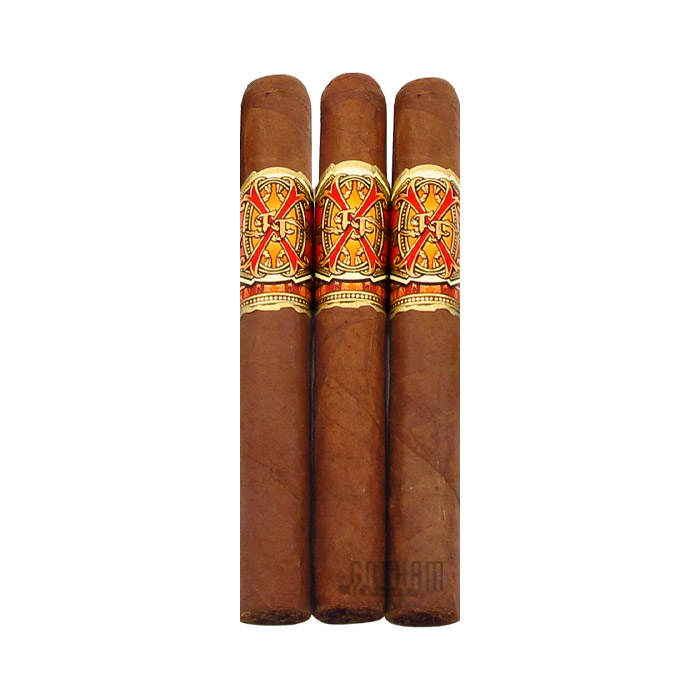 The Opus X cigars are definitely worth the hype. Even though opinions vary, we can all agree this is a complex smoke that is excellently constructed and executed. I have to point out, though, that you may not enjoy this cigar as much when it's new. Aging these babies adds tons of complexity and mellows out the pepper and spice.
The result is a mature and captivating warm cedar-infused cinnamon comingled with leather, coffee bean, nutmeg, cocoa, and a myriad of other amazing flavors. Also, be sure to grab these whenever they are in stock. Opus X cigars are notoriously rare, mainly because only about 700,000 of these babies go into the market every year.
Carlos Fuente is so keen on maintaining Opus X consistency that he withholds every Opus X cigar he feels is not ready for the market. Consequently, only a few boxes are released a few times a year. So, stay woke.