Posted by Blazing Bill on 9th Dec 2019

As AVO Cigars celebrates its 30th Anniversary, cigar enthusiasts are scrambling to grab a box of the AVO LE05 30 Year cigar. The AVO LE05 is AVO's most revered brand of all time. Some cigar connoisseurs say it was their most potent, too, but…I don't know. A lot of time has passed since the original AVO Limited Edition 2005 (AVO LE05) was released. But the reviews and praise for AVO's most beloved blend live on.
It is difficult to imagine the same minimalist cigar released at a cigar dinner in Orlando would rule the cigar world and become the most sought after AVO cigars of all time.
I have a lot to get off my chest about this cigar. It may get emotional-kinda like those videos of an underdog who eventually wins the trophy. Ultimately, I want you to experience this cigar the same way I did.
AVO LE05 History
Since 2001, AVO Cigars have been releasing a unique blend each year to celebrate their founder, Avo Uvesian's birthday. Avo Uvezian sadly passed on in 2017.
The original AVO LE05 debuted in 2005 at a cigar dinner in Orlando as part of the AVO Cigars' Annual Limited-Edition series. This release was AVO's 5th unique blend in the Limited-Edition Series.
At the time of release, AVO Cigars did not disclose the blend. In fact, this exquisite flavor bomb did not even feature any bands. The actual cigars were presented in their original factory bundles.
AVO LE05 cigars original packaging were plain wooden boxes with taped edges. There were no ornate wordings on the box either, just a simple stamped logo in blue ink.
I believe AVO didn't anticipate the overwhelmingly positive reviews that AVO LE05 got. This stogie won over the palates of cigar enthusiasts and continued to rise in fame until it was the most storied AVO cigars ever!
Re-Release of the Limited Edition AVO Cigars
Over time, AVO began to revisit and re-release some of their most exceptional cigars by way of commemorative collections.
For instance, the most famous 2014 AVO Greatest Hit Sampler featured 14 of AVO's previous Limited-Edition cigars. In essence, only 2 Limited-Edition cigars were missing from this release; the AVO LE05 and the AVO 22.
When asked, AVO top blenders, Hendrik "Henke" Kelner and Eladio Diaz said they had not quite recreated the AVO LE05 blend (mostly due to the rarity of the leaves used in the blend). Needless to say, the AVO LE05 cigar had never been revisited, until last year.
In 2018, AVO finally released the AVO LE05 30 Year as part of AVO Cigars 30th Anniversary Celebrations. Other AVO cigars featured in the 30th Anniversary offerings included:
AVO 30 Year Anniversary Improvisation
AVO Maduro
AVO 22
AVO Signature
And a commemorative packaging for AVO Syncro Nicaragua, AVO Syncro Nicaragua Fogota, AVO Syncro South America Ritmo, and Fall 2018.
It's time to wheel it in. We are here to talk about the AVO LE05 30 year. So, without further ado, let's get into it.
About AVO LE05 30 Year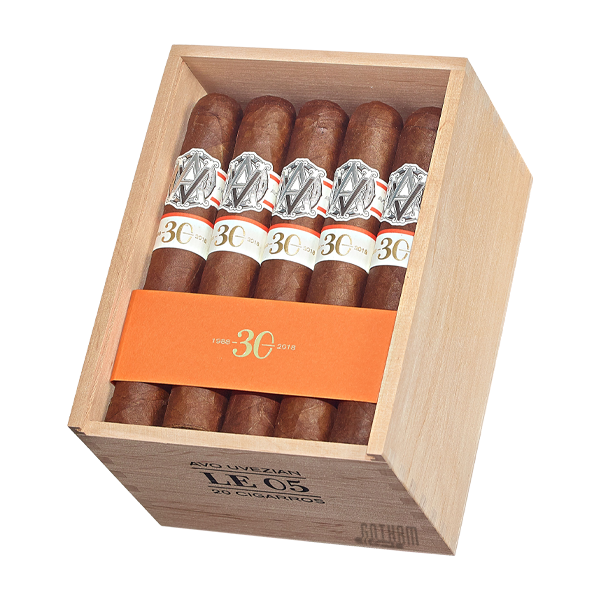 The AVO LE05 30 Year is claimed to be identical to the original AVO LE05 -at least blend-wise. It encases select Dominican fillers and binder clothed in an Ecuadorian Sun Grown wrapper.
This cigar comes in a single size; a gran Robusto (5 3/8 x 50). The previous AVO LE05 release was two points slimmer.
And that's not the only difference.
As far as aesthetics, the new AVO LE05 30 Year features two bands. The dominant band is the typical AVO brand band done in white, black, and strips of orange while the sub-band denotes the 30th Anniversary wording.
And as for the packaging, while original AVO LE05 had nothing but a logo on the box, the new AVO LE05 30 Year went a different way. The new packaging involves 20-cigar boxes with a stylish acrylic sliding lid. Further, these boxes are packed in elongated crates carrying five boxes each. So, each elongated crate contains 100 cigars.
Tasting Notes
In truth, this is an overwhelmingly complex cigar with a fascinating character. Do not be quick to judge. Also, it may take several sticks to fully grasp the intended flavor profile.
With that said, off we go.
Prelight
The wrapper is a dark, reddish hue leaf with a light oily sheen. It is smooth to the touch with minimal tooth and a firmly-packed shaft.
My stick smells musky - like wet hay and delicate cedar notes mixed with leather. Cold draw presents cinnamon, toasted nuts, cherry wood, and a little sweet pepper on the lips.
The draw is perfect.
First Third
The first few draws are a roller coaster. First off, there is an overly aggressive bitter disposition that threatens to turn me off. However, after a few draws, the rest of the flavors kick in, and I begin to understand the profile.
The first flavors to show up were cream and mixed floral notes. These start to replace the bitter notes. But they are more noticeable on the finish. Dark espresso mixed with woodsy notes takes over the front of the palate. Cinnamon, baking spice, roasted nuts, and cocoa with red pepper nuances camp at the center of my palate. There is a heavy leather presence with delicious but strange meaty notes.
So far, this cigar is layered, delicious, and somewhat confusing. At this point, I already knew I would thoroughly enjoy finding out what else is in store.

Mid Third
As my cigar progresses into the mid-third, smoke pools in the middle of my palate. It feels like all the flavors are emanating from that point to the rest of my mouth.
Earthiness takes a bold stand, though, much to my delight, a delicious peanut butter savour creeps right on top of it. There are subtle floral notes and a recurring peppery feel at the back of my throat and retrohale.
Before I forget to mention this on account of my enjoyment, you may need to Retrohale this cigar more than you usually do. There is a bouquet of flavors to be had in the retrohale.
A zesty orange flavor coupled with creamy chocolate, sweet caramel, and an ever-present musty disposition zoom in and out. Ever so often, there is an exotic charred meat flavor that drags into the long finish. This is the flavor that ties so perfectly to the original bitter notes.
So far, the cigar smoked flawlessly. Strength is at a strong medium, and the body is medium to full. The burn is without fault, and so is the ash.
Final Third
The final third opens with oaky notes slowly replacing the sweet undertones.
Strong coffee coupled with chocolate, roasted nuts, and leather are the prominent flavors.
Pepper and leather pick up on the background and Retrohale as smooth, creamy chocolate and floral notes linger on the finish. Discernible salty notes fused with the peanut tang is what closes my AVO LE05 30 Year smoking experience.
To say this cigar is beyond any AVO you have ever had does not seem sufficient. I am quite sure there are several flavors I missed and must endeavor to catch on my next smoke.
Final Thoughts
If ever there were a cigar, you cannot afford to miss out on; this is it! And even though the price point is at $15 a pop, it is worth every penny. Grab a box at $300 and enjoy one of the most complex cigar experiences ever.
You may want to hurry, though; they made only 1,500 boxes of these bad boys.