The Al Capone brand of cigars is so ingrained into the fabric of cigar enthusiasts around the world, it is difficult to imagine a world without them.
Hand-rolled in Danli, Honduras, these little cigars have proven time and again to be the ultimate choice for a short smoke that kicks ass like a full size premium cigar.
A little History
The Al Capone brand is owned and manufactured by the Dannemann Company along with other brands like Dannemann Exclusive full-size premium smokes and Moods Cigarillos. Al Capones are premium mini-cigars fondly referred to as cigarillos. They measure 3 1/8 inches by 20 ring gauge and come in a variety of exciting flavors.
These babies were originally machine-made and manufactured in Germany. Later the production was moved to Esteli, Nicaragua and switched to a hand-rolled premium cigarillo as a continuation of the 1996 Germany machine-made brand. Al Capone cigarillos are named after Al Capone, the infamous gangster of the 1920's. And like Al Capone the gangster, these cigarillos are bold.
How are Al Capone Cigarillos Different from Other Cigarillos?
Al Capone mini cigarillos are filled with premium short fillers from Nicaragua and Brazil, the same long fillers used to and-roll Dannemann's premium full-size cigars. They are exotic vintage fillers from different farms across the Nicaraguan countryside specifically Condega, Jalapa, and Esteli.
While other cigarillo brands use homogenized tobacco wrappers, Al Capone cigars use an exquisite Bahia Leaf to wrap their cigarillos. This Brazilian Bahia Leaf is intricately air-cured and gently fermented to give off an authentic cigar taste and aroma.
The Dannemann company grows its own tobacco and the Bahia Leaf is among their signature products. It derives its name from the rich Bahia countryside of Nicaragua. Wherefore, Dannemann can comfortably use this premium natural leaf to wrap their cigarillos setting themselves ahead of the competition.
Even though Al Capone cigarillos use a homogenized Brazilian binder, you will never experience the noxious chemical taste typical with other common, low-budget, gas-station cigarillos. This is because in addition to using a hundred percent natural tobacco products, Dannemann carefully infuses these mini-cigars with Cognac, Rum, and Sweet flavour to enhance your smoking experience.
Al Capone Cigarillo Flavor Options
As earlier mentioned, Al Capone Cigarillos come in a variety of flavors. The main categories are Sweets, Cognac-infused Sweets, Rum-infused Slims, Jamaican Blaze, and Candela. These categories come in filtered and unfiltered versions. In my experience, filtered cigars deliver a tighter draw compared to the unfiltered ones. The unfiltered stogies also tend to bring out more flavors on Retrohale than their filtered counterparts.
As you can see, there are plenty of choices to suit your taste. So, whether you are a novice or connoisseur, there is bound to be a cigarillo for you in the Al Capone range.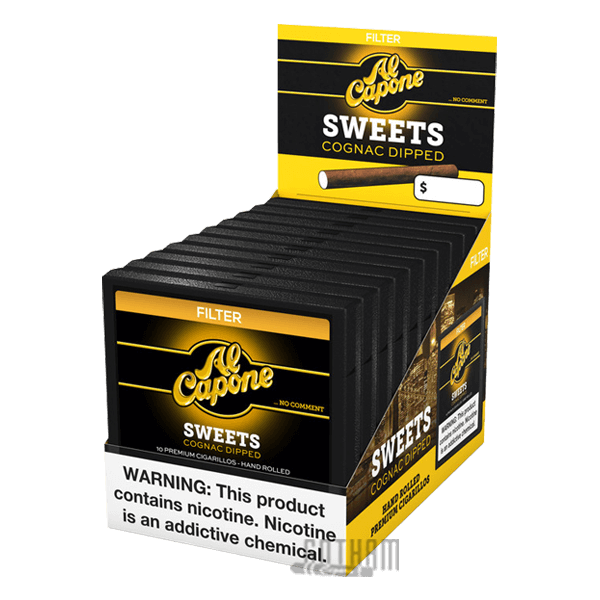 1. Al Capone Sweets
Al Capone Sweets comprise of naturally sweetened mini-cigars; slightly longer than cigarillos, but shorter than panatelas. The natural sweet Al Capones are divine little stogies with a sweet tobacco taste and delicate cocoa undertones. The sweet-tip is pronounced but not overwhelming. You will taste it on your lips long before you light your little Al Capone Sweet.
These babies rock an authentic tobacco long finish and an aristocratic aroma. The strength comes up to a medium-full with robust flavours and ample smoke output. There is no infused flavour in this cigarillo, so expect the body of a full-size cigar and a perfectly-balanced sweet tobacco base. Both a beginner and a seasoned cigar smoker would enjoy this cigarillo just based on how smooth it is.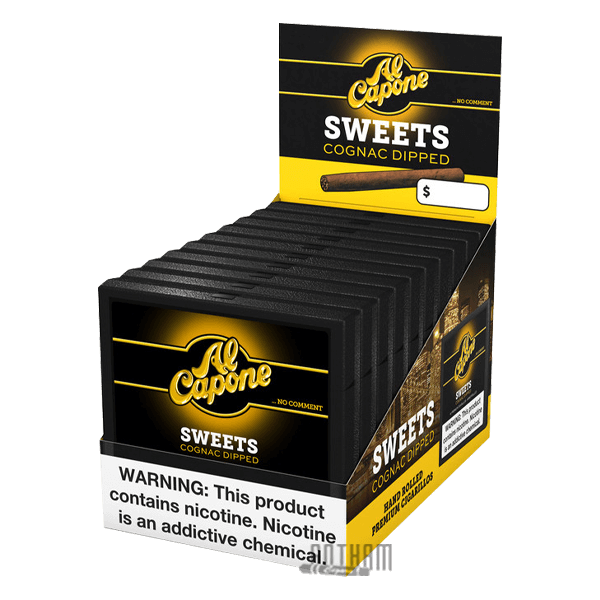 2. Al Capone Cognac-infused Sweet Cigarillos
The Al Capone sweet cognac-infused cigarillos are among the most popular in the Al Capone line. In my opinion, it has to be the subtle cognac flavour that comes out in the Retrohale.
The flavors of the premium fillers with the sweet, shade-grown wrapper, and smooth cognac marry exquisitely into an incredibly enjoyable, well-balanced smoke. If not checked, these cognac-infused bad boys can easily turn into a habit. You've been warned.
3. Al Capone Jamaican Blaze Rum-infused Cigarillos
The Jamaican Blaze Al Capones are decadent with captivating tang. Therein, you will taste the sweet rum zing along with smoky molasses notes. There is an intricate marrying of the luxurious tobacco blend, rum, brown sugar, and mellow espresso on the Retrohale. My experience with this little stogie was sublime and way too short. This Jamaican Blaze picks up strength within the first few draws. Mine came up to a strong medium before slightly mellowing down towards the end. I didn't mind too much because the taste and body were robust and complex enough to stay interesting throughout the smoke.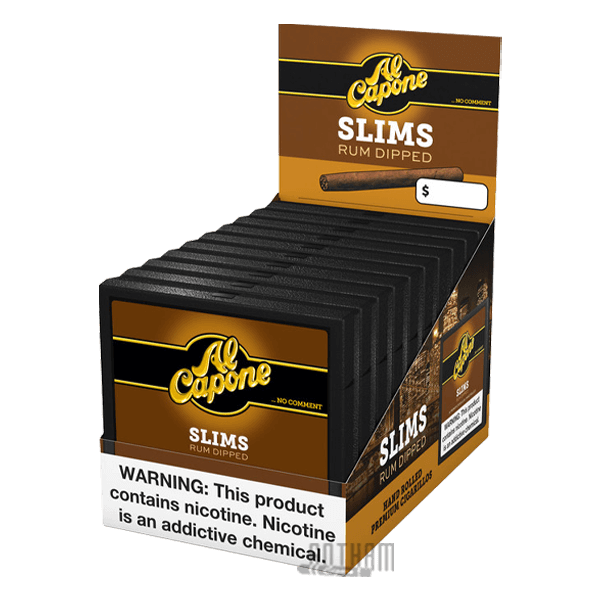 4. Al Capone Rum-infused Slims
The Rum-infused Capones tend to be the mildest in the Al Capone family. They are implicitly sweet with delicate rum nuances that zoom in and out throughout your smoke.
Al Capone cigars in general deliver quite a punch. But these, in my opinion, are the perfect Al Capone cigars for a newbie. They will introduce a sophisticated flavour palate that will demand nothing but quality smokes.
You may notice a kick in the first few draws but the strength settles to a delectable mild through the rest of the stogie. Even on Retrohale, you will not experience any harshness or bitterness.
5. Al Capone Candela Cigarillos
Al Capone Candela cigarillos are in a class of their own. Unlike the other Al Capone mini-cigars that rock Brazilian and Nicaraguan fillers, these babies are filled with a Caribbean Basin Cuban Seed. Additionally, while other Al Capones feature the Bahia Leaf wrapper, Candela cigarillos are draped in a non fermented Candela wrapper from Honduras.
The Candela Al Capones have a green wrapper with a peculiar sweet and mellow pineapple-like flavour. You will seldom come across a cigar with a non nfermented wrapper and that is why the Al Capone Candela mini-cigars are such a treat.
There is a curious depth of tanginess in every Al Capone Candela backed by the unforgettable aroma of good old premium tobacco. But if I had to pick a favourite, it has to be the subtle green tobacco zest that lingers on the wrapper. These mini-cigars are a definite must-try if only to have a taste of a stogie that is different from the rest.
Al Capone Cigarillo Affordability
You may be wondering about the price point for cigarillos that chose premium blends and natural leaf wrappers. Well, you need not worry. Al Capone mini-cigars are all value all the way. A single Al Capone cigarillo sells at $1 depending on the flavour. A pack of two Al Capones will retail for $2.00 to $3.50.
If you are a newbie, my advice is to buy a single stogie, try it out, then afterwards you can get the pack or box. Seasoned Al Capone enthusiasts like myself get the box for better value. Stores are constantly doling out discounts and offers which means you can get the 100-cigar carton for as low as $70. That is basically a measly 70 cents per stick!
There are, obviously, other similar cigarillo brands that sell their sticks for much less than the Al Capone but they don't deliver on the same level. The cheap convenience-store cigarillos taste equally cheap and have none of the natural tobacco products or flavour.
Al Capone cigarillos are a steal at this price. They are actual mini-cigars with authentic tobacco fillers, wrappers, and the same flavour and body you will get from a full size Robusto. If you buy in bulk, you will never feel the pinch and you will even have plenty left over to share with your buddies.
Why are Al Capone Cigarillos so Popular?
We have already established that having an Al Capone cigarillo is like having a fun-size cigar. One, Al Capone cigarillos present the option of having a full-flavored cigar in a fraction of the time. These babies smoke in 10-15 minutes which is just enough time for a short break.
Two, you can easily take them with you anywhere you go. Single packs not only have the tube-like packaging, they have cellophane too to keep the stogie fresh. The 10-pack has a stylish and innovative packaging that closes with a snap and maintains freshness.
Three, Al Capone cigarillos are available everywhere. You can purchase a pack online, from gas-stations and convenience stores all over the country or from good old cigar stores. Their popularity and availability balance out the supply and demand. This means you are less likely to find an old batch of Al Capones that has dried out for staying in the store too long.
Four, the cost is affordable enough to permanently add these babies to your regular cigar shopping list. Ultimately, what we all want is a decadent smoking experience and the best value for our buck. Al Capone cigarillos deliver on both fronts and then some. If you have never tried Al Capones, smoke one today. It's worth it!

Recent Posts
For Flatbushers, this name must conjure warm feelings of a quaint neighborhood beautifully lined wit …

This little known brand is almost two centuries old. Sancho Panza began in Cuba in 1848 and has …

At the whisper of a new AJ Fernandez release, I know some people who would betray brother and count …