Cigars love company. To me, nothing comes close to an afternoon of cigars, friends, football, and poker. And while the specific topics of discussion meander between serious current affairs and just utter nonsense, quite often we land on cigars and stay there. More than once we've lingered on this question, "If you could smoke only one brand of cigars for the rest of your life, which brand would you pick?"
Truthfully, the answers change from one period to the next, especially when there's a new release that hits all the right spots. But overall, AJ Fernandez stands as the most popular pick not just because of the value and variety but also because of his consistency and uncanny capacity to cater to every palate. Perhaps you would like to share with us your answer to the same question. What would be your pick and why?
Now, on to today's topic, Last Call by AJ Fernandez. Just as a preview, this is such an interesting blend with an intriguing story. So, keep reading.
About AJ Fernandez Last Call
It's amazing when sneak peaks of AJ Fernandez's life and preferences bleed right into our humidors. Don't you think?Last Call was never meant for the public. It all began as a personal blend that AJ reserved for himself. Later, he started to share it with his guests who would come to watch football. This is how the man himself put it;
"The Last Call became such a hit among cigar enthusiasts visiting the White House Estate during Monday and Thursday Night Football games that I have decided to introduce it as a regular production under our new Portfolio Series. It is the perfect cigar to start the day alongside a shot of Cuban coffee, as a quick smoke during time spent between the farms and factory, and is a great way to end the evening with family and friends." AJ Fernandez.
And that's how Last Call became a regular production blend and the first of the Portfolio Series. Aside from Last Call, the Portfolio Series would feature more experimental-oriented releases, unique tobaccos, and previously unreleased blends.
In fact, this is what Starky Arias of AJF Cigars said about the Portfolio Series; "The blends are comprised of unique cuts of premium tobacco from A.J.'s vast inventory of fillers and will be released to the public in the future. Some lines will be limited in production and others, such as Last Call, will be full productions."
Why name it Last Call?
It's quite simple. Most days Last Call ended up being last cigar of the day so AJ Fernandez decided to name it so. The original release done in April of 2016 was a Geniales (4.5 x 48) Rothschild stick. It was and still is a delightfully convenient size for a quick smoke. Later more vitolas were released and now the full line includes Chiquitas (3.5 x 50), Corticas (4 x 52), Geniales (4.5 x 48), Pequenas (5 x 46), and Flaquitas (6 x 46).
Now we're getting to the blend and tasting notes of this wildly popular stogie. So, what's in this cigar anyway?
Last Call: The Blend
Last Call features premium Nicaraguan fillers and binder grown in AJ Fernandez's own farms in Esteli, Nicaragua. When it comes to the wrapper, it's either a roasted caramel brown Ecuadorian Habano Rosado wrapper or a dark oily Pennsylvania Broadleaf representing the Maduro version of Last Call. It is rolled at the Tabacalera Fernandez factory in Esteli, Nicaragua.
Tasting Notes
I love that these vitolas don't carry the common names we're used to. For this review I'll be going with the EMS Pequenas.
Prelight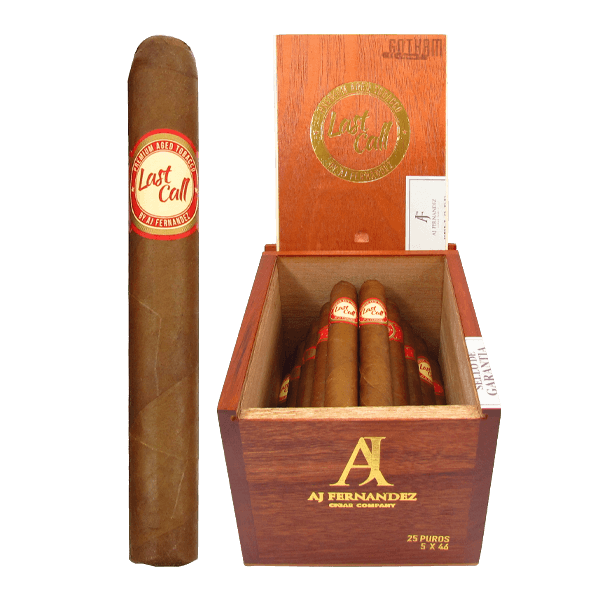 This is a truly beautiful stick. It's a well rolled medium brown shaft with a stunning Colorado hue. There are darker and lighter dots or rather mottling all over the wrapper. Further examination confirms uniform give with no soft spots, fairly visible flat veins, well hidden seams, and an impeccable triple cap. The foot is partially covered which to me adds a certain charm.
Aroma off the shaft points to hay, flowery perfume, sharp cedar, leather, and a toasty nutty nuance. The foot carries a tingly pepper note, barnyard, and faint mint. Cold draw is a perfect milkshake consistency highlighting toasty barnyard, creamy chocolate, mint, white pepper heat on the lips, and mild flowery perfume.
First Third
There is a way to brace for any AJ Fernandez stogie, and that is to prop yourself for a pepper blast. This one is no different. My pequenas opens with tons of pepper – it's on my lips, at the back of the palate and a little in the nose. Beneath the blast of pepper are sharp cedar notes, hay, coffee, leather, and a nice citrus tang. The first few draws are all about working the pepper waiting for the cigar to settle.
And like clockwork, the flavors settle. The front of the palate displays black pepper, cedar, nuts, cinnamon, chocolate cream, floral notes, and an implicit toasted woodsy flavor. Beneath these flavors leather, earth, and wet oak hold down the fort. Natural tobacco sweetness, charred red meat, and bitter spice come at the tail end and all the way through the Retrohale.
Billows of aromatic smoke are all over me. The burn is beyond reproach and so is the ash. Thus far, I perceive a medium body smoke promising to go all the way up.
Mid Third
I realized I was in the mid third when pepper took a back seat. Cedar and a tangy citrus savor grab all the attention. A quiet but confident warm earthy note sits at the back. It's not long before I realize that the pepper shifted to the Retrohale along with leather, oak and a little lemon zing.
This is a deceptively complex cigar. It's not trying to be complex but it sorta just happens. The reason I say this is because there are different flavor batches zooming in and out at will. One draw reveals sweet fruity notes comingled with creamy chocolate, marzipan, and dry pepper heat. The next one brings on charred meat, wet oak, nuts, aromatic flowery notes and leather. All the while cedar, citrus, earth, and light pepper are reigning.
Strength went up to a strong medium. I got a little light headed as nicotine made its presence felt. I'll say it right now, if you are a newbie you probably can't handle this one on an empty stomach. The construction has been excellent so far, loads of smoke output and a razor sharp burn. I wanted to live in the mid third but this is a small cigar at least by my standards, so here comes the final third.
Final Third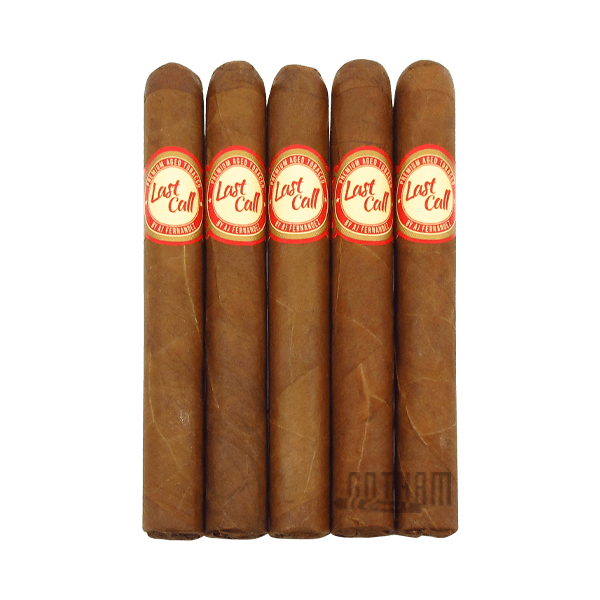 In the final third, citrus fuses with fruity sweetness to drown the cedar. Oak and leather become more pronounced as the sweetness hits an all-time high. Perhaps it's the citrus sweet combo, but what was dry pepper heat turns into beautiful baking spice notes.
My pequenas closes with sweet natural tobacco, cedar, nuts, leather, and rustic earth. It's been about an hour or so and worth every minute.
Wrapping Up
AJ Fernandez, as a brand and as a blender has had a huge impact on the cigar market. From his first blend the San Lotano, through the New World series to today's topic Last Call, we've experienced unmatched blending expertise wrapped in value-priced sticks.
Last Call is a delectable value-priced stick that you can have anywhere anytime. If you've never had this, you're missing out on an amazing everyday stick.
Recent Posts
For Flatbushers, this name must conjure warm feelings of a quaint neighborhood beautifully lined wit …

This little known brand is almost two centuries old. Sancho Panza began in Cuba in 1848 and has …

At the whisper of a new AJ Fernandez release, I know some people who would betray brother and count …