At the whisper of a new AJ Fernandez release, I know some people who would betray brother and country to get the first taste. When AJ Fernandez began to tease about the New World Dorado three months ago, his diehards got all turnt.
Dorado is the fifth addition to the New World brand. It debuted in the July 2022 IPCPR show in Las Vegas and began shipping in mid September. AJ Fernandez New World now comprises New World Oscuro, New World Connecticut, New World Puro Especial, and New World Cameroon.
About the New World Brand
Just in case you haven't interacted with the other New World cigars, New World Oscuro is a sweet-smelling, bottom-kicking medium to full bodied stick. Expect dark enveloping notes of chocolate, espresso, and black pepper.
New World Connecticut is a deeply flavorful, creamy, mild to medium offing with an outstanding long finish and decadent cedar, pepper, and nutty notes.
New World Puro Especial is a well-blended Nicaraguan Puro that reiterates once again that AJ Fernandez is the king of all things Nicaraguan tobacco. Puro Especial carries a strong presence thanks to the medium to full body and generous servings of rich dark flavors.
New World Cameroon is a light medium delicacy adorning an exquisite aged Cameroon wrapper over carefully selected Nicaraguan fillers and binder from Esteli.
New World is a result of the camaraderie between AJ Fernandez and his father Ismael. The idea was to create $5 stogies that smoke like $10 cigars. And we have to say it's going really well. Ismael joined his son's company after working with the Plasencias for nearly two decades.
A Little About the Man; AJ Fernandez
AJ Fernandez began learning how to grow, harvest, and ferment premium tobaccos in Pinar del Rio, Cuba's renowned tobacco-growing paradise, before the age of thirteen. With years of experience whilst growing into the trade, AJ Fernandez's current Nicaraguan-based blends include the 93-rated San Lotano Dominicano, the 93-rated New World Puro Especial, and the 93-rated AJ Fernandez Last Call.
His modern factories now include Tabacalera AJ Fernández de Nicaragua in Esteli's center and the San Lotano facility in Totogalpa, 43 miles north. In both locations, he continues to create top-selling blends, many of which have received ratings of 90 or higher from Cigar Aficionado and other prestigious trade publications.
In addition, he contributes his unrivaled cigar-making abilities to the creation of modern iterations of legendary Cuban heritage brands such as Romeo y Julieta, Montecristo, and H. Upmann. AJ Fernandez Cigars has created a cigar smoking experience that harkens back to the era when pre-Castro Cuban cigars were king, in addition to offering a blend, strength, and flavor profile for every style of smoker.
About New World Dorado
AJ Fernandez New World Dorado is an all-Nicaraguan blend sourced from AJ Fernandez's El Dorado farm that he purchased in 2017. Dorado means "gold" in Spanish. AJ Fernandez named the farm El Dorado because the soil there is uncharacteristically light-brown, almost gold-hued. The tobacco used in this blend is the first harvest from this farm.
New World Dorado encases a blend of elegant pickings from his farms in Condega, Esteli, and Dorado. These fillers are sheathed in a decadent Criollo '98 binder and finally crowned with a Cuban Seed wrapper.
It comes in four box pressed vitolas including New World Dorado Robusto (5.5x52), New World Dorado Gordito (5.5x60), New World Dorado Toro (6x54), and New World Dorado Figurado (6x56). They are packed in gorgeous gold-colored boxes of 10.
New World Dorado: Tasting Notes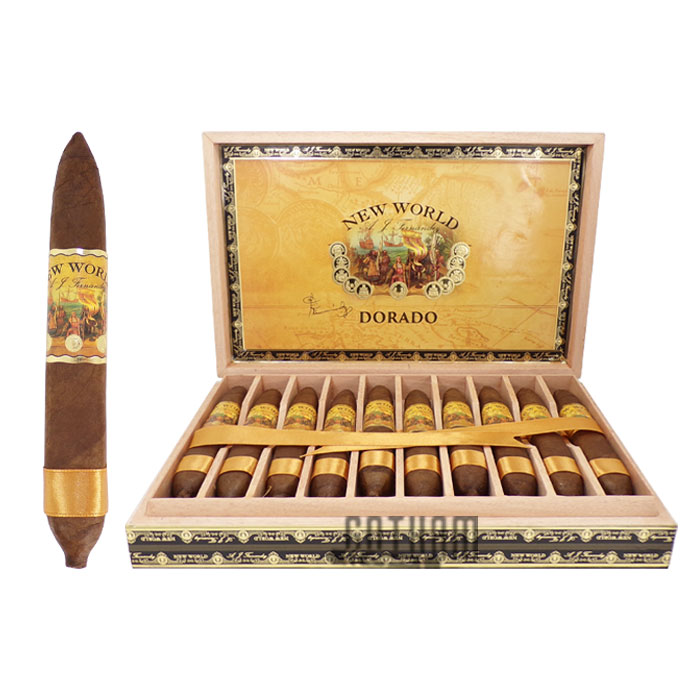 Truth be told, this cigar is head and shoulders above every other cigar in the New World brand. AJ Fernadez has done something extraordinary and distinctive with this smoke. Perhaps those who have had AJF cigars for decades, like yours truly, felt that we could accurately anticipate what Dorado would be, but Oh Boy was I wrong!
And gladly so! Just so you know, attaching words to this smoking experience will not do it justice. Simply go out and grab a box for yourself, then you can see how insufficient words are in this case.
Prelight
There's always something about a trunk pressed stogie. My Robusto looks positively mouth-watering; it's a beautiful cigar. First off, the almost dark tan wrapper is darker than the typical habano which is the first thing I noticed. It's also very smooth, there's barely any veins on this beauty. Construction is excellent with no soft spots and an impeccable double cap. I love the golden band at the foot, it's yet another special touch depicting AJ Fernandez's excellent attention to detail. Cold draw reveals dry fruit sweetness, cedar, and a perfect milkshake consistency.
First Third
With the first draw comes billows of smoke. Then, like clockwork, the AJ Fernandez signature pepper blast. If you've never had an AJ Fernandez before, this is the one thing you have to brace for. The sharp spice sting is on my tongue and at the back of the throat. Thankfully, none of it creeps up the retrohale. But even this early, I can tell this is going to be a Nic Bomb. The strength is quite present from the first draw which is a little scary. You know, maybe this is it, that final stick to vanquish the little sanity I purport to have.
A few draws in, a tacit sweetness the same one I picked on the cold draw takes center stage. Underneath crisp cedar nuances coupled with light pepper, and baking spice continue to build like a whirlwind in a storm. Even though the individual flavors aren't many, there's an unquestionable harmonious comingling of the notes resulting in a complex and interesting experience. By the close of the first third, I have a beautiful tower of salt and pepper ash and a razor sharp burn.
Mid Third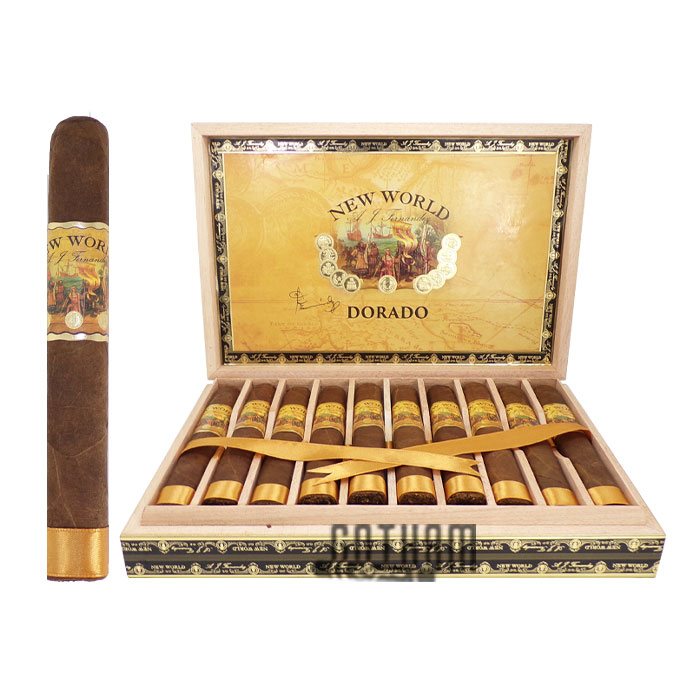 The first time I had this smoke I kept scratching my head wondering what is off? By the mid third I figured it out. It's the flavor profile! This cigar smokes like a mild to medium stick but with the strength of a maduro plus!
Dainty notes of dried fruit sweetness, cedar, baking spice, coffee, and light pepper typically come with mild to medium smokes. Dark heavy notes of chocolate, leather, roasted coffee beans, earth, and black pepper is what usually accompanies strong smokes. But this baby is all upside down. It's a truly new experience not just in the New World brand but I think in the industry.
Nicotine is calling all my names by the mid-mid third. A rich nutty base begins to form towards the end of the mid third. I literally can't wait for the final third.
Final Third
No one will need to announce the beginning of the final third in this cigar. Like an orchestra, everything just picks up out of nowhere. Well, not exactly nowhere but from where they were.
In the final third, the notes seemed to add or multiply. For instance, cedar became richer with mesquite wood notes and subtle citrusy nuances. The rich nutty base became more like toasted almonds fused with earth and warm cinnamon-like baking spice. Retrohale began picking up sweet tobacco notes and subtle peanut-butter undertones. The strength came full circle; all I can say is, "Hold onto your hollyhocks!"
Even as I began to smell my own burning fingertips, the nub was as cool as can be. This cigar remained a gentleman all the way through. Smoking time was approximately an hour plus.
Final Thoughts
This is perhaps the best AJ Fernandez stogie yet. I plan to have many many more of this cigar in the near future. However, for our greenhorn BOTL and SOTL, you need a few more runs around the track before taking on this monster. The flavor profile may be up your alley but the nicotine demands to differ.
Not many people have reviewed the New World Dorado online yet so go on and be among the first few. Tell us how this baby did for you in the comment section below.
Recent Posts
For Flatbushers, this name must conjure warm feelings of a quaint neighborhood beautifully lined wit …

This little known brand is almost two centuries old. Sancho Panza began in Cuba in 1848 and has …

At the whisper of a new AJ Fernandez release, I know some people who would betray brother and count …