Posted by Blazing Bill on 2nd Apr 2021

Ashton Symmetry was a greatly anticipated release and especially because it had been almost a decade since the last Ashton release. Basically, when it comes to this cigar line, Ashton as a company decided to go against the grain. Instead of rushing to release a new cigar every year, Ashton releases a new Ashton when they perceive it to be ready. Testament to this the fact that before the release of Ashton Symmetry in the 2014 IPCPR show, the last Ashton release had been in 2006, the Ashton ESG.
A Little Ashton and Fuente History
Now, Ashton, is obviously a world-renowned cigar company. Even though it is relatively new (founded in 1985), Robert Levin has without a doubt succeeded in expressing his passion for cigars and affinity for great blends. Don't get me wrong; Robert Levin's success in the cigar business is no feat of luck. Mr. Levin grew up working in his father's cigar shop all through the 50s and 60s. Later he took over the business in the 70s and expanded it. Ashton was born out of the passion to have his own cigar brand.
Thus far, Ashton has about 9 cigar blends two of which are small cigars. Despite this seemingly slim portfolio, Ashton cigars have received over a hundred 90+ ratings on the most authoritative cigar review websites including Cigar Aficionado. We believe a big chunk of the success pie is owed to Arturo Fuente's master blender Carlos Fuente Jr.
However, Arturo Fuente is not the only manufacturer to ever make Ashton cigars. You see, earlier on Robert Levin was working with Tabacos Dominicanos for about 3 years. Henke Kelner was the captain behind the Tabacos ship. Evidently, Robert Levin wasn't hitting the mark at Tabacos so he moved production to Arturo Fuente with Carlito at the wheel. Shortly after the move, Robert Levin and Carlos Fuente did a reinvention of Ashton in 1989. There was actually an overlap of the two manufacturers in 1987-1988 when Ashton Cabinet hit the market. During this period, Tabacos was still producing the original Ashton while the Ashton Cabinet was made at Fuente.
The Fuente family makes all Ashton cigars since 1989 to date including the Ashton Symmetry. Great! Now we are all caught up. Let us get into the blend.
The Blend
First off, this is not just any other blend. This co4rncinnity of flavors is a product of four years of back-breaking blending by Carlito. What I could have given for Carlos Fuente Jr's name to begin with a "B" (Selah if you see it). Back to the blend, Ashton Symmetry showcases Dominican and Nicaraguan fillers. The truth is, this was the first time an Ashton cigar featured Nicaraguan tobacco.
Over the filler is a Dominican binder swaddled in a rich, silky Ecuadorian-grown Habano leaf. The tobacco is all from the Fuente farms in the Dominican Republic and Nicaragua. Ashton Symmetry comes in 5 Vitolas; Prestige (6.75 x 49), Robusto (5 x 50), Belicoso (5.25 x 52), Sublime (6 x 52), and Prism (5.625 x 46).
It is finally time to find out if Ashton Symmetry was worth the wait. The thing is, every new Ashton release is met with vivaciousness from adoring fans yearning to plunder a new flavor dimension (Pirates of the Caribbean style). But since this cigar has been in the market a long time, I concede to having smoked lots of these babies. And I can state categorically that this is a solid smoke both in flavor and construction. Hopefully, this smoking experience will be just as rewarding. So, let's get into it.
Prelight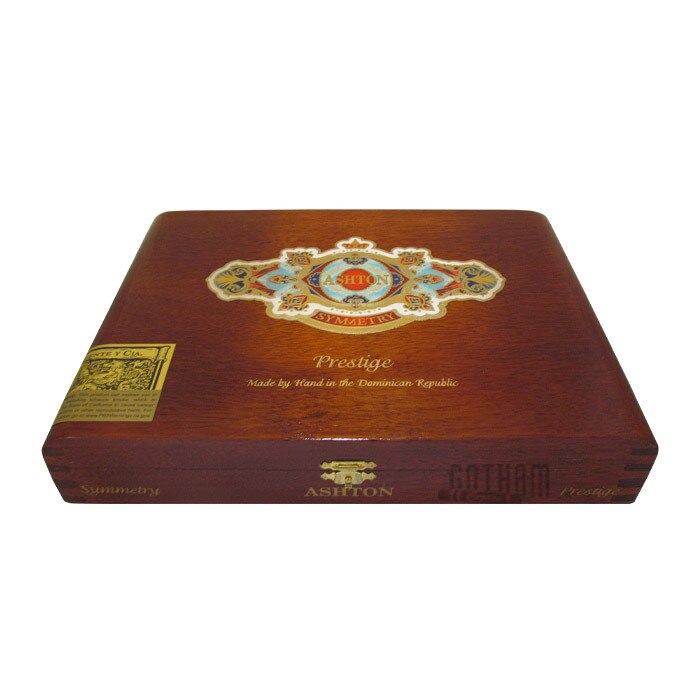 Gazing at my Prestige I feel kinda nostalgic. I know, I know, it's not a Robusto. I wanted something with a bit more stretch. The wrapper is an even mid-brown with impeccable seams. It actually took a bit of time to find one. The cigar feels a tad light though. This is usually a disheartening characteristic; especially when it's a high-end stick. Don't judge, high-end for me begins in the neighborhood of $10 a pop. I mean, if I am going to spend $10 on a single cigar, it better be worth it. Reason being, it's a diverse market with lots of incredible smokes for half this price. Value is important. Whoops! Almost descended into a rant there.
Back to the review. The shaft emits barnyard aromas with subtle leather. Cold draw introduces a plethora of notes including cedar, earth, baking spices, and a whole lot of sweetness. Draw is just perfect, not airy at all.
First Third
My Ashton Symmetry begins with a rush of pepper. Its all over my palate except the back of my throat. There, a light cedar note begins to take shape. As the pepper subsides or did my senses adjust to the level- not sure. All I know is a great balance begins to materialize. Cedar gains stamina while a musty leather note creeps in. Before my palate reconciles these flavors, a creamy coffee nuance ties the entire experience together.
At this point, the cigar is a wholly satisfying exploit (there's that pirate again). The strength is a strong medium. Burn and smoke output is beyond reproach.
Mid Third
A savory citrus note introduces the mid third. It's fortified by a leather note. Somewhere in the perfect balance is a chocolate nuance I just can't pin down. Beneath it all is a rich creamy base that releases surprising flavors at will. For instance, there's a whiff of fruit here and there. Coffee is mostly apparent in the Retrohale along with the cream and some earthiness.
Again, the overall profile is complex and extremely balanced. So far, I have no issues with the burn or any other construction issues. The strength is gradually inching towards a medium to full.

Final Third
Truthfully, the final third came and nearly went as I zoned out. I was awakened by a coy cinnamon note that brought me back to the land of the living. It's closely followed by a myriad of spices, fruity notes, and backloads of sweetness. The combination of flavors at this point reminds me of a spicy dessert.
As my Ashton Symmetry closes, I'm glad that yet again it was well worth it. Strength closed at a strong medium but not yet up to full yet. Although I must mention some may deem the strength to be full; I guess it depends on you.
Final Thought
There is no reason at all not to have this cigar aging in your humidor as we speak. It's a great stick to have any time of the day (mornings are my favorite). I continue to be mesmerized as to why the stick is so light yet has the perfect balance of filler and smokes like a champ.
You can buy some right here.