Posted by Blazing Bill on 27th Jan 2021

For many of us, a cup of joe in the morning is just about all we need to get the day started. However, there are occasions when you need just a little more kick to your day. How about a stogie that combines the two? What the what, you ask? I am talking about the delicious Java Latte by Rocky Patel. Java Latte is the perfect breakfast cigar if ever there was such a thing. So, where to begin since obviously we have a lot to talk about.
A Little Background
Just in case you are a newbie, Rocky Patel is a giant in the cigar industry. Often, he is referred to as the hardest working man in the biz. Owner of Rocky Patel Cigars, Rakesh "Rocky" Patel is known to clock close to 300 days out of a single year on the road marketing and reaching out to his customers. His wildly successful line of cigars is sufficient proof that Rocky is a man who knows what he is doing.
Born of humble beginnings as Indian Tabac Cigar Co., Rocky Patel Cigars are now among the most sought-after smokes in the industry enjoying countless 90+ ratings from all the top reviewers. His top hits include RP Second Edition, RP Royale, RP Decade, and RP Sun Grown Maduro just to mention a few. But Java Latte is a little different and here is why.
About Java Latte by Rocky Patel
For starters, Java Latte is a combo of two among the most gifted men in the industry, Rocky Patel and Jonathan Drew of Drew Estate. Rocky Patel is a man after every cigar enthusiast's heart while Jonathan Drew built an empire from a small office at 196 Broadway.
As you can imagine, the result is nothing short of exquisite. Java Latte is the perfect balance of a café latte and tobacco goodness. The blend is Nicaraguan. You have your choicest aged Nicaraguan long fillers draped in a luscious Connecticut Shade Grown wrapper from Ecuador. Something interesting about this wrapper is that most "connies" carry a Connecticut Broadleaf wrapper instead. I am very interested in seeing how that affects the flavor profile of this baby.
Also interesting is the fact that this is an infused rather than flavored cigar. It is definitely the mildest in the Java line of cigars. The original Java, Java Red, is richer and bolder with deep and assertive coffee notes. Other cigar lines under the Java brand include Maduro and Mint.
Java Latte comes in boxes of 24 and 40 sticks. Vitolas include:
X-Press (4x32)
Petite Corona (4.50x38)
Corona (5x42)
Wafe (5x46)
Robusto (5.50x60)
Toro (6x50)
The 58 (5x58)
Let's find out how this stogie smokes.
Tasting Notes
For this review, I'll be going with a Robusto. Also, I'll punch rather than clip my head. This is a sharply box-pressed beauty and it just felt right to punch. It may not be everyone's preference and that's okay.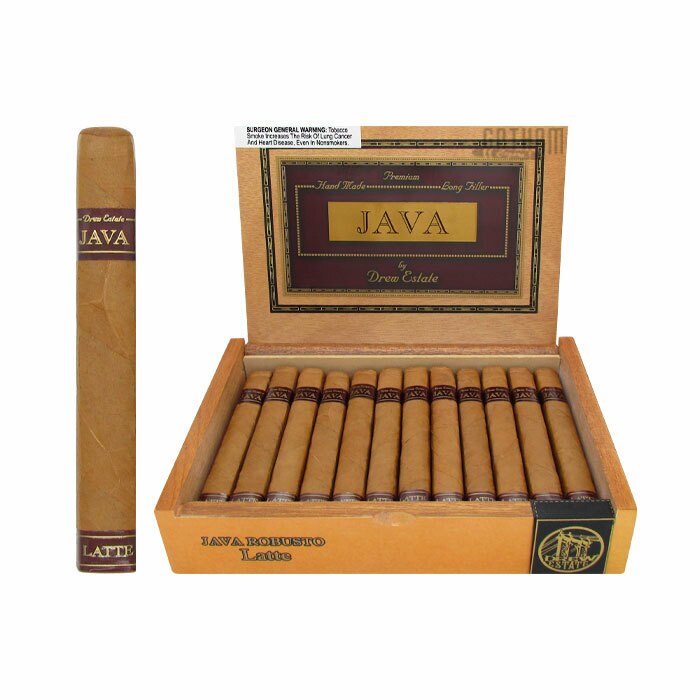 Prelight
Right off the cellophane, this cigar smells like a delicious chocolate candy bar. The wrapper is silky smooth with fine veins and an even light tan hue. Seams are visible but barely. It's a beautiful stogie! After punching, the cold draw is faultless. There is a definite sugared tip which leaves mouth-watering sweetness on my lips. Off the cold draw are hints of cocoa puffs and coffee. Let's light this bad boy up!
First Third
My first puff comes with an interesting flavor pop - bitter tobacco. The weird thing though is that this is not the awful bitter you get from a bad smoke. It's different because there's more depth to it and a slowly approaching tornado of cream.
A few draws in, a humungous wave of creamy goodness washes over the bitterness and it's a new dawn for flavors to showcase their flare. Sweet tobacco notes fused with rich cream and subtle mocha make their way to the front of the palate. A dash of spice and fleeting notes of sweet caramel govern the back of the palate. I can't detect any strength thus far. It's a mild cigar but this takes nothing away from the experience. This is a delicious smoke with razor-sharp burn, tons of smoke, and an ash tower that won't quit.
Mid Third
My introduction to the mid third begins with an amp in coffee notes and the collapse of my ash tower. In addition, creamy notes fuse with chocolate to create the most decadent latte. At the back of the palate, subtle nutty notes and tinges of caramel hold down the fort. It's a photo finish with sweet charred tobacco notes coming through on the Retrohale. Maybe it's me, but this cigar is burning faster than I would have hoped. And while it could just be me sucking the life out of it, I will admit that it burns faster than the Maduro.
Thus far, the burn line remains razor sharp. I found this impressive especially because box-pressed cigars love to burn wonky. The ash is a tower of delicately stacked pancakes.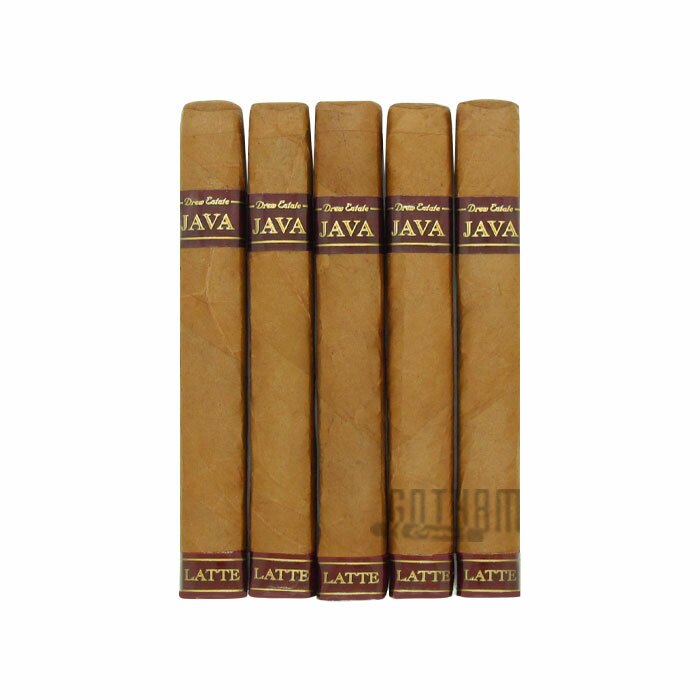 Final Third
As my Robusto slowly inches towards the nub, flavors remain largely the same. Gallons of sweet creamy tobacco notes accompany every draw. Every flavor note is intricately balanced such that none of the flavors stick out or overwhelm the rest. The strength never really went up and so it is safe to conclude that this is consistently a mild smoke.
Beginners, here is the perfect cigar to enjoy if you're considering an infused stogie. Even if you've never Retrohaled before, this baby is a superb option to begin your practice. It's not harsh at all and there is no spice. It pairs incredibly well with coffee and you can also have it as a desert cigar after dinner. Throughout the smoke, my Java Latte Robusto remained creamy and perfectly balanced. It did get a tad warm towards the nub and that's okay. How else would I have known to put it down?
Final Thoughts
Every lover of the leaf, novice or connoisseur can enjoy Java Latte. In my opinion, it is because the flavors lean more towards a traditional cigar than a flavored one. Java Latte is a smoke worthy of a slot in your regular rotation. Try one and let us know what your experience is. And if you already had one, let us know about that too.