Posted by Blazing Bill on 26th Apr 2021

A Montecristo always conjures memories of sweet summer mornings; a cigar in hand and a coffee by my side. This phenomenal smoke has been in production since 1935. To say it's popular is an understatement. We have enjoyed Montecristo for decades and it remains a great smoke. So, when Altadis announced a new Montecristo 1935 Anniversary Nicaragua, it piqued my attention. The idea is to showcase as close a blend as possible to the original 1935 except that it's all Nicaraguan.
Before going further into the blend and such, it is worth mentioning this. If you know the Montecristo brand then you know there are numerous Montecristos in the market. In summary, the Cuban Revolution and embargo caused unprecedented shifts in leading Cuban cigar brands. Cigar makers who fled the revolution took their trademarks with them. Some sold their trademarks to international cigar conglomerates. Others fought for the right to make "Cuban" cigars from outside Cuba. Wherefore, there are several formerly exclusive Cuban cigar brands that come in both Cuban and non-Cuban versions. For example, Partagas and Montecristo. Altadis USA owns the rights to make and market non-Cuban Montecristos in the USA while Habanos retains the right to make Cuban Montecristos.
Everyone agrees that the original Montecristo made in 1935 is truly a special blend. So, to attempt to recreate the same blend with all Nicaraguan tobacco is no easy feat. It took a collaboration of some of the most brilliant minds in the cigar industry; Rafael Nodal (head of product capability for Tabacalera USA, Altadis), Grupo de Maestros, and the guru himself AJ Fernandez.
The Blend
Boy was I excited for this stogie! Grupo de Maestros and AJ Fernandez coming together is like a light shower on a hot summer day; you get the sweet scent of rain and of course a rainbow! I'm a little girl like that. No one is allowed to grow beyond the ability to appreciate the magnificence of a rainbow.
Moving on, as earlier conceded, Montecristo 1935 Anniversary Nicaragua is a Nicaraguan Puro. Needless to say, this blend is extra special combining the finest tobacco Nicaragua has to offer. The grapevine accedes that the tobacco is all vintage; actually, some of the most extensively aged tobacco AJ Fernandez ever used.
"To honor the age-old tradition of soft-pressing cigars, the Montecristo 1935 Anniversary Nicaragua will be introduced as a soft-pressed series of four sizes," said Rafael Nodal, head of product capability for Tabacalera USA, in a press release. "The cigar offers a luxury showcase from seed to smoke that combines classic craftsmanship and extra-aged estate tobaccos from Nicaragua's best growing regions."
Montecristo 1935 Anniversary Nicaragua debuted about August 2020 but showed up on shelves around November 2020. Rolled at the San Lotano factory in Ocotál Nicaragua, the Montecristo 1935 Anniversary Nicaragua comes in four Vitolas; Churchill (52 x 7), No. 2 (52 x 6.125), Toro (54 x 6), and Demi (46 x 5.5). The Churchill, No. 2, and Toro come in 10 count boxes while the Demi comes in 20 count boxes.
Tasting Notes
It is finally time to find out how this baby smokes. And this time round I chose the No. 2. Let's get started, shall we?
Prelight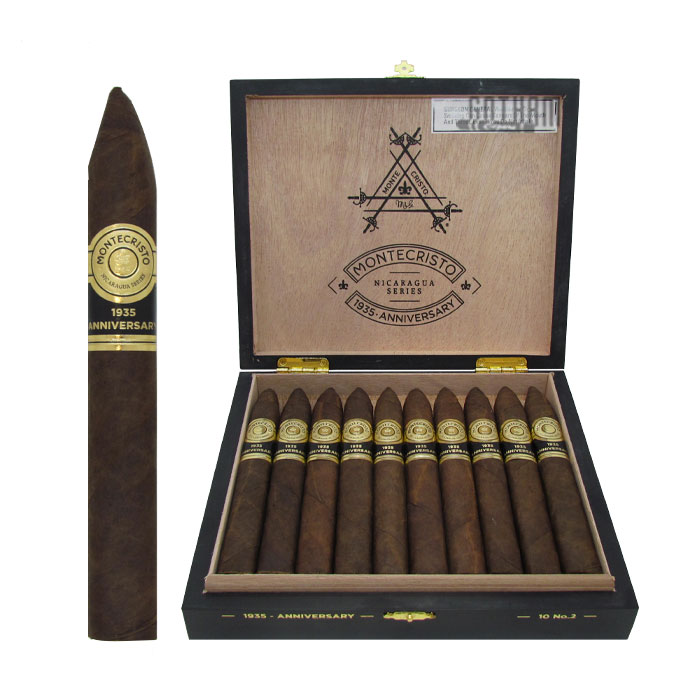 My No. 2 is a magnificent Torpedo darling with a flawless pale Colorado wrapper. The moderate box press and solid bunching feels luxuriously aristocratic in my hand. Veins are well pressed and seams are barely visible. The Montecristo 1935 Nicaragua carries a black and gold band that came off without hassle even before the cigar was lit.
There's a striking contrast between the sharp gold and the black background on the band complimented by the dark wrapper. It's a beautiful cigar.
Prelight notes include wood, cocoa, dark spices, a bit of sweetness as in dates, and a whole lot of earth. The foot presents sweet tobacco, baking spice, and red chilli flakes. Cold draw brings sharp tinges of pepper on my lips coupled with cedar and a barnyard nuance. The draw is perfect and so is the construction. Time to blaze.
First Third
My No. 2 opens with a blast of pepper the AJ Fernandez way. The pepper sits on my tongue and literally sets my sinuses on fire upon Retrohale. But it's not all hell fire; beneath the pepper are sweet notes of cocoa, cedar, earth, and premium tobacco.
A few draws down the pepper recedes and subtle creamy musty notes appear. Implicit flavors of roasted nuts fused with a bready disposition and a skosh of rich creamy chocolate take over the base. Baking spice, musty wood, and flakes of pepper dominate the background and linger all the way to the next draw.
Retrohale still carries pepper notes comingled with sweet chocolate and earth. By the close of the first third, the strength is already teetering on medium to full. The burn as well as the ash are above reproach.
Mid Third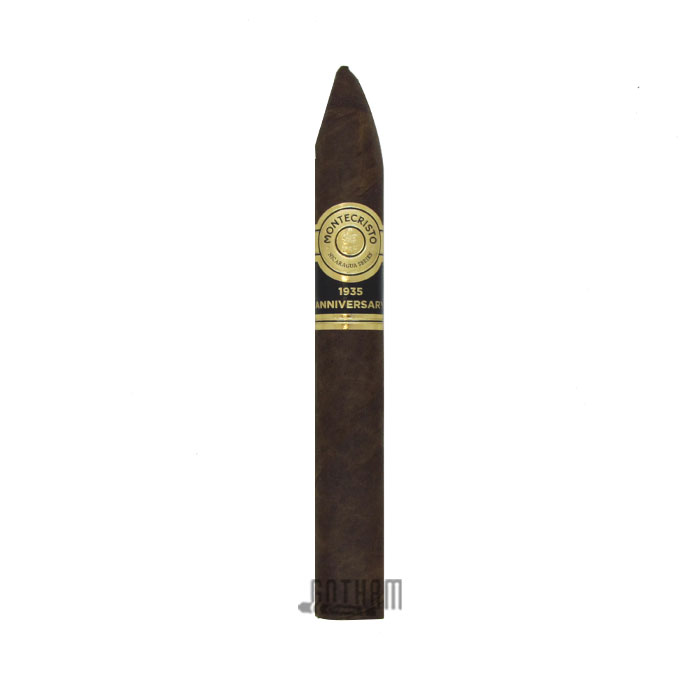 The mid third bursts into the scene with a fleeting citrus note. Pepper flakes are now confined to the tip of my tongue and a little on the Retrohale. The same flavors which were in the first third remain throughout the mid third with the addition of a few incentives here and there.
For instance, a delicious salted caramel nuance coupled with shy cinnamon and a vegetal herbal tea disposition zoom in and out at will. Also, a flavor that reminds me of buttered popcorn arises from deep in the abyss of Retrohale. I am finding this cigar very interesting in terms of off-the-beaten-path flavors.
As we ease into the final third, strength is close to full but not quite there. I realize I have not mentioned anything about the thick billowy clouds of smoke. This is truly an all-round magnificent smoking experience. I hope the final third blows my brains out.
Final Third
Just when I thought this couldn't get any better a leather note chimes in. The final third ties this entire stick together with sweet premium tobacco notes, salted caramel, baking spice, earth, cocoa powder and creamy musty woody notes. Retrohale brings pepper back with a bang meddled with that strange popcorn note and lots of earth.
Strength intensifies a smidgen. To be honest, I thought the strength would have smacked me upside the head right about now. But it simply stops and parks on the medium to full line. Nevertheless, it doesn't take away from the experience; the flavor profile more than makes up for the slack in strength.
Final Thoughts
Montecristo 1935 Anniversary Nicaragua was definitely worth the wait. AJ Fernandez and his team did a remarkable number on this blend. I see many more of these Monties in my future.
Have you had a Montecristo 1935 Anniversary Nicaragua yet? If not, grab one today and then share your experience with us. We love to hear about the interesting flavor notes you came across.