I sat for quite a while thinking about the best way to begin this piece. Undoubtedly, Perdomo is one of the greatest cigar conglomerates yet there is an undeniable enigmatic quality to this company. Maybe it's just me but the mind boggling number of cigars released every year in unpronounceable names not to mention all the new cigar companies coming up blows my mind. Then there's Perdomo who appears completely unperturbed by the sheer competitiveness of this industry.
It amazes me that Perdomo is not a "regular release" kind of company. The laid back kind of approach is unusual but somewhat genius on his part because it works! Perdomo is synonymous with aristocracy, decadence, and value. I'm done babbling. Now I'll introduce the topic of the day – Perdomo Reserve 10th Anniversary Maduro.
A Little Perdomo Insight
Perdomo has an impressive array of cigar lines. Each of these lines have enjoyed incredible success. This is because Perdomo Cigars is family-owned and run. And not just as a statement; the family oversees every stage of the cigar making process from seed to cigar. Headed by Nick Perdomo Jr., the unrelenting success of Perdomo Cigars comes from an obsessive attention to detail backed by the in-born cigar passion that runs in the family.
Before we begin to talk about Perdomo Reserve 10th Anniversary Maduro, let's trace the path it took here. Perdomo has a peculiar pattern. Almost all of his cigar lines come in three different wrappers. There'll be a Connecticut wrapper, a Sun Grown wrapper and a Maduro wrapper. Perdomo has done this with Double Aged Vintage, Estate Seleccion Vintage, 20th Anniversary, Habano Bourbon Barrel-Aged, and so on.
In this case, what really happened is that Perdomo Reserve 10th Anniversary Maduro and Perdomo Reserve 10th Anniversary Sun Grown came to replace 2 (Perdomo Reserve 10th Anniversary Champagne Noir and Perdomo Reserve 10th Anniversary Champagne Sun Grown) of the 3 cigars under the Perdomo 10th Anniversary Champagne line.
Now the new Champagne trio features an Ecuadorian Connecticut wrapper (the original champagne), a Nicaraguan Sun Grown wrapper, and a Maduro wrapper. The difference is between the old Perdomo Reserve 10th Anniversary Champagne Sun Grown and the now Perdomo Reserve 10th Anniversary Sun Grown is that the former Cuban Criollo wrapper was replaced by a Nicaraguan Sun Grown wrapper.
Why Preserve the Champagne Wrapper?
There's always something to be said about this infamous Champagne wrapper. Why is it called Champagne?Perdomo had a family secret for a long time. The secret was an art of aging wrapper leaves in spent bourbon barrels for an extra oomph. Perdomo Reserve 10th Anniversary Champagne was the first cigar that carried this wrapper.
The wrapper was coined the "Champagne of wrappers" because it took a lot of skill and time to perfect. First the Ecuadorian Connecticut leaves were aged for 6 years and then they were perfected in the bourbon barrels for an additional 10 months.
The result was a light brown golden-hued wrapper with all sorts of rich spicy notes and elegant sweet creamy nuances. Perdomo Reserve 10th Anniversary Champagne is still one of the most popular and sought-after Perdomo stogies. Back to the Maduro version of this outstanding smoke.
About Perdomo Reserve 10th Anniversary Maduro
This particular Perdomo is a Nicaraguan Puro featuring lush Cuban-Seed Nicaraguan fillers and binder, and a Nicaraguan Maduro wrapper. Perdomo uses select leaves from his farms in Esteli, Condega, and Jalapa Valley. According to Perdomo himself;
"We blended these cigars with six-year aged Cuban-seed wrapper, binder, and filler tobaccos that we carefully hand-selected from our most prestigious farms located in the Estelí, Condega, and the famed Jalapa Valley in Nicaragua. We blended these cigars to not only be rich in flavor, but also to be very smooth on the pallet with slight hints of sweetness. Our tasting panel with over 250 years of cigar making and premium tobacco experience was amazed at how great this blend tastes."
-Nick Perdomo, CEO and President of Perdomo Cigars.
It's a bold medium to full stogie that will tug on all the right strings. What I found impressive is that Perdomo kept the same price line for the incoming cigars as he had for the outgoing.
Thus far this Maduro version comes in 6 of the 9 vitolas featured in the original Champagne line. You have Figurado (4.75x65), Robusto (5x54), Epicure (6x54), Torpedo (7x54), Churchill (7x54), and Super Toro (6x60).
Tasting Notes: Prelight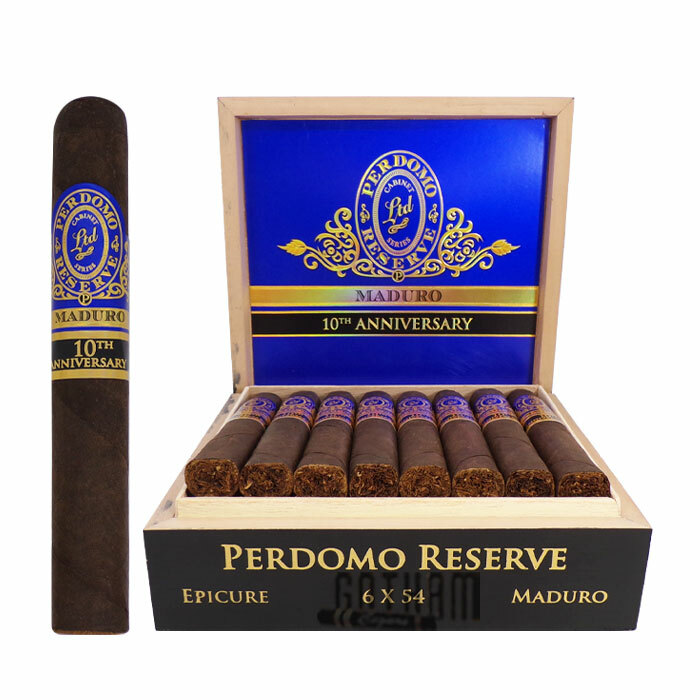 Let's go into the tasting notes. I'm going with an Epicure for this review. You may be taken aback by how soft this cigar seems compared to the density of the original Champagne. It's a soft box press with a dark cocoa hue and darker mottling on various spots. If you're not careful you'll miss the seams. There is a bit of tooth and small tight veins here and there.
What I thought was a double cap was actually a triple cap. I'm getting lots of very inviting notes off the shaft including dark chocolate, baking spice, wood, barnyard, espresso, and malt. Cold draw is a mixture of raisins, caramel, coffee grounds, dark floral notes, nutmeg, cinnamon, wheat bread, wood, black pepper, licorice, and earth. The draw is a little open but not anything to fret about.
First Third
My Epicure opens with black pepper heat, a tangy citrus on tip of the tongue and chocolate cream in the background. The pepper is quite pronounced in the first few draws but the cigar soon settles as the pepper learns to play nice with the others.
As soon as the pepper eased mineral notes emerged out of nowhere. Citrus joins chocolate at the back with black pepper complimenting the ensemble. Retrohale picks up a little white pepper heat but no harshness. There's not much complexity in this third so I'm holding my breath for the mid third. Strength is a solid medium. The burn and ash are above reproach.
Mid Third
You'll know you're in the mid third when flavors begin to pop all over the place. A nice warm creamy disposition takes center stage. Cinnamon, chocolate, and caramel commingle with the cream. Earth, wood, and licorice hold down the fort.
There are no stark transitions but various different notes zoom in and out including nuts, marshmallow, coffee grounds, mustiness, and toast. Leather and a little black pepper remain on the finish. There's a delicious out of place marshmallow note; I can't tell whether it's on the finish or Retrohale. Strength inches up towards full. The burn is consistent so I can't complain.
Final Third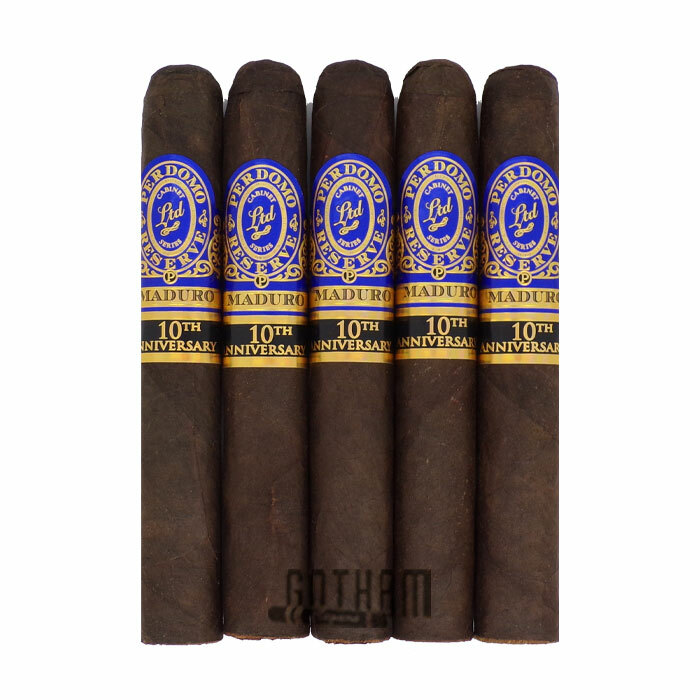 The final third comes to redeem all the snail tendencies of the first third. Perky notes of wood, espresso, dark chocolate, and nuts take over the palate. Baking spice, leather, musty earth, licorice, and wheat bread are all there. Walnuts, minerals, and sweet tobacco are all over the finish and Retrohale.
I kinda wish the cigar would have been this way the entire smoke. But overall it's been a great smoking experience. My Epicure went for almost 1 and ½ hours.
Final Words
Perdomo Reserve 10th Anniversary Maduro is a great anytime cigar for the ones who love strength. It will not boggle you with transitions and extraterrestrial flavor notes so we'll call it what it is; a great siesta cigar. At that price point I think it is worth having a few in your humidor.
Recent Posts
Chillin' Moose is back on the headlines. Wondering what the moose did this time round? It graduated …

Macanudo has been around for decades; in fact, more like a century. And as you can deduce, any cigar …

"In an industry filled with thousands if not millions of different cigars, how can we stand out?"&nb …