Posted by Blazing Bill on 2nd Apr 2021

For covenant cigar lovers such as yours truly, a new cigar release means new waters to charter. Granted my enthusiasm heavily depends on what I already know about the company and previous releases-obviously. So, when Altadis announced a Nicaraguan Puro version of Romeo Y Julieta Reserva Real let's just say it was a good day. Romeo Y Julieta Reserva Real Nicaragua is the name of the new release – well not very new.
See, Romeo Y Julieta Real Nicaragua (let's call it Real Nicaragua) was first exhibited at TPE in January 2020. The plan was to release it in March but the COVID-19 crisis delayed the release to May. It's easy to mistake this Real Nicaragua with Romeo Y Julieta 1875 Nicaragua. Just to clarify, here is the list of all the Romeo Y Julieta cigars under Altadis.
Romeo 505 Nicaragua
Romeo y Julieta Crafted by AJ Fernandez
Romeo San Andrés by Romeo y Julieta
Romeo y Julieta 1875 Nicaragua
Romeo y Julieta Crafted by Plasencia
Romeo y Julieta 1875 Connecticut Nicaragua
Romeo y Julieta Reserva Real Nicaragua
You may or may not know that Altadis, as a company, does not have a factory in Nicaragua. Therefore, Altadis collaborates with other cigar companies, and in this case AJ Fernandez, to blend and construct any Nicaraguan stogies.
Thus far, Altadis has used two companies to create the Nicaraguan versions for the Romeo line. Altadis teamed up with Plasencia to create Romeo 505 Nicaragua and Romeo Y Julieta 1875 Nicaragua. However, even though Real Nicaragua is the first "Nicaraguan version" to be created by AJ Fernandez, it certainly isn't the first time Altadis has required the expertise of AJ Fernandez. In essence, Tabacalera AJ Fernandez factory is the genesis of Romeo y Julieta crafted by AJ Fernandez and Romeo San Andres By Romeo y Julieta.
The Blenders - AJ Fernandez and Rafael Nodal
As far as collaborations go, this is one of the most notable. Actually, it's the fourth time AJ Fernandez and Rafael Nodal have teamed to create a mouth-watering wonder. The other blends include Trinidad Espiritu, H. Upmann 175 Anniversary, and Montecristo Nicaragua.
Rafael Nodal had this to say, "A.J. Fernandez and I have worked on this blend for over a year and a half. It is more complex and fuller in body than the original Romeo y Julieta Reserva Real made in Dominican Republic, but not too strong."
The Blend
The truth is, there is not much to say about the blend except that it is a Nicaraguan Puro. This means the fillers, binder as well as the wrapper are all Nicaraguan grown on AJ Fernandez's own farms. If you are a strength junkie, this will be right up your alley. For even though going Nicaraguan didn't amp up the strength too much, you can expect that familiar Nicaraguan kick with all the AJ Fernandez goodness.
Real Nicaragua comes in four Vitolas; Toro (6 x 54), Robusto (5 x 50), Churchill (7 x 50), and Magnum (6 x 60). The sticks are packaged in 25-count boxes with the exception of the magnum that comes in a 20-count box. Time to taste this baby.
Tasting Notes
I'm going with a Robusto this time. I want to save my larger Vitolas for a lazy afternoon relaxing in my hammock (don't judge). If the pandemic has taught us anything is that we need to stop being so uptight about everything - end of impromptu rant.
Prelight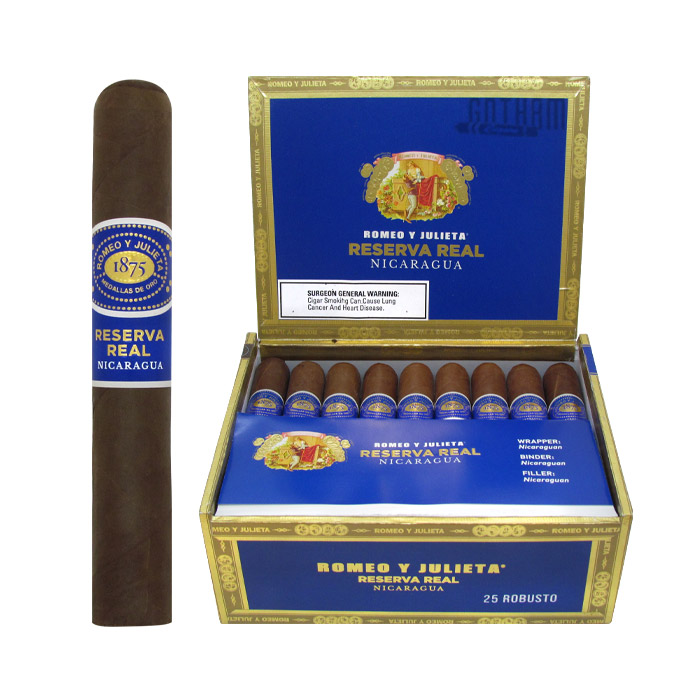 There is something that is instantly gratifying about an even unblemished wrapper. In my circles, we like to say it has an unspoken dignity. My Robusto presents with the kind of wrapper all cigar lovers with an obsessive disposition like to see; evenly hued, flat veins, seamless, and impeccably applied caps. Medium dabs of oil rest on the beautiful wrapper giving it a slight glean. There is uniform give all along the length of the cigar with absolutely no soft spots or otherwise.
The shaft gives off fruity nuances alongside a drizzling of pepper and maybe a basic earthy note. Cold draw presents a barnyard character with a little pepper on the side and the same earthy note on the wrapper. The draw is the perfect milkshake consistency.
In truth, I have had delicious cigars that have spoken boldly right from the cold draw. My Real Nicaraguan is very subtle so far, but my hopes are up.
First Third
The very first draw introduces natural tobacco notes backed by a basic earthy nuance. There is a shy fruity note on the finish along with implicit sweetness in the back of my palate. Pepper kicks in followed by an orange citrus note. Butter and sweetness kick down the door as I take more draws. And I begin to relax as I watch my cigar take shape.
As the first third settles, desert sweetness hauling notes of toffee, baking spice, cinnamon, butter and that orangey tang dominate my palate. In the background are basic tobacco characters garnished with dashes of white peppery deliciousness. Retrohale speaks of graham cracker soaked in implicit salty butter.
This is awesome. Draw and burn are all above reproach. The ash is a beautiful salt and pepper mast – actually a lot more salt than pepper. Strength is a medium that is already threatening to revolt. I literally can't wait to see what's in store for the mid third.
Mid Third
An emerging caramel sweetness introduces the mid third. This addition marries indescribably well with the baking spice, cinnamon, white pepper, and natural tobacco sweetness that is already on the palate.
As the mid third progresses, the flavour characters shift. Earthiness and natural tobacco take the centre stage while baking spice, sweetness, and pepper recede to the back. It's a peculiar order which is also incredibly replayable.
Retrohale carries a sweet balance of natural tobacco sweetness and pinches of salt upon a wave of buttery goodness. The strength is a little on the heavy medium side. I have nothing to complain about the burn or the ash. In my book, this is what a cigar experience should be like.
Final Third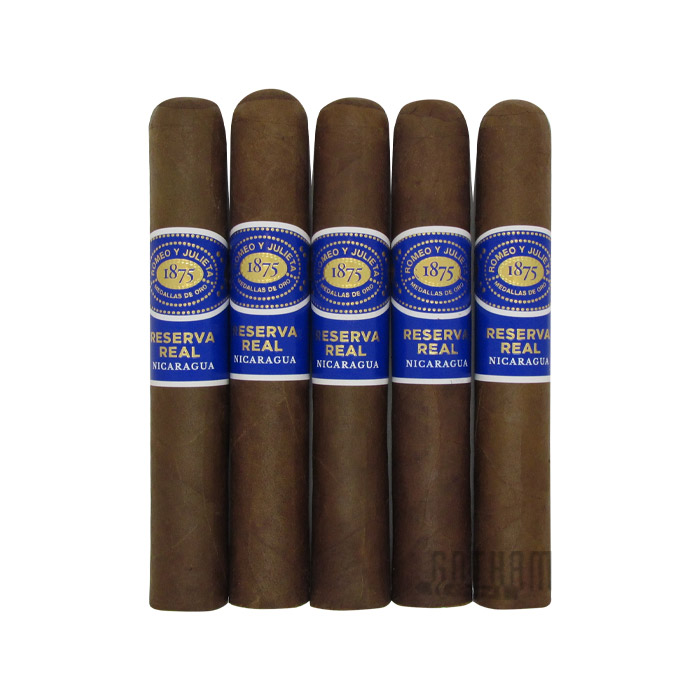 Hallo! Here is a new note, cedar. I squeal like a 5-year old girl because honestly this cigar is perfectly balanced as is and I didn't expect anything new. Cedar brought a friend, maple syrup and cocoa tagged along. I am curious to see how these new characters will play with the existing crew.
Much to my delight, the other notes namely baking spice, caramel, white pepper, cinnamon, dry fruit and natural tobacco sweetness intensify. The earth and natural tobacco notes that were in the front of the palate through the mid third also step up to the play. Now there is a sweet symphony of flavour notes that prance proudly throughout the remainder of my stick.
This was one heck of a smoke. At closing, the strength was teetering on a medium-full but not quite full. Flavour was certainly at full which is all I care about at this point.
Final Thoughts
Romeo y Julieta Reserva Real Nicaragua is worth every minute. I am glad that renowned reviewers like Cigar Aficionado agree. CA gave this baby a deserving 92 rating as well as a slot in the Top 25 cigars of 2020.
Are you looking for a new "anytime" smoke to refresh your palate? Grab this one and share your experience with us. Happy smoking!